North Pole Elf Sickouts Score Masks from Santa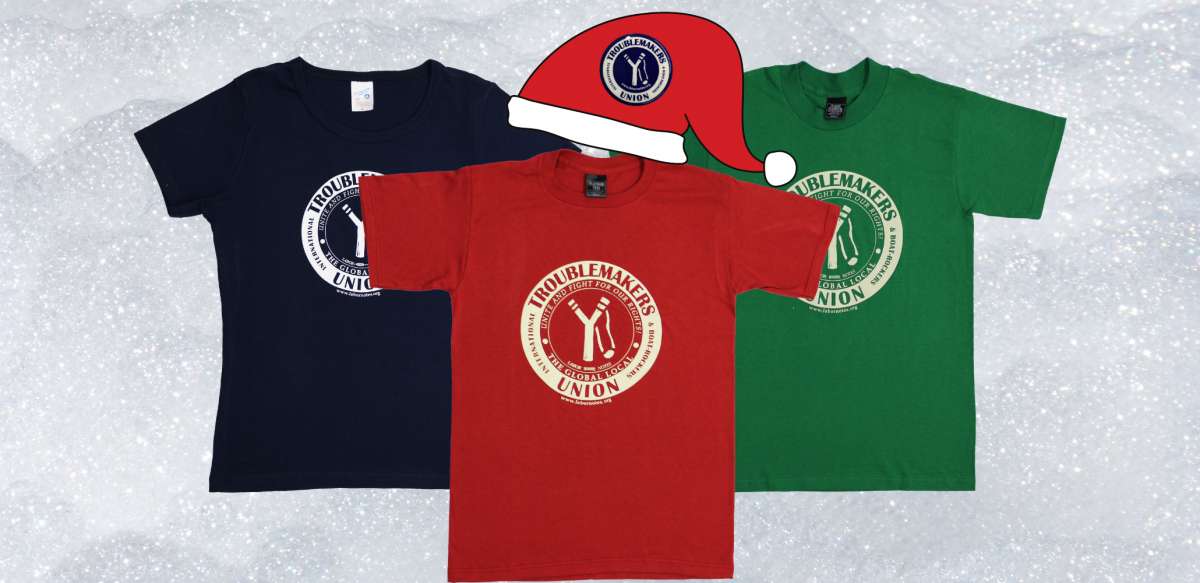 Holiday toy production season got off to a chaotic start this year. Santa Claus at first resisted the elves' demands for COVID safety measures—prompting a wave of sickouts around the toy workshop.
Many elves joined the sickouts, especially in candy striping and wrapping and ribbons, despite frantic efforts by Elves, Reindeer, and Candy Stripers Local 1224 President Zack Keebler to tamp down the risky resistance. The crisis peaked when a batch of candy canes was shipped out unstriped—an error unprecedented in polar history.
"No idea how that happened," said candy striper Tiny Tim Cratchit, winking merrily from his perch atop a tall stack of books: Secrets of a Successful Organizer ($15), A Troublemaker's Handbook 2 ($24), Democracy Is Power ($10), The Legal Rights of Union Stewards ($20), No Contract, No Peace ($20), and The Steward's Toolbox ($15).
Claus quickly backed down and accepted the union's safety proposals. Elves are wearing face masks and practicing social distancing throughout the workshop complex; they also bargained a contact tracing program and ample paid leave for anyone who needs to isolate. These proactive measures combined with the remote North Polar location have kept their workplace COVID-free so far.
But with toy demand soaring, Claus has hired more workers than ever into the seasonal second tier of "Santa's little helpers," who are paid less than career elves and denied such benefits as pensions and free cocoa. "That's our next fight," Cratchit said.
Longtime reform activist and elf shop steward Cindy Lou Who decided this year was high time to become a monthly donor to Labor Notes. "I'm really proud to contribute," she said. "We couldn't have gotten half of this done without their help.
"Besides, I wanted that gorgeous T-shirt they give to donors. I marked mine up a little bit. Instead of 'Fight the boss' now it says 'Fight the Claus, build the union.'"
LOUIS DEJOYLESS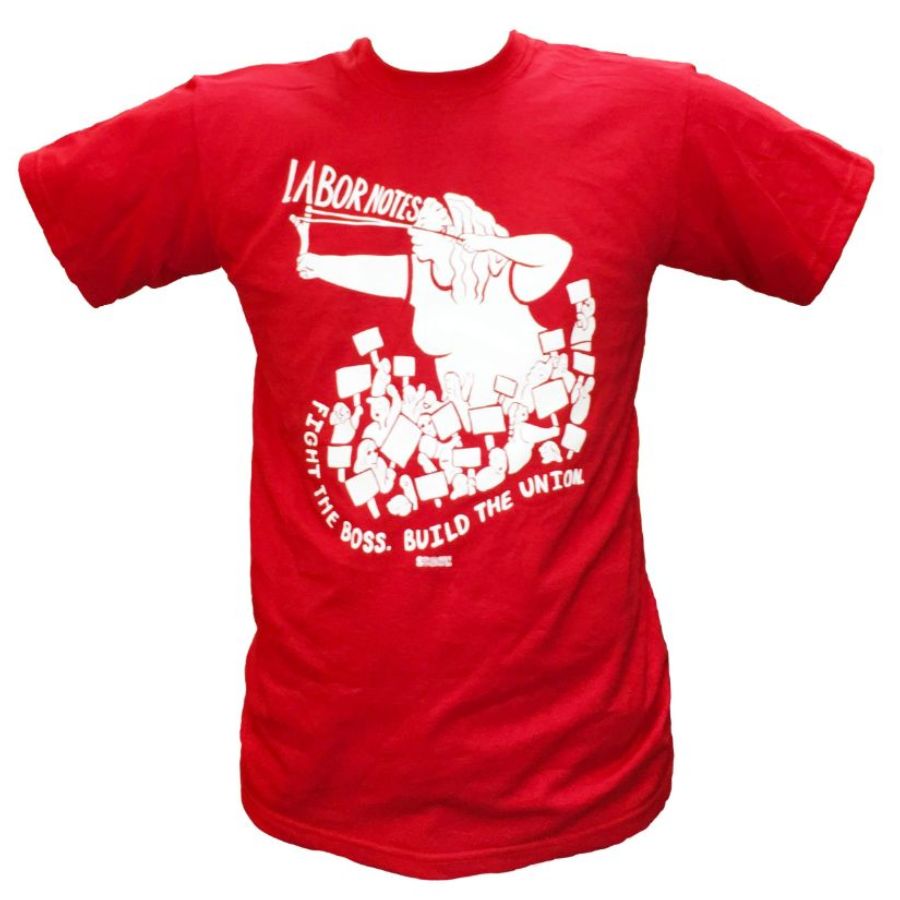 Meanwhile trouble was brewing for the polar bears who bound across the vast Arctic ice carrying gifts to North America. Claus appointed a ruthless cost-cutter from the private delivery sector, Louis DeJoyless, as the North Pole Postmaster General.
DeJoyless imposed a polar bear hiring freeze and ratcheted up the running speed that bears are expected to maintain. He also cut the lunch hour in half.
"The pace is grrrrrrrrrrrueling," said spokesbear Rufus White of Polar Bears Local 1774, wearing a size XXXXXXXXXXXXXXXXXXXXXL Troublemakers Union hoodie ($40) that he had specially made. (The hoodie is available in human sizes S-3X.)
"I'd like to see DeJoyless catch and eat a seal in 30 minutes flat," White said. "Look, you have to find a hole in the ice, and then you have to wait motionless. It might take an hour, all right? You can't just make a seal pop up on your corporate schedule."
U.S. postal workers are likewise understaffed and undermined, delaying package delivery. Customers who want to give a Troublemakers Union beanie hat ($20), pint glass ($10), T-shirt ($20), or anything else from Labor Notes as a holiday gift should order by December 17. (An annual subscription to the magazine, $30, can be ordered anytime.)
Deliveries from the North Pole to the Southern hemisphere are done by reindeer—all of whom this year are sporting the Troublemakers Union T-shirt ($20) in the new high-vis neon yellow. "It really helps with visibility," said steward Blitzen, "especially now that Rudolph's nose is covered up by his face mask."
Previous installments: