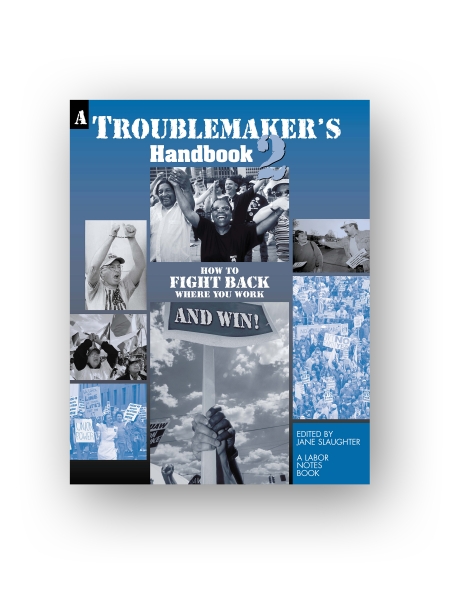 Go Further
Buy in Bulk
Interested in buying A Troublemaker's Handbook 2 for your whole executive board or to use in a steward training? Big discounts are available. Learn more.
Praise
"I still have much to learn from the experiences of others and the miraculous creativity that continues to flow from the hearts and souls of those who care enough to take risks for the sake of others.... This book chronicles the experiences and lessons of labor's Rosa Parks's and perhaps tomorrow's Martin Luther King, Jr's. and Malcolm X's.... Honest discussion, investigation, and the willingness to question conventional wisdom on how best to represent and organize workers and challenge entire industries -- this book walks you through countless tactics, strategies and stunningly creative approaches."
— Baldemar Velásquez, president, Farm Labor Organizing Committee


What others are saying about A Troublemaker's Handbook 2:


"By covering everything from researching multinational companies, to mapping workplace hazards, running a local, developing leaders, building community labor coalitions, bringing immigrants into the union, and running comprehensive organizing and bargaining campaigns, Troublemaker's Handbook 2 provides a wealth of information for rank-and-file activists, union staff, and leaders, and labor educators looking for ways to build power in their union and beyond."
— Kate Bronfenbrenner, director of Labor Education Research, Cornell ILR


"The most important challenge for labor and society in the twenty-first century is the question of democracy. But for democracy to flourish, we need to resist and transform authoritarian institutions - especially corporations. The Troublemaker's Handbook shows workplace activists how to take the offensive and reclaim democracy--on the shop floor, in our communities, at the union hall. This handbook can guide readers on how to construct democratic communities and have a lot of fun along the way."
— Elaine Bernard, Executive Director, Harvard Trade Union Program


"When local union activists feel like they've hit a brick wall of management resistance, I always suggest they dip into TMH for some great ideas and a megadose of inspiration!"
— Roberta Till-Retz, labor educator, Universitv of Iowa Labor Center (and AFT member)


"The Troublemaker's Handbook infuses the fiber of education into the spirit of organizing."
— José Oliva, Policy Director, ROC-United


"As a former rank-and-file worker and current union staff representative, I know that worker organization and collective action at the worksite is the most powerful tool workers have to defend and advance their interests. A Troublemaker's Handbook 2 is the best resource available to empower workers on the job. Every steward and activist at every worksite in the country should have a copy.&quot
— Paul Krehbiel, lead field representative/organizer, SEIU Local 660.


"The first Troublemaker's Handbook was the bible of membership mobilization! That's why many CWA locals are now looking forward to using the new and improved Troublemaker's 2 when they plan contract campaigns and other actions. These books are indispensable."
— Steve Early, International Representative, CWA District 1


"It's hard to imagine that something could improve on the Troublemaker's Handbook, but the new Troublemaker's Handbook does just that. This book contains something useful for any labor activist - whether you are trying to revive a lethargic local, organize a workplace, or building labor/community coalitions. What I like best about the Handbook is that it takes a comprehensive view of building the labor movement: its not just about union density, its not just about winning contracts. Its about those things as well as the big picture: why are we organizing in the workplace in the first place? This book will soon become a classic that all labor activists will read."
— Stephanie Luce, Assistant Professor, Labor Center, University of Massachusetts-Amherst, author, Fighting for a Living Wage