In a Pandemic, Finding New and Old Ways To Fight New and Old Foes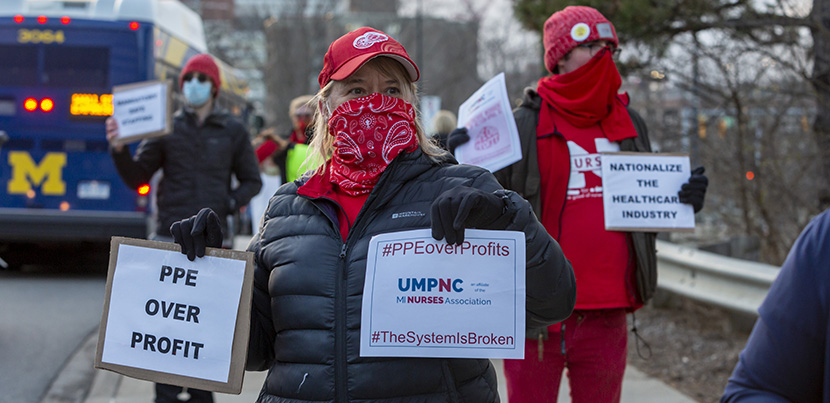 Workers this spring were forced to find new ways to assert their rights when faced with a deadly foe and employers indifferent to their lives.
Sometimes they resorted to the oldest trick in labor's book, the strike, especially wildcat strikes early on in the pandemic, and especially non-union workers. Sometimes they were forced to organize and protest virtually, making the most of social media. And the car caravan was reborn as an appropriately distanced tactic.
Of course, the vast majority of workers in the U.S. were shell-shocked: laid off, working shorter hours or longer ones, scared to death when they were forced to come to work, overwhelmed. But here's how some organized, union and non-union, and what they were fighting for:
DEMANDING PROTECTIONS ANND HAZARD PAY
Bus drivers in Detroit were among the very first workers—March 17— to refuse to work till they got safer conditions. Their union backed them up and in less than 24 hours they had won all their demands: an end to fare collection, PPE, extra cleaning, riders going in and out rear doors.
The next week drivers in Birmingham, Alabama, followed suit, and later those in Richmond, Virginia, and Greensboro, North Carolina.
In the largest COVID strike yet, nonunion apple workers at six companies in Washington's Yakima Valley, almost all Mexican immigrants and a majority women, struck by the hundreds in May for safer conditions and $2 an hour hazard pay.
National Nurses United went to Washington, D.C. May 5 with an "empty shoes" protest, demanding that President Trump use the Defense Production Act to order mass production of PPE, ventilators, and test kits. They lined a sidewalk with white nurses shoes to commemorate 88 fallen coworkers
Nurses in four cities staged coordinated demonstrations April 15 with the slogan "PPE over Profit." The socially distanced picket lines were coordinated through a series of calls organized by Labor Notes, which has been helping a network of nurse activists. The pickets were inspired by protests in New York City, where nurses at a number of union hospitals set up a citywide COVID Action Team that meets on Zoom.
And who knows how many workers simply refused to work till they got PPE? In one Chicago hospital, nurses said, "You can find us in the break room" till they got masks.
At three hospitals on the University of Washington campus, workers took the demand for protection into their own hands. The AFSCME locals asked for Plexiglas barriers. When management said no, skilled union workers built the shields themselves.
In Lynn, Massachusetts, GE workers making jet engines cleared the building four times after learning they'd been exposed to a worker with COVID-19. Each time, workers gathered in the parking lot to state their demands for temperature checks, PPE, and cleaning. Their union, IUE-CWA Local 201, forced the company to waive discipline on COVID-related absences, and one week, 450 workers stayed home.
DEMANDING TO PRODUCE PPE
At that same GE plant and three others in Virginia, Texas, and New York, workers held coordinated protests outside their plants to demand that GE switch to ventilator production instead of laying them off.
In Ontario, a caravan organized by Green Jobs Oshawa demanded the government order PPE production at a shuttered General Motors plant, part of a three-week campaign that led to the manufacture of masks there.
DEMANDING SHUTDOWN
Near the beginning of the pandemic, a number of workers just said hell, no. They demanded their companies close till they could guarantee safety. In three Detroit-area Fiat-Chrysler plants, discovery that a coworker had tested positive was the trigger for work refusals by enough workers to stop the assembly lines.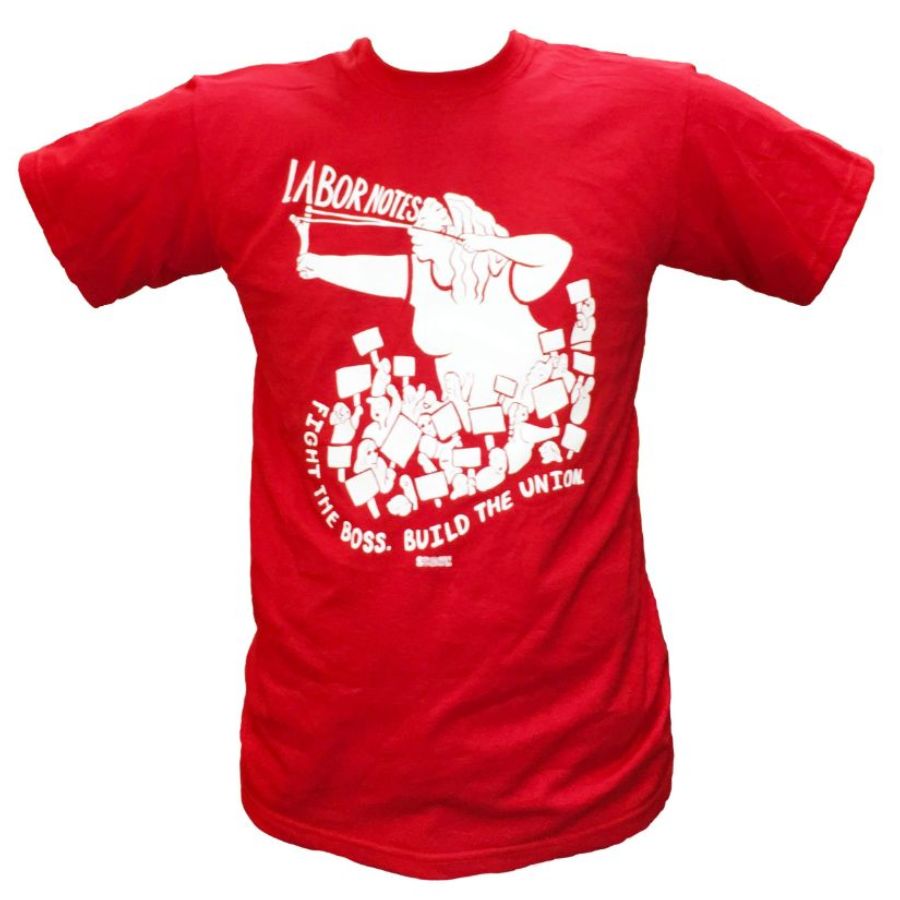 A member of Auto Workers Local 1700 wrote on Facebook, "Employees showed up to work at 5am, reported to their jobs as normal and the Protest began. Doorline led the way and the rest of the lines followed suit refusing to touch a vehicle and deliver material to the line."
In a nearby parts plant, the day shift refused to enter the plant two days in a row, backed by their union chair. The Big 3 shut down—and stayed down through May 17.
Leaders of the Massachusetts Carpenters told members not to report to work as of April 6, after some workers showed COVID symptoms. They stayed off till April 20, using the time to protest at unsafe non-union job sites. The Painters union also shut down sites. The Carpenters said that when members went back, they'd make contractors promise not to retaliate against any who didn't return and not to fight unemployment claims.
In New York City early on, the mayor balked at closing schools and teachers union leaders would only "respectfully agree to disagree." A rank-and-file caucus, MORE, organized a Zoom call on a Saturday with more than 400 union members, to organize a citywide sickout on the following Monday. By Sunday the City had closed the schools.
DEMANDING FACILITIES STAY OPEN
On the other hand, some had to fight to keep workplaces open. Managers at Provident Hospital on Chicago's mostly black South Side suddenly announced they were closing the emergency room for renovations, for a month—in the middle of a pandemic.
National Nurses United immediately held a press conference, working with the Chicago Teachers Union, community organizations, and local politicians. A video and a petition helped push the story on social media as an example of the medical apartheid in the city and the disproportionate deaths from COVID-19 among African-Americans. The ER reopened two weeks early.
The chancellor of Vermont's state colleges used a classic "disaster capitalism" move when he suddenly announced the immediate permanent closure of three of the six state colleges. Through Facebook, faculty and students made a petition that garnered 50,000 signatures and organized a 500-car parade in the state capital. The chancellor withdrew his proposal—and then resigned.
USING ONLINE PRESSURE TO AUGMENT BARGAINING
Graduate workers at the University of Illinois-Chicago found themselves high and dry when the campus shut down—especially the international students who make up 40 percent of the bargaining unit and were stranded in the U.S. Graduate Employees Organization stewards drafted bargaining demands and an organizing plan.
When management balked, leaders suggested members email the administration. The same day, management said it would change its position and the union could stop flooding inboxes. International students also agitated at the university's online town hall—and won free summer housing in the dorms for all who need it. "It was our winning strike last year that made our employer realize it should come to the table and give us what we demanded," leaders said.
Units of the NewsGuild at five newspapers were bargaining jointly for a first contract with Tribune Publishing, but negotiations were going nowhere and the company was instituting furloughs and permanent pay cuts. On May 12 suddenly the company-wide Slack accounts of CEO Terry Jimenez and the editors of all the Tribune papers were flooded with messages like "Shame on the company for strangling pennies out of hard-working journalists instead of investing in its newsrooms."
Jimenez canceled his Slack—but Tribune came back to the bargaining table and the unions got protection against layoffs through July 31.
ORGANIZING NEW UNIONS
Workers at Denver Health Medical Center announced May 5 they were forming a wall-to-wall union with the Communications Workers (CWA). Frontline staff had been asked to cut their hours or take unpaid leave to help the hospital out financially—but a week later, hospital execs got big bonuses, up to $230,000. Workers organized a petition to demand PPE and warned management not to spend money on trying to break their union.
Journalists at the Orlando Sentinel voted by 81 percent to join the NewsGuild/CWA May 12. They'd seen pay cuts and furloughs. "Next time Tribune can't blindside us. They'll have to bargain first," the union tweeted. "We've got another dozen campaigns still fighting for recognition right now if you'd believe it!" NewsGuild President Jon Schleuss told Labor Notes.