'You Can Find Us in the Break Room': How Nurses Got Masks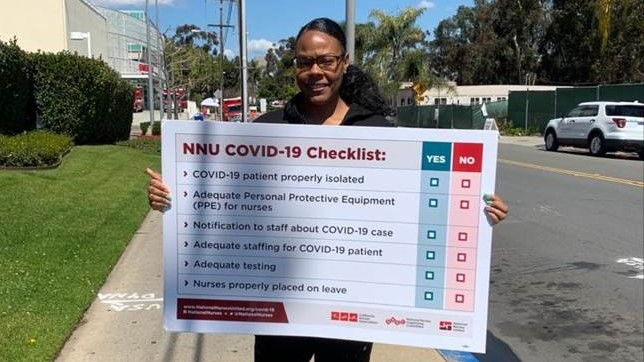 I am a registered nurse at Cook County Hospital, the safety-net hospital in Chicago and the busiest hospital in the state. The people who come to this hospital are some of the most underserved patients, mainly people of color, immigrants—many undocumented, the uninsured and underinsured, the homeless, and the incarcerated. Our emergency room denies no one care and about 300 people per day come there for treatment.
We have yet to become a COVID-19 "hot spot" but my co-workers all know it's coming. Nurses know our patients will be some of the hardest hit.
Already my hospital has changed drastically. We now have a whole section of the emergency room for COVID-19 patients, with isolation rooms. The critical care areas (for the severely ill) and the medical surgical units (for the less ill), where I work, also have COVID-19-only areas.
Nurses and other hospital staff are being exposed, showing symptoms, being tested, and being quarantined. The hospital says at least a dozen have been quarantined but my union, National Nurses United, estimates the count is higher.
JUST-IN-TIME TRAINING
With nurses out sick with COVID-19, nurses from the operating and recovery rooms are being reassigned to help out in the COVID-19-only areas—the emergency room, intensive care units (ICU), and medical-surgical units. Many have not worked in these areas before and are being given "just-in-time" training. This means a nurse is oriented to the basics of each area right before being sent to work there—much like the auto industry's model of "lean production."
The U.S. health care system has been run this way for years before this pandemic—on the edge, with no extra staff or supplies, to guarantee maximum profits.
All this has left nurses feeling anxious and scared. Since February, our core of stewards and activists had been pressuring management through emails and meetings to demand that the optimal personal protective equipment (PPE) of N-95 masks be made readily available to us. We demanded in-person training where a qualified educator would show nurses how to correctly put on and take off the PPE and answer our questions.
Over the last several weeks, large numbers of essential workers in different industries have gone out on strike to fight for the protection they need to do their jobs safely. Nurses and health care workers also have been speaking out. We have seen story after story about the lack of PPE in hospitals. Nurses have led socially distanced protests outside of health care facilities—six feet apart—and held car protests to demand PPE.
We are trained to help our patients. We are committed to this. Nurses have not struck, but that doesn't mean we aren't taking collective action. Although it may seem quieter on the outside of health care facilities right now, we are fighting back daily on the inside.
NO MASKS AVAILABLE
In mid-March, nurses received messages on our union leadership WhatsApp text group that a suspected COVID-19 patient had come into our emergency room. The patient needed to be intubated, but there was a problem.
There were no N-95 masks readily available for the nurses and other workers helping this patient. They were locked up with the coordinator, under a new policy management had implemented to ration masks. This was despite stewards repeatedly demanding that upper management should make N-95s easily accessible in our locked electronic medication cabinets (Pyxis) or on a PPE cart.
If PPE had been placed in either of these locations, steps away from where COVID-19 patients were being treated, the workers helping this patient would not have been exposed.
But it's nearly impossible to intubate a person who is struggling to breathe and page a manager to obtain an N-95 mask at the same time. Nurses, doctors, and other health care workers were exposed that day in my ER. It was criminal.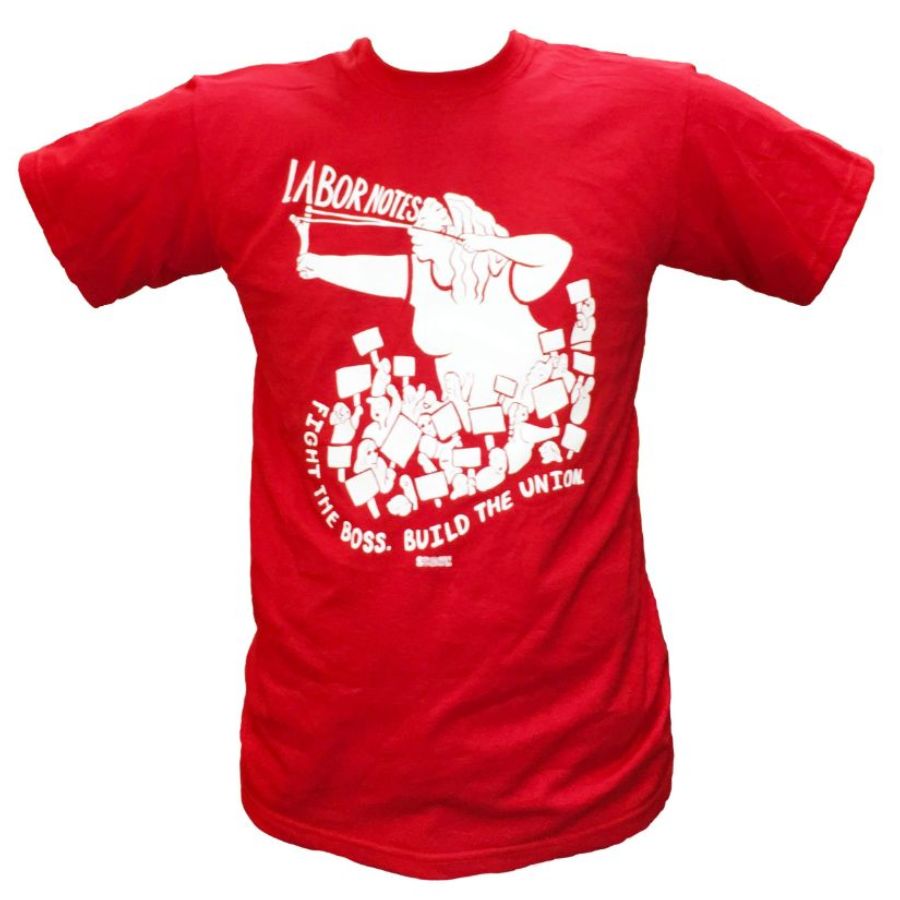 My chief steward wrote afterward, "I challenge management to prove that you can lead through this time, show concern for your employees, recognize and acknowledge the things that need to be improved, be willing to take the suggestions of those who are actually caring for these patients—the RNs—and place masks in the Pyxis…The ball is in your court."
THE COLLECTIVE RESPONSE
The mismanagement of this exposure in the ER was burned into nurses' minds the following days, as an increasing number of COVID-19 patients came through the hospital doors. To ensure it didn't happen again, groups of nurses began to organize small collective actions to demand that N-95 masks be readily available.
The first instance was led by my chief steward, Consuelo Vargas, who had been at work when the ER exposure happened. It's not surprising these actions started in our emergency room, the "hot spot" for our hospital.
Several days after the nurses were exposed, Vargas was assigned to the resuscitation area of the ER. When she entered the area, she saw that the doctors had a locked PPE cart, but the nurses had nothing.
She went to the ER coordinator and requested a PPE cart. The coordinator told her she would get one. After a short while Vargas returned to the area and still found no PPE cart for the nurses.
Several other nurses were working with Vargas. She asked them, "Are you with me?" and they said "Yes." Vargas informed the doctors, "Once there is PPE available for us, come find us in the break room."
The nurses walked away and sat down in the break room. Soon the ER coordinator came to demand, "What are you doing here?" The nurses replied, "Once you get us a PPE cart, we'll come back." The coordinator not only found the nurses a PPE cart but handed Vargas a whole box of N-95 masks.
'TEMPER TANTRUM'? BUT IT WORKS
The following week Vargas was assigned to the negative pressure room area for COVID-19 patients and again there were no N-95 masks readily available. A group of nurses again went to the ER break room, saying they would come out once masks were provided.
The coordinator asked the nurses if they were having "another temper tantrum"—something management would say only to nurses, who are 80 to 90 percent women. But again she gave them a whole box of N-95 masks.
Rank-and-file leaders discussed the steps it would take to duplicate these actions if needed throughout my hospital. We said we should have "temper tantrums" whenever and wherever we needed to, in order to get N95 masks.
There is a line to be careful not to cross. We don't want to be seen as refusing to care for patients or lose our licenses or jobs, but we also need to protect ourselves and not get sick. It is critical for us to recognize we have power right now, even with the massive toll the pandemic is taking on us as frontline workers.
We know best how to get through this pandemic and take care of each other. Those who run the hospital know they need us.
Elizabeth Lalasz is a registered nurse in Chicago and a steward in National Nurses United.