Twin Cities Labor Mobilizes Against George Floyd Murder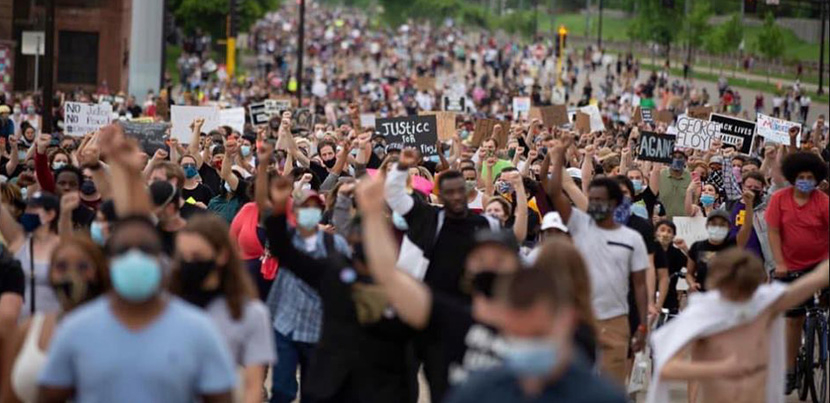 The organized labor movement has begun swinging into action to support protests against the racist police murder of Minneapolis resident George Floyd.
Floyd was filmed being suffocated to death under the knee of police officer Derek Chauvin on Monday in a video that reverberated around the country and has sent the Twin Cities into turmoil.
Protesters lit shops and even a police precinct on fire on Thursday as public rage boiled over in Minneapolis's third precinct over the ever-continuing string of police murders of Black people in the United States.
With tension in the air, local labor groups have stepped up to assist the protests while attempting to protect communities through mutual aid and public health steps.
Members of Centro de Trabajadores Unidos en la Lucha (CTUL), a worker center that's located just a block from the site of the murder, have been both affected and participating.
"The reaction was just devastation and rage. We've seen this before in Minneapolis," said Isabela Escalona, a spokesperson for the group.
Floyd's killing was the latest in a series of high-profile police murders of Black people in recent years, including those of David Smith, Jamar Clark, and Philando Castile.
After police shot and killed Clark in 2015, campus workers helped organize a "Labor for Justice for Jamar" rally; security officers started a Black Lives Matter committee in their union. After they killed Castile, a union Teamster who worked in an elementary school cafeteria, in 2016, hundreds of union teachers marched in protest and 21 were arrested.
150 Years of Violence by Minneapolis Police
The Minneapolis Police Department turned 150 in 2017. Nearly two years in advance, a group of local activists—including longtime labor and social movement artist Ricardo Levins Morales—came together to prepare to mark the occasion.
They developed a deeply researched report, "Enough Is Enough: A 150-Year Performance Review of the Minneapolis Police Department," tracing the force's history from its 1867 founding through the present day.
The report concluded that Minneapolis cops had been committing similar violence against people of color for the entire 150 years. This was not an occasional aberration in police behavior; it had always been an essential element of the agency's core mission to protect the interests of a wealthy elite.
They concluded: "The police cannot be reformed away from their core function." Instead, the report described practical alternatives to police in every area—including better ways to handle traffic violations, drugs, domestic violence, homelessness, property crime, and more.
"The material presented here turns the common wisdom on its head," they wrote. "The idea of a police-free future is neither naive nor unrealistic. It is the only pragmatic solution to the challenge of a police system rooted in the era of slavery and Indian removal which has defeated every reform effort thrown at it. To believe that we are just one or two reforms away from turning the police into a trusted partner of the very communities it has treated like enemies to be conquered for a century and a half…that is the ultimate in magical thinking!"
The group threw a public launch at the worker center CTUL, drawing a packed crowd of 300. After that the activists took the report out into the city—to conferences, high schools, colleges, social work departments, and groups working on policy issues—using it as a vehicle to start conversations about police abolition in settings where those had never happened before. They held an art exhibit and a panel discussion. They made an audio-book version.
At five years, the group is wrapping up its work. It's an example of the years of organizing and conversations that often help lay the groundwork for an apparently sudden upsurge of protest.
—Alexandra Bradbury
800 COPS, TWO WAGE-THEFT INSPECTORS
Unlike previous protests, the uprising around Floyd's murder is taking place during a pandemic. Escalona noted that Black and Brown communities like those that make up CTUL's membership are the ones getting hit hardest by COVID-19.
Once it became clear that protesters were gathering where Floyd was murdered, CTUL began handing out water and masks to protect protesters' health. Over megaphones, they encouraged protesters to maintain social distancing.
Since the protests have grown in scale, CTUL has shifted to providing necessities to local residents like food, water, and baby supplies, with most grocery stores in the city shut down.
And when fires broke out and threatened to engulf some residences, CTUL members and organizers assisted in evacuating homes—as the fire department was nowhere to be found, said Escalona.
"We're taking care of our block, taking care of our community, and we're going to continue doing that," she said.
CTUL has for years campaigned to defund the police and hire wage-theft inspectors instead.
"When you compare looting and petty theft to wage theft, the numbers don't compare. Minneapolis has 800 police officers and we were fighting tooth and nail to get two wage inspectors," Escalona said.
TEACHERS AND TEAR GAS
The Minneapolis Federation of Teachers, for its part, is encouraging members to join community-led actions and support students.
Teachers are faced with helping students deal with the situation in a racially polarized school system where roughly 20 percent of teachers are of color, while 75 percent of students are.
"Our members are focused on providing support to students as they navigate what is happening," said Mary Manor, outgoing vice president of the local.
Manor said she'd had a student call her and say, "I'm sorry I didn't finish my homework, I was flushing my eyes to get the tear gas out."
Perhaps most notably, the teachers are pushing the school district to cut financial ties with the Minneapolis Police Department.
Minneapolis teachers are also assisting in clean-up, providing supplies to people displaced by the uprising, picking up prescriptions for those who can't get to the pharmacy, and offering ride-shares to help with grocery shopping.
With the public transit system shut down, residents are experiencing extra hardship, Manor said.
REFUSING AN UNJUST SYSTEM
Numerous locals, worker centers, and international unions have put out statements calling for justice for George Floyd, including Transit (ATU) Local 1005, UNITE HERE! Local 17, CTUL, the Minnesota Nurses Association, the St. Paul Federation of Educators, the Minneapolis Federation of Teachers, UNITE HERE!, and National Nurses United.
The NewsGuild and the Broadcast Employees (NABET) put out a joint statement condemning the arrest of a CNN news crew that was covering the protests early this morning. The arrest, interrupting a newscast, was broadcast on live TV.
ATU International President John Costa said, "Minneapolis bus drivers—our members—have the right to refuse the dangerous duty of transporting police to protests and arrested demonstrators away from these communities where many of these drivers live."
Kilgore Trout (a pseudonym), a bus driver and member of ATU Local 1005, made waves in labor circles online when he called on fellow bus drivers to refuse to transport arrested protesters.
He has since begun administering a national Facebook group for union members mobilizing for #Justice4GeorgeFloyd. The Facebook group is promoting a petition "to do what we can to ensure our labor is not used to help the Minneapolis Police Department shut down calls for justice."
The Facebook group is convening unionists to march together in Saturday protests in the Twin Cities.
Additional reporting was contributed by Samantha Winslow.