Health Care Workers Demand a Ceasefire in Gaza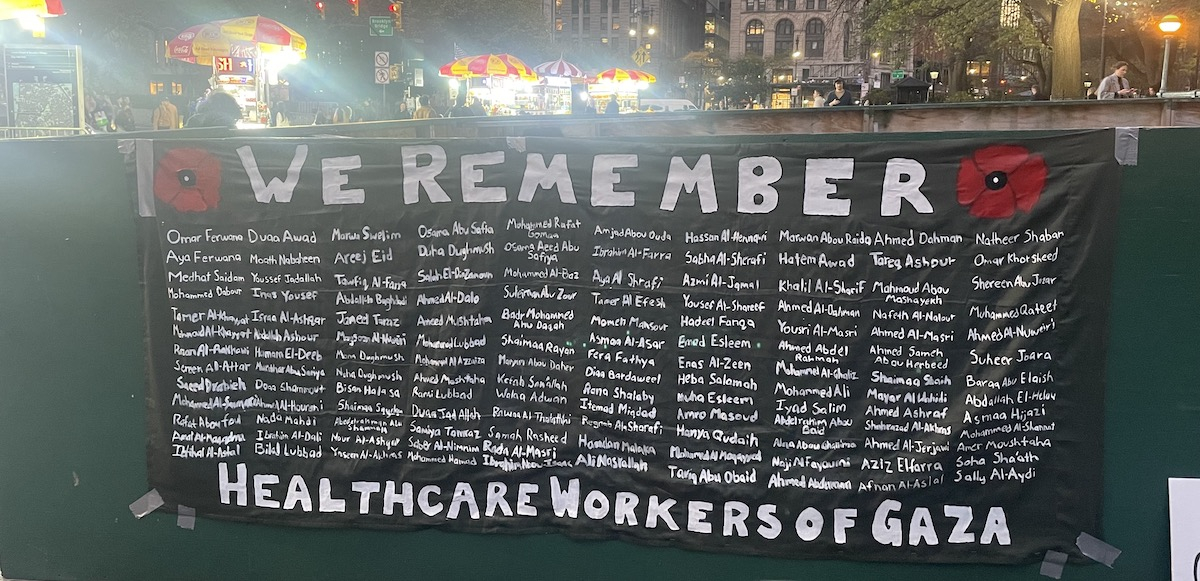 At dusk on November 3—hours after Israel bombed ambulances outside Al Shifa hospital in Gaza, killing 15 and injuring dozens more—a crowd of people in hospital scrubs, many draped with keffiyehs, gathered outside New York City Hall.
Workers from across the city joined the rally, organized by the new national group Healthcare Workers for Palestine, to call for a ceasefire in Gaza and an end to the Israeli occupation.
They gathered to mourn the deaths, show solidarity, and make demands of their union leaders: protect us from retaliation for expressing our political views, and make a strong statement in support of Palestinians.
Rally organizers projected a video from Mohammad Samara, a nurse at the Orthopedic Hospital in Nablus in the West Bank. "Imagine that you're getting ready to receive the patients," Samara said. "And one of those people is your father, or your daughter, or your husband."
As the Israeli government has changed tack from denying responsibility for the bombing of the Baptist Hospital in Gaza to declaring hospitals and schools legitimate targets, U.S. health care workers have emerged as compelling voices calling for an end to the onslaught.
More than 11,100 Palestinians, including at least 200 health care workers, have been killed in Gaza.
Health care workers know firsthand the emotional toll of protecting human life—even without a military siege. "I cannot imagine having to listen to a patient's screams during surgery without anesthesia," physician Mike Pappas told the crowd, "or deciding to stop resuscitating a patient because there is no equipment to keep them alive."
SEIU's Committee of Interns and Residents (CIR) and the massive SEIU Local 1021 are among the major health care unions now demanding a ceasefire.
The latest is the largest yet: The California Nurses Association/National Nurses Organizing Committee, with 100,000 members.
DEDICATED TO SAVING LIVES
Mahima Iyengar, a third-year resident in pediatrics in Los Angeles and CIR regional vice president, worked with fellow executive board members to draft a statement, collecting input from members through an anonymous online form.
They worried that CIR would be a lonely voice among health care unions, but a sense of solidarity with health care workers in Palestine compelled them to speak out anyway.
"We all come from different backgrounds and beliefs, but the thing we have in common is that we're all in medicine because we have decided to dedicate our lives to protecting people's health and saving people's lives," Iyengar said.
The executive board of CIR, which represents 30,000 resident physicians and fellows nationwide, released its statement on November 7, calling on President Biden and Congress to push for an immediate ceasefire and restoration of access to water, food, electricity, housing, and health care. The union also called for the immediate release of Israeli hostages and Palestinians detained in Israel without due process.
The response from co-workers has been overwhelmingly positive: "We all collectively recognize that we cannot sit in silence," Iyengar said.
The statement emphasized that the union would support members who were disciplined for sharing their political beliefs. The board sent out a form for members to contact staff organizers and ensure they have union representation in any disciplinary meetings.
At medical institutions across the country, workers have faced retaliation for speaking out in support of Palestine. Dr. Zaki Masoud, a Palestinian medical resident at New York University Langone Winthrop Hospital, was fired after expressing support for Palestinian resistance on Instagram.
BOTTOM-UP PRESSURE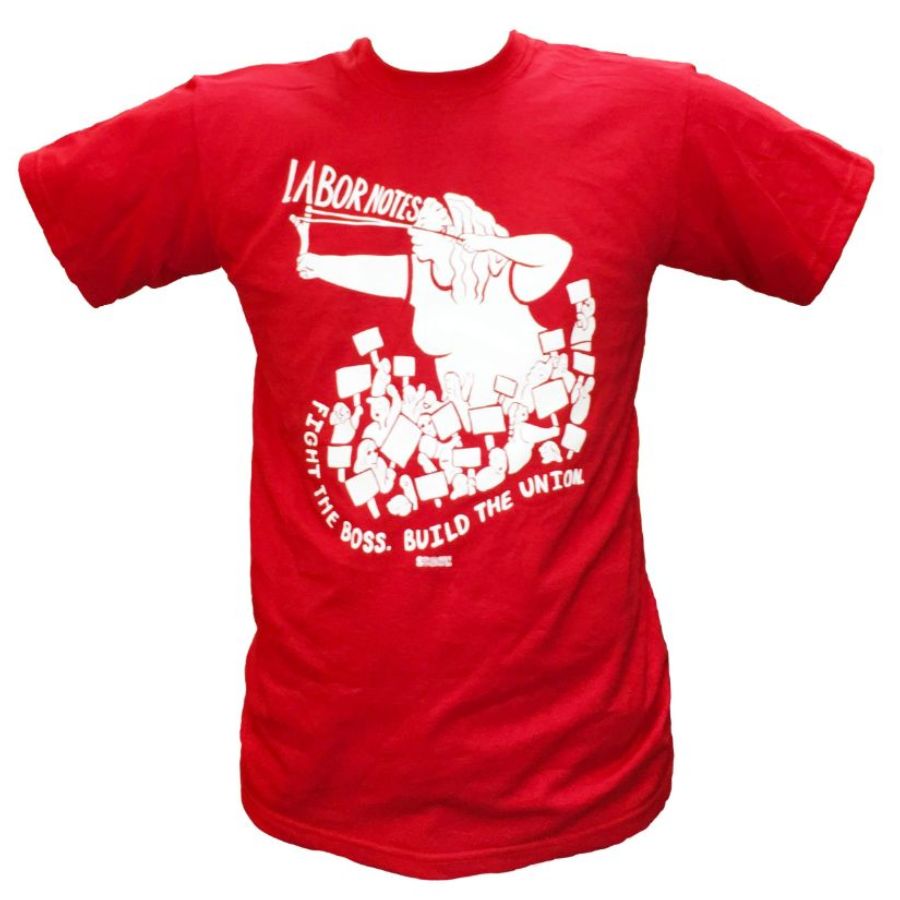 In Northern California, SEIU Local 1021, which represents 60,000 employees in local governments and health care, released a statement calling for a ceasefire after hearing the concerns of members.
Two of those members were Tarnel Abbott and Rita Barouch, who launched a campaign to push their union leaders to adopt a resolution calling for a ceasefire. Abbott, a retired librarian and longtime shop steward, felt called to action after seeing a call for international labor solidarity from public sector workers in Gaza.
Barouch, who is Jewish and worked for nearly 40 years in maternal and infant health, was horrified at the images from maternity wards in Gaza. "The fact of not having electricity means that incubators have been shut down," she said. "It's beyond belief. I saw pictures of them having to put the babies all together to keep them warm. It has nothing to do with the Jewish values that I know."
They both felt that pressure from below would be needed. "It's the members, the workers that are taking a more just position on this. We have to push the leadership," Barouch said.
They drafted a resolution for the October 28 executive board meeting—where many other members spoke up supporting the call for a ceasefire.
The board released its own statement November 7, calling for a ceasefire and asking members to contact Congress. The statement calls these demands a "first step."
Abbott still hopes the board will adopt the more strongly worded resolution that she and Barouch drafted. In particular, she wants Local 1021 to call on the California Federation of Labor and SEIU California to adopt and disseminate resolutions too. She would also like to see the union organize joint teach-ins for members with organizations like Jewish Voice for Peace.
Another local calling for a ceasefire is SEIU Local 509, representing 20,000 human service workers and educators in Massachusetts including mental health clinicians and social workers.
INCREASINGLY POLITICIZED
Health care workers are drawing on organizing networks built during the Black Lives Matter uprising and the pandemic.
Hannah Winchester, a physical therapist and leader in the Oregon Federation of Nurses and Health Professionals, said her union's statement calling for a ceasefire came out of its political education and social justice committees, which have become increasingly active in recent years.
"Our ability to pass this resolution was due to the fact that this was member-led," she said. "This wasn't an idea born out of our executive board. This was our existing committee structure recognizing the work that they can do together."
Health care workers in underfunded hospitals are appalled at the ready approval of funds for the war machine while their patients are neglected.
"This is money that could go to schools or health care or housing, which so many of our patients desperately need," said Allison, a New York nursing student and organizer with Healthcare Workers for Palestine who only wanted to give her first name.
In New York, the rally closed with a song from a now-viral video of medical workers at Gaza's Al Awda hospital, who pledged not to evacuate despite threats from Israeli forces. In the shadow of City Hall, the workers swayed together, mirroring their Gazan colleagues in the video.
"We will remain until the pain fades away," the song says, in Arabic. "We will stay here, and the melody will sound sweet."
Ella Fanger is a writer and labor organizer based in Brooklyn.