'We Feed You, Don't Let Us Starve': Restaurant Workers Mobilize to Extend Unemployment Benefits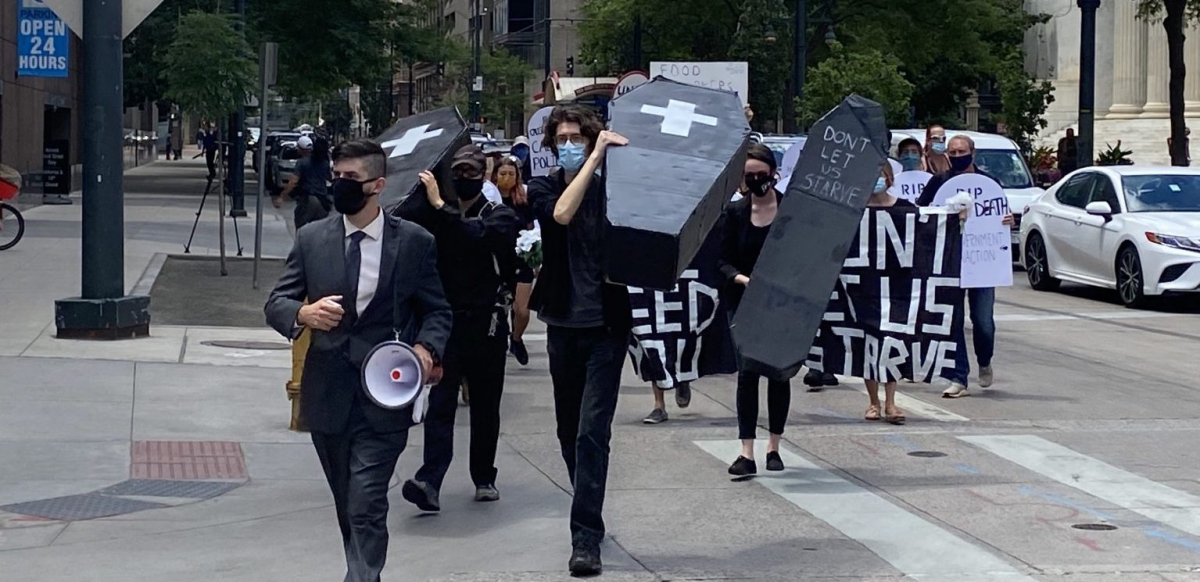 The $600 weekly federal unemployment benefits expired last Friday at midnight. The Senate left town without a deal to extend them, cutting the only lifeline keeping tens of millions of Americans afloat during the worst public health and economic crisis in memory.
The pandemic has hit restaurants harder than nearly any other industry. Restaurants have already shed millions of jobs and there is no end in sight. Food service workers also have fewer tools to advocate for themselves than do many other workers; barely any belong to a union.
Despite the odds, restaurant workers are fighting back. Servers, cooks, and bartenders are getting organized and leading national days of action for the unemployed. (To find an action near you this week, click here.)
A FAILING INDUSTRY
More than 15 million Americans worked in food service before the pandemic. Almost half lost their jobs with the shutdowns in March and April. Most of the initial layoffs were temporary, but as the crisis drags on many more are becoming permanent.
Unionized airline workers lobbied for and won from Congress a $50 billion airline bailout that included $29 billion in grants to keep workers on the payroll through September 30. But restaurant workers had to make do with just the Paycheck Protection Program (PPP), which was intended to provide federal loans to businesses that retain their workers. This was little more than a band-aid.
Nevertheless, PPP temporarily reimbursed the payroll of millions of restaurant workers. Congress has signaled this program could expire, too. If the payroll money dries up, a fresh wave of layoffs will follow.
Most states have let restaurants partially reopen. But even with the easing of restrictions, the customers are not coming back in the numbers needed to cover fixed costs like rent. The reason is simple: it is just not safe to eat in a restaurant in a pandemic. Without indoor dining, most are operating well below capacity. Half of all restaurants are on track to close their doors for good. Absent massive relief, millions of permanent layoffs are likely.
For eligible workers, the federal $600 weekly supplement has been a godsend. Many restaurant workers have been making more on unemployment than they were on the poverty wages they were paid while working. The promise of a living wage terrifies the GOP, so Senate Republicans are now moving to drastically reduce the $600. After protracted negotiations, they have let the benefits expire completely.
This is a final nail in the coffin for many restaurant industry workers. "I am counting down the days until I completely run out of money," said Larson Ross, a former employee at Kucha House of Tea in Fort Collins, Colorado. "I could potentially lose my housing with no job in sight."
ALL IN THE SAME BOAT
Only 1.4 percent of the restaurant industry is unionized, compared to 6.2 percent of the private sector overall. These establishments are typically in hotels and airports as part of larger bargaining units.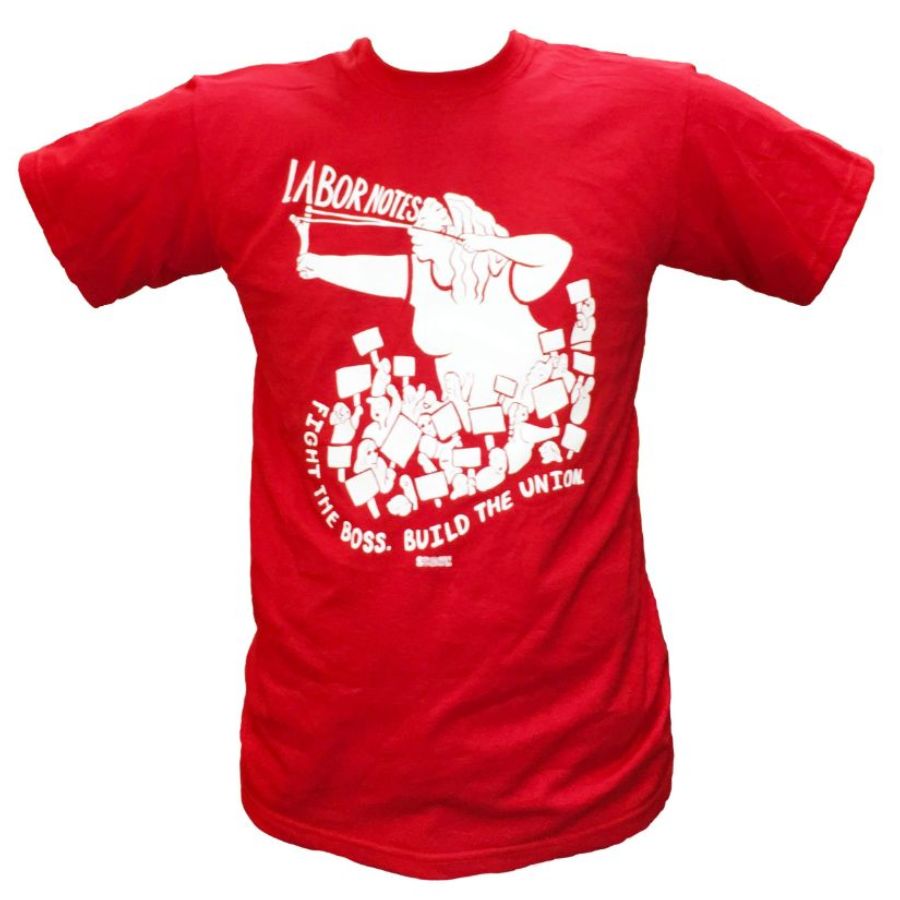 The pandemic, however, abruptly threw everyone in the industry into the same conditions. An upsurge in activity ensued. Restaurant employees spontaneously created dozens of local Facebook groups. Laid-off workers in the Democratic Socialists of America (DSA) launched a national Restaurant Organizing Project (ROP). The New Orleans Fair Hospitality Fund and Chicago Restaurant Workers (CRW) formed strong local structures. In Colorado, UNITE HERE! Local 23 and Denver DSA started Restaurant Workers United (RWU).
The virus makes organizing non-union unemployed workers even more challenging. How do we connect across shops when we cannot see each other?
RWU is using online tools to find the issues felt deeply by the most workers, and to recruit them. It has circulated several petitions (like this one) nationally to build a list of thousands. Starting from a small core, volunteers have called through it weekly. They ask workers about their struggles and invite them to join virtual meetings.
The list quickly outstripped the Colorado team's capacity, so RWU has partnered with ROP and CRW to help smaller local groups start organizing the people who sign up in their cities. This empowers local worker-organizers, who get weekly support and trainings on how to write organizing raps, run meetings, and plan direct actions. The goal is to build as big a coalition of strong restaurant worker groups as possible nationwide.
On July 24, restaurant workers held their first nationally-coordinated day of action in six cities to demand that Congress extend the $600. In Boise, Idaho, Pie Hole pizzeria employees took a break from their weeks-long picket to march down the main bar street. In Denver, 40 workers and supporters led a mock funeral procession to Sen. Cory Gardner's office behind a banner that said, "We feed you; don't let us starve." Fifty people rallied and heard from impacted workers in front of congressional offices in Chicago. Dozens took action in Austin, Dallas, and New York City with protests, banner drops, and more.
This week, from August 5 to 7, restaurant employees are leading more protests, marches, and caravans in more cities. And this time, they have started building bonds of solidarity with unemployed allies in the hospitality, entertainment, and music industries, as well as with undocumented workers who never received the $600 per week at all.
THE LONG GAME
What can restaurant workers accomplish during COVID-19? If conditions worsen, we would like to help spark a wider movement of the unemployed. Organized labor has an opportunity to expand its reach to take up the interests of those who have never been union members.
Second, we are sowing the seeds of organization for when restaurants eventually reopen fully. "We need to find leverage industry-wide that forces all employers to comply with workers' demands for more stable, less precarious jobs," said Natalia Tylim, a laid-off server and ROP leader in New York City. Seasoned in the unemployed fight, restaurant workers will go back to work with the skills and confidence to take on the boss, as some are already doing.
Jake Douglas is a laid-off UNITE HERE! member and an elected leader on DSA's national labor commission. Ben Reynolds is a freelancer and the author of The Coming Revolution: Capitalism in the 21st Century. Both work with Restaurant Workers United in Denver.