Santa Rosa Hospital Workers Strike to Defend Sick Time and Health Care in Midst of Pandemic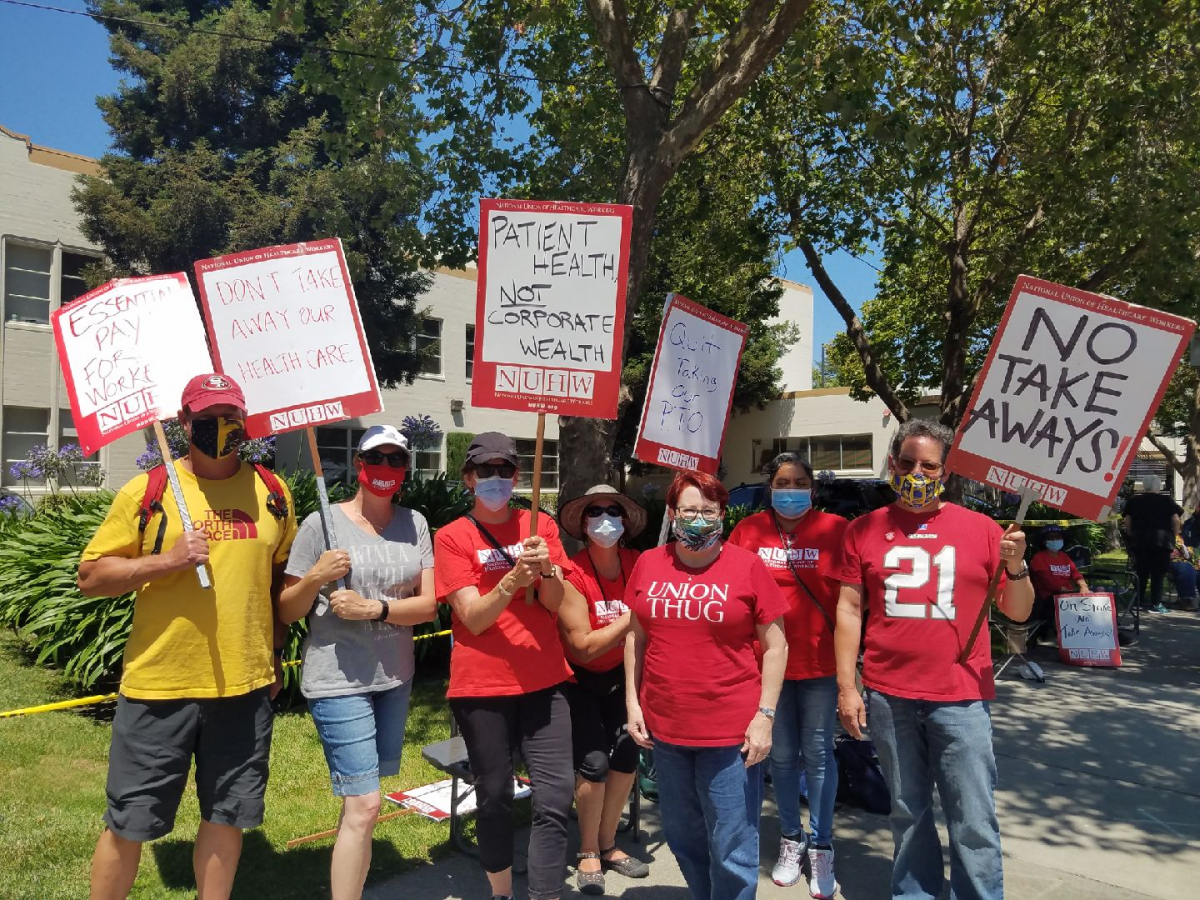 When your hospital's business plan is built around making workers less safe from COVID, the path to striking during a pandemic becomes much clearer.
Workers at Santa Rosa Memorial Hospital in Sonoma County, California, are wrapping up a five-day strike today. It's the largest health care worker strike during COVID and, as insane as it might sound, we're fighting major takeaways.
I have been a radiologic technologist at Santa Rosa Memorial Hospital for 12 years, represented by the National Union of Healthcare Workers (NUHW). In 2017, we joined the country's third largest nonprofit hospital chain when Providence Health & Services took over.
We're a scrappy bunch, befitting the demands of working at the area's only trauma center. We stayed open while our competitors closed for weeks during major wildfires in Northern California in 2017 and 2019; members came to work after losing their homes and during weeks of evacuation.
This is our first contract fight with Providence. After a year of bargaining, management held firm on reducing sick time accruals and more than doubling premiums for the health plan that half our members use; annual costs for families would rise from $1,887 to $4,609 over the course of the contract. They offered a 3 percent annual raise but refused a year of back pay.
Then COVID hit. All of a sudden the entire country saw the consequences of forcing sick people to work and what happens when they can't get quality, affordable health care. Inside, we suffered the effects of a national shortage of personal protective equipment (PPE). Providence can't be blamed for the shortage, but that knowledge does nothing to keep workers safe.
COVID PUSHED US APART
COVID crystallized the distance between NUHW and Providence. They said they were losing money; the takeaways they initially justified as bringing us in line with other Providence properties were now, they said, due to financial hardship. We knew we couldn't give up the very things that would help us get through the pandemic.
On the ground, the lack of PPE means we get one surgical mask a day and an N-95 each week, unless they are soiled. Getting a new N-95 means visiting central supply and not knowing whether the mask will be one you've been fit-tested for. Our housekeeping staff cleans COVID rooms wearing only surgical masks.
Our union includes imaging, respiratory, lab, surgical and other medical techs, admitting, and environmental services. We blanket the hospital. In a single day, I could x-ray a trauma patient, go to the OR or ICU, hit the COVID floor, and then see an immune-compromised cancer patient. PPE is essential.
Yet management's response to COVID exposure has been all over the place. They won't test after unprotected exposure, referring us to the county, our doctor, or urgent care. To get worker's compensation, those who get sick must prove they got the illness at work, something none of our members has been able to do. Our competitors do not require such proof. Workers at Santa Rosa with possible exposure or minor symptoms are variously told to stay home, come to work, or seek outside testing.
We were exhausted by a year of bargaining. Providence often refused to pick dates, timed them so rank-and-file members of the bargaining team couldn't attend (no evenings or weekends), or failed to show up, to make us eat the time we'd taken off for bargaining. They were unspeakably rude and disdainful but exquisitely sensitive to any criticism.
FIRST STRIKE DATE
We initially voted to strike in February, deciding the takeaways and, to a lesser extent, the 3 percent raise which would keep our pay below comparable trauma centers in the region, were deal breakers. When COVID hit, we put those plans on hold.
A surge tent, to this day unused, went up out front and the hospital canceled all elective procedures. During those early days, patient census was way down and the hospital did lose money; employees lost hours as well, in the form of furloughs and having days taken away or shortened.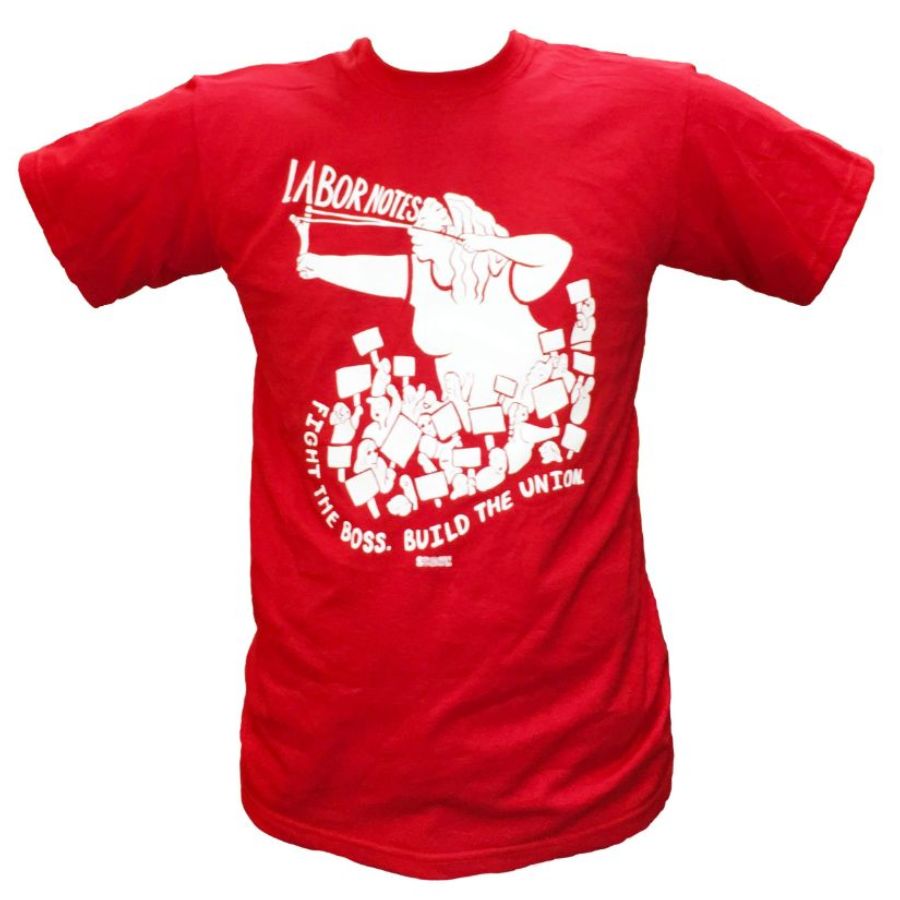 The decision to strike was tough. When Providence heard we planned to provide the required 10 days' strike notice, they cut the pay increase offer to 2 percent. They gave workers three-page "surveys" asking who would cross the picket line and pressured us to sign them, although they can't force us.
Managers yelled and threatened. They said if members who'd said they'd work didn't show up they'd be fired, a lie. They treated the strike like a formal emergency, telling those who planned to cross the picket line that they had to report at 0600 Monday even if they weren't scheduled. They did this without formally invoking the emergency clause, because that would show how important our members are to the hospital.
WHY AND HOW WE'RE OUT
The final decision to strike required the confluence of many factors:
Financial: Providence has made $200 million in operating profits here since 2017, received one of the largest federal pandemic-related bailouts, and has $12 billion in cash reserves. We've shared the pain, through months of smaller paychecks and worse-than-usual staffing. Providence can afford to maintain our contract without concessions.
COVID: For at least two months now it has been, in the words of CEO Tyler Hedden, "business as usual." We did more OR cases this June than last, there's ample capacity for a surge, and they aren't holding ICU beds. Nearly all of the county's COVID patients recover at home and, for once during a disaster, we aren't the only hospital open. Management is using COVID as a means to guilt members, while filling operating rooms and beds with non-COVID patients.
Commitment: This strike is a huge sacrifice for members whose family income has dropped during the pandemic. We are mindful that a week without pay is very different on a housekeeper's salary than for an MRI tech. Still, the strike has broad support from members.
Public opinion: Press coverage has varied, but we've proven our commitment to our neighbors through two wildfires and countless traumas. One on one, the case is easier to make.
People ask the wrong question, expecting those on the front lines to continue to sacrifice our safety; they should ask Providence why a multi-billion-dollar, highly profitable nonprofit doesn't take better care of its workers. When people learn the hospital continues to print money during the pandemic while taking away our safety net, they get it. People are shocked that people who work at a hospital don't get enough sick time or affordable health care.
Picketing safety: We're medical professionals who know the value of social distancing and masking. We don't march down the street, which would increase interactions; we stay put with our signs. Hand sanitizer is everywhere. We're careful.
Solidarity: Most of our 740 members support the strike, though some are crossing due to financial hardship or the pandemic. We agreed if a true surge hit we'd go back to work.
Hundreds of us are out there every day; it's like a block party, with music and food and camaraderie. Social media has been very supportive. Our nurses, members of an independent union, are under contract till September 30 and can't strike, but they're picketing with us on their own time.
I'm reminded of a quote from a teacher explaining why she left teaching: "I can't continue to set myself on fire to keep other people warm." That's where we are.
Tammera Campbell is a radiologic technologist at Santa Rosa Memorial Hospital and an NUHW member.