Addicted to Profits: Workers Locked Out at New Jersey Drug Treatment Facility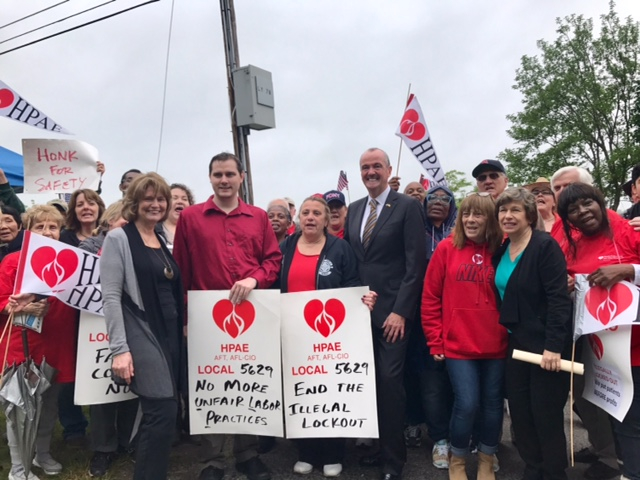 One hundred ten addiction treatment beds are empty, and 120 employees without a paycheck, after for-profit American Addiction Centers locked workers out of its Lafayette, New Jersey, facility.
The day before workers planned to kick off a three-day strike, the company changed the locks on the building and put patients on planes to its other facilities around the country.
Members of the Health Professionals and Allied Employees (HPAE, affiliated with the AFT) were set to strike at Sunrise House on May 24 over unfair labor practices. They say the employer has been bargaining in bad faith for the past nine months, as workers push for a first contract.
"The fact that they interrupted patients' treatment and forced them to leave was so sad to watch," said Sheila Schicker, who's been a nurse at Sunrise House for 11 years. "Patients were crying. They didn't want to go.
"We could have banged this contract out in a day or two, if they were willing to sit down and be reasonable."
American Addiction Centers, a for-profit chain headquartered in Brentwood, Tennessee, operates 12 residential centers across the country. Founded in 2011, it became the first publicly traded company focused solely on treating addiction in 2014.
BROKEN PROMISES
When American Addiction Centers bought the previously nonprofit Sunrise House in 2015, it promised new technology and wage hikes for its employees, who are on the front lines of the country's opioid addiction crisis.
"[CEO] Michael Cartwright talked about how he was going to make Sunrise House great," said Schicker. "But all he did was strip away any of the good things we had."
Since taking over, AAC increased the number of detox beds from 18 to 29 without increasing direct patient care staff. Over the same period, 40 workers have been laid off or quit under duress. Meanwhile, the union says workers earn nearly 45 percent less than the market rate for these jobs, with half making under $15 an hour.
"I've been a nurse there for eight years," said Katie Vaughan, a single mother with two kids, who's now on the union's bargaining committee. "Even though I have never had a raise the entire time, before I felt like I was coming in and got to know the patients, and I actually felt like I was helping people.
"Now, they just keep pumping in the patients," she said. "It's kind of like a warehouse mentality: 'Get 'em in, get 'em in.' And that's not what we wanted. We wanted a voice and a say in what was going on—and when we went to management and voiced our complaints, they just ignored us."
That led workers to start organizing with HPAE, which represents 12,000 New Jersey health care workers. Despite the employer's anti-union campaign, last June workers voted 5 to 1 to join the union. The wall-to-wall bargaining unit includes nurses, housekeepers, counselors, and kitchen staff.
PROFITS OVER PATIENTS
Workers say the facility's short staffing compromises their ability to take care of patients. "When these people come in, they're at the worst points in their lives," said Vaughan. "But now, I don't have time to speak with them, to hear about their families and their lives. That's not the standard of care that we were used to having here."
They're also outraged that the company refuses to provide more security. This lockout is the first time the building has been consistently locked, workers say—usually anyone can come in and leave as they please, and there are no cameras. With no security guards on site, workers have had to call the state police when detox patients had violent outbursts.
"When we were a not-for-profit, we kind of accepted it—we didn't have the money," said Schicker. "But Michael Cartwright is making a lot of money off of people's suffering."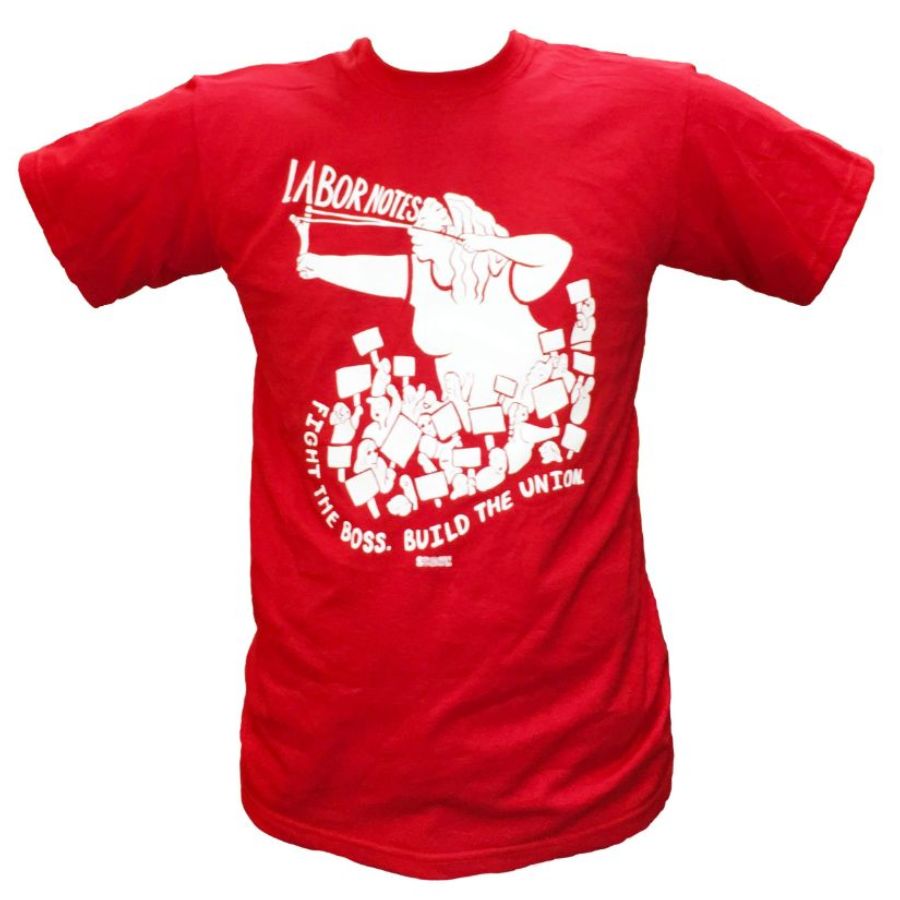 The union has released several videos highlighting workers' safety concerns—including the ease of getting drugs on site, fights between patients, and sexual harassment by supervisors and top executives—on their AAC Watch website.
Nationally, AAC pulled in $280 million in revenue last year, up from $28 million in 2011. That growth has come by acquiring nonprofit centers like Sunrise House and jacking up the number of beds and patients in each, while spending millions on web and TV marketing.
The union alleges that the lockout is illegal, and is requesting that the National Labor Relations Board grant a 10(j) injunction to end it. HPAE has filed a number of unfair labor practices charges over the company's unilateral changes to terms and conditions of employment and threats to retaliate against union activists.
The Occupational Safety and Health Administration and the New Jersey Department of Human Services are also reviewing complaints about the company's failure to provide a safe facility for patients and workers.
BIGGER THAN YOURSELF
Workers are picketing every day. They say when prospective patients drive up to the picket line looking to be admitted to Sunrise House, it's painful to have to explain that the owner chose to lock out the staff and close the facility, and to say they don't know when it will be opened again.
"Michael Cartwright is afraid that the rest of his facilities are going to unionize, and he's not going to be able to take advantage of the patients and workers elsewhere," said Shicker.
The union has also set up a website for donations to help the locked-out workers. "We have people who are making under $10 an hour," Schicker said. "When you have people making that little bit of money, living paycheck to paycheck, when you don't get one paycheck, that can really destroy someone.
"But we're doing our best to help those who need help. This is too important to cave and give in now to management's pressure and attempts to create fear."
Pickets have been bolstered by support from other unions, including visits from AFT President Randi Weingarten, New Jersey gubernatorial candidate Phil Murphy, and state AFL-CIO head Charlie Wowkanech.
"It feels so good to see those other union members stopping by and saying, 'We're standing with you, we're not going anywhere,'" said Vaughan. "And it feels so good to be part of something so much bigger than yourself, and to know that together we can accomplish something that matters when it comes to taking care of people who suffer from addiction."
Negotiations between the union and company are set to resume on Thursday and Friday, June 8 and 9.
If you would like to join the Sunrise House workers on the picket line, contact Phil Denniston at pdenniston[at]hpae[dot]org to find out the schedule. You or your union can also donate to support the locked-out workers here.
Editor's Note: This story has been corrected to reflect the fact that there are no on-site security guards at Sunrise House.