Staten Island Amazon Workers Vote on a Union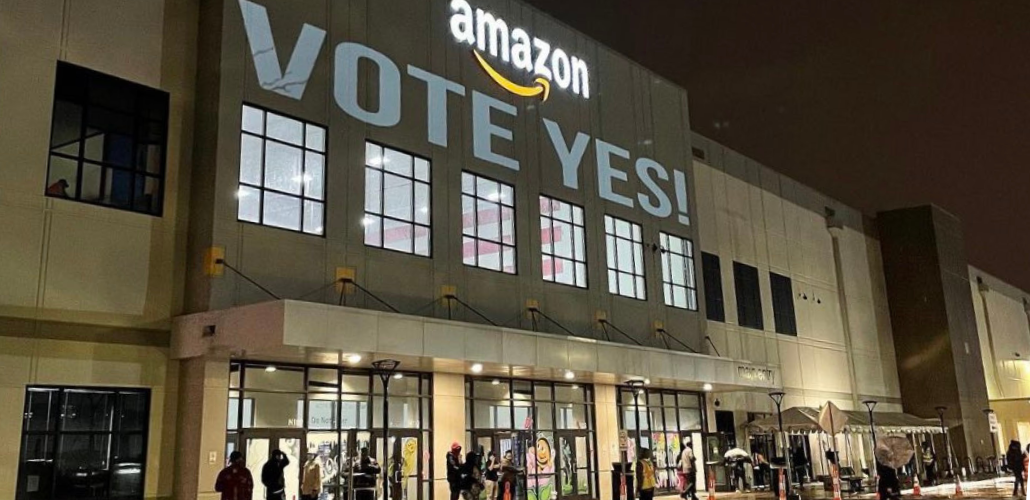 As the country cheers on Starbucks workers organizing, the votes will be counted this week in two big union drives at Amazon warehouses—one in Alabama and one in New York.
Voting concluded March 25 in Bessemer, Alabama, after mail-in ballots were sent in early February to more than 6,100 workers who are deciding whether to join the Retail, Wholesale, and Department Store Union. This is a re-vote after Amazon's interference tainted the first election, a landslide defeat last April.
Meanwhile in an in-person election at the sprawling Amazon warehouse known as JFK8 on Staten Island in New York City, more than 8,000 warehouse workers will decide whether to unionize with the Amazon Labor Union, an independent union formed there last year. The election runs through March 30, with results expected the following day.
The number of workers at the warehouse is unclear; figures range from 6,000 to 9,600 employees, and the petitioned-for unit was 5,000. Last November the ALU withdrew its petition because it failed to meet the 30 percent showing of interest. This time around, the union submitted more than 30 percent.
A second Staten Island warehouse at the same complex is also gearing up for an election to join ALU. Voting is slated to begin April 25 at a sortation center known as LDJ5, employing roughly 1,500 workers; the ballot count is May 2.
TOP ISSUE: HIGHER PAY
More than 2.4 million packages are delivered daily in the New York City metro area, and Staten Island is a major distribution hub for Amazon's massive network of delivery stations, fulfillment, and sortation centers.
"The number one demand for workers is higher pay," said ALU Vice President Connor Spence. "The cost of living in New York is way too high. Everyone's under a lot of pressure right now with inflation, with the gas prices."
A tier one associate—whether stowing, picking, or packing items for shipping—earns $18. There's a shift differential for working after midnight; the highest is a $2-an-hour bump for working overnight Thursday through Saturday, 6 p.m. to 6:45 a.m.
Amazon has a churn rate of more than 150 percent. Last year it went on a hiring spree, bringing new workers on at a higher wage, $22.50 an hour, plus a $3,000 sign-on bonus.
The average wage on Staten Island is $41 per hour and the median household income is $85,381, according to a U.S. Census Bureau analysis.
TOUGH ODDS
The odds are enormously stacked against all three union efforts. Amazon is one of the world's most powerful corporations and the second-largest private employer in the U.S.
To quash organizing in both states, the company has used standard union-busting tactics—among them plastering common areas and bathroom stalls with anti-union propaganda and requiring workers to attend meetings where they are subjected to a barrage of distortions and outright lies.
U.S. employers have so much control over the workplace that they routinely get away with rigging union elections, using legal and illegal tactics. A 2019 study by the Economic Policy Institute found that employers were charged with violating workers' legal rights in more than 40 percent of all union elections, and with illegally firing pro-union employees in nearly 20 percent.
Last December, Amazon reached a settlement with the National Labor Relations Board after breaking labor law; it agreed to notify workers of their rights and let them organize freely on company property during non-work time. But Amazon has already violated that settlement multiple times. Employers treat the weak penalties for breaking labor law as just another cost of doing business.
At the Bessemer facility, the company threatened one worker with discipline for
speaking to co-workers on their break about joining the union. At the Staten Island facility, management called the police on workers who were delivering lunch and talking union in the company parking lot, and had them arrested.
TOLL ON THE BODY
New York State has a union density of 24.1 percent—compare that to Alabama's 5.9 percent—creating a more favorable environment for a union campaign.
But that's no panacea. At the Staten Island facility on Saturday night, Tina Smith* (names marked with asterisks in this article are pseudonyms to protect workers from retaliation) said workers she knows are abstaining from voting altogether.
"There's a lot of people here, and half of them did not vote," Smith said.
Tash Jones* said voting would be a waste of her time. "Whether we are in a union or not, Amazon is still going to make their money," she said. She was also skeptical of the independent union for its low visibility. "I have not spoken to one union representative to give me any type of information or to tell me why I should vote yes," she said.
On the other hand, Monique Brown* is voting yes to improve conditions and make Amazon a dignified workplace. She has developed blisters on her feet from long periods of standing, so bad she had to see a doctor to treat the pain. "We do work long, long hours," she said. "Our feet hurt like crazy; our backs are killing us."
"To tell you the truth, this job is not for you to be here for five years, six years, 10 years," said Smith. "Nobody can survive that."
"Every day I go home and cry," said Jessica Stone*, who is also voting yes. Her father was in a union—and when his company tried to fire him due to age discrimination, the union stood by him.
At Amazon, she's concerned about the limited unpaid time off. When you first start the job, you get 10 hours of UPT; thereafter you accrue 20 hours every three months. "The job is so strenuous that people have to leave the job early," Stone said, depleting their time-off bank.
These four women all work second jobs—in hospice care, at nursing homes, and in housekeeping. At Amazon, they work overnight shifts three times a week for the bump in pay ($20 an hour, compared to $18 on days) but the commute to Staten Island is hard on their bodies.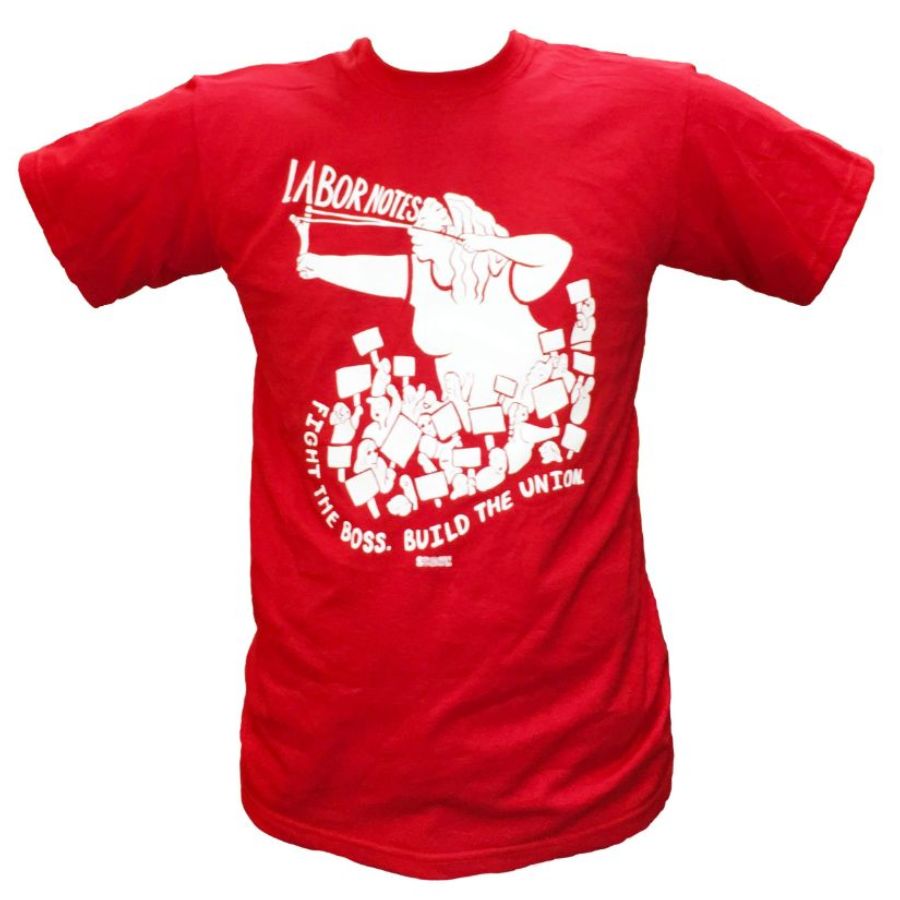 Stone lives in the Bronx; her commute is four hours, round trip. She often uses UPT to make it home in time to rest in between 12-hour shifts.
Once workers have a negative balance, Amazon can fire them.
'EVERYBODY IS DISPOSABLE'
Christian Lopez* had reservations at first, but he came around to supporting the union drive because he wants job security.
At Amazon "everybody is disposable," he said. They don't care about you. But they'll have a lot more trouble getting rid of you if there's a union behind you."
Lopez is also frustrated with recent changes to working conditions, including a new rule that workers must leave their cell phones in their lockers ("Covid is still a real thing. People have families," he said) and line up with thousands of others to clock in at the facility as opposed to on the company app.
If workers are seen wearing headphones, they're written up. "I don't know how they expect to win us over," he said.
Another complaint is the new requirement to wear steel-toed shoes. Steel-toed shoes are safe and common in construction and other industries, but the prolonged periods of standing at Amazon warehouses combined with steel-toed shoes add to the strain on swollen feet.
The workers say they'd prefer to wear regular sneakers with cushion. "The safety shoes, they kill me," Lopez said—they hurt his toes and slow him down.
Amazon requires warehouse packers to fill at least 200 boxes with stuff an hour. To meet the productivity quota, "I see people in there take their shoes off completely," Lopez said. "They be working with no shoes."
AMAZON'S TALKING POINTS
Why would workers oppose the union? Many accept Amazon's line that "if you don't like a job, you should just get a new one," said Spence. "They think the free-market approach will fix the issue, and Amazon will compete to make things better."
But, he said, "the problem is that Amazon is one of the largest employers on the island. There are some 8,000 workers who work there. They can't all just go get a job somewhere else. And Amazon put a lot of competitors out of business, so there's no one hiring."
Sitting at a picnic table outside the facility, Tony Ortiz repeated Amazon's talking points—that ALU hasn't shared details of how the union will calculate dues and has no experience with collective bargaining.
"I'm pro-union—but unions that have been established and can really tell me what I'm getting into," he said.
Ortiz is a former member of Laborers Local 79, and had only good things to say about his experience. But "that's an established union with over 150 years of experience," he said. "This is something that a guy [started] who literally got fired because he had Covid and came to work. I'm not following that man."
That's Amazon's line of attack against ALU President Chris Smalls, who led a walkout in March 2020 to protest the company's failure to keep workers safe from the pandemic.
Smalls was a shift leader on the training team at the warehouse; Amazon fired him afterwards, supposedly for violating Covid protocols. Vice reported that the company's general counsel insulted Smalls in a meeting with top brass, calling him "not smart or articulate."
'THEY LIKE TO CREATE DOUBT'
Amazon's message about ALU is getting some traction. In interviews with two dozen workers, I heard similar doubts that the scrappy independent union could bargain a collective agreement or get Amazon to accede to its demands.
"They like to create doubt," said Karen Ponce, a stower at the facility and organizer with ALU. "They're like, 'They don't know what they're doing. They're inexperienced, or they just want to take your money.'"
Although the particulars vary from campaign to campaign, "this just isn't the right union" is a standard anti-union message that employers use.
ALU organizer Brett Daniels responds to the criticism by pointing to the union's grassroots, worker-to-worker organizing approach. And, he points out, "Amazon doesn't have any experience negotiating a contract as well."
Pressed further on how they are preparing workers for these lines of attack from Amazon, both Ponce and Daniels talked about one-on-one conversations in the break areas and cafeterias. But the warehouse is massive with upwards of 8,000 workers; the committee has 16 members, which isn't enough to reach them all. They've had some success in phone-banking and using social media.
They also say their outreach efforts have become more effective with support from more-established unions including UNITE HERE Local 100, Communications Workers Local 1102, the Coalition of Black Trade Unionists, Food and Commercial Workers (UFCW) Local 342, and advocacy organizations like Make the Road New York.
Update: An earlier version of this article incorrectly described Chris Smalls as a member of management at Amazon. He was a shift leader, or what Amazon describes as a "Process Associate," responsible for training workers. —Editors