Surveillance, Stress, and No Bathrooms: Life as an Amazon Driver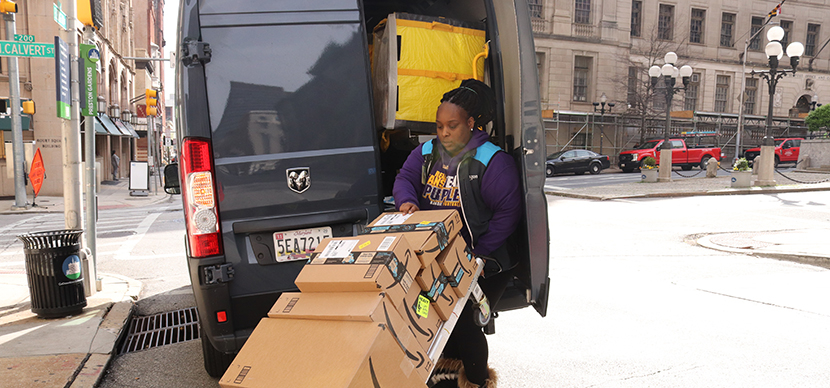 Part 2 of a series on Amazon's delivery drivers. Part 1, "Building Its Own Delivery Network, Amazon Puts the Squeeze On Drivers," is here.
The Amazonification of logistics has created a new group of highly exploited workers: delivery drivers. Amazon itself increasingly relies on an expanding network of subcontracted drivers and independent contractors to deliver packages to customers' doors.
The working conditions facing Amazon's last-mile drivers are defined by a frantic pace, low wages, and relentless pressure to meet tight delivery deadlines. Workers of color and immigrants are overrepresented, as they are in all the lowest-paying segments of last-mile logistics.
When an Amazon Prime member orders an item, the first step in the delivery process begins at an Amazon Fulfillment Center, where the item is picked by a worker and put into a box, and an address label is created.
From there, the package is typically sent to an Amazon Sortation Center, where it is sorted. Then it's sent either to the post office or, increasingly, to an Amazon Delivery Center, where Amazon's subcontracted Delivery Service Provider (DSP) drivers pick up their routes.
Each Amazon Delivery Center typically contracts with 12–20 DSPs. Most of the drivers I spoke with said they usually have the same daily route. As the workday starts at the delivery center, hundreds of drivers pick up their "racks": pallets of Prime packages. Any package that arrives at a delivery center must be delivered that day.
'WATCHING ME DRIVE'
To get a sense of what work is like for these subcontracted drivers, I accompanied 30-year-old Miguel on some of his shifts throughout the Los Angeles region. Miguel is an undocumented immigrant; he was born in Mexico and migrated to the U.S. as a baby in the early 1990s. He grew up in L.A. and worked in fast food for 10 years before becoming a delivery driver.
Miguel typically works four 10-hour shifts each week, with an occasional opportunity for an extra day of overtime. He earns $15.50 per hour and receives no health benefits. While Amazon is not technically his employer, Miguel exclusively delivers Amazon Prime packages.
Miguel's shift starts at 7:30 a.m., when he picks up his "bag." A driver's bag contains the keys to the delivery van and an Amazon "Rabbit" delivery device.
The Rabbit is an Android smartphone, which tracks the driver's movements in real time and dictates each step of the delivery route. It provides information on each delivery, access codes to enter apartment buildings, and notes on where to leave packages.
The Rabbit also gives the driver information about the Prime customer (name, address, phone number) and the size of each package. As soon as a package is delivered, the driver must take a picture to prove it.
"The Rabbit stresses me out," Miguel said. "I'm constantly staring at it and thinking someone at Amazon is constantly watching me drive."
Once Miguel finds his van in the parking lot, he proceeds to the Amazon Delivery Center and waits for his rack. There's a long line of other DSP drivers also waiting. Each rack has between 225 and 350 packages.
On one particular day I joined him, Miguel's rack contained 227 packages, amounting to 161 stops. A driver typically puts all the small envelopes and packages up front in the cab and leaves the large boxes in the rear of the van. Since I was riding in the front seat, I had to hold dozens of small packages on my lap.
If drivers finish their shifts early, the DSP may assign them as "rescue drivers" to assist others who have fallen behind on their delivery routes.
CONSTANTLY RUSHING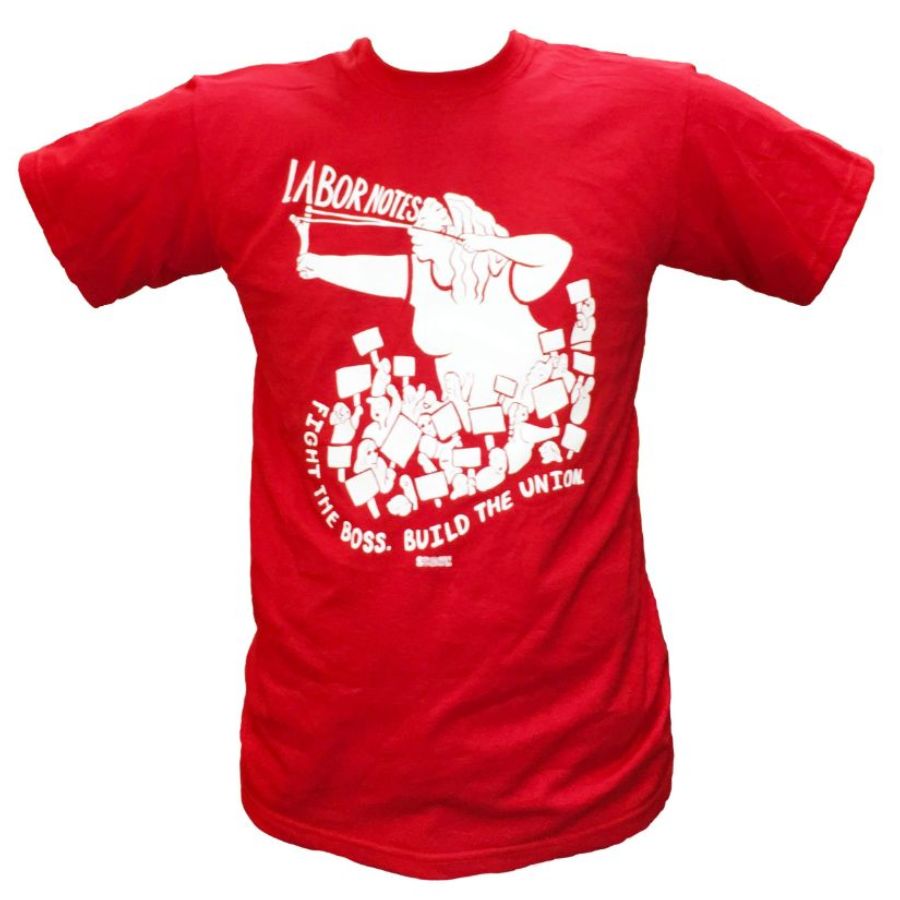 "One thing that can be stressful is that my boss always knows exactly where I am because of the Rabbit," Miguel told me. "So if I am behind on my route they tell me about it... They call me on the radio and tell me to hurry up.
"On most days, I don't even have time to take a full lunch break, so I just go to a drive-through. And if I'm lucky I'll just eat in the van as I am working... You are constantly rushing. You can't find parking, or the Rabbit gets screwed up...
"I've also been accused of stealing packages, especially in rich white neighborhoods. They see a Hispanic driving around and think I am a package thief. My [company] will soon be giving us Amazon-branded uniforms and blue Amazon vans, which I'm happy about because that will help people realize that I am not a porch pirate...
"Also, I wish we got paid more. I think we deserve it. I work really hard and I don't have health benefits, so if I get sick or hurt, I have to pay out of pocket."
Miguel and many other drivers I interviewed emphasized that it is Amazon, not the DSPs, that needs to pay better wages.
Drivers described a physically demanding work environment. They feel pressured to drive at dangerous speeds, blow stop signs, and skip breaks and meals to meet the tight deadlines. Traffic and congestion stress them out. They also reported safety violations, wage theft, intimidation, favoritism, and a lack of overtime pay.
"I lost over 30 pounds since I started this job," said Rogelio, a 26-year-old Latino driver. "This job takes a lot of running... I twisted my ankle stepping off a curb a couple months ago... it really slowed me down. I had to keep working though, but it was really swollen."
Rogelio told me that he only stops to use the bathroom once per shift, usually at the same public toilet near a park along his route. "During Prime week," Rogelio said, "I was way behind on my route. All I ate that day was a granola bar and an apple—for almost 11 hours! I hate Prime Day."
'ONE PACKAGE COST ME $150'
When a DSP driver fails to deliver a package, or even when a package is stolen from the doorstep of a customer's home, Amazon contacts the DSP with what drivers call a "concession."
Concessions occur when Amazon Prime members submit a complaint to Amazon over a missed delivery. When a concession is issued, the individual driver is reprimanded by a superior.
Alex is a 37-year-old Latino driver who has been working for his DSP for 10 months. He told me, "Amazon put a concession on me a few months after I started. My boss called me in, and he asked why I didn't take a picture of the package that disappeared. I told him that I did, but for some reason it didn't get logged by the Rabbit. I was written up [by my boss] and he took away one of my shifts that week as punishment. That one package cost me 150 bucks.
"For the next few weeks, my boss tightened the screws on me... He was always on me, calling and texting me to hurry up... When an item gets stolen, they blame the drivers."
"Here's the thing," Justin, a Filipino driver, told me. "I'm 42 years old. I have four kids and I make $15 an hour. I get about $1,250 every two weeks. That's not enough to make it out here in LA. If I didn't have a family, I'd leave this area.
"I basically do the same work as a UPS driver, but those guys get paid double what I earn, at least. We don't have representation with any union. So that's why I take as much overtime as possible, my boss knows I'll take any extra work—but it's a really tiring job at times."
Jake Alimahomed-Wilson is a sociology professor at Cal State-Long Beach. He is the co-editor, with Ellen Reese, of The Cost of Free Shipping: Amazon in the Global Economy (Pluto Press, 2020). This piece is an edited excerpt from the book. Read our review here.