Fight the Boss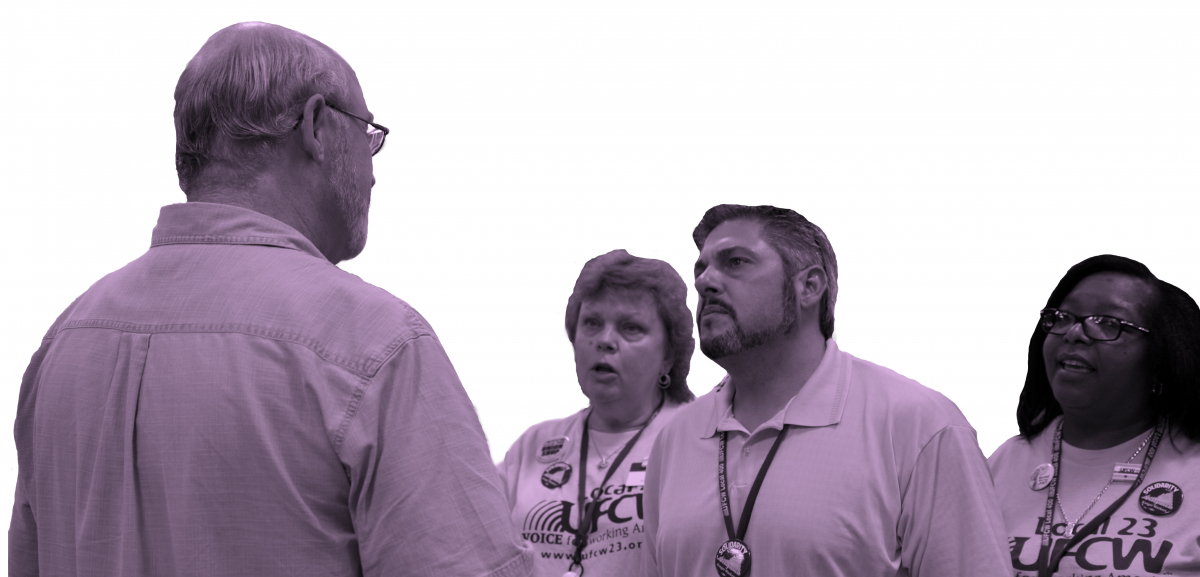 You're not asking co-workers to join a social club or an insurance plan. You're asking them to join a fight over issues that matter.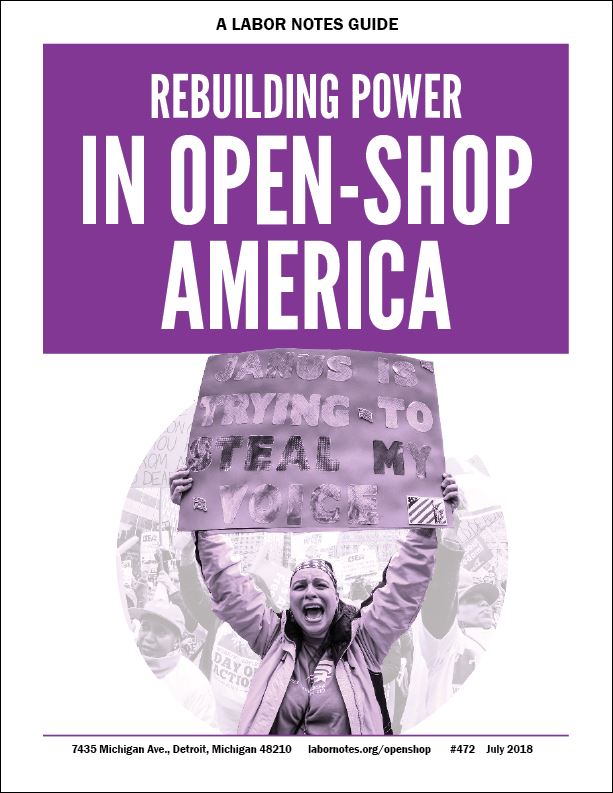 Context
Diagnostics
Brass Tacks
Why do any of us pay union dues? It's because we feel our union fights for us, and we consider it important to our lives. So one key to surviving an open shop is to do the essentials that unionists should be doing anyway: Win grievances. Fight for a good contract. Report your victories and struggles.
Consider the Jeffboat shipyard. In the years after Indiana went right-to-work, only one person dropped out of the union—in a workforce of 700.
Teamsters Local 89 held onto members' loyalty because it had a deep bench of stewards who actively sought out workplace problems to fix. On a dangerous job where fatal accidents were on everyone's mind, they made safety a top union issue.
Because the local went on strike when necessary, members had good wages and health insurance—the value of the union contract was self-evident. And stewards were systematic about always asking new hires to join.
INVOLVE WORKERS IN GRIEVANCES
Grievances are one common way that members see the union fighting—or don't. So when a worker brings up a problem, it's a mistake to say, "Now leave it to me." Instead, the steward should work through every grievance with the affected worker as a teammate.
Postal unions across the country are open-shop. Yet the Boston Postal Workers (APWU) local hovers around 94 percent membership. President Scott Hoffman said this high rate has a lot to do with involving members in every union activity, including grievances.
Win or lose, you want the person to understand the grievance process. "Sometimes you have to explain, 'No, that's not going to work,' and why," he said. "Members don't demand a victory every time. They just want to see that you made the effort."
With every grievance, ask, "Who else is affected?" Look for opportunities to make it a group grievance and have members submit their own statements.
ACT AS A GROUP
Much more effective than a grievance, though, is shop floor action. People who would never act alone will find courage to act together with others. The more people participate in solving a problem, the more they will develop the skills and confidence to take on other problems, and the union's power will grow.
When three West Virginia grocery workers got unfair write-ups from the same manager, they asked shop steward Auriana Fabricatore what she could do. She turned the tables back on them.
"I think the three of you can do something about it right now," she said, "if you're willing to go upstairs and confront the manager?"
Together they marched into the office and gave the wide-eyed boss a piece of their minds. He tore up their write-ups on the spot.
The experience was exhilarating, and it warmed up three formerly distant members into union activists. A few weeks later, one came back to the steward with a different problem. But this time, the question was "What can I do about this?"
"A subtle change, but huge," Fabricatore said.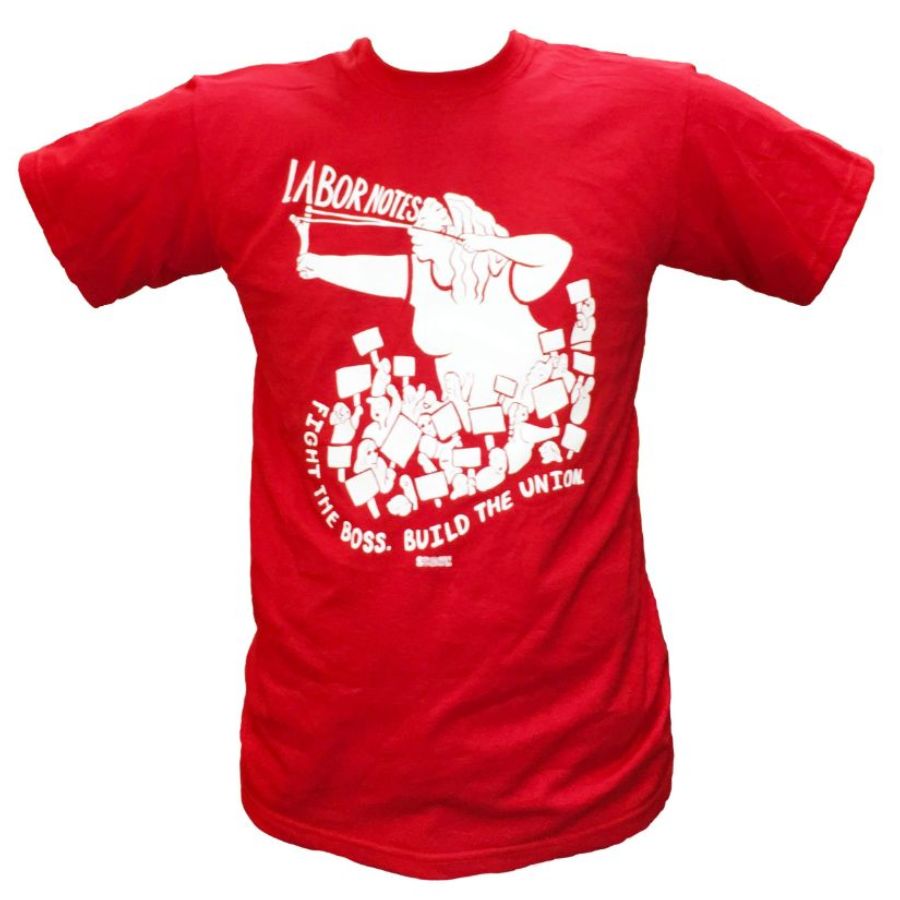 Your goal is to develop a union culture in the workplace—not just at the union hall—where people expect to participate in defending the contract and defending each other.
Basics of a Plan
WHAT EXACTLY DO YOU WANT? Identify the solution you're after, and make sure it's one that's winnable.




WHO HAS THE POWER TO FIX THE PROBLEM? It's not enough to say "management." Figure out which person in management could say yes to your solution.




WHICH TACTICS CAN WORK? Aim your actions to build the pressure on the decision-maker you've identified. Consider how much pressure it will take to win, and where your leverage is.
GET CREATIVE
Besides being fun and effective, these activities give workers the chance to learn by doing. "In essence they see what the union really is," says Steelworkers Local 675 Secretary-Treasurer Dave Campbell. "The union is them, and it's their concerted, collective activity on the shop floor which gives the union power."
That's how his union maintains 90 percent membership in California oil refineries, where workers get a window of opportunity to drop their membership every time the contract expires.
Members have developed the habit of acting for themselves as a union. Leaders encourage them to bolster a grievance with workplace action.
For instance, a supervisor had forbidden people to wear baseball caps, sunglasses, or Hawaiian shirts in the control room. Workers collected signatures on a petition and presented it to the other supervisor, who crumpled it up and threw it away.
"We organized all four crews to show up for work with Hawaiian shirts, sunglasses, and ball caps," Campbell says, "and the union bought the roast pig for a Hawaiian luau lunch. When the superintendent saw all the workers united, he of course asked what the hell was going on—and the supervisor who had caused all this was reassigned."
Choose Your Tactics
Does the action relate to your issue?
Will it increase the pressure on the decision-maker?
Is it simple?
Is it visible?
Is it timed for effect?
Is it new and different—or tried and true?
Are enough people ready to do it?
How will others react? Will it unify people?
How will management react? Could it backfire?
Does it violate the law or the contract? If so, are you prepared for the consequences?
Will it be fun?
LEARN BY DOING
Here's one more story from letter carriers in Portland, Oregon, who manage to keep their membership numbers well above 90 percent.
One time last year, carriers were told they must deliver three "full coverages" in a single day.
A full coverage is an advertisement that goes to every household, along with the mail. Two of the three were magazine-thick. That's a lot of weight to carry around all day.
There was general "panic and angst," said Organizing Chair Willie Groshell. So he encouraged everyone to fill out a safety concern form. Some were nervous, but one by one, people filed up to drop their forms on the manager's desk. About half the carriers on shift that day participated.
And that was all it took. Within minutes the manager agreed to postpone the heaviest item till the next day. Palpable relief and power zipped around the work floor.
"It's moments like that that really do bring people on board, that get people to understand what we can do collectively," Groshell says. "You've got to find those opportunities, and when they're there, you've got to try and take them."
Pick Your Battles
Always be on the lookout for problems that can be solved through collective activity. Use these four criteria to evaluate a possible organizing issue:
Is it widely felt? Many people must feel that this is a real problem and agree with the solution you're pursuing. The heavy mail assignment is a good example—every letter carrier was affected.




Is it deeply felt? It's not enough that many people agree if none feels strongly enough to do anything about it. The grocery workers were so furious over the unfair write-ups that they found the courage to do something they'd never done before—march into the manager's office.




Is it winnable? It's hard to know for sure whether you will win, but it's possible to get a good idea of whether you can. Identify the decision-maker who can give you what you want. How hard do you expect this person to resist, and how much pressure can your group muster?




Does it build the union and build leaders? You get the most bang for your buck when you choose an issue that will draw in people who've never been involved before, unite groups that don't usually see eye to eye, or inspire your co-workers to go one step further than they've gone in the past. That way your union gets stronger with every fight.