Clean Up Your Act: Janitors Strike at Mega-Retailers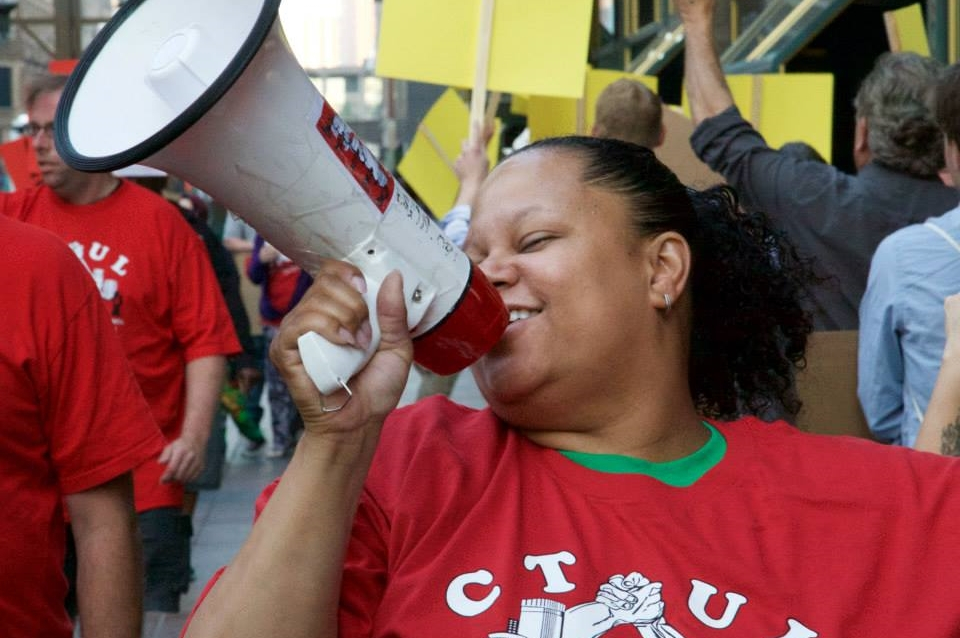 No one reported to work on June 9 at the Target store where Maricela Flores and her co-worker clean overnight.
Workers from eight cleaning companies, who work at 50 Twin Cities retail locations, participated in a one-day strike—the largest yet in their campaign to raise standards for retail janitors.
"We are fighting for sick days and also for better salaries," said Flores, who's worked for Carlson Building Maintenance for two years. "It's a constant struggle to think about how to pay for food and rent and school for my kids. We are fighting to be able to live, not just survive."
The worker center Centro de Trabajadores Unidos en Lucha (CTUL), which organized the strike, has documented rampant local wage theft in retail cleaning—including wages below the legal minimum, unpaid overtime, and underreporting of hours.
Leroy Graham, another janitor who walked off the job, has worked two years for Diversified Maintenance, cleaning a Sears store.
"They refuse to listen to what workers cleaning really need," he said. "You have to beg and plead to get something like a simple pair of gloves."
'UNORGANIZABLE' INDUSTRY?'
Call for Solidarity after Striking Janitors Fired
CTUL is calling for support for four janitors who were fired after participating in the June 9 strike.
The workers cleaned car dealerships for ROC Commercial Cleaning and its subcontractors. The day of the strike, ROC cut the contract with its subcontractor, leaving them out of a job.
The janitors have filed unfair labor practice charges with the National Labor Relations Board.
Supporters are asked to call the car dealerships and to donate to a solidarity fund.
Although office cleaners have achieved significant union density in some cities through the Justice for Janitors campaign—celebrating its 25 year anniversary this month—the retail cleaning industry, says CTUL co-director Merle Payne, is often considered "unorganizable."
Not only do many retail chains subcontract to cleaning companies, but these in turn may subcontract to smaller, fly-by-night businesses—companies that close up shop or switch hands quickly.
Only a few workers clean in each store; they rarely interact with co-workers at other stores. And in contrast to office cleaning, where workers are often concentrated in a downtown core, retail cleaners are spread out across the metro areas.
CTUL had begun organizing against wage theft mainly in the Latino community. Members, many of them janitors, started to ask how they could get at the root of the problem. In 2010 the organization launched a campaign to improve conditions in retail cleaning.
"Workers came to the conclusion that we want to stop acting as fire fighters running around putting out these fires of wage theft when there is a pyromaniac out there—let's prevent them from being lit in the first place," explained Payne.
A first step was mapping the local industry. Despite the small number in each workplace, CTUL found that altogether there were 1,000 retail janitors in the Twin Cities, cleaning for such giant chains as Best Buy, Macy's, Sears, and Target.
In 2011 the workers organized a 12-day hunger strike. Four strikes in 2013 focused on the four biggest cleaning companies.
TARGET STEPS UP
The first retailer to come to the table was Target, whose headquarters are based in Minneapolis.
Company representatives met with janitors in June 2013 to hear their concerns. After a year of discussion, Target declared a Responsible Contractor Policy—a national first in retail cleaning.
The policy, which went into effect last October, requires companies that clean Target stores to protect workers' right to unionize, ensure they can form workplace health and safety committees, and allow them one day off per week.
Minnesota workers have no right to a day off. Many retail janitors work seven days a week.
State law does require any company with more than 25 employees to have a safety committee, at least half made up of workers elected by their peers. But few retail cleaning companies were complying.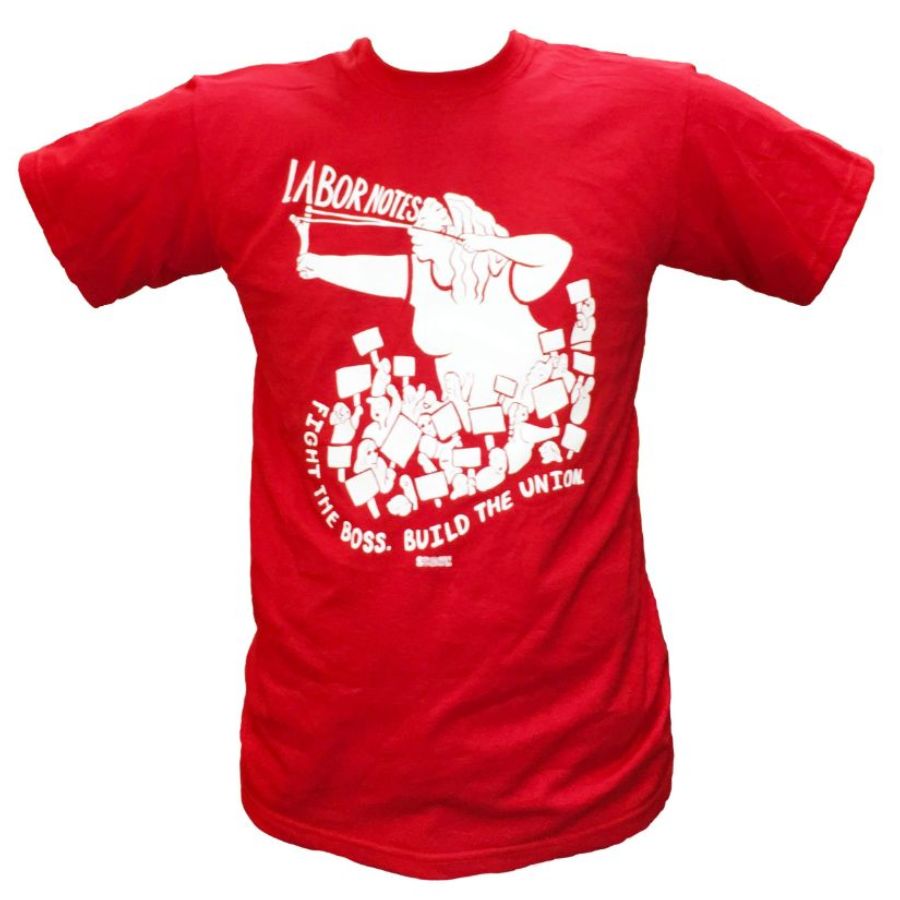 Target's policy goes beyond the law by giving workers a say in committee agendas and allowing workers to bring organizational representatives into the meetings.
The company must send the meeting notes to Target. Workers can review the notes to make sure their health and safety requests are properly documented.
RESULTS SO FAR
Carlson Building Maintenance and Prestige Maintenance USA, the companies that clean Target's Twin Cities stores, got six months to implement the agreement. The deadline was this April.
Already it's produced some improvements. Workers at Prestige had complained for years about broken buffer machines and vacuum cleaners with old wiring. They used the newly-formed health and safety committee to push the company to audit its machinery in every store. At last, Prestige has begun replacing faulty machines.
But in many locations, parts of the new policy aren't really happening.
"I'm still working seven days and am not able to take a day off," Flores says. "We want to hold the company accountable for all of these issues."
And critically, CTUL says talks have stalled with both companies over respecting the right to organize. Workers want to use Target's policy to push Prestige and Carlson to agree to a fair process for unionization.
Meanwhile, other retail janitors are still battling wage theft. Workers at Capital Building Services Group who clean Macy's and Herberger's stores filed a lawsuit in May, alleging that they were being paid $4 and $5 an hour.
That's why CTUL members decided to escalate with the biggest strike yet, across all the retail cleaning companies.
"It feels like striking is the only thing that seems to work. Everything else falls on deaf ears," says Graham. "It won't come until we keep pushing."
RAISING THE BAR
But striking is working. Before the campaign, the average hourly rate for a retail cleaner had fallen to around $7.50. In 2011, wages started rising. Now CTUL says the average is $9-$9.50.
Those raises were out front of Minnesota's minimum wage, which increased for the first time in a decade last August to $8. (The minimum will go up again to $9 this August and $9.50 in 2016.)
And CTUL reports that subcontracting is already declining. Sears actually agreed to use only cleaning companies that don't subcontract.
As the campaign points a spotlight at the industry, retailers "have to think about who is cleaning their stores," says Payne. Some of the more fly-by-night subcontractors have vanished, and the industry has consolidated. Four large companies now control, by CTUL's estimate, 80 percent of the work.
The next step is for retail janitors to unionize.
UNION FIGHT
CTUL has developed a relationship with Service Employees (SEIU) Local 26, whose members clean Twin Cities office buildings.
"It's been really powerful on both sides—to say we have to move the whole industry, or it's going to lower the tide for everybody," explains Payne.
Workers who clean Best Buy stores in the Twin Cities metro area won union recognition last November, after a majority signed cards with SEIU Local 26. Outside California, they're the first retail cleaners to unionize. But the company, Kellermeyer Bergenson's Services, is now refusing to meet with the union.
Meanwhile Flores and other CTUL members attended Target's shareholder meeting right after the June 9 strike. Again they sat down with chain officials.
If Prestige and Carlson don't comply soon, workers say the only alternative is for Target to replace those contractors with ones that will respect the right-to-organize agreement—and that will commit to keep on existing workers.
They hope the expanding strikes prompt other retailers to follow Target's lead. Meanwhile, the strikes have built workers' confidence.
Graham is in it for the long haul. "I did it before and I know I'm going to do it again," he said. "Until someone hears us—we'll keep on striking until we reach that goal."