Machinists Defeat Boeing Proposal, Boo Union Brass Who Pushed It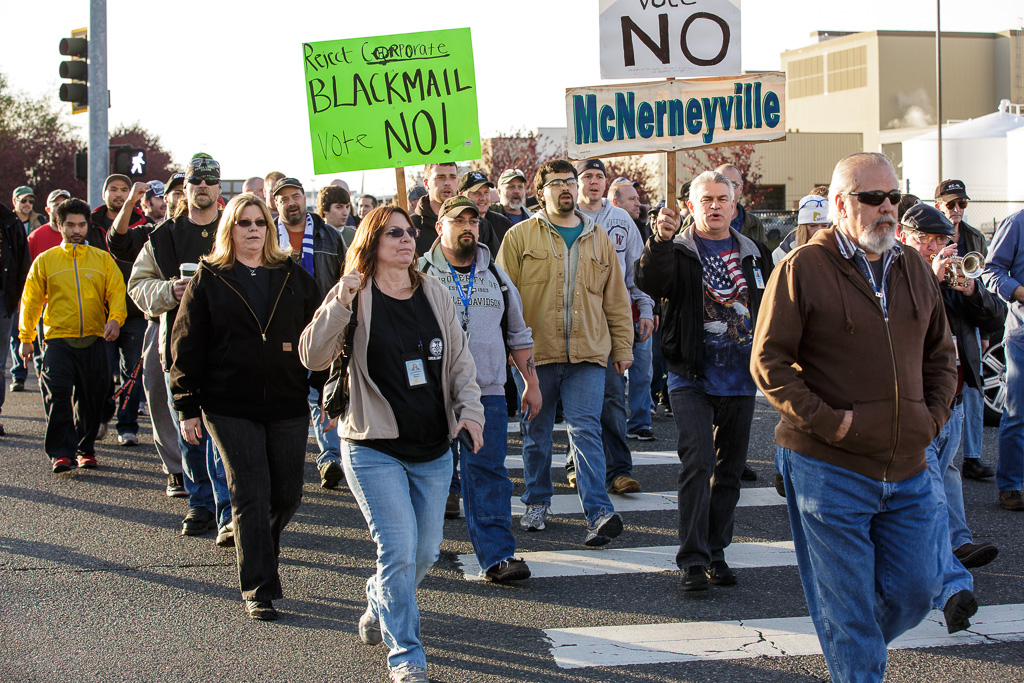 Machinists at Boeing resoundingly voted down mid-contract concessions yesterday and then booed the union leaders who had pushed the proposal on a shocked membership.
Their contract doesn't expire until 2016, but the company is threatening to move production of the huge new 777X aircraft out of Washington state to avoid the union.
Boeing even promised $10,000 apiece upon approval, but the workers didn't take the bait, opposing the scheme by 67 percent.
A line snaked around the union building in Everett as workers waited to vote on a proposal they'd only learned was under discussion a week before. The 31,000 workers are members of IAM District Lodge 751.
"I've never seen a turnout like this," said 35-year Machinist Jim Levitt. "There was very little in the way of signs or banners. Just a lot of workers making sure they had their say."
Union officials were greeted by a chorus of boos as they prepared to announce the results. After announcing the 2-1 margin they beat a hasty retreat, neither addressing the union members in the hall nor holding a press conference.
Secret Negotiations
The company's proposal was not made public until last Wednesday, November 6. Immediately a website sprang up urging members to "vote no to corporate blackmail" and questioning how the proposed contract would guarantee that the work stayed in Washington. Supporters rallied on Monday.
IAM leaders conceded that the talks were more like an ultimatum than a negotiation, but asked members to consider the threat anyway.
Boeing had demanded an end to the defined-benefit pension as of 2016, ending accruals for all workers and replacing it with a 401(k)-type structure with very small company contributions.
The company also demanded steep increases in medical payments and a change to the pay structure that would mean new workers would not reach top pay for 20 years. Wage increases would have been 1 percent every other year.
Under the current step system, in a typical pay grade, Grade 4, minimum pay is $15, maximum is $35.25. Workers get raises of 50 cents an hour for the first six years, then a big jump to top pay. Under the proposed system, new hires would never get the big jump, so they would cost Boeing far less.
Getting to Be a Habit
Two years ago the IAM extended an existing contract under extortion-like conditions when Boeing threatened to move future production of the 737. That contract still has three years to run, meaning workers can't threaten to strike.
After the vote, Boeing officials reiterated the company's threat to shop 777X work around to other states for cheaper labor. The 777X is a wide-body jet that would compete with a forthcoming Airbus plane. It would improve on the fuel efficiency of existing 777s.
In another rushed move, Washington Governor Jay Inslee called legislators to the capital for a special session to discuss incentives to keep the 777X in Washington last week.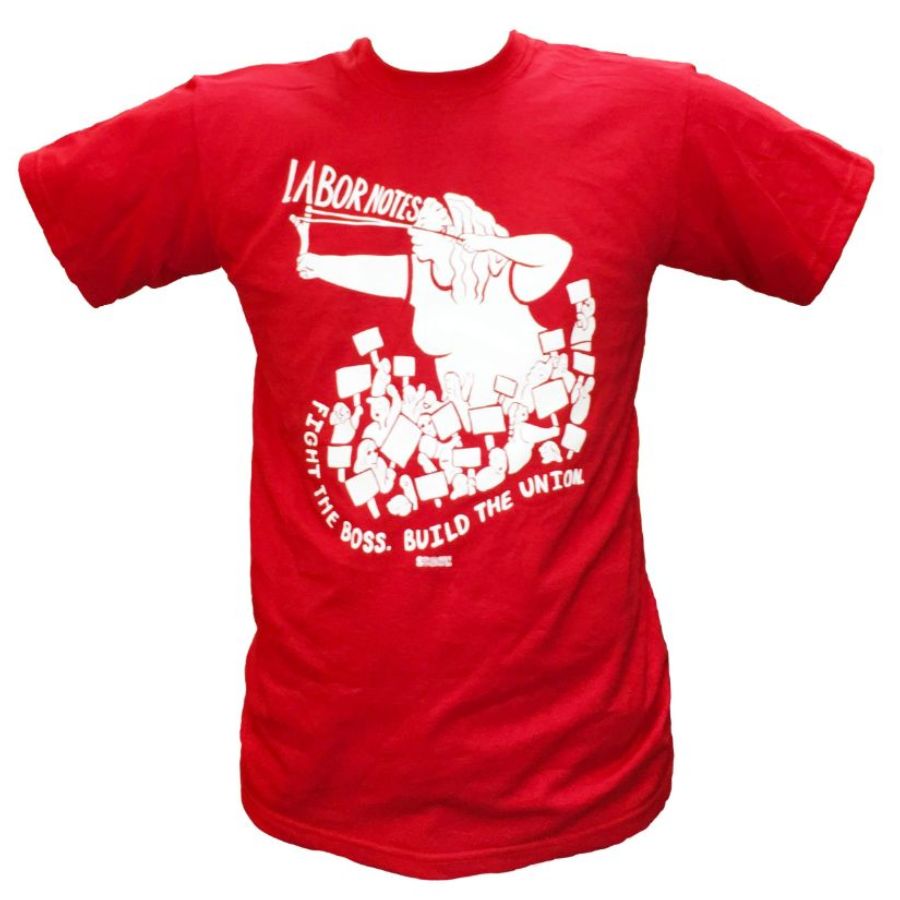 In the past, Boeing has taken state money—and union concessions—and then built wings in Japan and a new 787 factory in right-to-work South Carolina.
On Saturday, legislators approved $8.7 billion in tax breaks for Boeing over the next 16 years. It's the largest state tax subsidy in U.S. history, according to critics who point to a revolving door between the state's government and Boeing.
Union Tried to Sell It
The staff and business agents of Machinists District Lodge 751 initially were divided on the proposal, voting 18 to 10 not to present it to members, but they were overruled.
At a packed, tense union meeting last Thursday, with 750 members present, District President Tom Wroblewski initially made no recommendation how to vote.
According to Levitt, opponents in the meeting said, "We have a contract. Let's negotiate again when there isn't a gun to our heads, and when we all know that negotiations are going on."
When it became clear that membership opposition was intense and overwhelming, Wroblewski ripped up the proposal he called "a piece of crap" and said he would "check the bylaws" to see whether he could stop the vote.
However, international staffers met with workers in the factories to push the plan.
After the vote, Wroblewski issued a statement: "We preserved something sacred by rejecting the Boeing proposal. We've held on to our pensions and that's big."
One day after the vote, members in one of the four Boeing locals in District Lodge 751 passed a motion for Wroblewski's resignation. Members say they expect similar motions in the other three locals.
Will They Move It?
How real is the threat? Some analysts say moving 777X production to South Carolina or another state will be more disruptive to efficiency and quality than basing the program in Washington, where similar fuselages are already being produced. The very long composite wings for the new airplane are hard to transport if they're built far away.
"The 787 model of building parts all over the place is not feasible," said Levitt. Huge delays caused by subcontractors unable to produce the work properly and on schedule created cost overruns on the 787.
"The company could still make a horrible business decision to locate the 777X elsewhere," notes the 751 Vote No website. "If the company chooses this path of destruction, then they are responsible for it. That is on them and we, as union members, do not have control over it."
"Every time they outsource something, there are problems, and they ship it back to Everett," said Steve Phelps, an electrician who works on the 787.
"It's possible they'll build a plant in Texas, or Utah, or some other low-wage locale," said Levitt. "Or they'll figure out that to avoid another major disaster following on the 787, they'd be better off back dealing with us. Time will tell."