Big Box Scheduling Leaves Workers Exhausted and Broke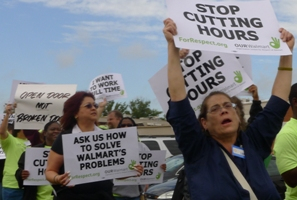 Retail employees expect the holiday season to be hectic, but workers at big-box stores report a galling combination: unpredictable shifts but not enough hours to pay the bills or qualify for health coverage.
"I'm working 8 a.m. to 8 p.m. on Thanksgiving, then coming back at 3 a.m. to 3 p.m. on Black Friday," reported Johnny Becerra of Duarte, California, on a Walmart workers' Facebook group. "Thanks, Walmart, for a Thanksgiving to remember."
Walmart's U.S. sales are flat, but profits keep rising thanks to new initiatives to squeeze workers, according to John Marshall, a staffer with the Food and Commercial Workers (UFCW).
Company founder Sam Walton's six heirs now have more wealth than the bottom 30 percent of Americans combined, but the corporation's cost-cutting is relentless. It's energizing workers to speak up.
"They want to eliminate our full-time associates and put them into part-time. That way they don't have to pay for health care," said Venanzi Luna, a department manager at a Los Angeles store and a member of Organization United for Respect at Walmart, an organization of current and former employees.
The group, known as OUR Walmart, has members in 35 states. Delegations of more than a hundred workers have twice gone to company headquarters in Bentonville, Arkansas, to petition Walmart executives around pay, health care, scheduling, and respect. Members pay dues of $5 a month to the group, which is backed by the UFCW.
CUTTING AND HIRING
A 2011 report by the liberal think-tank Demos noted that while unstable schedules are nothing new for low-wage workers, there is an intensifying trend toward "just-in-time" scheduling where "employers rely on scheduling software and measures of demand (such as floor traffic, sales volume, hotel registrations, or dinner reservations) to match workers' hours to labor needs."
For workers, this means schedule changes at the last minute, arriving at work only to be sent home again, having to stay after the end of a scheduled shift, and working both nights and days.
Big-box workers report seeing new workers hired even as their hours are reduced.
"We went for weeks with 15 hours or less," said Tashawna Green, an ex-Target worker in Long Island, New York. "We need a better living and stability; we can't go on the way Target wants us to go on."
Green spoke at a December presentation on big-box stores at the City University of New York's labor school. She was fired in August for supporting a union drive at her store. It was the first election at a Target store in 14 years, but the union lost 85-137.
A key issue was scheduling. Green said that even as she and her co-workers were asking for more hours, managers asked them about friends who might want jobs. UFCW filed an unfair labor practice after she was fired, and has vowed to restart the Target campaign.
After a nightmarish Thanksgiving, when Walmart started "Black Friday" sales on Thanksgiving night, OUR Walmart started circulating a document, "Speaking Out for Fair Scheduling."
It asks that Walmart increase the number of full-time schedules, stop firing full-time workers to replace them with part-time new hires, rehire unfairly fired workers, post schedules and a scheduling policy, and allow workers to swap shifts if they want to.
The company has not responded.
SALES FLAT, PROFITS UP
Walmart stores are becoming more understaffed and chaotic, workers report, while managers push for more work in less time.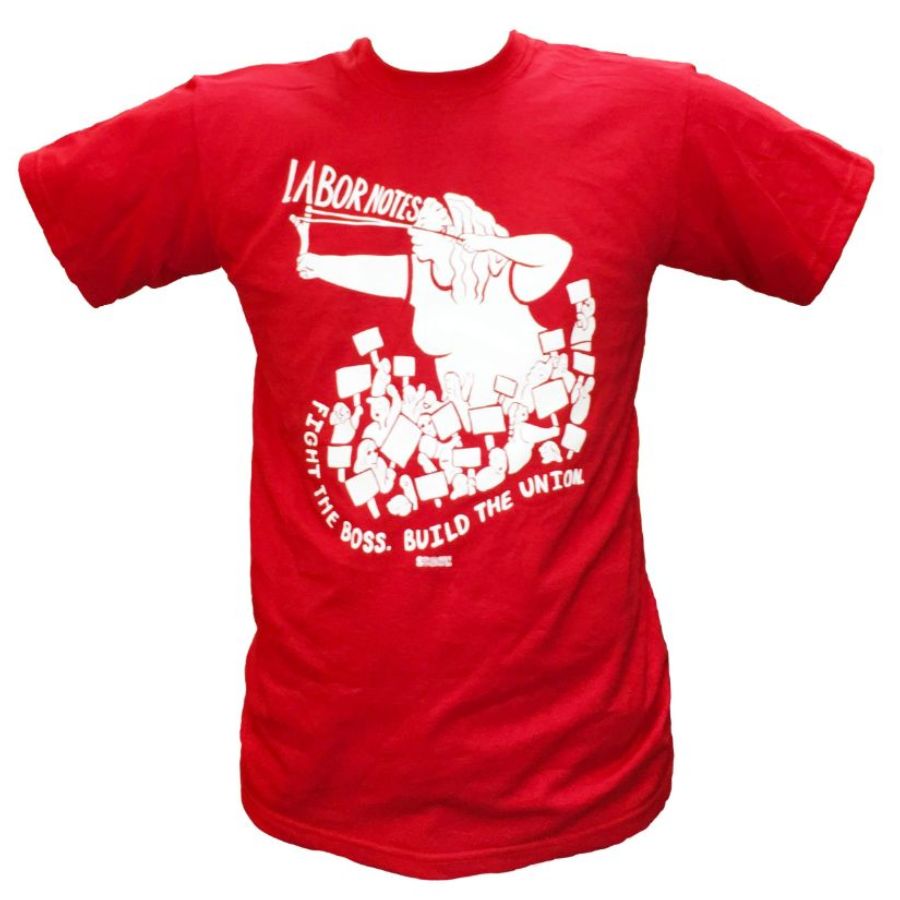 On a national conference call hosted by OUR Walmart, member Maggie Van Ness, an overnight stocker in Lancaster, California, said her employer "is cutting back on hours so bad that everybody is doing every job whether you're coded for it or getting paid for it or not."
On OUR Walmart's Facebook page, Kentucky member James Vetato said workers are being told if they "don't get everything done they won't have a job."
And starting November 4, Wal-mart increased the cost to participate in its health plan and raised deductibles. New hires with fewer than 24 hours a week won't be eligible, while those with more than 24 hours will wait a year.
"Walmart pushed a little too much," Van Ness said.
Rates rose between 20 to 60 percent, depending on level of coverage—"way more than most of us can afford," she said.
FINDING NEW MARKETS
Walmart has been trying to burnish its image as it makes another push to enter lucrative urban markets like New York and Washington, D.C. In New York, a relentless unwelcoming committee has repelled the store, uniting retail unions, small businesses, and the city council.
But in a reversal for the D.C. union-community coalition, Democratic Mayor Vince Gray inked a "community benefits agreement" in late November that permits the chain to build six stores in the city. It failed to include the higher wage floor and neutrality in union elections that the coalition had demanded.
While Walmart pitches itself as a job creator and the answer to "food deserts," anti-Walmart campaigners point to studies showing that in Chicago, Walmart destroyed three jobs for every two it created. They say that in Atlanta the company hasn't located stores in underserved "food deserts" but instead has built its big boxes near existing stores.
The megastore's products aren't even cheaper, said the UFCW's Marshall. The union compared prices for a basket of common goods in a unionized New York grocery to the same basket at a Walmart and found four items cost more, four less, and three the same.
FLEX TIME
The jobs are cheaper, though. "Walmart's labor policies show other stores what they can get away with," Marshall said. "There's no patent on cheating workers."
What big-box employers breezily call "open availability" or "flex time" in reality means that workers must be available 24 hours a day. Doctor appointments, parent-teacher conferences, daycare arrangements, and sleep all yield to the scheduling whims of the employer.
Workers are forced to make wrenching choices. "If you pick your family or your health, you might lose your job," said Ademola Oyefeso, an organizer with the Retail Workers (RWDSU) in New York.
While Walmart demands total availability from many of its workers, there is a limit. Walmart time-clocks warn managers if a part-time worker will exceed 32 hours, triggering their access to health care, Oyefeso said.
Long shifts, which in the past might have led to lucrative overtime, now just mean short ones later, because managers zealously avoid paying overtime premiums, Oyefeso said.
OUR Walmart members reported that their hours were being cut even as the holidays hit, creating a one-two punch of frantic shifts and financial anxiety.
A worker in Sealy, Texas, wrote: "Black Friday at my store was a joke! Fist fights broke out in several areas of the store. We've been getting two trucks a day and still don't have enough unloaders. We are all bone tired; it's like management is trying to make us quit! What the hell is wrong with Walmart?"