Occupy Wall Street Regroups, as Union Allies Mobilize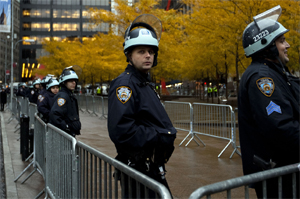 After an early-morning, military-style police eviction, hundreds of protesters gathered Tuesday at closely guarded metal barricades separating them from the downtown Manhattan plaza they've occupied for almost two months.
The raid on Occupy Wall Street took place as similar raids swept Occupy encampments in Oakland, Salt Lake City, Denver, St. Louis, Albany, and Durham, North Carolina. Oakland Mayor Jean Quan told the BBC she's been coordinating with 18 other mayors about how to restrain the Occupy phenomenon.
Police erected barricades for blocks around the plaza, closed off subway entrances, and prevented media from witnessing the eviction, arresting several journalists along with 70 among the hundreds in Zuccotti Park.
Fernando Braga, a subway track worker and member of Transport Workers Local 100, came straight to the square where occupiers regrouped once he got off work at 7 a.m.
"The mood was to reoccupy some space—now," he said. The occupiers' legal team obtained a temporary restraining order against the eviction, which police refused to obey. The occupiers went back to court this morning to extend the restraining order, which a judge denied. He said, however, they could continue to use the park, but without tents or the propane canisters the occupiers have employed for heat and electricity.
Unionists on the scene were furious.
"The Occupy people came together to advance the cause of working people," said Jason Ide, president of Teamsters Local 814. "And they have been beaten and jailed. If we can't assemble and speak our minds, what do we have left?"
Ide noted that occupiers have walked picket lines at the auction house Sotheby's with locked-out members of his local and taken arrests during protests.
"They don't just talk the talk, they walk the walk," he said.
Tuesday's eviction showed how tight the 1 percent's circle is.
Ide noted that Diana Taylor, who sits on the board of directors of Brookfield Properties—which owns Zuccotti Park—also sits on the board for Sotheby's. She's been the target of actions at a foundation she also chairs, at which protesters called on her to end the Sotheby's lockout and to stop starving Teamster families.
Taylor is also the partner of Mayor Michael Bloomberg, who claimed the decision to evict the occupiers at the plaza controlled by his partner's company was "mine and mine alone."
Major mobilizations are planned for Thursday, the two-month anniversary of Occupy Wall Street, including disruptions at the stock exchange, marches onto bridges to highlight the need for infrastructure repair, and subway teach-ins.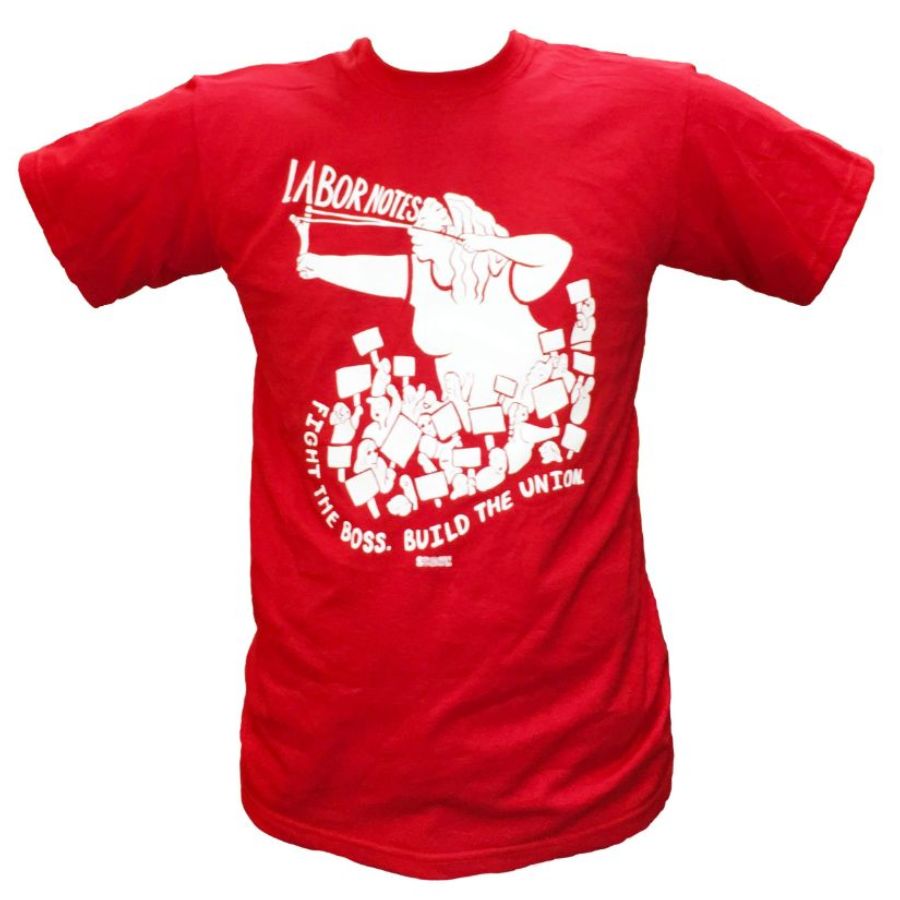 On the subways, transit workers will be explaining to occupiers and everyday straphangers that the city's transit system paid almost $2 billion to banks last year, while fares jumped for the second time in two years.
TWU Local 100 says about 20 percent of the $2.25 fare heads straight to banks, because of huge fees and interest the banks charge.
In contract negotiations that kicked off today, the union said members face a $6,000 hike in health
benefit costs.
Other unions are linking up with occupiers as they face tough contract battles. SEIU 32BJ's contract for 20,000 building service workers expired today, and a thousand Verizon workers are expected to join in Thursday's actions as they continue a hard fight against billions of dollars of concession demands from an immensely profitable employer.
The Communication Workers' contingent Thursday will celebrate the arrival of a dozen protesters who have marched 150 miles from Albany to New York City. The marchers are CWA and Occupy Wall Street protesters who want to put Verizon's aggressive concession demands—which include ending pensions, dramatically higher health costs, and zero job security—in front of the public.
A report (PDF) from Citizens for Tax Justice and the Economic Policy Institute issued today said
Verizon paid a negative 2.9 percent tax rate between 2008 and 2010, a subsidy worth $12.3 billion.
"Occupy and the CWA have the same 99 percent message," said Jake Lake, a Verizon worker and member of CWA Local 1111 who is marching from Albany. "We want the opportunity to have a living wage and a decent life."
Lake added that the suppression of free speech is another reason why unions and occupiers should join up: During an interview, he was shooed away from a Verizon Wireless store, where he was asking customers to wait to upgrade their iPhones until the company settles a fair contract. "The silencing of the people, it's just horrible," he said.
Christine Williams, a TWU Local 100 executive board member, said her union has been coordinating with occupiers because they both recognize "it's all tied back to Wall Street."
She noted that service cuts have hit New York transit hard: 36 bus routes have been eliminated in the last year, as the service removed 570 bus stops and laid off 900 workers.
Williams said the eviction in New York is only going to make the Occupy movement grow.
"Labor has the ability to take over this city," Ide said. "We're going to do our damnedest on November 17."