Staffing Ratios, Retiree Benefits Sticking Issues as California Nurses Strike Sutter Health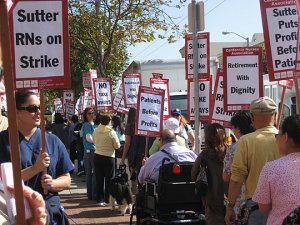 Leading a strike that one hospital administrator said cost her $1 million a day, 5,000 registered nurses at 10 Northern California hospitals in the Sutter Health chain walked off their jobs for two days in mid-October. Five facilities locked out striking nurses for an additional one to three days when the strike, the largest among nurses in a decade, was over.
Represented by the California Nurses Association (CNA), the striking nurses have called for full staffing, essential services in poor communities, and improvements to nurses' pensions and retiree health care.
Pickets were strong and spirited. The union estimated that 90-95 percent of nurses at the facilities did not report for work on the days of the strike. Community support bolstered the strikers' spirits, said Sharon Tobin, a striking nurse on Mills Peninsula's bargaining team. Tobin also noted that hospital volunteers and former patients walked the picket line with nurses.
The union called the strike after negotiations that began in May stalled. Each hospital negotiates separately with local elected CNA bargaining teams and although not a strike issue, nurses would like a master contract with Sutter.
The company instead pursued a divide-and-conquer strategy, offering some nurses deals that included raises and team awards of up to $2,100—conditioned on members' ratification before the strike.
Sutter hired 220 scab nurses at Mills Peninsula hospital in Burlingame, paying them $2,800 for four days' work, according to nurses and advertising fliers from temporary staffing firms. Specialty nurses were offered up to $90 an hour. Nurses' assistants, who aren't unionized and stayed inside, told striking nurses that Sutter had hired so many scabs that they were standing idle in the hallways.
The replacement nurses were put up at a luxury hotel, fed three meals a day, and provided transportation in a bus with darkened windows, Tobin said.
Tobin said the company even saw fit to provide the night shift a lift team, a mechanical device to lift and transfer patients. CNA has bargained for lift teams, thus far without success, because overworked nurses are forced to move sick and obese patients by themselves.
SERVICE CUTBACKS
"Nurses are really fed up at my institution," said Tobin, who has worked at Mills Peninsula for 20 years. "It used to be a small community hospital and it acted like one. Sutter bought the hospital in 1995 and since then I've seen an acute decline in how they treat staff and patients."
Sutter's cutbacks are largely invisible to average patients, striking nurses say, because they wouldn't know that until recently Mills Peninsula offered specialized pain-control nurses for cancer patients or a cardiac rehabilitation program that lowered the risk of post-operative complications.
A not-for-profit hospital chain, Sutter charted a record $587 million profit last year. (In return for providing some care to "charity patients," nonprofit health care corporations can enjoy exceptional profitability, using the margin to expand their growing empires.)
The company's strategy has been to lure high-paying patients to its hospitals while closing or cutting services that serve the poor and mostly uninsured in lower-income communities. Sutter has signaled its intention to close hospitals in San Francisco, San Leandro and Santa Rosa, although community pressure has so far kept the Santa Rosa facility open.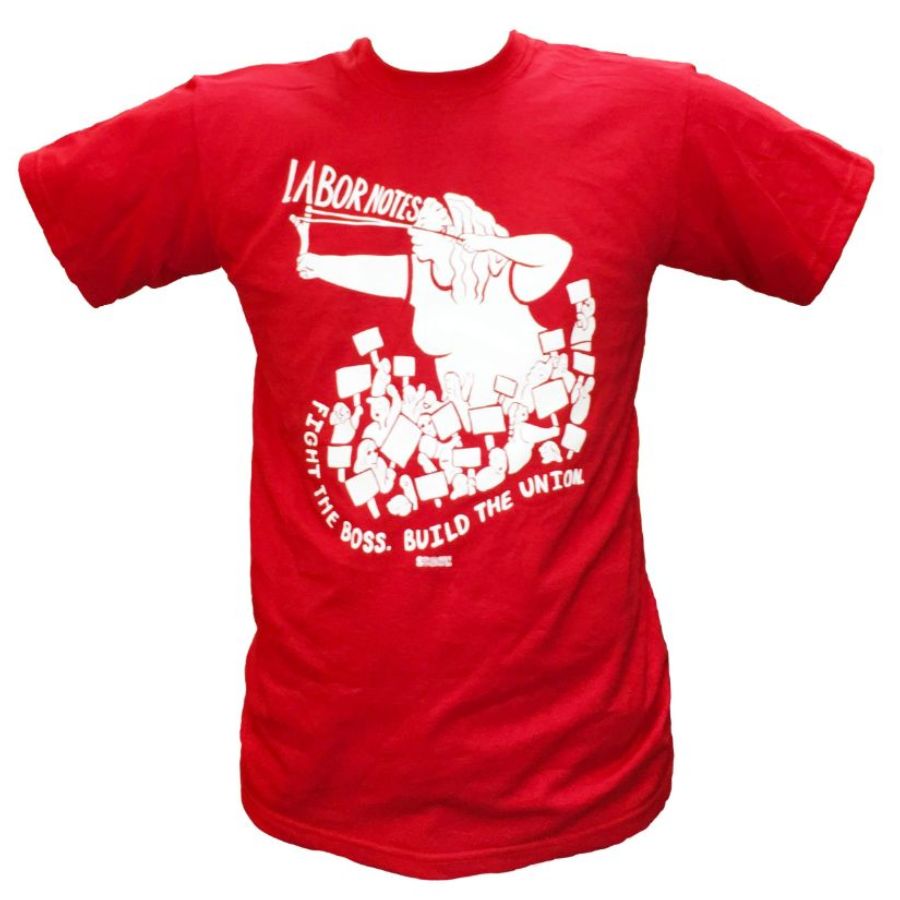 The head of San Francisco's public health department criticized the company on October 20 for attempting to leave only one acute-care facility open in the poorer neighborhoods in the city's south while eight would remain in the more affluent north.
Many of the Sutter affiliates are non-union, for-profit outpatient centers not subject to the same regulations as inpatient facilities. Services are slowly migrating from inpatient settings to these more lucrative outpatient centers.
Nurses see their fight against Sutter as a protest against the excesses of profit-driven decisions. "The nurse is one of the only people who can stand between the patient and the corporatization of health care," Tobin said.
STAFFING RATIOS KEY
Sutter has ignored all of nurses' key proposals, including one of the most important for patient safety, staffing ratios. California is the only state in the nation that mandates nurse-to-patient staffing ratios in acute-care hospitals. The law states that patients must be taken care of "at all times" by a qualified, competent, licensed nurse, including during meal and rest breaks.
But Sutter facilities consistently schedule too few nurses per shift, forcing nurses to decide between never taking a break or taking a break and hoping patients remain stable while nurses are away from the bedside.
Nurses are asking that staffing ratios be included in their contract, a layer of protection they deem necessary because the powerful hospital lobby could influence the state legislature to amend the law.
Another union proposal would free charge nurses—who plan and lead a unit's nursing needs during their shifts—from having patient assignments, allowing them to help with sicker patients or when crises strike.
Nurses are also pushing Sutter to increase the value of its retirement plan and improve retiree health benefits, as well as fighting management proposals to reduce active nurses' health benefits and make them more expensive.
Protecting the right to remain unionized is yet another item Sutter has ignored. Since the National Labor Relations Board ruling last fall known as Kentucky River, nurses could be categorized as supervisors. Unlike California's other major health care conglomerates, Sutter refuses to protect nurses' right to remain unionized.
Instead, Sutter chose to spend millions of dollars hiring replacement nurses and private security guards, and placing full-page ads in local newspapers attacking union leadership and the negotiating team that nurses elected.
---
Eileen Prendiville is a registered nurse and rank-and-file member of CNA. She is currently serving on the negotiating team at San Francisco's California Pacific Medical Center, one of the strike targets.