Nurses Strike: It's Not Just about Ebola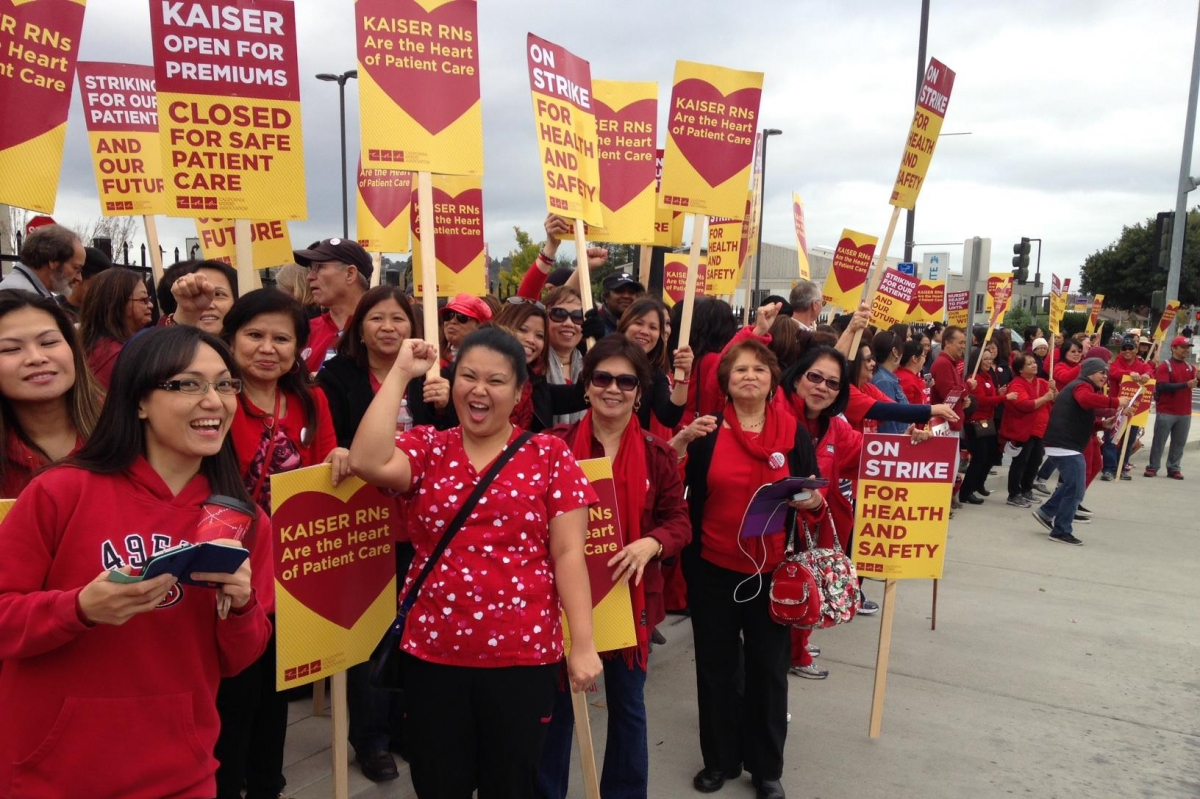 This morning 18,000 nurses who work at Kaiser Permanente hospitals and clinics in California walked out for a two-day strike.
Also striking are nurses in two other hospitals in California. Joining them in a one-day strike tomorrow are 400 newly organized nurses at a hospital in Washington, D.C., who are seeking a first contract.
Nurses will hold rallies, pickets, and candlelight vigils in 14 other states tomorrow, National Nurses United says. The coordinated day of action aims to raise the alarm that hospitals aren't prepared to safely care for patients with Ebola.
No Protocols
The specter of workplace-contracted Ebola grabbed headlines this fall when two Dallas nurses who had treated an infected patient got sick themselves.
Luckily, both recovered. But nurses from the affected hospital, Texas Health Presbyterian, who are non-union, contacted the NNU about what had gone wrong.
The union released a statement keeping the nurses anonymous but detailing their concerns: no isolation protocols, no special cleanup procedures, no special handling of dangerous lab specimens, inadequate protective gear, wrong information about what gear was needed, no training on how to safely change out of the gear or what symptoms to watch out for.
"Were protocols breached? The nurses say there were no protocols," the statement said.
Though the vicious virus, which can kill in a matter of days, engenders a particular horror, it's far from the biggest danger facing health care workers on the job, or patients in a hospital.
Every year the Bureau of Labor Statistics data show health care work accounts for one of the private sector's largest shares of nonfatal illnesses and injuries—in 2012 harming 556,000 workers in hospitals, clinics, and nursing homes. These include not just infections but such common issues as lifting injuries, falls, and workplace violence.
But nurses say the same problems they're highlighting over Ebola—lack of supplies and training, for instance, and short staffing most of all—strike at the root of all kinds of safety concerns that health care workers and patients face.
Understaffing Top Concern
Staffing tops the list of concerns for today's strikers, said Zenei Cortez, a California Nurses Association co-president and 33-year Kaiser nurse who works in a post-anesthesia care unit. CNA is part of the NNU.
"For the last three years or so, Kaiser has failed to fill vacant positions of registered nurses and nurse practitioners, so we are forced to work short-staffed," she said.
The union's previous contract has expired, and they've been in bargaining for a new one for three months. Economic issues aren't even on the table yet, she said, but Kaiser despite its extreme wealth is resisting the nurses' patient care proposals.
Understaffing of other health care workers hits nurses too. For instance, on the medical-surgical units, Cortez said, Kaiser has removed nursing assistants—adding their duties to nurses already busy caring the state's legal maximum for that type of unit, five patients per nurse. Now if a nurse needs help lifting or walking a patient, "she would have to wait for another RN colleague to help her, when that other colleague is also overburdened with the maximum patients," she said.
Understocked supplies are another concern, worsening the staffing problems as nurses spend valuable minutes traveling floor to floor to hunt for what they need.
For home health nurses who visit patients in their homes, a big issue in this bargaining is how much time management will allow them per patient. "You just can't go in and out of a house," Cortez explained. "You need to determine the overall needs of the patients before you can leave, and you need to do a lot of teaching."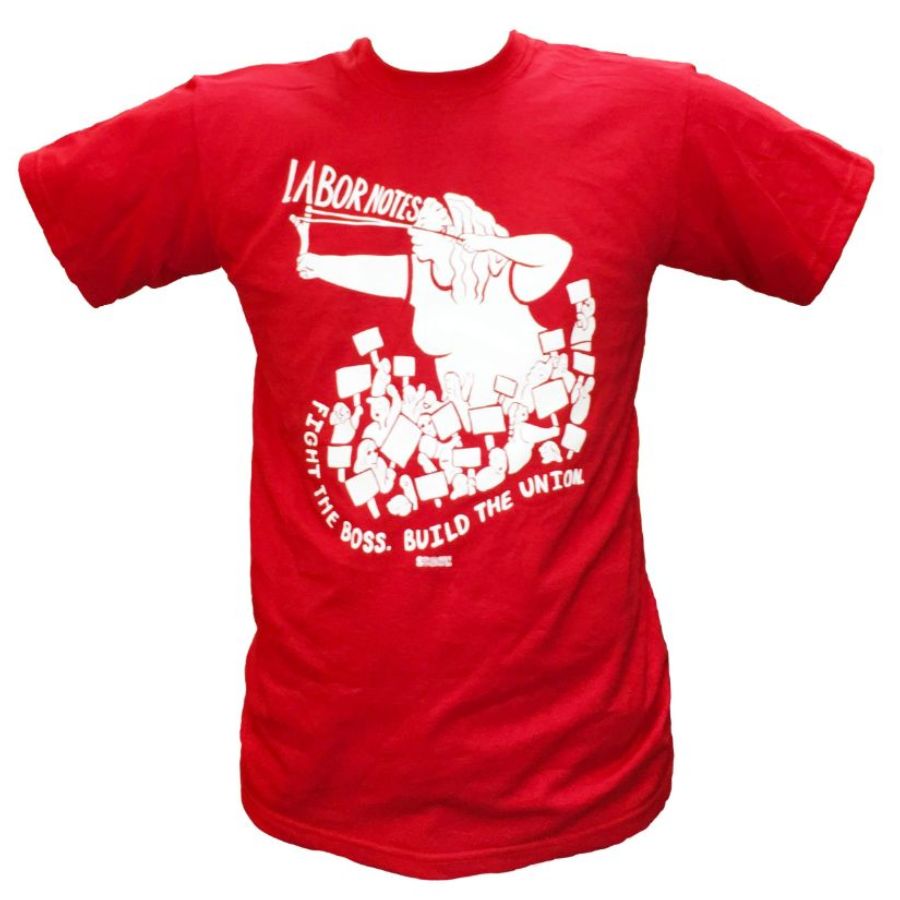 In the past California Nurses Association members have struck in sympathy with members of the National Union of Healthcare Workers. NUHW, the militant union which emerged after SEIU's California health care power grab, became an affiliate of CNA in 2013. But this time NUHW leaders said the news of NNU's strike caught them by surprise.
NUHW's 4,000 members at Kaiser have been without a contract for four years now, and are in the midst of voting whether to strike again. President Sal Roselli said he was "perplexed" that the nurses union didn't give NUHW advance notice of its strike so they could coordinate, but that they certainly intend to work with the nurses on future strikes. CNA spokesperson Chuck Idelson said it wasn't true the union hadn't been informed.
Members of SEIU-UHW, the biggest union at Kaiser and the driving force in its Labor-Management Partnership, still have a contract in force, due to expire next year.
First Contract Strike in D.C.
Also striking are 400 nurses at Providence Hospital in Washington, D.C., who are in the midst of bargaining for their first contract.
They voted by an overwhelming margin last winter to unionize, and they've been in bargaining since February.
Staffing is a top issue there too. Six-year nurse Fidelis Kweyila, who's on the bargaining team, said he sometimes has up to eight patients in a medical-surgical unit.
"On those days I take care of eight patients, those patients definitely won't get the care they deserve," he said.
What gets skipped? For instance, for patients who need help just to turn themselves over from the right side to the left, the standard is to turn them every two hours. If you have too many patients, more than two hours may pass. Or you may not be able to promptly respond to a patient's call for pain medicine.
He believes five is the upper limit of how many patients a nurse can safely care for on a medical-surgical unit. California is the only state that sets a legal cap on nurse-patient ratios.
Another key issue, Kweyila said, is nurse retention. Turnover is high, he said, in part because the hospital has no transparent pay scale. A nurse who's been there for years may discover she's getting paid less than the newly-graduated nurse she's training.
"When experienced nurses discover this nurse I'm teaching is getting paid more than I, guess what happens? These experienced nurses, they leave, and that puts the patient at risk," he said. "They have to deal with a new nurse who does not know what they're supposed to do."
A co-worker who left a few months ago, he said, got an $11-an-hour pay raise when she went to a union hospital. "When people leave and get that kind of experience, they'll talk to their friends at Providence, and those friends will leave."
There too, supplies problems are worsening short-staffing. "Let's say the patient cannot swallow pills," he said, and you need to crush it up in applesauce for them. "You end up going to four different floors just to look for applesauce. That takes away quality time you cannot spend with the patient."
Picturing that kind of chaos, it's not hard to understand why nurses feel worried their hospitals aren't set to handle Ebola. Providence management claims it has Ebola equipment carts prepared somewhere, Kweyila said, "but as a nurse on the floor I have not seen one… I have not been trained how to use it. Should I come into contact with a patient who has Ebola, I don't know how to put on the gown, I don't know how to take it off…
"It is related to the other safety issues," he said. And "yes, the chance of getting an Ebola patient is low, but what if we do get one?"