Strong Out of the Gate, Teamsters United Breaks Petition Record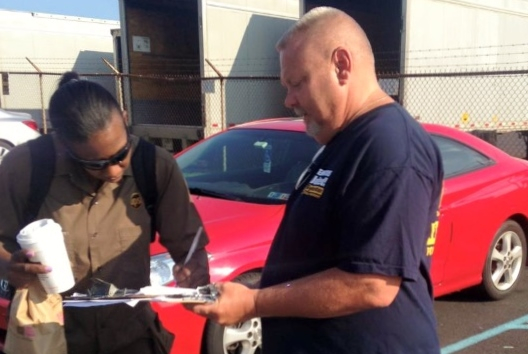 "I need a minute of your time to get a guy accredited to run against Jim Hoffa." That was Bruce Frakes' standard opening line with his fellow Teamsters—and it worked.
"They would stand in line to sign," he said. "Everyone said, 'Oh my God, yes, it's time.'"
Frakes, a 20-year driver for YRC Freight and former chief steward in Kansas City, used to support Hoffa, but "never again," he says. "It's very clear they [the Hoffa administration] have become complacent. They have derived the attitude that you're lucky you have a job."
He and other volunteers in Local 41 collected nearly 1,100 names to back the Teamsters United slate challenging the union's top officers.
The coalition campaign cleared its first official hurdle last week, turning in 63,000 signatures. That's more than double the 30,974 required to become accredited candidates in the November 2016 election—and the largest number a Teamster opposition ticket has collected in two decades.
By this measure, Teamsters United—riding a wave of anger at pension cuts and other concessions—has the greatest momentum of any effort yet to unseat President James P. Hoffa.
LAST STRAW
Accreditation means the Teamsters United candidates will get their own pages in the magazine that's mailed to every union member—a big boost to publicity.
"Without this accreditation, they could run, but you and I would never find out about it," is how Peter Sullivan, a UPS package car driver in Phoenix, put it.
Hundreds of volunteers gathered signatures. Another one was Mario Leyva, a former chief steward and a 23-year UPS employee in El Paso, Texas.
Leyva supported Hoffa until recently. In fact, he was a pro-Hoffa delegate at the last two Teamster conventions.
But when the union brass forced through a concession-laden national contract despite UPS members repeatedly voting it down, "that was the straw that broke the camel's back for me," he said. "A lot of us were saying, 'How can we let this happen?'"
That, plus the Hoffa administration's standing idle while Congress legalized cuts to multi-employer pension benefits, lit a fire under Leyva. He's been meeting with every Teamster he can in different parts of Texas, and spreading the word to feeder drivers, the UPS truckers who crisscross the country. He even visited a UPS hub in California on his vacation.
He believes "we're seeing a Teamster political revolution."
UNITED TICKET
Teamsters rank and filers directly elect their top international officers by mail ballot—a right that was first guaranteed by a 1989 federal consent decree to settle corruption charges, and is now permanently enshrined in the union's constitution.
Hoffa, son of the famous Teamster President Jimmy Hoffa, has held onto the top slot since 1999. In the last election, two slates split the opposition vote, but this year the incumbents' biggest foes have joined forces.
Teamsters United has 11 candidates so far, and more will be added. Topping the ticket is Tim Sylvester, president of Local 804, based in Queens, New York. While UPS workers nationally suffered concessions on pensions and health care, Sylvester has led fierce local contract campaigns that improved pensions and added full-time jobs.
His local drew national attention for its militancy last year when 250 drivers were fired after a wildcat walkout to protest an unjust firing. The local ran a public campaign that got all the firings reversed.
Fred Zuckerman, one of the slate's vice presidential candidates, is president of Local 89 in Louisville, Kentucky, the biggest UPS local and a center of resistance to the latest concessionary deal. He ran for vice president last time on a rival ticket led by International Vice President Fred Gegare, a former Hoffa ally.
SUMMER VACATION
Joan-Elaine Miller, a package car driver from Philly, donated a week's vacation to gather signatures for Teamsters United.
"It was a blast," she said, laughing. "Living in my car, eating Reese's Cups and drinking Wawa coffee and setting my alarm for 3 a.m. That's how I spent my summer vacation!"
This year was her first time gathering signatures, but "it's not complicated," she said. Miller and a few other Teamsters would set up a table and signs to talk with people on their way to or from work.
The key, she said, is getting people to stop. It helps to have a tagline—she used "Are you ready for change?" She learned to hold two or three clipboards at a time, and to be bold about placing a clipboard and pen into someone's hands.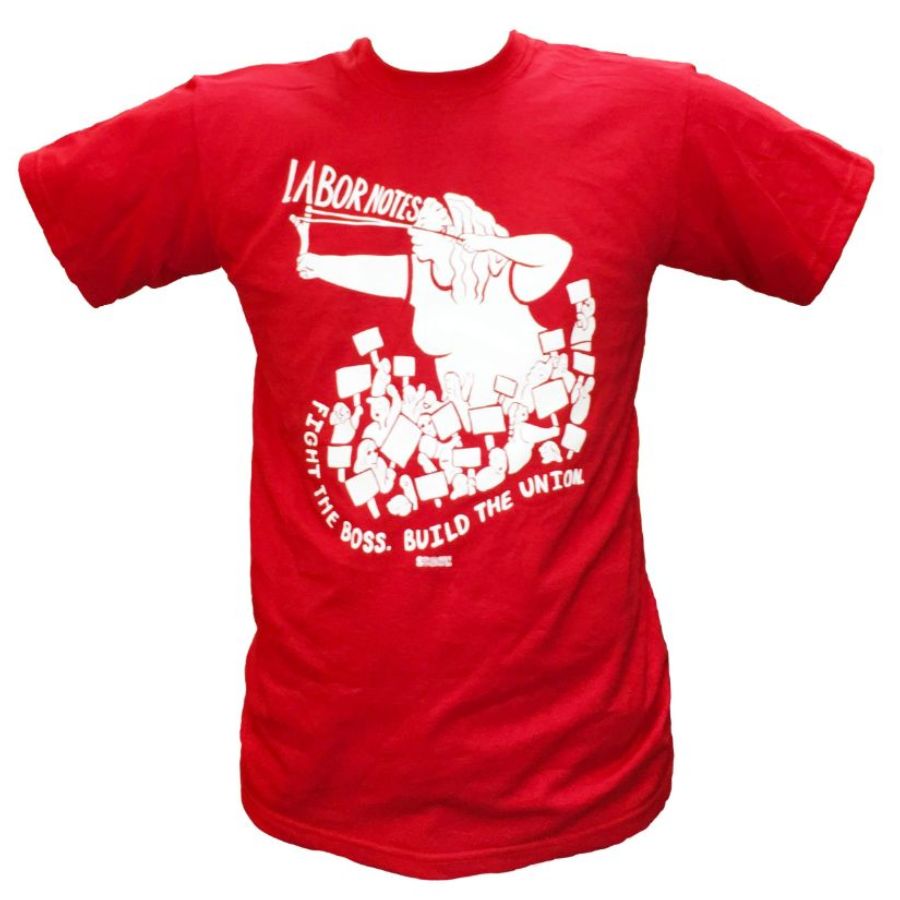 The goal in the petition drive was numbers, so she focused on collecting the low-hanging fruit, not arguing with doubters. "You're not going to spend time chasing a 'no' when four signatures are walking past you," Miller said. "Now that we're accredited, now's the time to try to reach those people.
"Clearly Hoffa has his supporters," she added. "But that didn't concern me as much as the apathetic ones who didn't care about what we were doing, who didn't want to know about it. They're the people we're going to have to reach during the campaign."
DIDN'T BACK DOWN
Sullivan, whenever he went out gathering signatures, took a union steward with him. Arizona, after all, is a "right-to-work" state, where union membership is optional.
So "the first question I ask is, 'Are you a Teamster? If not, talk to this person here and see why you should sign up,'" he said.
In Tucson, UPSers on their way to work met dueling petitioners. Nearby the Teamsters United volunteers stood Local 104's secretary-treasurer and a business agent, asking people to sign for the Hoffa ticket.
With a few Teamsters looking on, Sullivan confronted the local officer: "Shouldn't you promote a fair election, with choices? Shouldn't you be standing in front, shaking every member's hand, saying 'Good morning, how are you doing, I recommend you signing both petitions'?"
After that they did start referring some people over to sign for Teamsters United, he said.
Leyva ran into stiffer opposition petitioning at his UPS terminal in El Paso. He knew his rights and was careful to gather signatures only on break time and in non-work areas.
Nonetheless, "it didn't take one minute" before a supervisor spotted Leyva gathering signatures and told him to cut it out. When he insisted on his rights, he was hauled into the office and threatened with discipline. The campaign put him in touch with a lawyer, who filed a protest with the independent Election Supervisor who oversees Teamster elections.
"It took a couple days," Leyva said, and then "the corporate attorney came down and spoke to the manager, and the manager reluctantly came up to me and said, 'Okay, Mario.'"
A majority of workers in the facility eventually signed the Teamsters United petition, he said—though "some of those came in a little after the deadline. Some of these guys were in fear, they saw what happened to me."
But once word got around that the campaign had collected enough signatures nationwide, Leyva said, fear turned to excitement. "Now that they've heard we're accredited, I've been getting calls from a lot of those guys who were reluctant at first, [asking] 'Hey man, can I sign the petition?'" he said.
"I'm like, 'It's kind of late now, but you can help get the word out.'" His next step is organizing a visit by John Palmer, the Teamsters United candidate for Southern region vice president, to meet members in El Paso and Las Cruces, New Mexico.
LAST CHANCE?
Nationally, the campaign's focus will turn next to local races for convention delegate seats. At next June's convention, every candidate must win 5 percent of the votes to be nominated. That's a tougher threshold than it sounds, since local officers beholden to the top officers usually fill most delegate slots.
If local delegate seats are contested, members get to vote. So in many traditionally pro-Hoffa locals, Teamsters United supporters will face off against their local officers. Another possibility, where member sentiment is divided, is for the two sides to agree to split their local seats rather than vie for them.
The current administration has been keen to raise the nomination threshold to 10 percent of convention delegates—which could keep even strong opposition candidates off the ballot altogether. Tom Leedham, for instance, won just 7 percent of delegates but 35 percent of the popular vote in the 2006 race.
This year's permanent settlement agreement keeps the threshold at 5 percent through the 2016 and 2021 elections. But after that, delegates may vote to raise the bar.
That means this year could be one of the last chances for reformers to change the direction of the Teamsters.
For Martin Short, a carhauler in Fort Wayne, Indiana, the key issue is organizing new members into the union. He's watched the number of unionized carhaulers fall from 27,000 when he started in 1999 to 6,000 today.
As the union weakened, drivers took repeated pay cuts while CEOs kept getting bonuses. "Now they're talking about cutting everybody's pension," Short said. "The only answer I know to it is organizing."
He estimates he collected 600-700 signatures—almost everyone he approached agreed to sign—and recruited eight or 10 others to gather signatures themselves, "people in Lansing, Buffalo, Detroit, all over.
"Everybody in carhaul knows how many of us are left, and how many there were," Short said. "There's got to be a change, or these jobs are going to be nonexistent. And I'm not the only one who sees that."