Striking Window Cleaners Want Their Dangerous Job Recognized as a Skilled Trade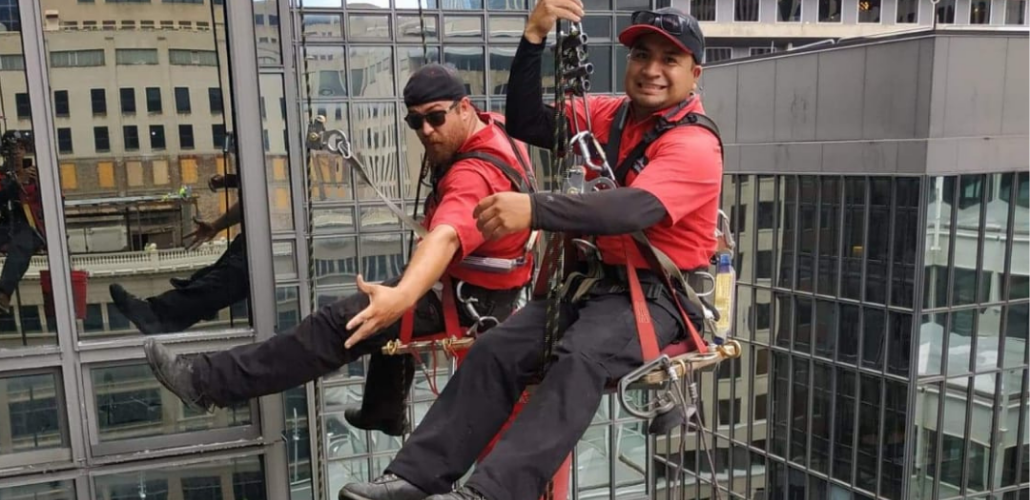 UPDATE, August 26: After 10 days on strike, high-rise window cleaners in the Twin Cities secured a new contract that creates an employer-funded, state-recognized apprenticeship program, bolsters sick days and disability pay, and includes 12 percent wage increases. Workers will earn over $30 an hour by the end of the four-year contract—wages second only to window cleaners in New York City. "I hope our strike, and our strong new contract, show other essential workers that when you band together and stay the course, you can get results," said Eric Crone, a window cleaner and steward with SEIU Local 26. —Eds.
High-rise window cleaner Josh Haynes is no Tom Cruise on a mission to avert global disaster. But outfitted with a harness and clad in a jumpsuit, sitting on a little chair suspended from ropes, Haynes rappels 600 feet down the sides of glistening Minneapolis skyscrapers—on a mission to clean.
Last year, that cleaning mission presented graver dangers than ever before. Haynes and his co-workers were deployed inside office buildings that had been shut down after office workers caught Covid. They fanned out, disinfecting every surface to eradicate the pathogen. The experience was "nerve-racking," Haynes said, but he "sucked it up" for fear of losing his job.
Like so many other workers nationwide, he ended up getting the virus. Four SEIU Local 26 members died from Covid-19, and more than 1,000 had to take unpaid time off after exposure to the virus at work, according to the union, which also represents janitors, security officers, and airport workers.
Despite the new risks, his stingy employer Final Touch Commercial Cleaning didn't even offer hazard pay. "I had other friends who worked in grocery stores and other essential businesses that were getting an extra $2 an hour," Haynes said. "A company as large as mine, I think they could have supported us in that way."
He is among 40 window cleaners who walked out on an open-ended unfair labor practice strike this morning. They want pay increases, a reduction in health care costs, and a state-recognized, fully funded apprenticeship program to improve training and safety.
'AN ACTUAL TRADE'
At a time when many other workers are fighting defensive battles—as hotels, for instance, are cutting their workforces—SEIU Local 26 window cleaners in the Twin Cities are striking to advance their standards and get their due.
"We're not taken seriously as an actual trade," said Kevin Ingbretson, a window cleaner for more than 20 years. Cleaners have a wage structure that advances from apprentice to journey level, but they don't have a state certification process like other skilled trades do.
Safety is the burning issue. "It's a really dangerous job, especially being out in the elements," Haynes said. "Wind can pick up and change at any given time." He says the company stresses the importance of safety, but it's just "a lot of lip service."
"We're striking to make our employer put their money where their mouth is," he said. "If they're going to talk so much about safety, we want to ensure that we're getting paid for that."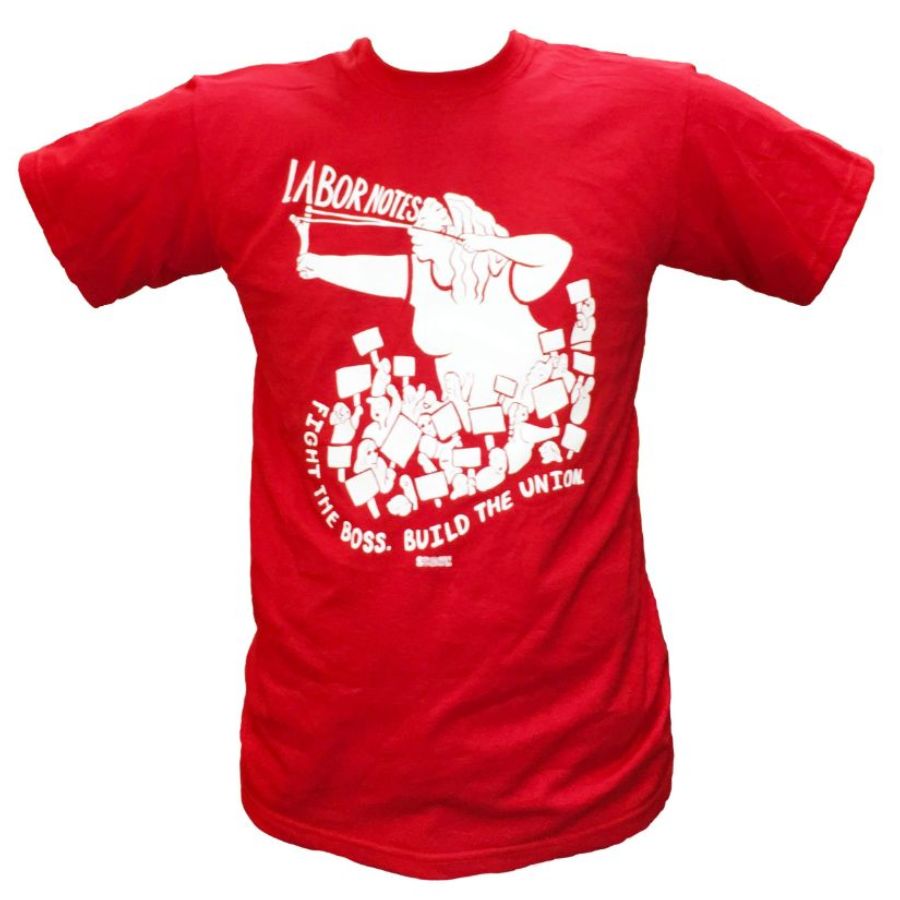 That's the idea behind the apprenticeship program. "We're looking to get certified as a skilled trade with the state of Minnesota," Haynes said, "and that certification would then be required for window cleaners to work on commercial buildings in the state."
BACKED OUT OF BARGAINING
The window cleaners' contract with three companies expired last year in the throes of the pandemic, but the union agreed to put negotiations on hold.
"They actually had tentatively agreed before the pandemic to a number of our proposals," said bargaining team member Eric Crone. "Then when the pandemic hit, they decided they didn't want to give us anything and pushed for us to meet again a year later."
Crone said management had verbally agreed to create a fully funded apprenticeship program, reduce family health care premiums from $400 monthly to $200, and raise pay $2 an hour in the first year and 50 cents to $1 each year for the remainder of a three-year contract.
In return for postponing negotiations, union members secured an immediate $1 raise. Currently, journeywork earns $26.20, according to Haynes.
Now the cleaning companies have dug in their heels, refusing to set a date for bargaining. Members voted unanimously August 12 to authorize the strike.
ONE DOWN, TWO TO GO
Yesterday afternoon, on the eve of the strike, union members received a subpar contract offer from two companies, Columbia Building Services and Final Touch Commercial Cleaning: 30-cent raises each year over a five-year contract, no improvement to the family health care premiums, and no commitment to fund the apprenticeship program.
"For them to look us in the face and tell us that we didn't deserve a little extra after working in these hazardous conditions while they got to work from home was completely infuriating," said Crone.
Members met yesterday at the union hall to review the offer; Crone described the mood as righteous indignation. "There was no hesitation on if we were going to strike at this point," he said. "It was just when."
Under the threat of strike, the third company, Apex North, agreed to the union's proposal. Its employees clocked into work today as usual.