Help Us Save the Postal Service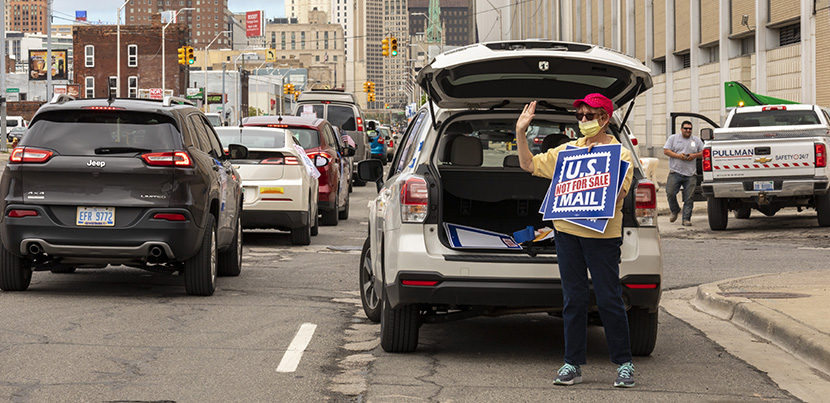 Read more here about the crisis in the postal service.
Nationally the postal unions are rumbling into gear to build public pressure beyond individual messages to Congress (necessary, but not sufficient). A handful of local leaders and rank and filers have already organized standout protests and car caravans, but it will take much more widespread activity to put the brakes on the privatizers' designs. Here are some ways you can help:
ORGANIZE (SAFE) GROUP ACTIONS
Organize a local or statewide "day of digital action" to phone zap or Twitter storm your Congressional officials, as activists did in Philadelphia. (See box.)
Virtual Call-In Was an Easy Lift
The Philadelphia chapter of the Democratic Socialists of America held a "Save the USPS" virtual call-in to our senators on April 30. On a Zoom call, the president of the Philly Postal Workers (APWU) local first framed the issue for us, then we walked people through the script the national union had drafted.
We muted Zoom so people could make the calls to both our senators—and then returned for a debrief about the reactions from Senate staffers. For one senator we could only leave voicemails, but for the other we got the staffer feeling very annoyed.
We discussed plans to do a similar event again with the union in the near future. This is a quick, low-lift action that can engage a wide range of people who support the postal service.
—Paul Prescod, Philadelphia Federation of Teachers
Organize a "chalk art" day, at homes and post offices, as Rise and Resist activists did in New York. Post photos to social media.
Organize a rally or car caravan at your post office or mail processing plant to honor essential workers and call on Congress to save the Postal Service. Alert local news media in advance. Activists in Portland are organizing a parade of decorated cars that will circle a post office, a grocery store, and a hospital. Organizers have timed it carefully so that workers will be outside to see.
Organize a webinar on the crisis in the Postal Service. Invite postal workers, elected officials, academics, faith leaders, and union leaders to participate.
Persuade your local union to order union-made "Save Our Postal Service" face masks. Ask window clerks and carriers to wear them at work, and everyone to wear them while commuting or out in public. Celebrities and elected officials could wear them for photo ops.
LOBBY CONGRESS
Sign a petition to Congress at bit.ly/postalpetition.
Email your senators and representative, three times a week. This link makes it easy: bit.ly/postalemail. Fill in your name and zip code, and you can be done in a few clicks. The website supplies a form letter, which you can edit or not.
Mail a paper letter or postcard, often. Write to: The Honorable (Name), U.S. Senate (or U.S. Congress), Washington, D.C. 20510
Print Out a Free Poster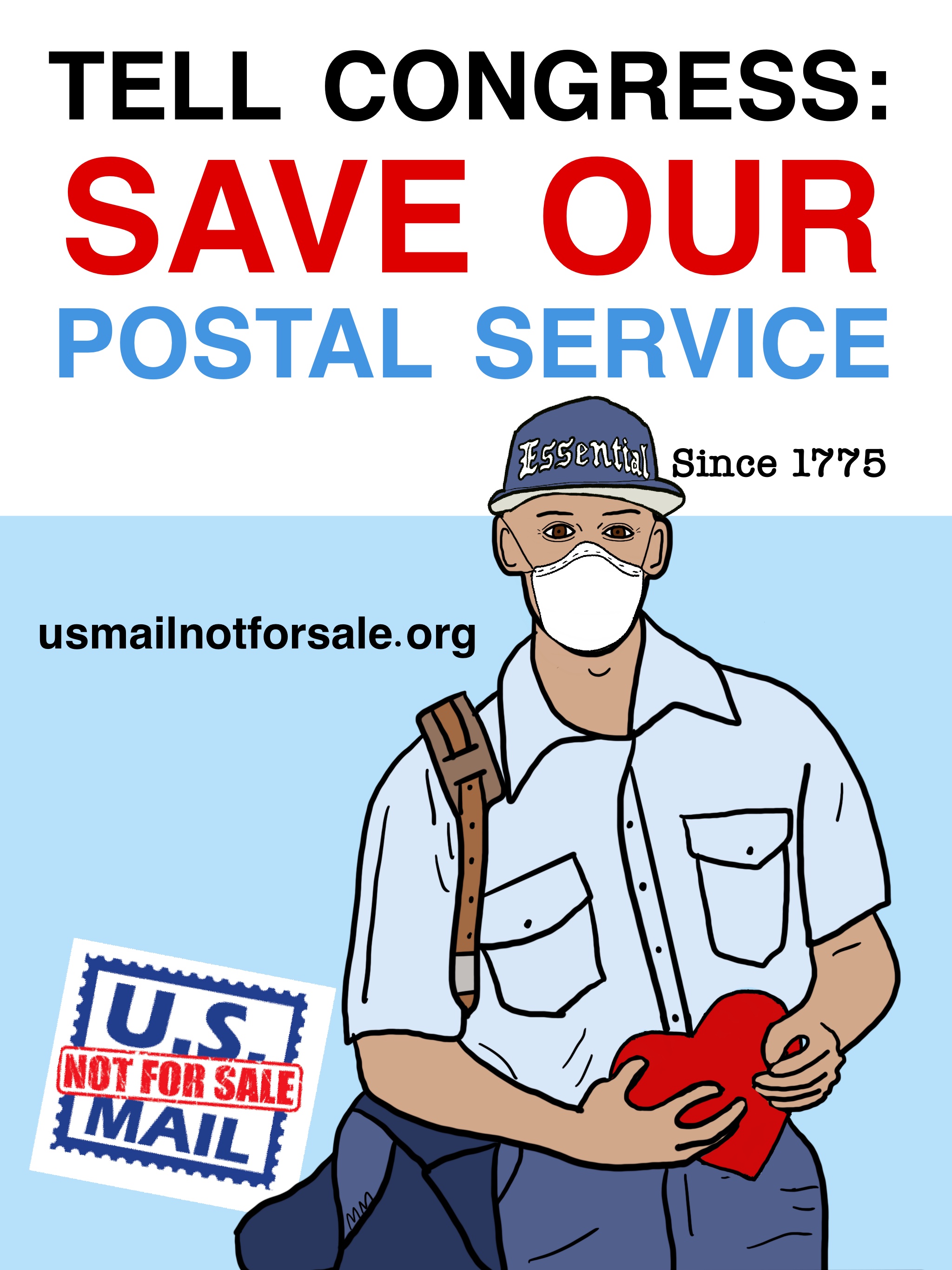 These posters are designed to be printed out and posted in the window of your home, store, or vehicle. There are seven designs showing a variety of postal jobs. Posters by Mary Matthews, drawingdailyusa.com

Click here to view the full set.
Call, often. The Congressional switchboard at (202) 224-3121 will connect you to the office of any senator or representative.
TELL THE WORLD
Write a letter to the editor or an op-ed for your local media site, especially if you live in a rural area.
Put up a window sign: Print one out for free at labornotes.org/saveourpostalservice and post it in your home, car, or store window, or on your mailbox. Share a selfie with your sign.
Ask your city or county council to pass a resolution calling on Congress to fund the Postal Service, especially if you live in a rural area.
Recruit others. Ask members of your union, local faith-based groups, community groups, or organizations of veterans, seniors, people with disabilities, or small businesses to join any of these actions.
Join our new "Save Our Postal Service" Facebook page at bit.ly/SaveOurPostalService, where you can share published letters, selfies, city resolutions, action photos, and more ideas.
Jamie Partridge is a retired letter carrier and NALC Branch 82 executive board member in Portland, Oregon.