What We Did on Your Summer Vacation: Won the First-Ever Union Contract at Sarah Lawrence College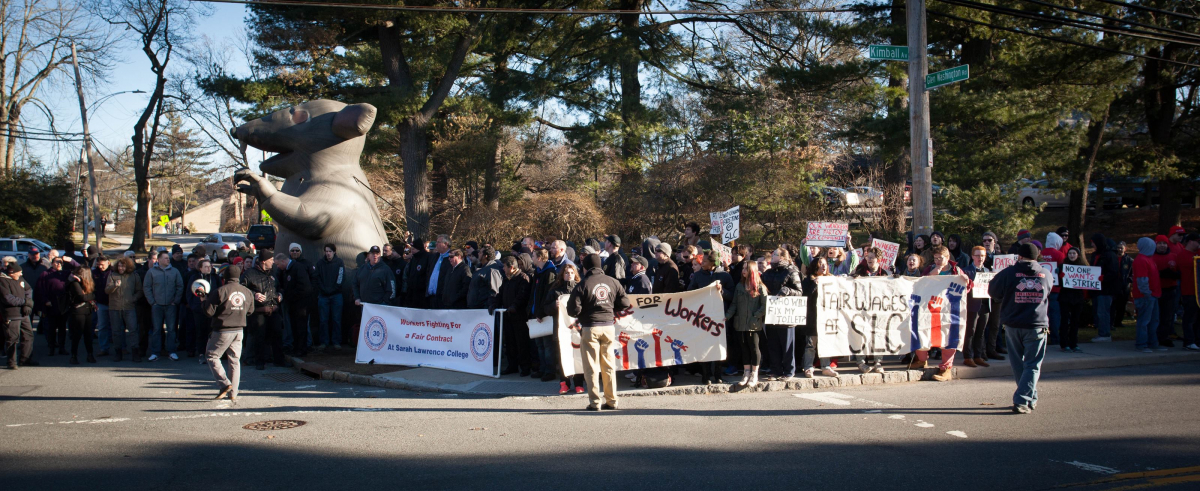 After a two-year battle that culminated with students occupying the president's office in May, the maintenance staff at Sarah Lawrence College in Yonkers, New York, finally has a union contract.
In August the dozen workers, now members of Operating Engineers (IUOE) Local 30, ratified the first contract for directly hired employees in this small liberal-arts college's 90-year history.
The administration agreed to add them to Local 30's health plan, which includes dental and eyeglasses, and to pay 100 percent of their premiums. Previously workers paid $300 to $400 a month for family medical insurance, with no dental or eyeglass coverage.
They also won a multi-step grievance procedure and substantial raises, especially for those at the bottom of the scale. Workers at the top sacrificed some of their increases so that those at the bottom could be brought up higher.
Up till now, one worker earned so little that "his wife couldn't be on his health insurance, his kid couldn't be on his health insurance," said mechanic Salim Haddad. "That really bothered a lot of us."
"We're 200 times better than we were before the union," said another mechanic, Patsy Morano, who's worked at the college for nine years. "And now we know we got somebody behind us."
PLENTY OF SUPPORT
Workers in Sarah Lawrence's maintenance shop handle the plumbing, HVAC, painting, carpentry, locksmithing, and electricity in the campus's 55 buildings. They first reached out to Local 30 in 2014.
Their chief issues were recent cuts in benefits, wages that were well below area standards, and disrespect from upper-level administrators.
As soon as the administration learned that workers were signing union cards, it retained Bond, Schoeneck & King, a law firm whose specialties include "union avoidance" at colleges and universities. What followed were the usual tricks: letters, flyers, and closed-door meetings to pressure workers to abandon the union.
None of this worked. Despite all the pressure, "we were able to win because the workers stood together," said Local 30 Business Manager Billy Lynn. And students and faculty rallied to defend workers' right to organize. In November 2014 the maintenance workers voted 11 to 1 to join the union.
Winning a Sit-In
For more on organizing a sit-in, check out this excerpt from A Troublemaker's Handbook 2, by a veteran of the Harvard Living Wage Campaign's successful three-week occupation of their president's office in 2001.
Bargaining began with a splash. A pro-union teach-in featured filmmaker Michael Moore (along with Mark Brenner, the director of Labor Notes). Students, faculty, union officials, and the three workers on the bargaining committee also spoke.
Moore attracted a big turnout from the campus community. Even more important, at least half the audience came from Local 30, which had put out a call for its members to attend. The local publicized the campaign in its newsletter and invited Sarah Lawrence workers to attend monthly union meetings, even though they were not yet members.
Local 30's readiness to mobilize its rank and file would play a crucial role. Many members commuted from New York City during workdays to support the campaign.
"Our members took the time out of their schedules. Some of them even took personal days," Lynn said.
A BROAD TABLE
Management refused to open the bargaining sessions to observers. So, to keep the struggle visible, the bargaining committee announced an inventive step.
The committee expanded to include a professor and a student who would publicize the proceedings, mainly through the professor's blog. The student representative, master's student Hank Broege, got to know maintenance workers by eating breakfast with them every day at the school pub.
Negotiations did not move fast. Management's lawyer did everything in his power to obstruct the union. Once, management even rejected proposed language—about disability benefits—that the union's bargaining team had downloaded from the college's own website.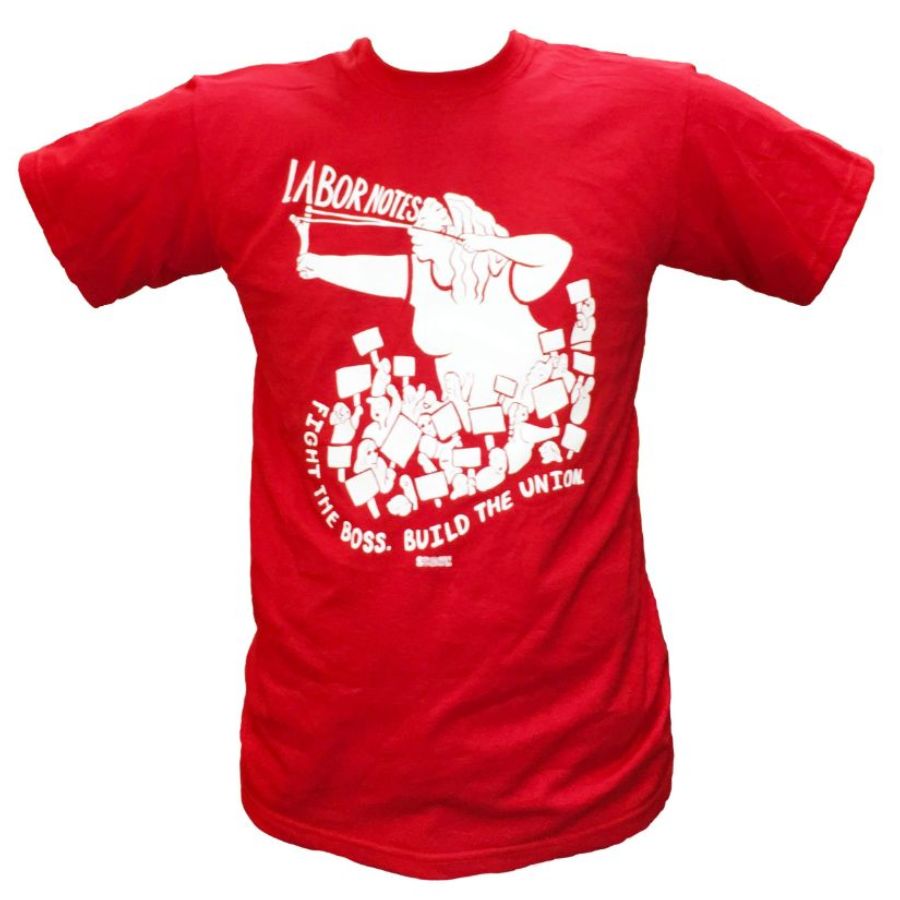 The administration's evident fear that a good contract would inspire other employees to unionize hung over the table like a noxious cloud.
"They said they didn't want us to be different from anybody else," said Morano. "Meanwhile, we're the ones who are there when the school is closed. We take our lives in our hands when we gotta get there in the snowstorms."
Nine months into the talks, a worker on the bargaining committee was fired for a prank that would never have led to a dismissal had the contract been in force and a grievance procedure in place.
'NUCLEAR OPTION'
In December, 11 months in, the union held its first on-campus demonstration, a silent vigil outside the building where midyear commencement exercises were taking place. About 40 people were there: maintenance workers, student supporters from Sarah Lawrence Worker Justice, and off-campus members of Local 30.
That paved the way for a noisy rally in February, when Local 30 brought a giant inflatable rat to campus. The headcount was close to 100, including many Local 30 members and a contingent from the Yonkers local of the Firefighters union.
In April, management made its "last, best, and final offer." The college proposed small raises, but refused to budge on benefits.
The union retorted by scheduling protests on the two Admitted Students Days, when the college hosts applicants it has admitted and entices them to enroll.
This was a "nuclear option," one bargaining committee member explains, since it threatened to disrupt the college's income. Fifty white-collar employees signed an online petition calling on the maintenance workers not to go through with the protests.
But the workers held firm, encouraged by other white-collar employees and especially by Local 30. The inflatable rat returned. Off-campus members turned out both days.
STUDENT OCCUPATION
It was against this backdrop that student activists—some of them newly inspired at the Labor Notes Conference—laid their plans to occupy the president's office.
The occupation didn't last long, but it changed the game. Supporters rallied at noon on May 2, including students, faculty, Local 30 members, and a contingent of Verizon strikers.
Students and workers marched into the administration building, where they chanted and prevented the president from getting into her office. Then the students sat down in the hallways, where they later spent the night.
"They took such a big risk," Haddad said. "They could've been kicked out of school and lost their housing." Workers showed appreciation on their breaks by delivering pizza, donuts, and coffee.
"Occupying the president's office for 55 hours was ultimately the thing that moved the ball," Broege said.
Within two days, the president and her senior advisers had agreed to call in a mediator and resume negotiations, which satisfied the occupiers and ensured that the upcoming commencement ceremonies would be free of protests.
Local 30 welcomed the student activists to its next monthly meeting, where they received a standing ovation. The students applauded the maintenance workers in return. And as other campus employees learn what was won, student activists and union members may well find new organizing drives to support.
Priscilla Murolo teaches history at Sarah Lawrence, where she has been a faculty member since 1988. She was the faculty representative on IUOE Local 30's bargaining committee and maintained a blog throughout negotiations. She's coauthor of From the Folks Who Brought You the Weekend: A Short, Illustrated History of Labor in the United States.
Dan DiMaggio is the assistant editor of Labor Notes.