Will Chrysler Workers Vote Contract Down a Second Time?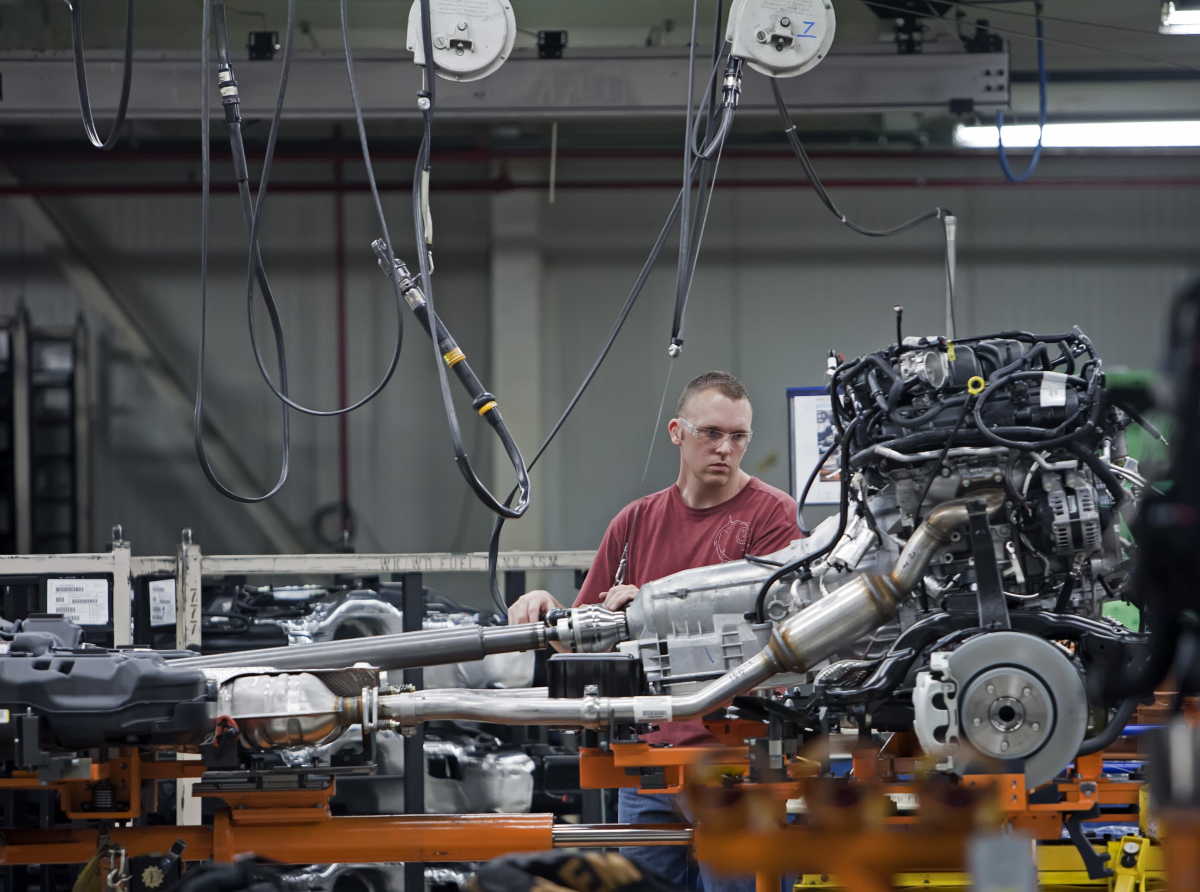 Auto workers at Chrysler will vote next week on a second contract proposal, after voting down the first agreement in a landslide in late September.
65 percent of UAW members at Chrysler voted no on the first deal, which they felt did not do enough to eliminate the two-tier system or protect jobs. This time around, the UAW International has hired PR firm BerlinRosen to sell the tentative agreement to members via social media. The UAW represents 40,000 workers at Chrysler.
Members, meanwhile, are engaged in a vigorous debate in the plants and on social media over whether the new contract is enough. A group of workers in the Jeep plant in Toledo are circulating a Vote No leaflet, and the Autoworker Caravan has a leaflet pointing out the contract's lowlights, in contrast to the UAW leadership's highlights document.
Labor Notes spoke to Alex Wassell, a member of UAW Local 869 and a longtime labor activist, about the new proposed deal. Wassell is a skilled tradesman who has worked at Chrysler's Warren Stamping Plant for 22 years. Here's what he had to say about why many workers remain opposed:
A lot of people are skeptical that it takes eight years or two contract cycles to get up to top-tier wages, although the pension and healthcare are still second-tier. People are disappointed that COLA [the cost-of-living adjustment, historically a part of UAW contracts but suspended in 2007] wasn't part of the deal.

Alternative work schedules are still part of the contract. Even though they said in 60 days they'll talk about it, I don't believe anything substantive will come of it. The unlimited use of temporaries is another downside. For Mopar workers and Axle workers the deal's probably worse than before.

So the new deal hasn't changed my opinion, and there's a lot of negative sentiment in the plant. I don't think you need to hire a PR firm if you negotiate a good contract.

I just can't trust them around the eight-year period to get to top-tier wages. That's two contract cycles. They couldn't even enforce the 25 percent limit on two-tier workers that they supposedly negotiated in 2011.

Under the 2011 contract, there was no cap. But there was language put in that at the end of the 2011 agreement, the 25 percent cap would be imposed and people would roll over and become first-tier. That didn't happen because, guess what? At the end of the agreement everything's up for discussion. People really think that cap should be honored.
End Two-Tier? An Interview
Chrysler worker Alex Wassell was interviewed on the Belabored podcast on October 15 about why auto workers are opposing the second tentative agreement. Listen to the interview here, between the 12- and 26-minute marks.
Wassell said that unlike the first round, workers at his plant will have to vote on this second proposal at the union hall, which is off-site. "I think that's going to cut down the participation," he said. "You can't vote on your break time here, so you have to do it before, or after, or during your lunchtime—and lunchtime is iffy. So I see a diminished participation this time, although I think the sentiment is still running more against than for."
Chrysler workers will vote on the new agreement next Tuesday and Wednesday, October 20-21. Wassell predicts it will be close, but that a no vote will again prevail.
As far as what would convince him and other workers to vote yes, Wassell says: "I'd like to see the elimination of the tiered workforce within the four-year contract cycle. I'd like to see the restoration of the cost-of-living-allowance for all employees. I'd like to see second-tier ("in-progression") employees get full medical and benefits to match the traditional workers. And I just need to feel that the International union and the secondary leadership is in tune with the rank-and-file and these demands."
Auto workers: Let Labor Notes know what's happening in your plant – contact dan[at]labornotes[dot]org with any tips. And check out the rest of our site for more about our trainings and books.
Highlights of Past Labor Notes Auto Coverage