Students and Workers Strike for Democratic Reforms in Hong Kong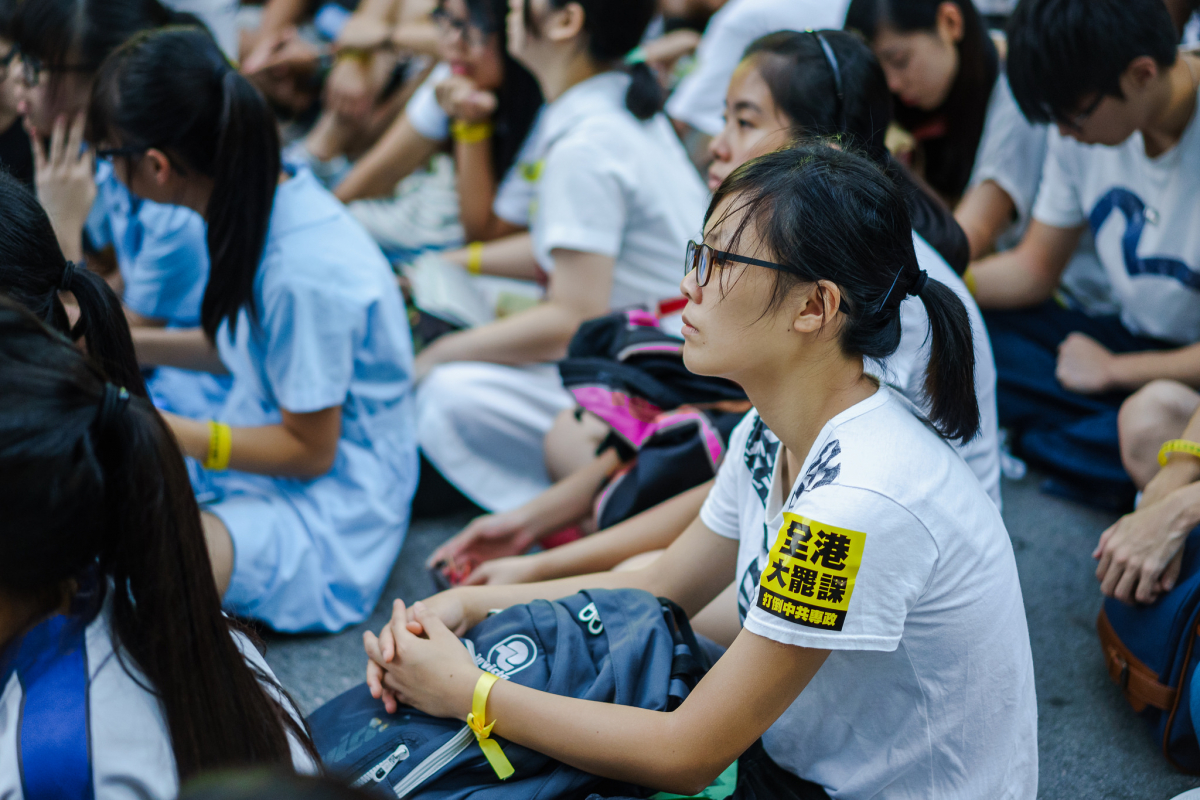 After two weeks of protests, and a support strike by several unions, pro-democracy demonstrators were brutally attacked today by pro-government thugs in Hong Kong, scuttling the promise of talks between students and the government.
Just a few hours earlier, three Hong Kong activists supporting the protests sounded wary, but not expecting this scale of an assault. "We know there are police forces getting ready," said Francine Chan, who works with Left 21, a network of student and community activists.
She'd had only had a couple hours sleep. In an eventful week, Chan and two others were up early Friday morning (Hong Kong time) for a conference call with a couple dozen U.S.-based labor activists eager to hear the latest news, and brainstorm how to support the movement.
Students Walk Out
Events began last week with a peaceful strike by university students calling for the resignation of C.Y. Leung, Hong Kong's chief executive, and for free elections to replace him.
Around 13,000 skipped classes, instead gathering by the government headquarters to hear informal lectures by public intellectuals, explained Sophia Chan, also with Left 21.
The students had planned to end their boycott of classes peacefully on October 1, a national holiday, at which point "an Occupy Central movement, not mainly led by students, would be launched," she said.
But things took a different turn on September 27 when police sealed off Civic Square, where student protesters were gathered, attacked the crowd with pepper spray, and arrested key leaders.
"That created a lot of outrage, so a lot of people came to support them," Sophia Chan said. When police deployed tear gas against protesters over the weekend, the angry crowds only swelled further and launched protest occupations in four districts.
Escalation Promised
One of these four occupations, in the Mong Kok district, has shut down one of the busiest tourist shopping roads in Hong Kong. Thousands of people gather regularly for the assemblies held there—at the peak, maybe tens of thousands, Francine Chan said.
Ways to Support the Hong Kong Democracy Movement
Join or organize a local rally or vigil. A number of international actions have targeted Chinese consulate offices, though key organizers inside Hong Kong have clearly decided to focus their pressure on the Hong Kong government rather than on Beijing. Another possible target: the local Hong Kong Economic and Trade Office.
Hold a teach-in or speak-out on your campus or at your organization. Some are also distributing yellow ribbons to show solidarity.
Get your union or organization to send a statement of solidarity. Unions around the world, including Canada's national union federation, have issued statements of support for Hong Kong's pro-democracy protesters. AFL-CIO President Richard Trumka also made a statement.
Sign support petitions. International allies are signing two petitions, one sponsored by HKCTU and the other by the International Union of Food, Agricultural, Hotel, Restaurant, Catering, Tobacco and Allied Workers' Associations (IUF).
Follow the latest developments and appeals via the Facebook group "Calling for international support for democracy in Hong Kong."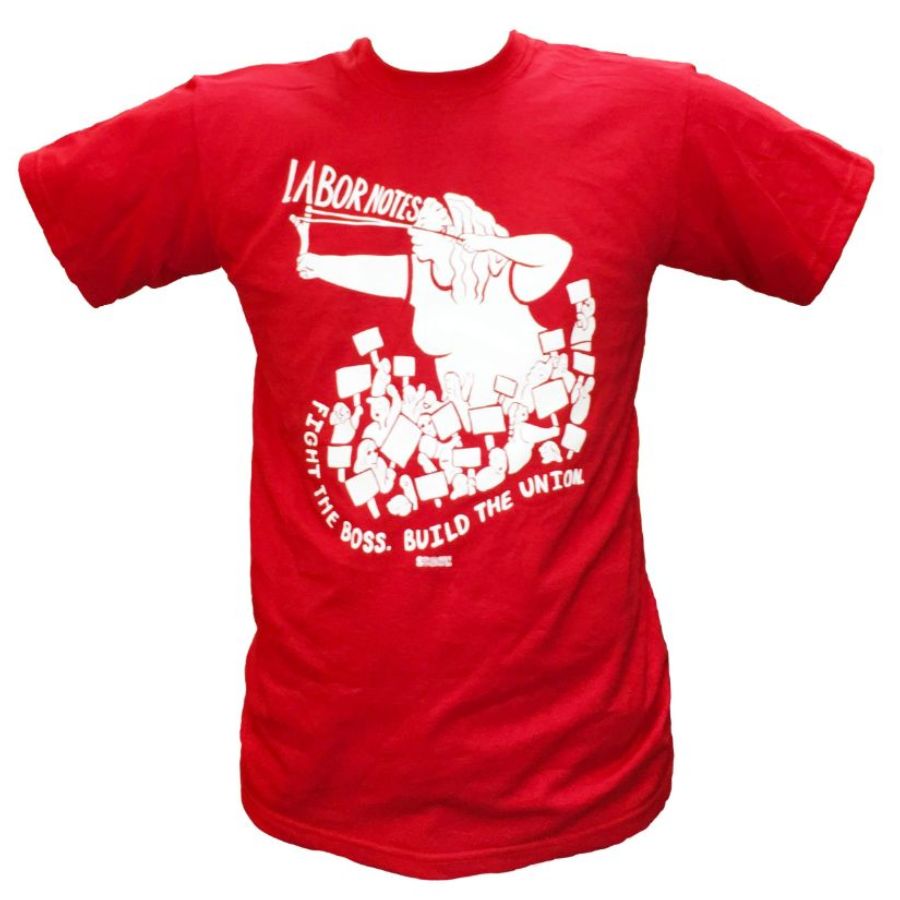 After an opening speech from a host or scholar, usually the floor is open for any citizen to make a short speech, she said. "Everybody has the time to speak for two minutes. They come to the stage and it's free, everybody can do it…. It's not just for the so-called main leaders in the movement. It's more like autonomous space for citizens to express their opinions and thoughts, a platform."
The movement has found support from community groups, women's groups, and pro-democracy labor unions, but its biggest numbers are still students, and its core leaders are with the Hong Kong Federation of Students.
Mid-week, HKFS announced that if the government did not respond to its demands by Thursday night, protesters would escalate by surrounding government buildings. Then the government agreed it would meet with the students, and the students said they wouldn't surround the buildings, "so the tension has temporarily eased," Sophia Chan said on the call.
But that was before today's attacks. Now HKFS says the talks are off, according to the New York Times.
Support Strikes
The pro-democracy Hong Kong Confederation of Trade Unions (HKCTU, not to be confused with the establishment labor federation, the HKFTU), called for a general strike on September 29 in solidarity with the protests.
Thousands of strikers from around 20 affiliates participated, HKCTU's Sally Choi said. The biggest numbers were social welfare workers. Teachers scattered among 200 schools struck too, and so did 200 truck drivers for Swire Beverages, which bottles and distributes Coca-Cola products in Hong Kong. Dockworkers at the Port of Hong Kong, who made headlines with a dramatic 40-day strike last year, are also supporting the protests.
Workers have taken part in the protests in other ways besides striking—visiting the occupied areas to do volunteer work and show support, Choi said.
It probably helped that some workers were off anyway for national holidays a couple days this week. "Today people have to go back to work," Francine Chan said. "But I believe many people after their work will still go for assembly in the different districts. They are still very assertive and firm that the movement has to keep going on."
People show their support in all kinds of ways. During the student boycott, she said, "some of the women's groups, women workers, they were very kind—they made some soup for the students and for the citizens who were in the assembly."
Economic Demands?
Hong Kong's Occupy movement has grown and flourished since it was touched off by 2011's Occupy Wall Street mobilization in New York. Although Occupy Central's outward themes are more political, less economic, it takes place against the backdrop of "perhaps the most unequal developed economy in the world," as Eli Friedman explained in The Nation.
With an internal battle going on between rightwing and leftwing participants accusing the other of "hijacking the movement," it's hard to raise the profile of issues of economic inequality, said Sophia Chan. But, she said, "I feel there are a lot of people who came out not just because of democracy but because they really feel like their standards of living have dropped in the past few years."
Francine Chan added that she believes core student organizers "also have the sense we need to not just fight for political democracy, we also need to fight for economic democracy. Because actually the life of Hong Kong's people is greatly influenced by the main billionaires in Hong Kong…
"Some of our friends tried to do some interviews with people, and when asked what is a leftist, they did not know. But when asked why have to fight for universal suffrage, it's because they know they do not control their lives now."