A Few Thanks, as We Try to Ride Out the Storm

When the House decided before Thanksgiving not to extend unemployment benefits, anxiety set upon my family. My husband will reach his 99 weeks at the end of December, with no job prospects in sight. We'll lose 40 percent of our income if the new batch of Republicans doesn't reauthorize benefits for the long-term unemployed like him.
When it rains, it storms. People are losing their homes, jobs, health insurance, and their children, who are off fighting in two wars. Now that the Tea Party is in the House, we might see people start to lose their Social Security and Medicare, too. This is brewing up to be the perfect disaster—and my family and I are trying to survive in this storm.
My husband spent 15 years as a 12-volt technician, installing aftermarket car stereos, alarms, and car starters. In January 2009, his employer said, "Sorry, nobody is buying these, we no longer can afford to keep you." Now his biweekly calls to the unemployment office are coming to an end, and he doesn't know what to do. He's one of 2 million long-term unemployed who could see their lifeline cut if benefits aren't extended by New Year's.
He could follow my mom's lead and take a job with Starbucks. She didn't land there because of unemployment. She had a job, working for 30 years at GM. She retired, but since cuts to the union's medical benefits hurt her and my father deeply, she re-entered the work force full-time.
My father is another American who is concerned with what is going on in Washington. He fears cuts to Social Security and Medicare will only further burden them. They lost their house to foreclosure in 2008. My husband's parents lost their house last year. My father in-law worries about cuts to his pension, Medicare, and Social Security on a daily basis.
Some relief has come to the Campbell and Montgomery households. I am proudly working here at Labor Notes in Detroit. I am very thankful this holiday season. My younger sister is, too. She is no longer working an $8-an-hour stocking job for Target. She now is happily working an $11-an-hour job as a receptionist. Not bad in these days for someone who has a bachelor's degree in business management.
She is no stranger to student loans. I too have $60,000 in student loan debt, which it seems I'll never be able to pay off. My sister has about $35,000. We wonder, why did we go to school, get that higher education that we are told we have to get to better ourselves; only to drown in debt that you can't wipe away if you file bankruptcy?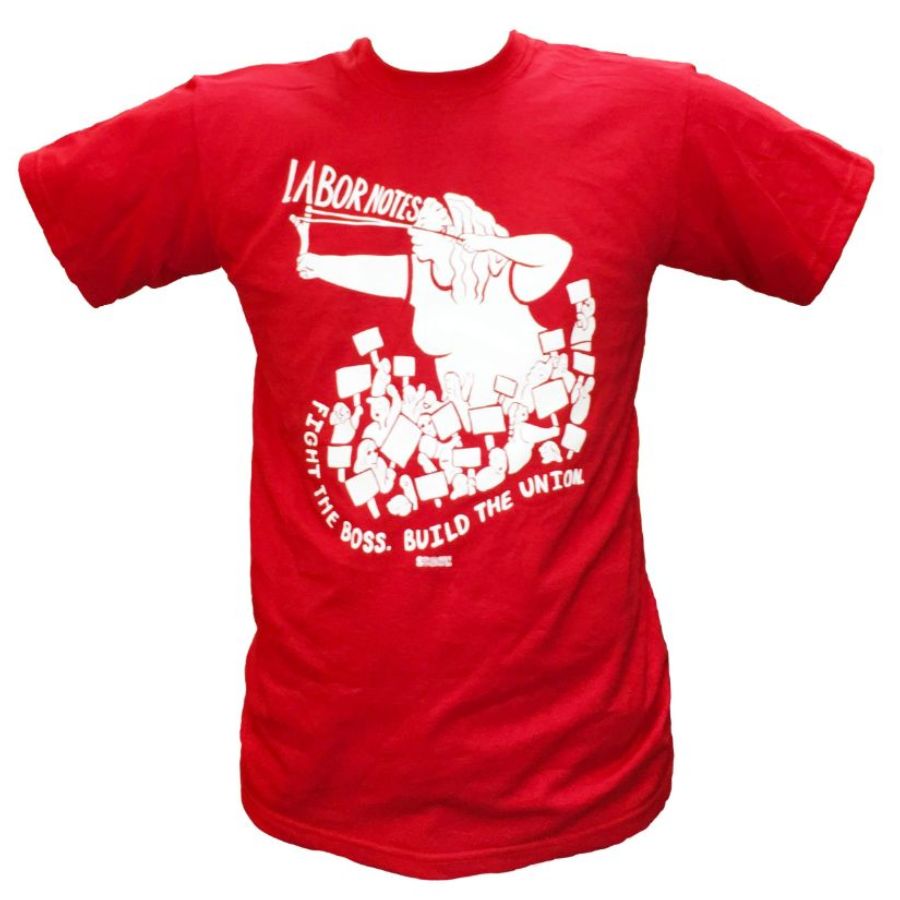 My sister and I are the face of the new younger generation of debt. We don't have credit card debt; we have medical and student loan debt. I have well over $100,000 in medical debt from being denied lifesaving cancer treatment by an insurance company. My sister was uninsured, just weeks away from her employer-based insurance kicking in, when she had an accident. She slipped and fell on some ice, busted her ankle, and ended up $30,000 more in debt.
My brother is 21 years old. Post-high school, he didn't want to rack up the student loan debt like his two older sisters. He worked doing stock at a grocery store, not able to get more than 12 hours a week, and unable to find work elsewhere, he signed up with the United States Army. Most of the men in my family have served, and he felt, even though we are in two senseless wars, he would do his part.
He has done a tour in Iraq. After coming back he was knifed on his base in Louisiana—the other soldier was looking for a way out of going to Afghanistan. The soldier felt he would rather spend the rest of his life in a military prison than head off to a war zone. My brother deployed to Afghanistan in October, on our mother's birthday. Happy birthday, mom!
This Thanksgiving, the Campbells and Montgomerys are going through what the rest of the country is going through: unemployment woes, medical/health care concerns, student loan anxieties, foreclosure depression, and wondering when the wars are going to end and all of our soldiers will be back home.
I wish the Tea-Publicans would understand that these issues are all connected, instead of just screaming that big government is overspending. Maybe they could stop catering to corporate interests long enough to see that things like unemployment benefits and Medicare are the lifelines for America's wellbeing.
---
Adrian Campbell Montgomery is Labor Notes' business manager. She appeared in the 2007 Michael Moore movie SiCKO as a cancer survivor trying to deal with the high cost of health care in the United States—and became an agitator for Medicare for All.