As Layoffs Hit, NY Transit Workers Push for $5 Worth of Solidarity
Update: The assessment passed by 64 votes of roughly 6,530 cast on Thursday, August 12.
Sunday would have been Sabrina Greenwood's five-year employment anniversary in New York's transit system. But she won't make it. Along with 193 other station agents, she'll be laid off Friday.
Her union, Transport Workers Local 100, is trying to soften the blow by funding the laid-off workers' health care with a special $5-a-week assessment from its 35,000 active members.
It would maintain benefits for six months for roughly 1,000 of the local's members who have received pink slips so far this year in the transit system's bloodletting. Members could vote to extend the subsidy for another six months next February. Asking members to reach into their pocket to assist laid-off co-workers is rare in today's labor movement, especially under these economic conditions.
The assessment would cover the $1,000 to $1,400 per month that Greenwood expects health care for herself and four children will cost.
"This is what the union is all about," Greenwood said. "You have to help each other when times are hard."
She's anticipating receiving about $400 a week from unemployment insurance after taxes.
"The little savings I've got I'll go through fast,' Greenwood said. She says she's already cut back. Her eldest daughter will come home to attend college in the city to save money. But both of them suffer from acute asthma, and she lives in fear of paying emergency-room bills out of pocket if her insurance lapses.
"If the assessment goes through," she says, "it's one less thing I have to worry about."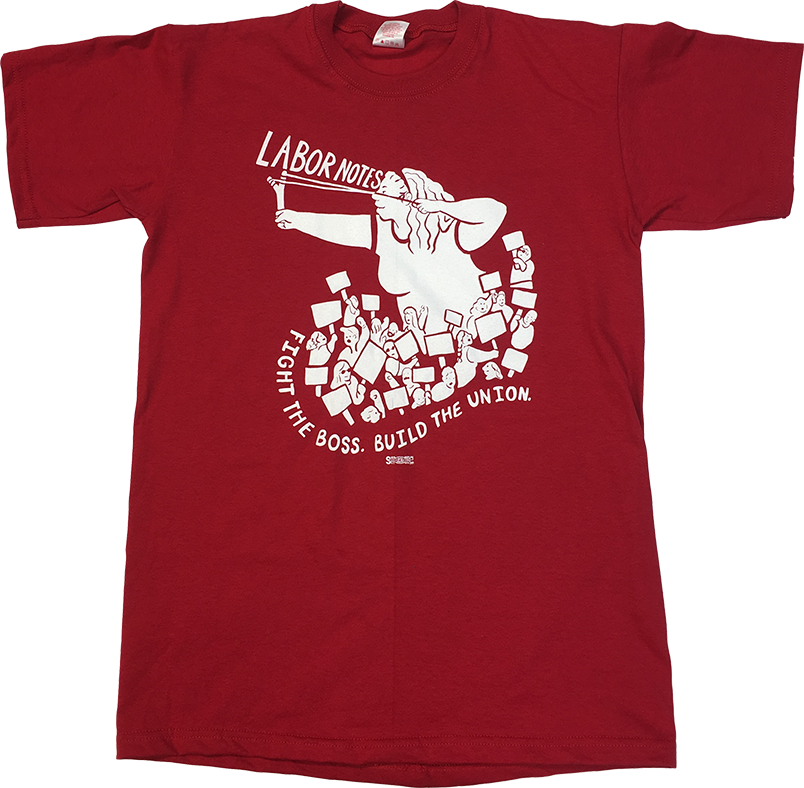 Help Put the Movement Back in the Labor Movement
Become a Labor Notes Monthly Sustaining Donor
Monthly donors receive a free "Fight the Boss, Build the Union" T-shirt and a subscription to our magazine. Donate Now. »
But the gesture of solidarity isn't an edict handed down by TWU leadership. It must be voted up by members, and with ballots due Thursday, Greenwood is nervous that bad blood still flowing from the union's regime change in January could cloud the issue.
Supporters of former President Roger Toussaint are clinging to old loyalties, Greenwood said, while the disengaged members left behind by his administration need convincing that the money will flow to its intended purpose.
"Times are tough, and people are reluctant to give the money up," said Marvin Holland, Local 100's community relations director. He said the new leadership's strategy is to involve members in the union's decisions by pushing campaigns like the health care assessment.
Holland and Greenwood have been out at stations and yards talking with members, part of what the local's calling its "Solidarity Front." Greenwood notes that union leaders, including division VPs and President John Samuelsen, have pulled shifts in the campaign, too.
"People have to realize that when they start cutting, the top becomes the bottom," she said. "Nobody's that secure anymore."
About 3,450 clerks staffed stations a decade ago, but when this round of layoffs hits, only about 2,600 will remain. Bus routes and two train lines have also been cut, and the agency is proposing up to 17 percent fare hikes for commuters next year and a two-year wage freeze to try to patch a $800 million budget shortfall.
(Greenwood notes that the ax doesn't fall equally; management positions paying $216,000 have recently been filled.)
Beyond fighting to provide for her short-term health needs, the union is showing management it will hang tough as it faces new rounds of layoffs and service cuts, Greenwood said.
"Even if we don't all agree, we're united," she said.