U.S., Canadian Delegation Supports Embattled Mexican Electrical Workers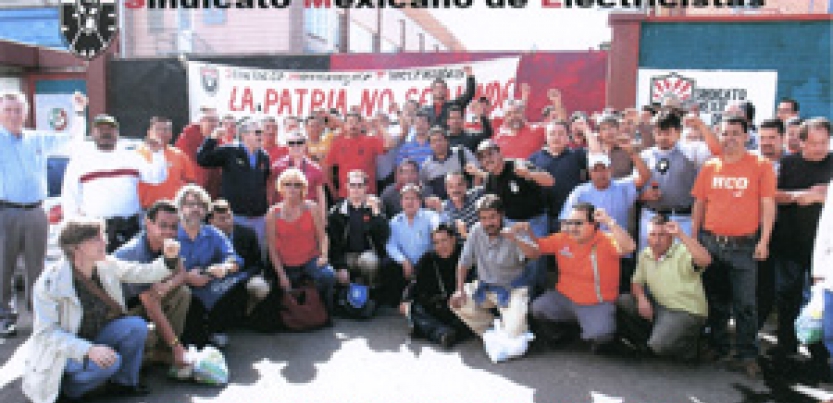 A delegation of U.S. and Canadian labor leaders visited Mexico November 29-December 3 in solidarity with fired electrical workers of the former Light and Power Company. On October 11 President Felipe Calderón sent police to occupy the facilities of the government-owned company and fired its 44,000 workers, attempting to break the Mexican Electrical Workers Union (SME) because the union has stood in the way of Calderón's effort to privatize the entire electrical industry.
The delegation was led by Hassan Yussef, secretary treasurer of the Canadian Labor Congress, and Stanley Gacek, associate director of the AFL-CIO's International Department. The Canadian Union of Public Employees, Communications, Energy and Paperworkers Union of Canada, Steel Workers, Utility Workers, and United Electrical Workers (UE) sent delegates.
Since October, SME members have engaged in a series of protest demonstrations and work stoppages, taken legal action, and sought legislative solutions.
UE's Eastern Region President Andrew Dinkelaker says that what impressed him most on the solidarity trip was the commitment of SME members. "I think one of the most dramatic things for me was the cultural difference about how people struggle," he said. "The fact that they can mobilize tens to hundreds of thousands of people had a big impact on me."
While the union mobilizes its members in large groups for demonstrations, it also has smaller groups manning picket stations at facilities in Mexico City and surrounding states. "We went to electrical facilities which were closed up and under the control of the federal police," says Dinkelaker.
"While doing that, we also met with SME members at picket stations where they had the black-and-red strike flag painted or taped up on the gate. At one picket station they were making crafts to sell, such as little decorated Christmas trees, to help raise money for the struggle. They were also set up to block any further equipment from being taken out of that location."
Dinkelaker was impressed by the unity of the electrical workers: "Visiting the picket stations, people were very clear about what had happened and about what they wanted. They were all saying, 'We want to negotiate.'"
Dinkelaker summarized the position of SME members. "They told us that government police had come in the middle of the night, had used huge forces, and had kicked people out of their workplaces. The government had used the reasoning that the company was inefficient and ineffective. SME members said that if the company is inefficient that is because of the management of the company.
"The members said, 'We can understand that there are problems, but why do you have to operate in such a heavy-handed manner? Why can't you use the processes established by Mexican law? Why can't you use the union contract, which has a successor clause?'"
WHO WILL KEEP THE LIGHTS ON?
SME members expressed concern about the government's ability to deliver electrical power in the future. "The workers explained that they had never had money to replace equipment," said Dinkelaker, "so they had to make do with the old equipment. They did creative things to maintain power for the citizens of Mexico City and surrounding states.

Best-Selling Book
Secrets of a successful organizer
A step-by-step guide to building power on the job. Buy Now. »
"There are also other issues, such as old transformers not properly stored and leaking, near residential areas, things that have happened because of inadequate funding. The workers said that the new workers will be working on power distribution, not on taking care of these problems."
MEETING THE RANK AND FILE
Dinkelaker and the other union leaders met with SME General Secretary Martín Esparza, the executive board, and stewards and activists at their hall. "We also went to a demonstration at the Federal Electrical Commission (CFE) a few blocks from the SME headquarters where the women were on a hunger strike," he said. "There were 10 or 11 of them. The CFE building appeared to be closed down as a result of SME members' actions."
Delegates met with the economic or labor attachés of the U.S. and Canadian embassies. "We talked about the NAFTA side agreements," said Dinkelaker, "and said that we found that the Mexican government's actions violated those agreements. The Mexican government had not followed its own laws. We also related this to the International Labor Organization standards which were not being respected."
Dinkelaker was disturbed by the Mexican government's violation of its own laws and international standards. Delegates met with government officials: "They told us that everything they had done was right and was constitutional. They claimed that the union had not followed its own bylaws, though the union said that the government's claim was not true. As a delegation, we expressed our concern about the rule of law and the application of the NAFTA side agreements and the ILO standards."
Dinkelaker believes that the delegation's demonstration of solidarity in Mexico was needed. "I hope that this latest development with the SME will act as an international wake-up call for solidarity. If we allow these kinds of actions to take place, then not only will Mexico's independent unionism be set back many years, but we will all end up at the bottom of the barrel with them.
"Fighting for universal standards and for human rights will provide a foundation for building a world where no matter where capital goes, it must respect labor rights and human rights."
On December 2 the Federal Board of Conciliation and Arbitration rubber-stamped the government's invalidation of SME's election and its officers. On December 4, SME summoned Mexican unions and social movements to a "symbolic taking of Mexico City." Tens of thousands of workers joined marches and a protest rally at the Monument of the Revolution.
---
Dan La Botz is editor of Mexican Labor News and Analysis. A version of this story will appear in the December issue of UE News. More information can be found on the UE's International Solidarity website.