Auto Workers Power Up Fight for an Electric Future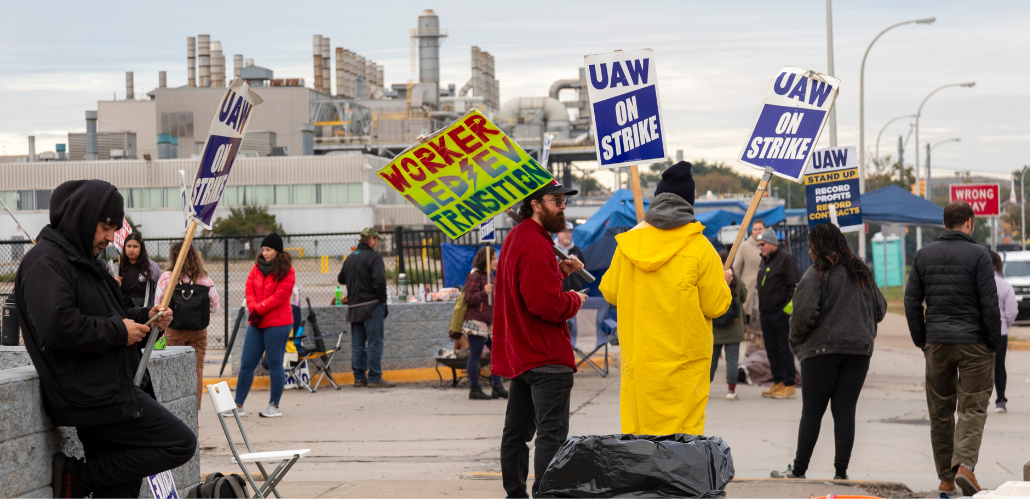 The highest stakes of the United Auto Workers' strike could be for workers not yet hired, at plants not yet built.
In the last few weeks, the Stand-Up Strike has wrenched breakthrough offers out of all three automakers—Ford, General Motors, and Stellantis—that will have big implications for the transition to electric vehicles (EVs).
Moving beyond the dead-end job security strategies of the past—concessions and corporate partnership—the union is digging footholds to fight for an electric future on workers' terms.
Six thousand jobs across four planned GM battery plants will now be covered under the UAW's master national agreement, rather than a separate low-wage contract.
And at Ford and Stellantis, the union has won the right to strike the entire company over any plant closure during the next contract—a significant win given concerns about job security in the EV transition.
Now the union is aiming to lock in all these wins at all three companies.
For a generation, hostile bosses and anti-union politicians have shut the UAW out of every part of the auto industry beyond the Big 3. The EV transition could have knocked the union into a downward spiral, as the companies planned to shift the electric supply chain into low-tier union contracts, or none at all.
Instead of that grim version of the EV future, this strike has set the UAW in position to go on offense with organizing, both at Big 3 battery plants and at non-union auto factories.
BATTERY TRIUMPH AT GM
UAW President Shawn Fain announced October 6 that GM had agreed in writing to put its electric battery manufacturing work under the national master agreement with the union. That contract currently includes stamping, assembly, and drivetrain plants, along with parts hubs.
"We've been told for months this is impossible," Fain said. "We've been told the EV future must be a race to the bottom. We called their bluff."
The CEOs had been insisting that bringing battery work under their national agreements was legally impossible because of a move they had made themselves: shuffling their EV supply chain plans into "joint ventures" with foreign electronics firms like South Korea's LG and SK On.
But under the pressure of the strike, GM must have found a way around its legal quibbles.
"People here were very happy," said Local 2250 trustee Shana Shaw, an assembly worker at GM's striking plant in Wentzville, Missouri. "It's a huge win."
Workers at the Ultium Cells battery plant in Lordstown, Ohio, a joint venture between GM and LG, voted to join the union in December and have been negotiating a first contract.
The 1,300 workers there were on a pay scale that started at $16.50 an hour and rose to $20 over seven years. In an interim deal in August, they won a raise of $3 to $4 and thousands of dollars in back pay.
GM's offer includes the Ultium plant in Ohio, and new ones being built in Indiana, Michigan, and Spring Hill, Tennessee.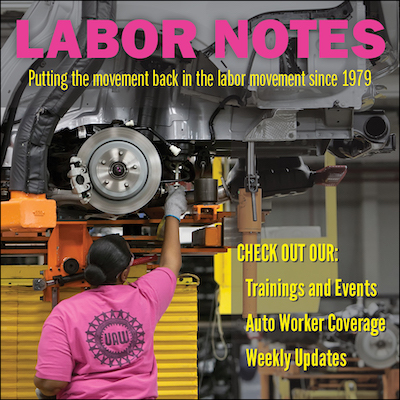 The top rate under the master GM agreement is $32—and it will likely rise by at least 20 percent over the course of the new contract.
Ultium workers also demanded stronger health and safety standards after multiple spills and accidents at the EV plant. The Occupational Safety and Health Administration cited plant managers for "failing to use and train workers on safety and emergency response procedures." Under the master agreement, union safety committees will now have paid time and contract rights to push management to fix shop floor hazards.
AN OPEN DOOR?
News of the battery plant win spread fast at GM Spring Hill, where gas-powered and electric vehicles are made on the same line. The company is building a major battery plant down the street under its Ultium joint venture.
"To be honest, it was an incredible shock," said chassis assembly worker William Pigg. "GM, Ford, Stellantis, they have the means to do it. They told us they couldn't do this, then they did it."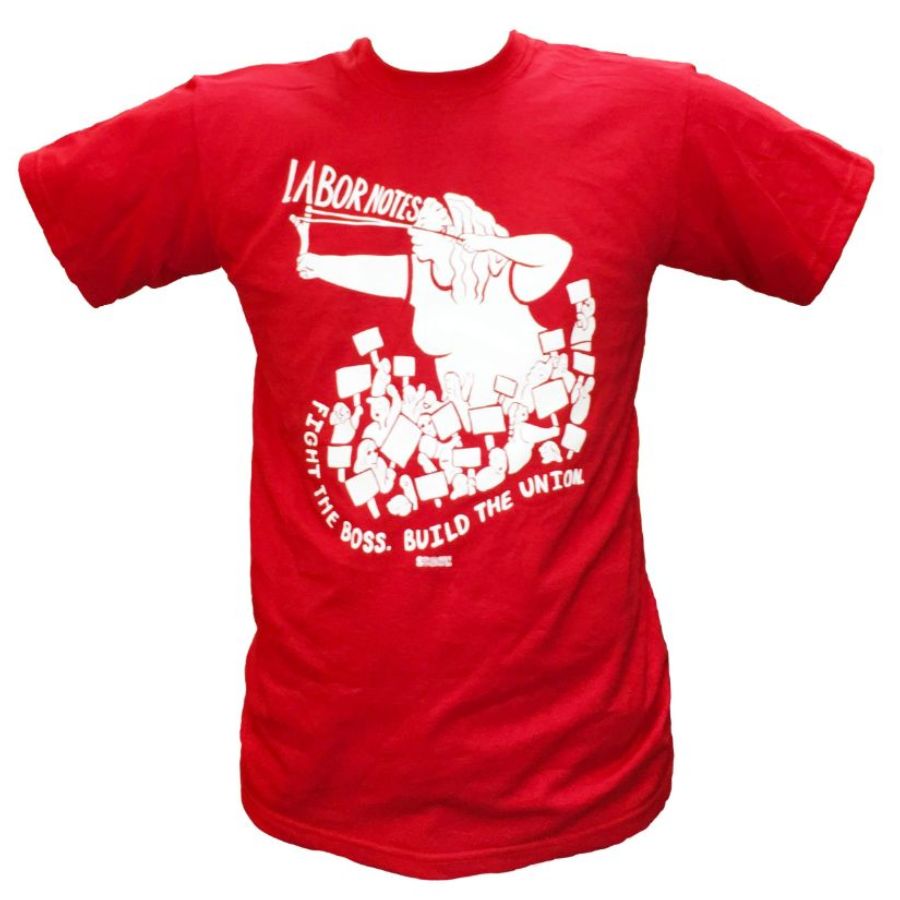 Spring Hill has another EV-related tier that the union is still fighting to eliminate. As a condition of making an EV at the plant, GM demanded to outsource paint and injection molding jobs to GM Subsystems, a shell company that has a separate UAW contract where wages start at $15 and end at $17 after four years.
Although EVs changed nothing about paint and plastics work, UAW members under the master agreement were suddenly laid off, forced to scrap for openings in other parts of the plant.
For Pigg, the key question is how current workers will be able to transfer into battery jobs. Will they retain their seniority and wages? Those details are still being hashed out at the bargaining table.
Transfer rights into battery plants could be life-changing for thousands of auto workers who have moved from closed plants. "It's an opportunity for workers at my facility to transfer back home," Local 14 President Tony Totty told the Toledo Blade. Hundreds have transferred to GM's Toledo transmission plant from the shuttered Lordstown plant, 300 miles away, where GM's first major battery plant now looms nearby.
A FIGHTING DEFENSE AT FORD
The UAW will now attempt to push Ford and Stellantis to bring their battery plants under the master contract, too.
Stellantis has been furthest behind in rolling out EVs, but has announced two battery plants in partnership with Samsung in Kokomo, Indiana, requiring 3,000 workers.
Ford has two battery plants already under construction in Kentucky and Tennessee, with the electronics firm SK On, plus a wholly owned Ford subsidiary plant planned in Marshall, Michigan, where the company recently paused construction. According to CEO Jim Farley, these three plants would hire 7,500 workers, part of the company's goal to quadruple EV production by the end of next year.
Ford went so far as to hold a press conference on September 29—its first of the strike—in which it accused the UAW of holding up a contract agreement "over battery plants that won't come online for two to three years."
Farley said that rather than putting the plants under the master agreement, "we want to make an agreement where we can become competitive in any area of the country."
He added that the size of the Marshall plant under construction will be determined by labor costs. "We can make Marshall a lot bigger or a lot smaller—we're pausing to determine that."
Still, while Ford has yet to budge on EVs, one week into the strike it gave in to another important demand—granting the union's right to strike the entire company if Ford closed a single plant. Workers laid off indefinitely from closed plants would also be guaranteed income security for up to two years, with health care.
Many Big 3 stamping and assembly plants are already adding electric vehicles onto their lines. Gas engine and transmission plants, however, have little obvious role in an electrified future.
Ford put out a statement on October 3 pledging that "none of our employees, including powertrain employees, will lose their jobs due to our battery plants during this contract period." (The union is seeking an agreement through May 1, 2028.) But just last year at a Detroit conference, Farley touted how EVs would require 40 percent less labor than gas cars.
Credible researchers say it's not yet clear whether EVs will actually cut jobs, since the industry is still experimenting with the work process. A recent study by engineers at Carnegie Mellon University estimated the whole EV supply chain will take slightly more labor than gas-powered cars, if batteries and all other components are included.
ELECTRIFYING THE UNORGANIZED
The Big 3 will produce only a fraction of the EVs and batteries made in North America. Most EVs on the market today are made by workers at non-union plants operated by companies like Hyundai, Volkswagen, and the very anti-union Tesla. New entrants like Vietnam-based VinFast are building U.S. plants, too.
But the UAW strike is making waves among non-union auto workers. Fain told NBC News the UAW is "looking at organizing half a dozen auto companies in the coming years. Pretty soon we won't just be talking about the Big 3—more like the Big 5, Big 7, Big 10 unionized automakers. We're just getting started."
Contrary to popular belief, employment in the U.S. auto industry has grown about 30 percent since the early 1980s, to 1.3 million workers, while UAW membership in the industry shrank from over half a million to 160,000. Anti-union manufacturers expanded rapidly in the South, while the Big 3 outsourced more parts by the year to non-union companies.
UAW wins on cost-of-living adjustments and higher wages may help drive up wages even for non-union workers, and hopefully draw their interest to join.
"I think organizing those [non-union] plants needs to be our number one priority after we get done organizing the Big 3," says Ryan Ashley at Ford Cleveland Engine. "With how significant the gains are looking in this contract, they'll see it. And it'll help."