'No Justice, No Jeeps!' Scenes from the Auto Workers Strike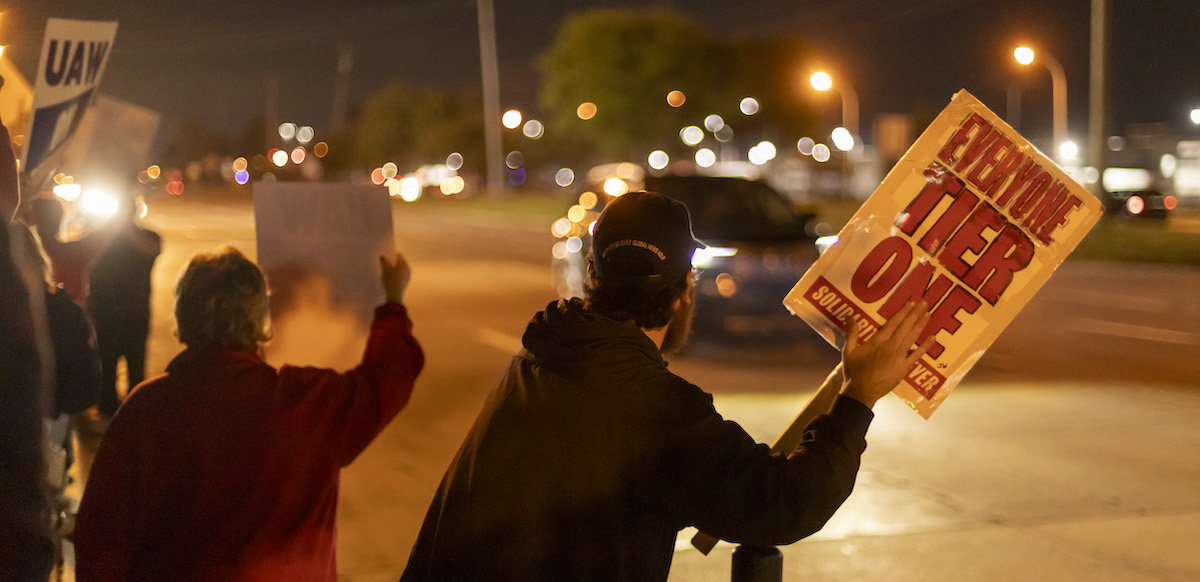 The strike is on. Last night the Auto Workers (UAW) shut down three major assembly plants at Ford, General Motors, and Stellantis (formerly Chrysler). It's the first time in history the union has struck all three companies at once.
New UAW leaders kept a tight lid on plans for which plants to strike, counting on members to be more prepared to quickly swing into action than management. The strategy, so far, seems like a success, with widespread reports of managers caught by surprise, after making costly materials moves for strike prep at the wrong plants.
At each striking plant, auto workers have organized strong, jubilant pickets on barely an hour's notice. Here are dispatches from Labor Notes reporters on the ground.
MISSOURI ON THE MARCH
At 10:30 p.m. Central Time, Kim Forschim got off her eight-hour shift assembling front fascia on Chevy Colorado trucks at GM's Wentzville Assembly Center near St. Louis. Strike news had spread like wildfire on the floor. Managers, scared of sabotage, locked the bathroom doors minutes before the strike began.
With a hundred others, Forschim headed to the UAW Local 2250 hall to volunteer for the first picket shift. Working five years as a temp, starting in 2017, motivated her to stand and fight for higher pay and ending tiers.
night shift is leaving the plant at GM Wentzville, with jubilant honks, the UAW strike has begun!! pic.twitter.com/WHQ7Ms1HQa

— keith bb (@TRAILSANDWAYS) September 15, 2023
"What really gets me is how the news talks like we get $60 or $70 an hour," Forschim said on the line. "None of us make that! We get $32 an hour if we're lucky. New temps get $16 an hour and no raises, no vacation, no sick days. It's hard to live like that."
When the strike clock struck at 11 p.m. Central, teams of 15 leapt out of vans to picket every gate of the plant. Workers on night shift walked off the job and drove out of the parking lots in a 40-minute-long procession, honking and shouting.
Forschim said the new reform leadership of the UAW was "doing an excellent job. They've communicated with us so much more. They're not selling us on less. The old leaders, they kept it all close to their chest, because they were looking out for themselves, not the membership. That's probably why they're in jail."
HARD CORE, OLD SCHOOL
The Wentzville, Missouri, local has proudly held onto a culture of "hardcore, old-school unionism," as one older worker put it. In the 1980s, alongside other plants across Missouri, members here were a driving force for the New Directions reform caucus, which pushed for a democratic union and shop floor actions against concessions.
The local has successfully stood up to outsourcing of parts-handling jobs to non-union or lower-tier workers. With coordinated refusals, workers held onto the right to do one job, instead of being forced to rotate among three. Job rotation and outsourcing have become widespread concessions at many GM plants.
Tommy Spraggins has 38 years in as a production worker at Wentzville. He cheerfully told others on the picket line Friday morning how he planned "a vote no if the raise right off the bat is only 10 percent. That's just $3 an hour."
"The GM CEO, she got 36 percent in raises since our last contract, making $26 million," Spraggins said. "Like Fain said, they're price-gouging the American public for billions of profits. They don't earn that, sitting around eating bonbons."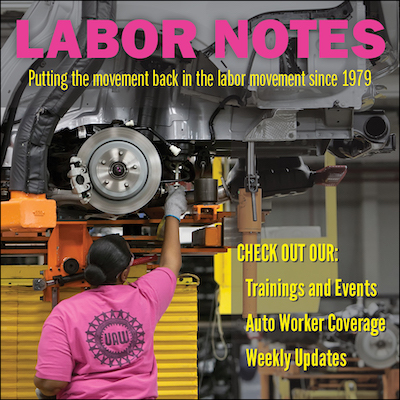 "And they don't get our swollen knees!" chimed in Krissy Spencer, who has assembled trim and van bodies at the plant for 12 years.
Job security is a hot topic at Wentzville. GM has said it will remove its profitable full-size van from the plant by 2026. Workers on the line discussed rumors that a current body-shop expansion would bring in an electric version of that van.
Ron Rottger, who has 38 years in, said the plant would welcome electric vehicle (EV) work, but not without concerns. "For Stellantis, EVs have been an excuse to close a lot of plants, like Belvidere. There might not be as many jobs like ours. That's why we've got to organize the battery plants, like Ultium did."
The threat of moving factory jobs to Mexico came up, but so did solidarity with Mexican workers. When a GMC Terrain SUV drove by the morning picket, one worker noted that it's built in Mexico.
Jennifer Ryan, with eight years at the plant, jumped in to say, "Did you see that video the Mexican workers made supporting us? They've got a new union and it's awesome." The other worker, who had pointed out the Terrain, agreed with gusto. Ryan said, "They sometimes make just $40 a week down there, working like we do. That's gotta change too."
As the day shift warmed up, workers shared stories of their 40-day strike in 2019, and resolved to keep it up as long as necessary this time. A UPS truck drove by honking in support. Spraggins said, "To win back pensions and health care [for retirees], this is how we do it, right here."
FORD MICHIGAN ASSEMBLY
Workers at Ford's Bronco and Ranger plant west of Detroit were stunned when they heard the news at 10 p.m. Thursday. "People are awestruck because we're really striking," said Lee Maybanks, eyes wide. "I've never been through anything like this before." Ford has seen no strike at any of its plants since 1978.
Management sent workers home at 11, not waiting for the midnight strike deadline. After midnight, pickets quickly fanned out to cover the plant's many gates, while others massed across the street, joined by chanting supporters and a few workers from other plants. Horn-honking was incessant from heavy traffic on Michigan Avenue. Occasionally the cry rang out "No Deals, No Wheels!"
The arrival of UAW President Shawn Fain occasioned a media scrum—the man could barely carry out his intention to walk the line. "It's Beatlemania over here," said one UAW staffer. Fain tried to encourage reporters to listen to rank-and-file members.
DAY 1.
STAND UP.#StandUpUAW pic.twitter.com/yU6fumoMfa

— UAW (@UAW) September 15, 2023
Maybanks's grandfather worked at the plant. He said that, with less than two years in, his issue is proper pay, because inflation is high.
Millwright Dave Briseno is at the top of the pay scale, with a skilled job and 24 years in, but he still thinks pensions for the second-tier workers are a top issue. "A pension is a big deal," Briseno said. "In the past people came here for a career. The new guys don't see it that way: 'I can get a job at Walmart.'
"It took the last two contracts to get these guys up to where they are now, and there's still tiers."
Like most auto workers, Briseno remembers the sacrifices workers made when the companies demanded concessions during the Great Recession. "We worked with them," he said. "Now they don't want to work with us. We are less than 7 percent of the cost of a vehicle. The $21 million [Ford CEO] Jim Farley gets—they don't need that much money. It's 'Let's screw the little guy.'"
Briseno was not expecting the union to achieve all its ambitious demands: "I don't expect a 32-hour work week," he said. "That's a Europe thing."
A first-tier worker who didn't give her full name hoped the strike will get rid of tiers, "so people aren't waiting six years, eight years," she said. "I topped out after three years. The legacy [first-tier] workers never wanted this for them [subsequent hires]."
STELLANTIS IN OHIO
Meanwhile in Ohio, Toledo Assembly Complex workers from the first shift gathered outside the plant's Gate 12, under giant letters spelling "World Class Manufacturing." Workers clapped and yelled in jubilation as more and more of their co-workers passed through the turnstiles. At one point they started chanting "No More Tiers."
Workers posed for photos to mark the occasion. One Black worker who gave his name only as Danny was dressed up in a spiffy all-red outfit.
Danny was off today. But he came to greet second shift workers at the Toledo Assembly plant dressed to the nines because he wanted to be spiffy for the historic #StandUp strike. pic.twitter.com/KjIWt3QNHi

— Luis Feliz Leon (@Lfelizleon) September 15, 2023
"We are making history today, baby," he said. "I'm representing my people. And I'm letting you know—this is how we coming, and we are fighting for what's right."
Top of his list are equal wages and benefits for all workers. "The economy is messed up," Danny said. "I know people who are fighting just to feed their families, pay their rent. I know women who are trying to figure out if they're gonna pay rent first or childcare. They're not getting paid equally. I know temporary workers who have been here for six years, and they're not permanent employees."
Yesterday, Lauren McCallum said, a supervisor had walked up to her and another union worker to say, "You guys don't deserve 47 percent. You don't work hard enough to get that."
"'I don't even want the 47 percent,'" she retorted. "'I would like a pension.' And he said, 'Oh, you're not getting that. Those times are long gone.'
"And I didn't even get upset," she said. "It's just like, take our demands serious. We sacrifice from high to low. Maybe even if we don't get it all right now, we've got to get something to show that the wheel is moving in the direction that we need it to go.
"The time is now. Do right by the people who do right by you."
At Gate 14, emblazoned with the name of Stellantis' predecessor Chrysler, workers' shadows were thrown into relief against the silvery nameplate as workers gathered around the burn barrel chanting: "No Justice, No Jeeps!"
Workers at this plant make the Jeep Wrangler, Wrangler 4XE, and Jeep Gladiator.
Around 2 a.m., workers huddled around a burn barrel. The night was getting chilly, but the honks from passing vehicles lifted the mood; fists and picket signs were thrust high in the air. At one point a worker who had transferred from the recently closed Belvidere plant in Illinois was throwing paper in the burn barrel. Asked what it was, she joked it was the expired contract.
I love my class! "What are you burning ? The old contract!" pic.twitter.com/giJzsJVQi4

— Luis Feliz Leon (@Lfelizleon) September 15, 2023
Sysco Garza, a mechanic, suggested a solidarity convoy to draw media attention to the strike. "Everybody that owns a Jeep should drive around this whole complex," he said.
"We've been on this downhill drive since roughly the 1970s," said Korbin Friend, a member of the reform caucus Unite All Workers for Democracy, which campaigned for members' right to directly elect top officers and then backed Fain and the rest of the reform slate. He is another transfer from the shuttered Belvidere plant, and now a picket captain.
He recalls what a Belvidere co-worker shared with him about the devastating impacts of plant closures. "Imagine if everyone you worked with all of a sudden either gained 50 pounds or killed themselves," Friend remembers the 25-year veteran saying. "That's what happens in these communities when these companies choose numbers in a spreadsheet over the American workers that build the vehicles."