UAW Reformers Clinch the Presidency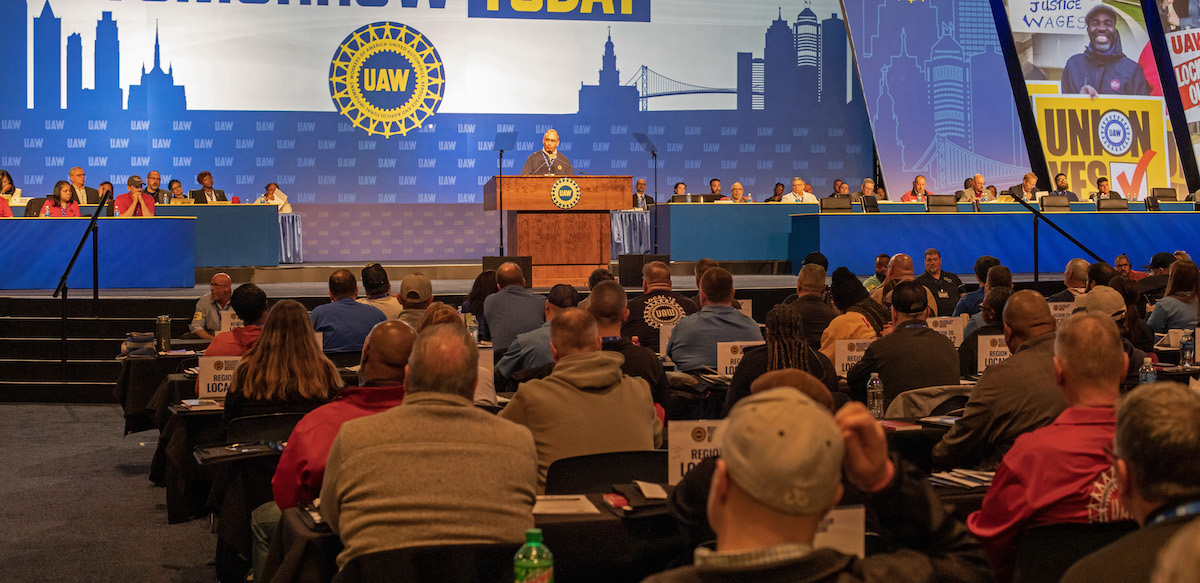 UPDATED: Reform challenger Shawn Fain has won the presidency of the United Auto Workers, the federal monitor announced today. Fain will be sworn in just in time to chair the UAW's bargaining convention, which begins Monday.
The vote count had begun March 1, but the initial tallies were so close that final results hinged on a few hundred challenged ballots. The painstaking process to check which ones were valid dragged on for weeks.
But while members awaited the final count, Big 3 auto worker rank-and-filers inspired by the reform slate were already stepping up to run for local office and change their union. With their contracts expiring in September, there's no time to lose. Several spoke to Labor Notes about their plans to reshape the union's methods and goals.
"I'm hoping that with Shawn Fain we can get rid of all of the trash. We can open the windows and let the sunshine in," said Tiffiny Elise Shipp from Ford UAW Local 600. She's running for bargaining committee and vice president at the Dearborn, Michigan, truck plant. "I'm just hoping that people sign up and get involved."
Shipp is running for bargaining committee representative in her local because, she says, grievances are ignored and union reps aren't enforcing the contract on the shop floor. "I want our leadership to do their jobs," she said. "I want them to honor what is written in the contract—understand that they have as much power as the supervisor on the floor."
STEPPING UP
Shana Shaw began working at General Motors (GM) in the summer of 2008 after the company's bankruptcy, joining Local 2250 that same year. She earned $14.12 as a temp building the GMC van. She said it was a change of pace from working three jobs simultaneously as a hairdresser, a behavioral health specialist for disabled children, and a bartender.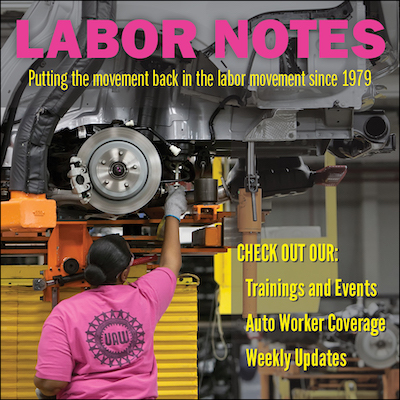 Shaw is running for trustee in her local's election, slated for April. "Our local is in shambles. We have to get it into tip-top shape to be able to fight," she said.
She has drawn inspiration from the reform effort Unite All Workers for Democracy (UAWD), which backed the incoming Members United slate. She says she wants to put the rank and file in the driver's seat.
"It's the rank and file that's the one that's in the factories," Shaw said. "It's the rank and file with damaged shoes and the sore feet and the broken-down joints." She was already involved in her local but became involved in the UAWD around the time of the campaign for the 2019 referendum one-member, one-vote, and later joined the UAWD organizing committee.
Shipp thinks the election of new leadership could be inspiring: "I'm hoping that people are looking at what just happened at the international level and people get enthused, and they run for office."
TIERS ARE THE KEY GRIEVANCE

Shipp was hired into the Ford Rouge plant in 2013, joining UAW Local 600 as a temp earning $15.87. She said she came to Ford because she was looking for a better-paid job after her first child was born. Her librarian job at Wayne County Community College paid $10 an hour: "I couldn't survive off $10 an hour with a baby."
With no medical insurance or retirement benefits, the then-33-year-old turned to building F-150 pickups, seeking financial stability and the security millions of working-class people have attained through the power of their unions. "I'm figuring, just the fact that there was a union involved, things would get better," she said.
On her first day at Ford, those notions of unionism went out the window. "Why did you start at Ford?" she recalled a co-worker asking her. Befuddled by the question, she ran through her reasons—being a new mom, looking for a boost in earnings at a union shop.
But suddenly she learned that she was in a lower tier that left her wages at half what other workers earned. From her co-worker, she learned that first-tier, legacy workers had pensions and earned $32 an hour.
"I found out real early on that there really isn't any solidarity unless you're on the same level," she said. "Maybe if the first day of my job wasn't as bad as it was, I wouldn't have become so militant. I've been through a lot at that company. I don't blame Ford. I blame the union."
Shaw also names the tiers as one of the key tasks for reformers. "I have limited vacation hours," she said, only 80 percent of what a top-tier worker receives. "You make me equal to my counterpart. It's just unifying the membership," she said. "I think the best way and the fastest way to unite the membership is to make us equal."
The form that equality should take is unequivocal for Tim Thomas, a production worker at Ford's Chicago Assembly Plant since 2011. He was hired as a "long-term supplemental employee" earning $15.47. "Everybody should be at full pay after 90 days of work," he said. "I'm making $33 an hour and you're making $16. Your hands are going to hurt just as much as mine. Your back is going to hurt just as much as mine. You deserve to be paid the same amount and have the same benefits, because we all do the same backbreaking and tedious work day in and day out."
Auto workers say their bodies are a geography of pain—aching arms, grinding joint and back pain, tingling fingers, and numb hands. Shaw wonders how she'll manage without retiree health benefits after working in the plant. "I do not have health care when I leave," she said. "My body is going to be completely broken down. I've already had one spinal surgery. I've broken my right foot. I have fractured my right hand. I've dislocated my right shoulder. And I've been there for 15 years."
OPEN BARGAINING

Thomas thinks for the union to be member-led and democratic, the new leaders need to open up bargaining to the membership. "When Shawn [Fain] and the leadership go into bargaining, they need to create an atmosphere for open bargaining," he said. "Whether they're negotiating a national contract or a local contract, I want to sit and listen because I want to hear what management is saying about us as workers.
"That is critical, because that then opens up a dialogue for us as workers to talk to each other, but also to talk back to our leadership," he said. He believes members should be able to join bargaining sessions in person or tune in via Zoom.
This would restore confidence in contract negotiations and make a clean break with the incumbent Administration Caucus's closed-doors functioning and unaccountable leadership, Thomas said.
INTERNATIONAL SOLIDARITY

Scott Houldieson, an electrician at Ford's Chicago Assembly Plant and a founding member of UAWD, thinks the union has to build international ties. In particular, he mentions agreements with the Canadian union Unifor covering some 20,000 Big 3 auto workers, which also expire in September.
"Either we engage in whipsawing across borders in a race to the bottom, or we try and reach out to our brothers and sisters in Unifor and work together against the corporations internationally," he said.
He added it's going to take work to educate rank-and-file members on the power of international solidarity and the dangers of not having it. "As capital can flee to the lower-paid labor source, it affects our ability to negotiate better contracts," he said. "So by building a solid working class that collaborates across borders, we can take on the corporations that recognize no borders."
"I've been talking about engaging the members, but we have to think bigger than just ourselves," likely president-elect Shawn Fain told In These Times recently. "We have to engage other unions, we have to work across… the border in Mexico, there's a lot of opportunities where the UAW can really make a difference. There are a lot of tools out there that we can implement to help workers in other areas—and in return also help ourselves."
NEW ORGANIZING

Next on the agenda is unionizing the next generation of electric vehicles. Tim Thomas at Ford advocates an aggressive organizing orientation towards these new markets in the production of electric vehicles and batteries. "Yes, they're not combustion engines," he said. "But guess what? We still build them. You're building transportation. We should not just be bargaining over the work or begging for it. We should be claiming it. And I think that increases the militancy of the members."
Last December, workers at a battery producer in Ohio, Ultium Cells, jointly owned by Korea's LG and GM, voted 710 to 16 in favor of joining the UAW. Management did not oppose the drive. But even when the jobs are union, like those at Ultium Cells, the companies are putting workers on a lower pay scale of $18 per hour. They are using subsidiaries wholly owned by the automakers to slash wages.
GM's Subsystem Manufacturing LLC was pioneered in 2009 at GM's Brownstown, Michigan, facility, the first lithium-ion battery plant at a major automaker, according to The American Prospect.
Like GM, Ford is using a subsidiary model at its $3.5 billion LFP battery plant in Marshall, Michigan, where an estimated 2,500 workers will join UAW as part of a card-check agreement but will earn between $20 and $26 per hour, according to the Detroit News.
"The UAW is proud that they got a check-off agreement [at the LFP battery plant], but then you find out the underlying issues, and the production workers at that plant are going to start below the standard auto worker pay level," said Houldieson.
FIGHTING THE BIG 3

On the eve of the union's special bargaining convention March 27-29 in Detroit, high on members' list of bargaining priorities are full pensions for those in the second tier and restoring cost-of-living protections. "When you look on Facebook you see retirees speaking out," Shaw said. "They're saying 'I'm struggling, my pension is not enough. I haven't had a raise in 15 years and haven't had a cost-of-living adjustment even longer than that.'"
Shipp thinks time is running out to mount an aggressive contract fight. She harks back to the missed opportunities in 2019 when the economy was booming: "That was the year I made the most money I have ever made in my life as an African American woman." And she wonders, "How we were not able to get back any of the concessions that we lost?" As she prepares to run for bargaining rep, she recalls these frustrated moments from 2019 and drawing lessons from the do-nothing posture of her local leaders.
To achieve the necessary solidarity to unify workers across the union, equality is a prerequisite, says Shaw. "I don't think it's going to be overnight. I don't think it's going to be easy. And I think we're going to have a massive fight on our hands. But if we know that the end result is [equality among members], I know the members will stand up because it's the right thing. You can't be a union divided over classifications and entitlements."