Labor Notes Conference 2022: It's Gonna Be Big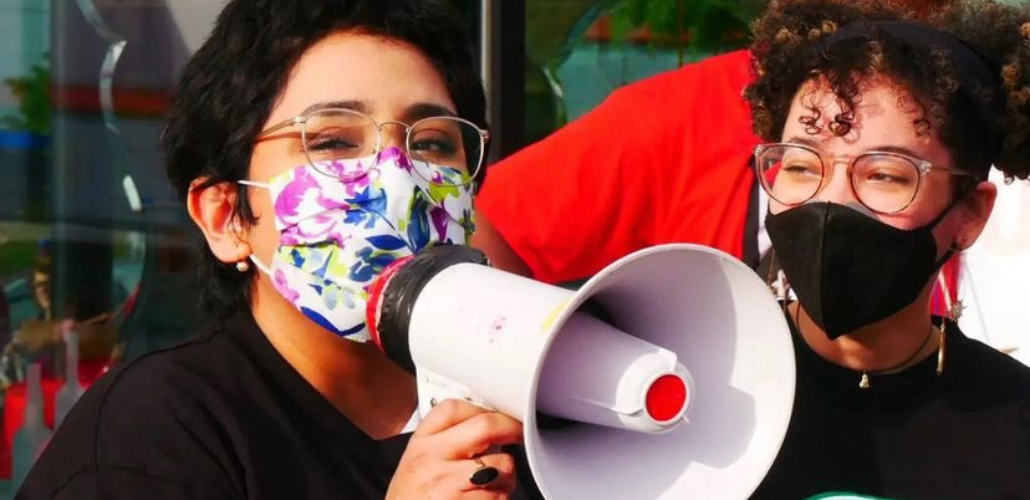 This year's Labor Notes Conference (June 17-19, Chicago) will be one for the record books. About 4,000 people are coming—more than ever before—after a long wait.
There's plenty to celebrate this year, starting with phenomenal new organizing wins at Starbucks and Amazon. Dozens of shop floor organizers from both companies will be there, including plenary speakers Amazon Labor Union President Chris Smalls ("We want to thank Jeff Bezos for going to space, because while he was up there we were organizing a union") and Michelle Eisen of Starbucks Workers United.
Conference-goers will hear firsthand from Amazon and Starbucks workers in many workshops. But they're coming not only to inspire the rest of us but also to connect with their co-workers across the country and make big plans.
Don't Miss Your Chance!
So many people have signed up that we will probably reach maximum capacity and have to close registration. So don't sleep on it! Go to labornotes.org/2022.
More cause for celebration: for the first time in a quarter-century, Teamsters recently elected top leaders backed by the rank-and-file movement Teamsters for a Democratic Union. So another featured speaker is new Teamsters President Sean O'Brien, who ran on a pledge to end "20 years of complacency" and ask members to step up in "a more active, more militant union."
This year's Labor Notes Conference will be hopping with Teamster activists who won that election at the grassroots (ask them how!).
Now they're gearing up for the country's biggest contract fight, at UPS, where O'Brien has made clear he's willing to strike to reverse concessions. The last national UPS strike in 1997 caught the popular imagination with its slogan "Part-Time America Won't Work" and its demonstration of what a fighting union looks like.
Could 2023 be the new 1997? The conference is a good chance to start thinking how your local union can lend solidarity and catch the momentum.
Tune in Online
Can't make it to Chicago this year? You can still catch the highlights. We'll livestream all three plenary sessions, the Saturday night concert, and a selection of the biggest panel discussions, for free. Follow Labor Notes on social media or join our email list to find out how to tune in.
Hometown hero Chicago Teachers Union Vice President Stacy Davis Gates will welcome conference-goers to Chicago and frame the challenges ahead. CTU is a guiding light for the troublemaking wing of the labor movement—the subject of our book How to Jump-Start Your Union—and has led a vigorous fight to make schools safe for students and staff since the pandemic began.
Auto worker Israel Cervantes is coming from Silao, the home of a big General Motors plant in central Mexico, to tell us how he and his co-workers organized an independent union and managed to oust a powerful, government-connected company union—a monumental achievement that sparks hope for the growth of an independent labor movement across Mexico.
The first seeds were planted in 2019 when Cervantes and 17 others got fired for boycotting overtime in solidarity with GM workers on strike in the U.S.
They named their reform movement Generando Movimiento, "because the way they treat us 'generates movement' against them," Cervantes said. "We need a union controlled by workers to force GM to improve our jobs. We've had dissatisfaction at our plant for a long time, but now we've turned anger into organization."
STRIKERS GALORE
Juneteenth!
The Juneteenth holiday June 19 celebrates the end of slavery in the U.S. and became a federal holiday last year. At the conference we have a special track to celebrate the Black liberation movement, explore its connection to labor struggles throughout our history, and discuss how labor can use its power to win racial justice.
Educators in the Twin Cities have also turned anger into organization with their winning strike this spring. Minneapolis teacher Marcia Howard lives 263 steps from the intersection where George Floyd was killed by police, and she took a leave of absence to help lead the occupation of what became George Floyd Square, a memorial and protest site. Even after she returned to teaching, she kept the fire burning—literally maintaining a flame in the square.
"All of the educators in Minnesota were keenly aware that what happened impacted all of our students," Howard said. "At 38th and Chicago [George Floyd Square] we say, 'No justice, no streets.' Teachers are saying the same thing. We have decided that we will hold our ground until our demands are met. We are fighting for a better world, and one of the battlefields is in our schools."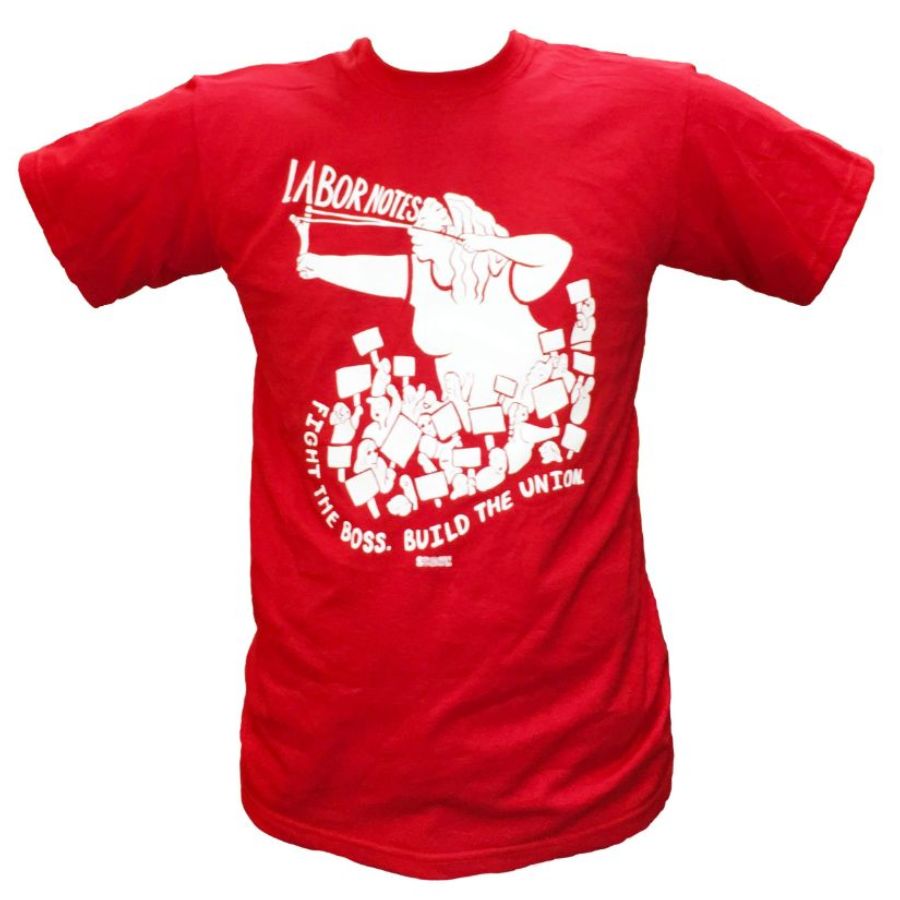 Among the other strikers you'll hear from are Kellogg's striker Trevor Bidelman of Bakery Workers Local 3G and Nabisco striker Donna Jo Marks of Local 364; Tenet St. Vincent striker Marie Ritacco of the Massachusetts Nurses; and John Deere striker Nolan Tabb. As part of the rank-and-file group Unite All Workers for Democracy Tabb helped win the referendum that for the first time is requiring one-member-one-vote elections for top leaders of the United Auto Workers.
Tabb believes elections will mean accountability for leaders who negotiate bad contracts. "The good old boys system has been held in place because they're not elected spots," he said. "Not only do we not have control over who gets put into those positions, but we don't have control over getting those people out of those positions."
Arts Aplenty
Every year the Labor Heritage Foundation hosts the Great Labor Arts Exchange, a national gathering of workplace activists, artists, and labor educators who are strengthening the movement with songs, poems, hip-hop, posters, cartoons, puppets, and more.
This year it's part of the Labor Notes Conference—your registration includes both events! The Arts Exchange will get an early start (1 p.m. Thursday, June 16), but workshops and performances will be woven throughout the weekend.
Featured performers include the high-energy "Motown Diva" Lynn Marie Smith, San Francisco singer-songwriter Liliana Herrera, genre-merging Bronx performer Dilson Hernandez, and people's poet Professor Louie.
In workshops you'll learn to use hip-hop composition, cartoons, parody songwriting, visual strategy, theater techniques, and strategic mischief in your organizing.
Anyone who's registered and at the conference is eligible to enter the Song, Poem, and Hip-Hop contest, an Arts Exchange annual tradition. The contest is live on Friday night at 9 p.m. You must enter in advance by filling out the form at bit.ly/GLAE2022.
Cash prizes will be awarded in five categories by popular vote of the audience and winners will perform in the Saturday night concert.
THERE'S MORE
There's more. In workshops you can hear from workers who struck at Warrior Met Coal (now past the one-year mark), Cascade Behavioral Health (who won a three-month wildcat safety strike), RoozenGaarde Flowers and Bulbs (a farmworker strike on the eve of a tulip festival), Great Lakes Coffee (a strike for union recognition), and Catholic Health in Buffalo (winning groundbreaking staffing ratios). Where else could all these people compare notes?
We'll hear from NewsGuild President Jon Schleuss, who wrote, "We need to organize every news worker in this country. Think about it: wouldn't that be a big boon to organizing everyone else?" His union is well on its way, organizing at a furious clip in both print and digital media—more than 7,000 workers in 145 shops have joined the NewsGuild in the past five years.
Association of Flight Attendants President Sara Nelson will be there. Her union is launching a fresh drive to organize the 24,000 flight attendants at the only major airline without a flight attendants union, the fiercely anti-union Delta, which has rebuffed multiple past attempts.
But you don't come to Labor Notes just for the big names. You come to practice shop floor action the way Edmonton, Alberta, postal workers do it; learn how the NewsGuild is developing more leaders in the membership; expand your mind with tales of union organizing around the world; and hear tips for operating in an open shop from activists in Kentucky, Wisconsin, Iowa, and Tennessee.
Come to learn how to get strike-ready; how to build a caucus; how to talk about climate change in the union; how to turbo-charge your grievances with organizing; how to use your health and safety committee; how to lay the ground for an unfair labor practice strike; what to do when union leaders break your heart.
Find out how others are fighting privatization; using technology to communicate; winning first contracts; running good meetings; defending undocumented members; building contract action teams; battling two-tier; organizing in high-turnover workplaces; taking on racist bosses.
And that's just a tiny sampling. We're putting the finishing touches on a program that includes more than 200 meetings and workshops; in late May, you can find the full schedule online at labornotes.org/2022.