Striking Massachusetts Nurses Outwait Corporate Giant Tenet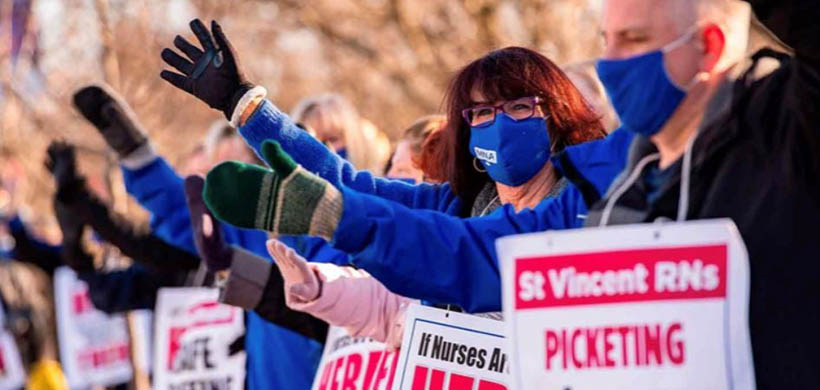 Last year's longest-running strike came to an end in early January when nurses at St. Vincent Hospital in Worcester, Massachusetts, overwhelmingly voted to ratify their new contract and return to work.
Seven hundred nurses had walked out over dangerous staffing conditions last March—ten months ago. (See previous Labor Notes coverage from last April and August.)
In a year of health care workers organizing amid Covid surges and staffing shortages, St. Vincent nurses stood out for their willingness to strike indefinitely and for the discipline the strikers showed.
Open-ended strikes are still a rarity in health care, and Tenet was a formidable opponent: a massive for-profit health care corporation that owns 60 hospitals across the country and is valued at $8 billion.
The strikers won improved requirements on staffing, a critical issue for health care workers everywhere, and stood up to Tenet's creative attempts to break the union.
"[St. Vincent] spent hundreds of millions of dollars on this strike," said Marie Ritacco, a longtime nurse at "St. V's" and the vice president of the Massachusetts Nurses (MNA). "It would have taken a small portion of that to rectify the conditions in the building and make sure we could give patients the care they deserve."
STAFFING WINS
After years of public outcry about poor staffing at the hospital, the new contract includes a four- or five-patient cap for nurses on cardiac post-surgical units and other floors where patients are preparing for or recovering from surgery or require cardiac monitoring.
The behavioral health unit will also see a cap of five patients per nurse, down from six.
MNA also won the use of a resource nurse—a floating nurse in high-acuity units who will not be assigned patients, but will be available to support other RNs and to help with arriving and departing patients.
The nurses reined in the administration's practice of "flex time." Previously, staff could be flexed off—that is, sent home mid-shift when there were not enough patients. But then an uptick in patient arrivals later in the shift could mean dangerously high numbers of patients per nurse. New contract language will limit this practice by allowing each nurse two refusals to be flexed off (up from one) in every four-week cycle.
The strike also yielded much better health insurance premium coverage for part-time nurses, and modest raises, lump-sum bonuses, and step advancements across the board.
Health care workers across the country are facing a worrisome surge in workplace violence. The strikers won workplace safety demands, including more security staff and metal detectors in the emergency department. Nurses have been concerned that growing numbers of patients and visitors are carrying concealed weapons. The new contract also provides "assault pay" for nurses who take workers' compensation after a workplace attack, to restore any sick or vacation time used for the injury.
'WE WON'T BUDGE'
This was the longest nurse strike in state history. One advantage for the union was that the strikers were able to pick up shifts at facilities across the area—easy to do given the shortage of health care workers during the pandemic. The union was still able to maintain a picket line throughout the strike.
Nearly all the components of the tentative agreement, including the improved staffing, were settled over a few days in mid-August with a federal mediator. However, in an effort to cow the union, the hospital had earlier hired permanent replacements—and Tenet refused to guarantee striking nurses their positions, shifts, or hours back. So the strike continued.
MNA argued in a press release at the time that accepting a deal without these guarantees would be "unprecedented and punitive." For Ritacco, St. Vincent's aim was "to pressure and demean us. Embarrass us."
"We won't budge," she said in response to Tenet's hard line, "unless all strikers who want to go back are able to get their positions back."
Because St. Vincent was already short on staff, the more than 100 nurses hired as permanent replacements all have the option of remaining on staff, though returning strikers will have seniority to return to their jobs and shifts.
ACCUMULATION OF PRESSURE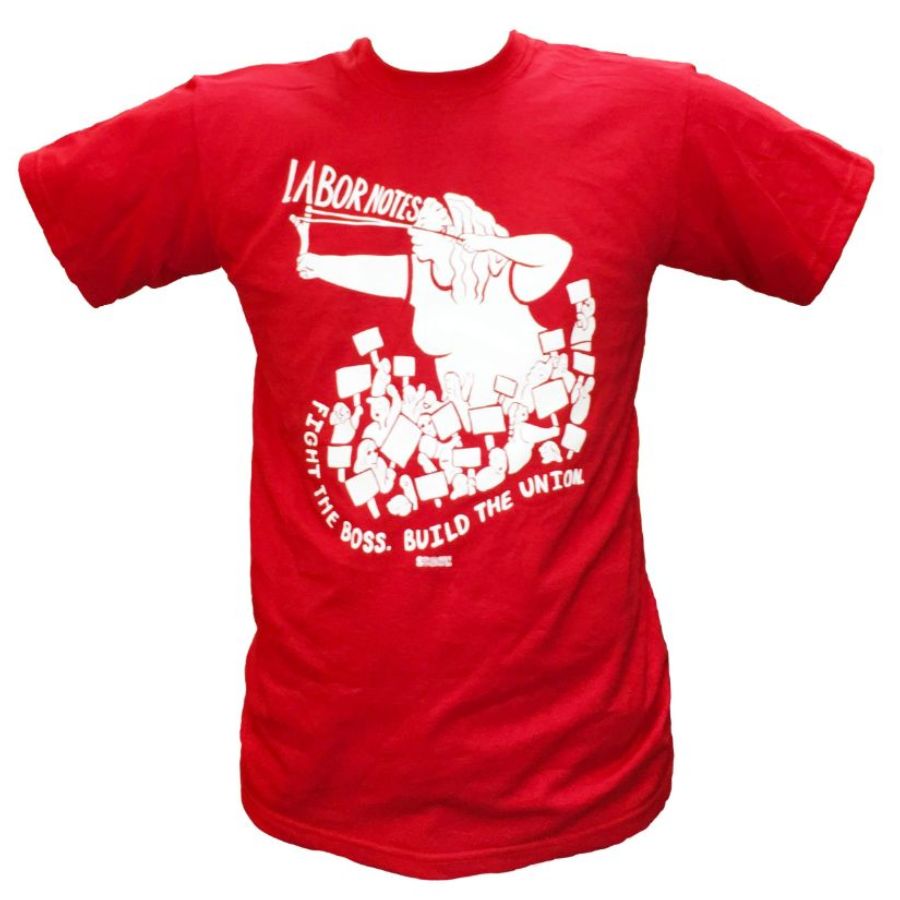 When St. Vincent's nurses went on strike in 2001 for 49 days, the tentative agreement was mediated by Senator Ted Kennedy. He brought both sides to negotiate at his Washington, D.C., office, and they reached a favorable deal for the nurses.
Ritacco and endoscopy nurse Bill Lahey, a member of the bargaining team, say they don't know exactly what the tipping point was for St. Vincent this time, but they credit an accumulation of pressure heightened by the pandemic.
The nurses received consistent backing from community, faith, and labor supporters, including Flight Attendants (AFA-CWA) President Sara Nelson and the local Democratic Socialists of America chapter. Members of a Catholic Worker group in Worcester conducted an exorcism to rid St. Vincent, which was founded as a Catholic community hospital, of the "demon of corporate greed" 100 days into the strike. The Teachers (AFT) backed MNA in asking teacher retirement funds with significant Tenet stock to pressure the company.
Elected officials including Massachusetts Senators Elizabeth Warren and Ed Markey and Representatives Lori Trahan and Jim McGovern attended rallies and pledged their support. The Massachusetts congresspeople called on Tenet's executives to account for the $850 million in federal stimulus money the company had received even as it cut spending by $377 million in the spring of 2020. A delegation of MNA nurses delivered the letter and a 16-foot-long petition signed by 700 nurses at Tenet's headquarters in Dallas in July.
Hospital patients and former workers told the press how the thinly staffed replacement crews during the strike were providing substandard care. Harrowing stories came out: patients left in soiled beds, left without pain meds after surgery, and receiving no medical attention even in emergencies.
The strike meant Central Massachusetts was short 100 hospital beds with the omicron surge on the horizon.
By mid-December, U.S. Secretary of Labor Marty Walsh had signaled that he was interested in helping to settle the strike quickly. The former head of the Boston building trades and Boston mayor, Walsh had been an MNA ally behind the scenes. However, he had not intervened publicly in many disputes during his tenure in Washington so far.
On December 17, he brought both parties to an Electrical Workers (IBEW) hall in Boston and declared that a deal had to be made by 5 p.m. because his wife was expecting him to pick up calzones for dinner. A tentative agreement was reached that day.
But Ritacco has no doubt what won the strike: "The majority of it is the 700 nurses who didn't cross a picket line," she said. "Without that, there is no other action that will make a strike successful."
Maintaining the 10-month strike took a herculean effort by strikers and the MNA. "It's constant education, reassurance, support, camaraderie, one-on-ones—it takes a lot of work," said Ritacco.
"How do you prepare when the other side has billions of dollars that they can spend to keep you outside the building? It was knowing our nurses and having the infrastructure through the MNA to leave no stone unturned. If you think someone could be helpful—a local pastor, a politician, Marty Walsh, another union, you have a conversation.
"[But] you have to have the solidarity to keep people out of the building. Without that you don't have anything."
ONE LAST CHALLENGE
Shortly after the strike began, lawyers from the anti-union National Right to Work Foundation reached out to the replacement nurses hired by the hospital, and to nurses who did not join the strike, offering counsel on their right "not to strike."
A replacement nurse filed a decertification petition with the National Labor Relations Board to remove MNA as the collective bargaining agent at St. Vincent, having gathered the necessary signatures from 30 percent of the bargaining unit. Ballots will be mailed February 4.
Ritacco and Lahey shrug it off. "This happened last time too," said Lahey, referring to the 2001 strike. Strikers will be eligible to vote; so will the nurses who crossed the picket line.
"What I saw on the line [this time] was a new kind of bonding, across shift and unit," Lahey said. "My hope is, moving forward, people understand the power of the union collectively, and the strength of these friendships."