Will Urgent Care Doctors Be Forced to Strike in a Pandemic for the Right to Go Home?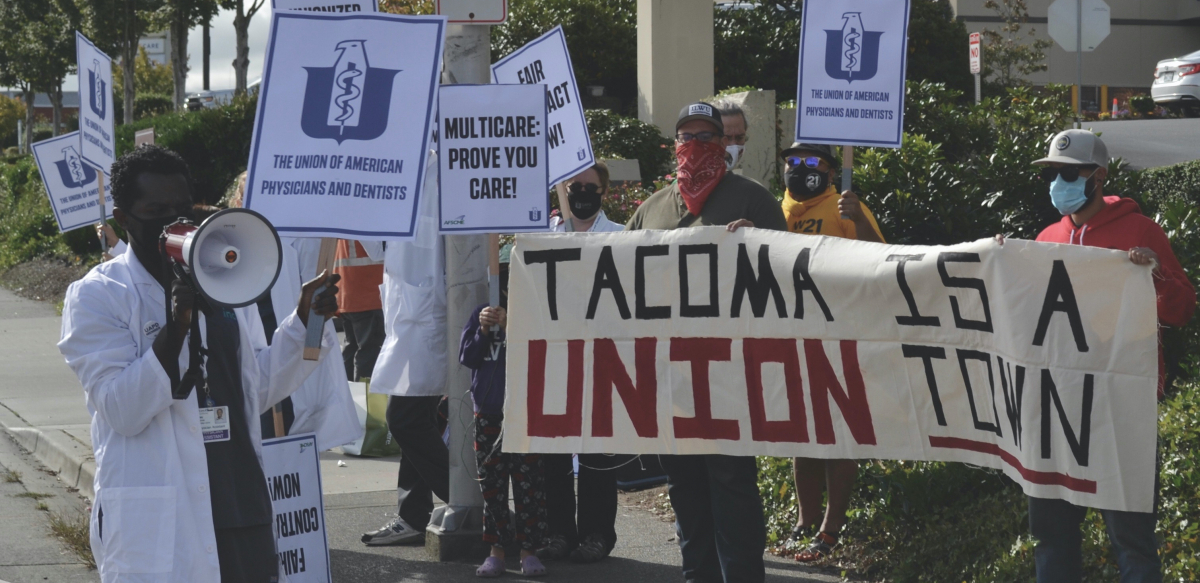 Update, April 30, 2021: UAPD settled a contract with MultiCare that, according to a statement from the union, provides access to N95 masks, raises for all members, "reasonable access to breaks and controlled closing times," and just cause protections with binding arbitration. The physicians struck on November 23-24, and held informational pickets outside MultiCare Indigo Urgent Care clinics in March. MultiCare was cited earlier this year by the Washington State Labor & Industries for serious and recurring safety violations at Indigo facilities, including a $28,400 fine for lack of "appropriate respiratory protection" and a failure to enforce social distancing measures.—Eds.
Physicians at one of Washington state's largest health care providers just announced their intent to strike, potentially shutting down 20 urgent care clinics across the Puget Sound region. They won recognition with the Union of American Physicians and Dentists (UAPD) in 2018 after a two-year fight with MultiCare Indigo Urgent Care and have been battling for a first contract ever since.
After a breakdown in negotiations last month, the 120 physicians, physician assistants, and advanced registered nurse practitioners in the new bargaining unit decided they'd had enough: a strike is set for November 23-24 unless MultiCare accepts their demands.
At the core of their fight is workplace safety, affecting both doctors and patients. Physicians say they aren't receiving proper personal protective equipment (PPE). Even before the COVID-19 pandemic hit, they were forced to work 12-hour shifts without breaks, putting themselves and others at risk.
Sometimes those shifts stretch out even longer because Multicare Indigo has no "closing policy," the central issue in negotiations. It doesn't matter how many patients walk in before closing time; doctors have to see every one of them, and that can stretch the day out as much as two to three hours longer—still with no breaks. A good closing policy, doctors say, would establish a cut-off time for new walk-ins.
Doctors aren't going to turn anyone away in an emergency. They're committed to their patients and communities—but the fact is you're not going to get the treatment you deserve when your doctor's been working more than 12 hours straight with no rest.
RETAIL HEALTH
Based in Tacoma, Washington, MultiCare Health Systems is the largest private employer in Pierce County and employs 20,000 throughout the state. The nonprofit operates eight hospitals, several outpatient specialty centers, and primary and urgent care clinics, including their Indigo Urgent Care network, established in 2016.
MultiCare's urgent care clinics are part of the trend toward "retail health." Increasingly, patients rely on this type of clinic for their primary care. They maximize profits by trying to get as many patients in and out the door as possible, measuring productivity through what they call "door-to-door time." In some cases, a doctor may see as many as 70 patients in a shift. Physicians are routinely blamed for things beyond their control, like taking longer than expected to fill out an intake form, and their pleas for safer working conditions go unanswered.
Doctors aren't even allowed to bring in their own N95 masks. As part of MultiCare's retail health model, management alleges that doctors wearing N95s "ruins the MultiCare experience" and frightens "customers." UAPD has brought a complaint with Washington's Department of Labor and Industries against MultiCare Indigo for its failure to provide adequate PPE and for denying doctors' attempts to bring their own.
These problems began well before COVID-19; indeed, they are structural failures baked into MultiCare's business model and systemic trends throughout the health care industry.
That's what spurred doctors to unionize. "We need to organize to ensure a collective voice," said Dr. Amir Atabeygi, who works primarily in Thurston County. "Otherwise companies like MultiCare, who care more about their bottom line than patient safety, will continue to dictate what is 'important' when it comes to our own practices."
Doctors began calling UAPD as soon as MultiCare launched the Indigo network in 2016, immediately taking issue with the long hours and lack of a closing policy. Several good doctors quit to look for work elsewhere, but many others chose to organize and fight. Given industry trends, many felt that even if they got another job they would likely find the same problems there.
ORGANIZING DOCTORS
Doctors hold a certain social standing. Historically many owned their own practices—that is, they were employers, not employees. But physicians and other professionals are increasingly squeezed out of their traditional standing with more of them working at big hospital chains than ever. New technologies attempt to deskill their labor, while the growth of health care giants like MultiCare, CHI Franciscan, and others have made doctors salaried employees of giant corporations who are treated like everyone else.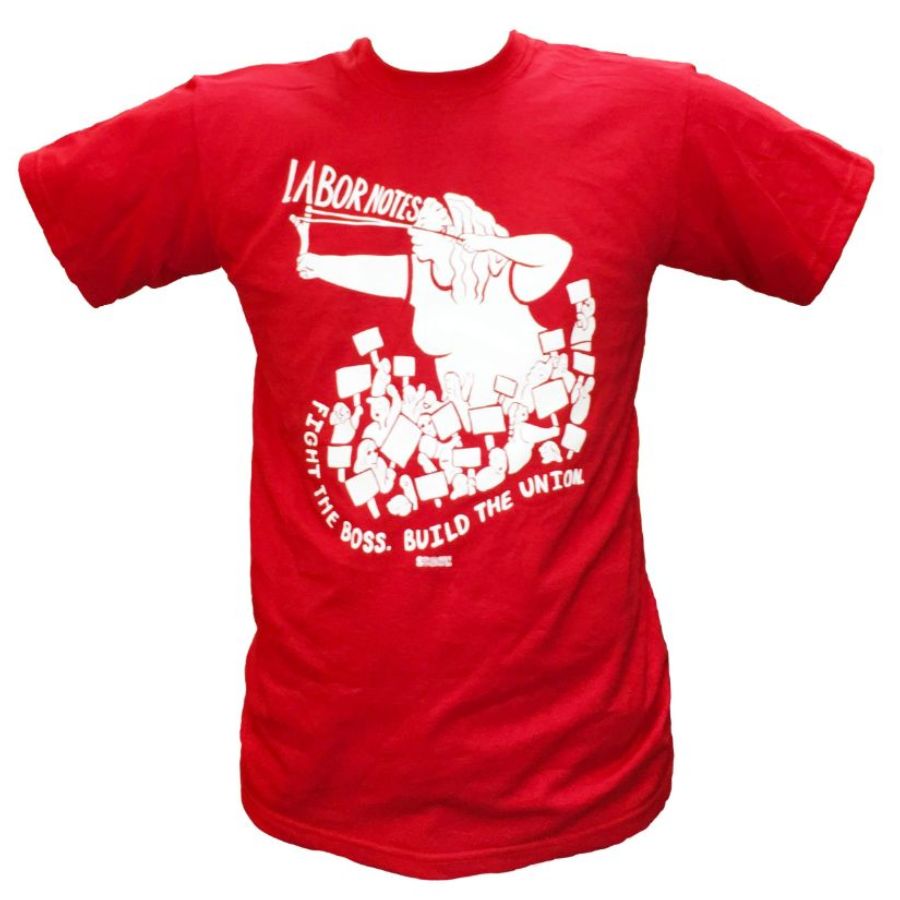 Given longstanding norms in the profession, one might imagine that it would be hard to convince physicians to join a union. But "it's really like organizing any other worker," said UAPD organizer Gabrielle Hanley.
MultiCare's commitment to the bottom line above all else is really "doing the organizing for us," Hanley said—even flipping longtime holdouts who were against the union until just recently. With changes in the industry, doctors are "becoming workers and identifying as workers," she said, and acting as such by joining unions and going on strike.
When doctors first reached out to the union, some were eager to shut things down and walk off the job in protest almost immediately. Union organizers had to convince some of the more militant physicians to slow down and save a strike action for later. Doctors first had to patiently talk to their co-workers one on one and get a supermajority to join the union, with organizers emphasizing the importance of escalating tactics and keeping the moral high ground.
TURN UP THE HEAT
After a long, drawn-out fight for recognition followed by their ongoing fight for a first contract—and now nearly a year into COVID-19—doctors have had enough. Negotiations have repeatedly failed as MultiCare's lawyers stubbornly refuse to work with the union and insult the members, calling their requests for a union security clause and a closing policy "stupid" and "childish."
"The employer's attorney says things like, 'Just fire them all' or 'This is insulting to a seven-year-old' when referring to our thorough, evidence-based, and overall fair suggestions to management," said M.C. Nachtigal, a nurse practitioner at Rainier Indigo Urgent Care.
MultiCare's intransigence does have its perks: with every round of negotiations, it's helping build the union. "Now even more providers are angry and engaged in the bargaining process," Nachtigal said. "I have to thank our employer for giving us a common enemy."
The UAPD executive board authorized a strike in September, and the Pierce County Central Labor Council pledged support in October. Informational pickets went up soon after. For many physicians it was their first time on a picket line.
Doctors knew they had each others' backs, but were worried that other workers wouldn't be there. But Tacoma doesn't disappoint: members of the Teamsters, Firefighters, Office and Professional Employees, Laborers, AFSCME, UNITE HERE, the central labor council, and Longshore turned out, holding a large banner reading "TACOMA IS A UNION TOWN."
For Frantz Alphonse, a physician assistant at Indigo Lacey, that kind of turnout gave the doctors the boost they needed. "It felt good knowing the labor community had our backs, heard our safety concerns, and helped amplify our voices," he said. Doctors at MultiCare Indigo aren't the only ones organizing or taking action.
Health care unions are some of the fastest growing in the country, and in recent years have been increasingly willing to deploy the strike weapon. This year, with the pandemic putting added stress on health care workers, there have been big strikes by hospital workers in Chicago, Sonoma County and the East Bay in California, and, pre-pandemic, Seattle.
The Service Employees (SEIU), Food and Commercial Workers (UFCW), and Washington State Nurses Associations are the biggest unions in the MultiCare system. UAPD also represents doctors at MultiCare's Auburn Medical Center, south of Seattle, as well as workers at the network's traditional urgent care clinics.
An affiliate of AFSCME, with more than 4,000 physicians, physician assistants, and advanced registered nurse practitioners in Washington and California, UAPD is the largest union of licensed doctors in the country. Since the outbreak of COVID-19, the union says it's been getting more calls than ever before.
Zack Pattin is a longshore worker at the Port of Tacoma and a member of Longshore (ILWU) Local 23. If you live nearby and want to support community pickets for UAPD on November 23-24 at MultiCare Indigo Urgent Care locations across Western Washington, contact Gabrielle Hanley at ghanley[at]uapd[dot]com.