Taking It to the Streets in the Twin Cities on May Day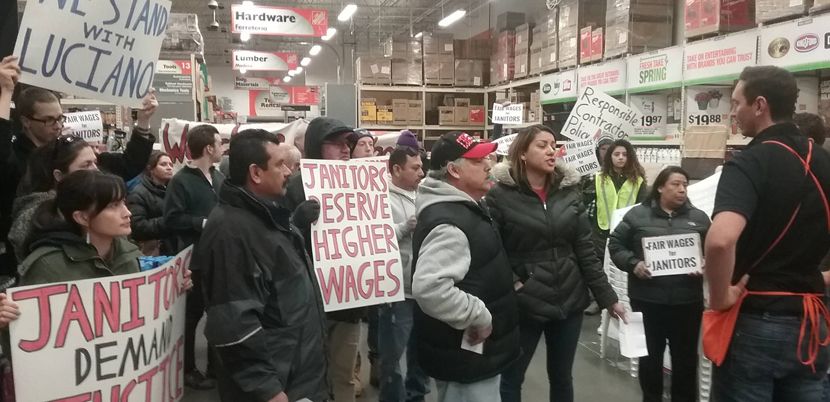 On May Day in the Twin Cities, janitors, bakers, university workers, teachers, and bank workers will team up with students, renters, and immigrant rights groups to confront the powerful corporations that control Minnesota's economy.
These actions reflect six years of relationship-building, largely led by the Minnesotans for a Fair Economy coalition (MFE), bringing together diverse organizations for joint training and actions against coordinated targets such as U.S. Bank, headquartered in Minneapolis.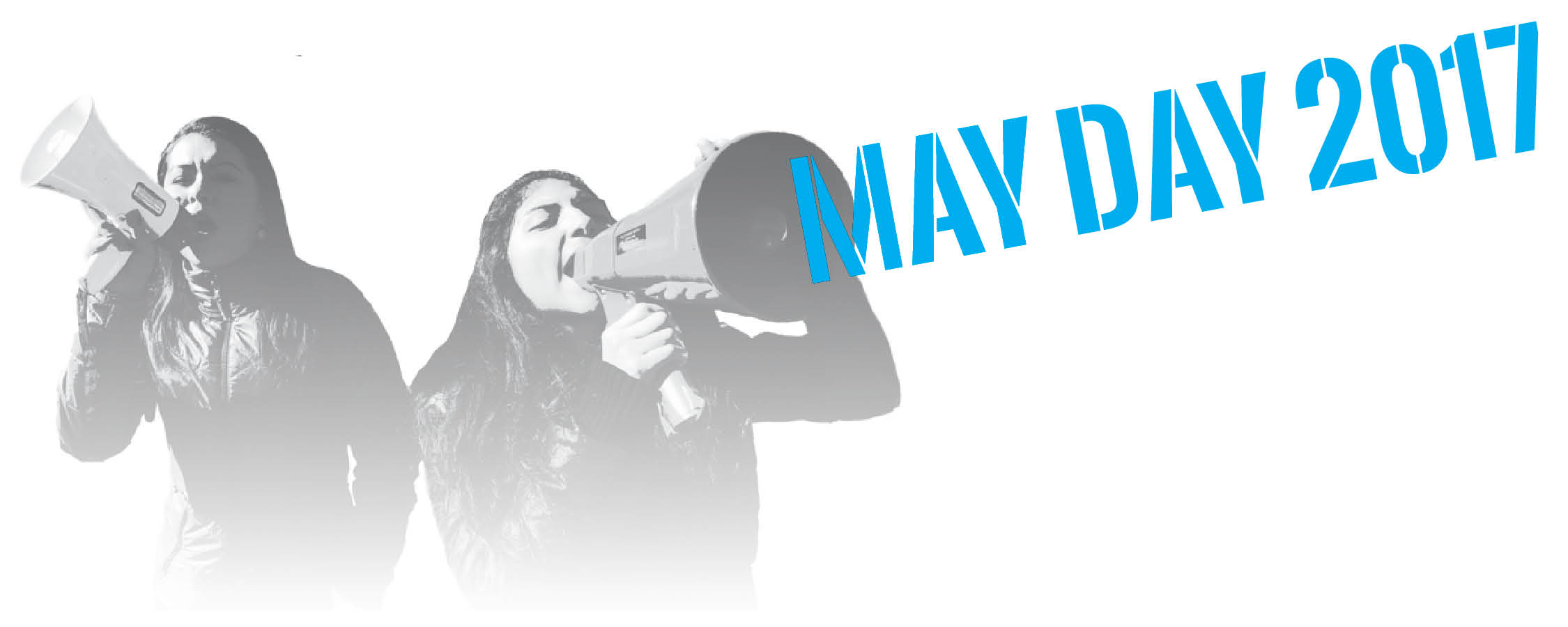 Trump's crony capitalism lends a special urgency to the coalition's longstanding strategy of choosing joint campaign targets. MFE will join up with immigrant groups and other unions for May Day actions targeting Trump's Minnesota corporate connections and calling out his racist, anti-immigrant actions.
Leading up to May 1, MFE will hold a leadership school. Dozens of leaders from Twin Cities labor, faith, and community organizations will learn about each other's campaigns and study how Minnesota corporations are profiting from Trump's administration.
MFE's first school took place in 2011, targeting U.S. Bank. The same week, a security officer and member of Service Employees Local 26 won his home back from foreclosure by the bank. Shortly after the leadership school, security officers who work in commercial office buildings, including many owned by U.S. Bank, won a new contract.
Since then, MFE organizations have used leadership schools to move numerous campaigns forward—winning union contracts, state laws, and corporate commitments to support workers and communities of color.
TRUMP'S LOCAL TIES
Before May Day, MFE will release a report listing the ways Minnesota corporations like Cargill, 3M, General Mills, Xcel Energy, and United Health are lining up to profit from Trump's proposed policies, such as deregulation and tax cuts.
U.S. Bank stands to earn billions. No wonder CEO Richard Davis praised the president's economic agenda in January, saying he was driving a resurgence in business optimism.
If Trump's corporate tax plan passes, U.S. Bank will save $1.6 billion a year. Its shareholders already profit off immigrants' suffering through the bank's investments in private prisons like CoreCivic (formerly Corrections Corporation of America) and GEO Group, which house immigrants facing deportation.
U.S. Bank would also profit off a border wall, because of its investments in construction and cement companies, and make a pretty penny off the oil pipelines strongly opposed by Minnesota's indigenous communities and climate justice organizations.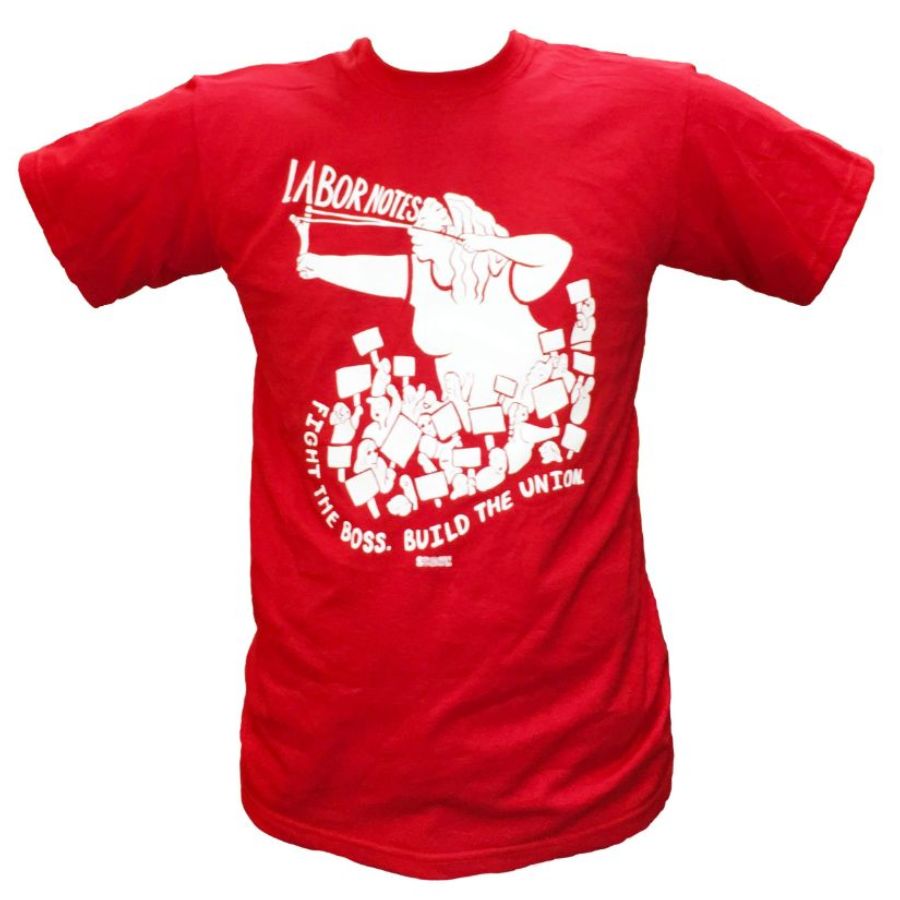 United Health would save $2.1 billion a year from Trump's tax plan. On top of corporate tax cuts, the CEOs of major Minnesota corporations will each save an average of $200,000 a year in personal income taxes if Trump has his way.
IMMIGRANT STRIKE
May 1 is an expected sequel to February 16, when tens of thousands of immigrant workers around the country struck against Trump's agenda. Largely organized via social media and radio, the February strike caught many unions and worker centers off guard.
In its wake, however, worker centers played support roles, pressing employers not to retaliate. The Centro de Trabajadores Unidos en Lucha (CTUL) used community delegations, letters from elected officials, and call-ins to help several workers keep their jobs after the strike. It plans to play a similar role again.
Ahead of May 1, the worker center is organizing "know your rights" workshops. The key lesson will be that, in any strike, workers should incorporate workplace demands, which gives them more protection under federal labor law than striking over national politics. The workshops will also help teach workers how to continue organizing at their jobs after May Day.
MAY DAY ACTIONS
On top of the grassroots walkouts, unions and community groups in the Twin Cities are planning a series of strikes, rallies, and protests targeting Minnesota corporations. A hundred participants in the leadership school will travel in vans from one protest to the next.
The day starts with strikes at Home Depot and regional department store Herberger's, led by CTUL. Retail janitors, many of them immigrants, have struck multiple times at Home Depot and other retailers, most recently on Trump's Inauguration Day. Hundreds who clean Target stores, Cub Foods, and Best Buy recently won their first union contract, with pay raises of up to $2 an hour.
Next, Inquilinxs Unidos, a renters' union, will lead a rally against slumlord Stephen Frenz, who owns many local apartment buildings and profits off miserable housing conditions for immigrants. He has been cited by the city of Minneapolis for unclean and unsafe building conditions, and in a lawsuit brought by his renters, he was even threatened with jail time for contempt of court.
Workers at the University of Minnesota will take up the banner from there. Faculty members organizing a union, undergraduate student-workers demanding $15 an hour, and food workers represented by Teamsters Local 320 will show their solidarity with the clerical workers' unions, AFSCME Locals 3260, 3800, 3801, and 3937, who are launching a contract campaign.
Immigrants from around the state will head to the capitol to demand that legislators support immigrants' rights to driver's licenses.
The day will culminate with a mass march called by local immigrants rights group MIRAC. Marchers will head first to Franklin Street Bakery to support bakery workers (who are considering striking), and then to a Wendy's, where fast food workers will be on strike. After school gets out, hundreds of teachers from St. Paul and Minneapolis will join the march at U.S. Bank Plaza to demand that the bank pay its fair share of taxes to schools. The march ends at Minneapolis City Hall, where workers will call for a $15 minimum wage and immigrants' rights organizations will call out Trump's racist agenda.
Steve Payne is an organizer with the labor, faith, and community coalition Minnesotans for a Fair Economy.