With Second Strike Looming, Twin Cities Janitors Clean Up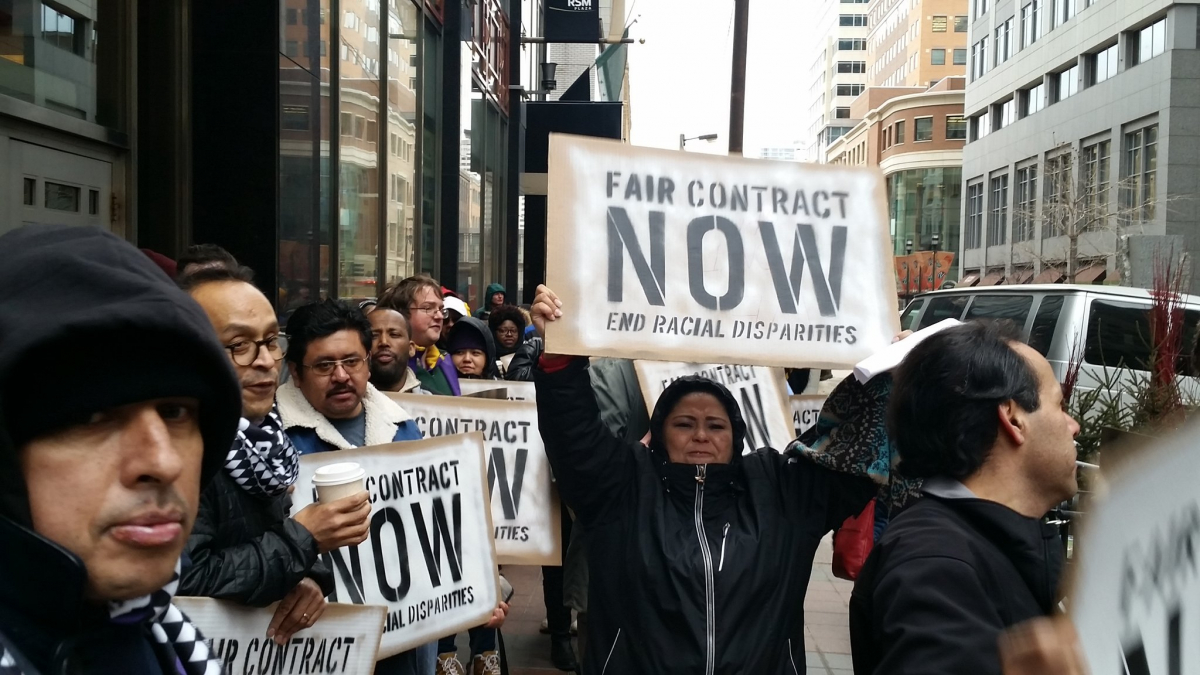 Twin Cities janitors were headed for a second strike in as many months when they reached an agreement March 7.
A thousand janitors who clean Minneapolis office buildings walked off the job for a day February 17 and filled downtown. It was the city's first janitors strike in decades, although security officers, also represented by Service Employees (SEIU) Local 26, have struck twice in recent years.
"I was surprised by how many members struck, since we hadn't done it before," said executive board member Brahim Kone, who has been a janitor for 15 years. "But now the fear is gone. Members are ready to fight."
The tentative agreement pushes wages for most of the workforce over $15 an hour immediately, providing a 12 percent increase over the four-year agreement.
It adds new workload protections, including the right to review your workload with a steward on company time. Health care co-pays and deductibles will decrease. Part-timers will now be able to use the health plan at no additional cost.
"They fought us on everything," Kone said. "Even the simple language like having a union billboard was so hard."
But employers fought off the union's effort to lift up the lower end of the market. They refused to eliminate the bottom tier (a transitional pay scale for newly unionized contractors) and will maintain the practice of paying new hires a slightly lower wage their first two years on the job.
"I'm proud of the settlement, but we lost some stuff too," Kone said.
COORDINATED PROTESTS
The strike was buoyed by a week of action, organized through the coalition Minnesotans for a Fair Economy (MFE), to address the Twin Cities' extreme racial and economic inequality. The area's racial divides in unemployment, graduation rates, and poverty are among the worst in the nation.
Besides the janitors strike, St. Paul teachers held "walk-ins" at 50 schools to push for more student services, like counselors.
Members of the worker center Centro de Trabajadores Unidos en Lucha (CTUL), who work for a cleaning contractor at Macy's, struck for better pay and the right to unionize.
U.S. Bank workers, who are also unionizing through the Committee for Better Banks (backed by the Communications Workers and UNI Global Union), occupied the bank's headquarters—along with hundreds of supporters who were also pushing the company to drop its payday lending operations.
And protesters from across the coalition blocked highway traffic during morning rush hour, creating a three-mile backup into downtown Minneapolis.
EDUCATION FOR ACTION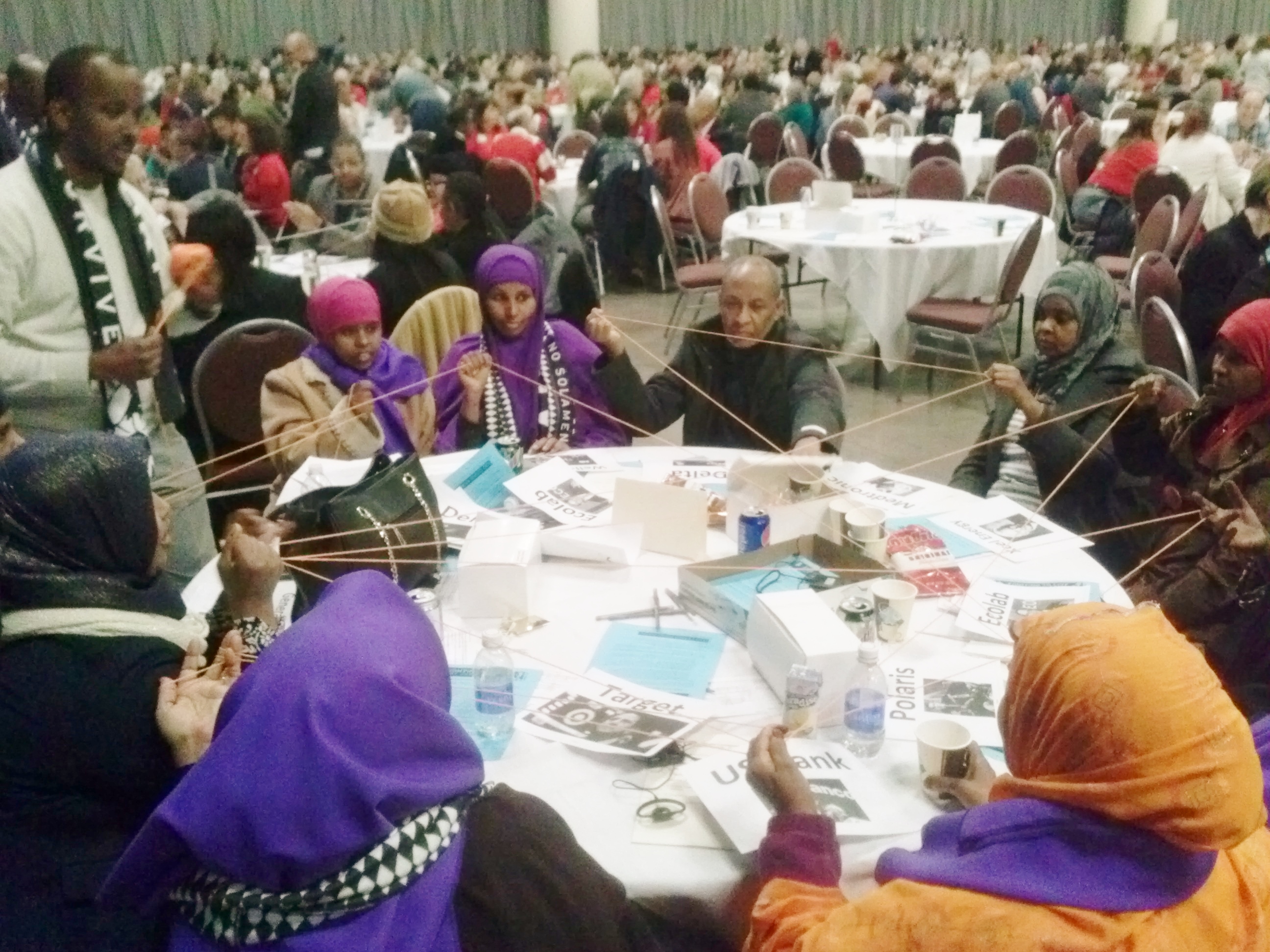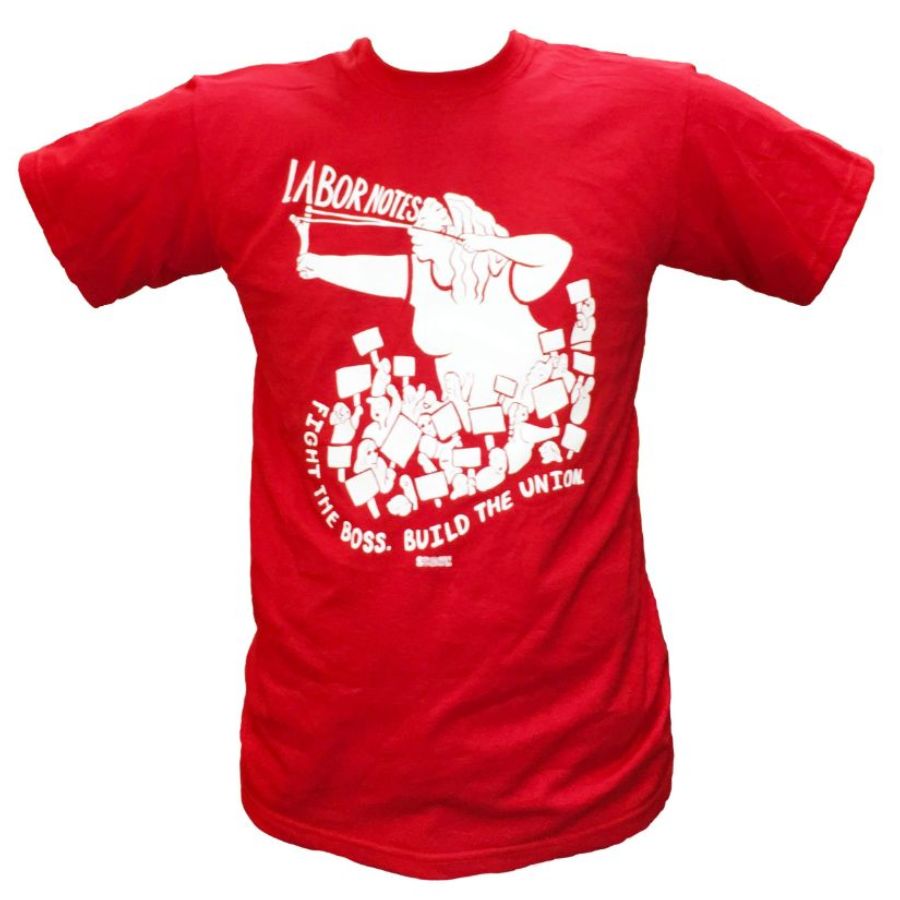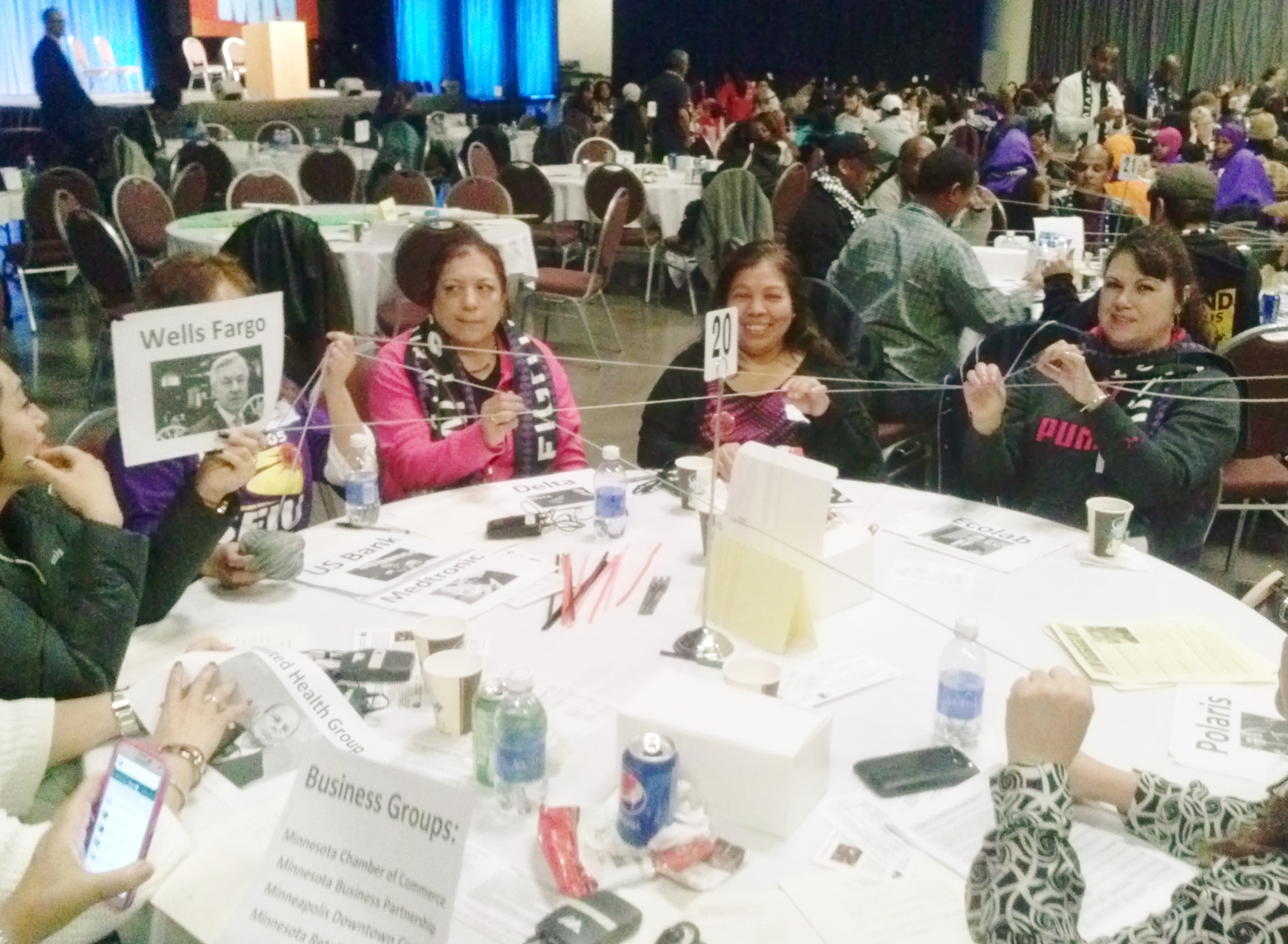 A hundred members from the coalition's partner groups—which include unions, worker centers, and faith and community organizations—took part in a parallel leadership school, and turned out for one another's actions.
They learned practical skills, like speaking to the media and marshaling for a rally, and discussed bigger-picture topics, like how the economy works and how it reinforces racial inequality.
This kind of training really brings people together, said Todd O'Connor, a Local 26 member who works as a security guard at Target's corporate headquarters. "It feels like we've known each other for years."
MFE affiliates have been conducting their internal education separately for the past two years, though often sharing similar exercises and materials. For instance, the "Dirty Dozen" is an analysis of the most influential Minnesota-based corporations, including household names like Target, US Bank, Wells Fargo, Best Buy, and General Mills.
Members discuss how these companies are connected to elected officials and to each other, and how they're using these connections to advance a corporate agenda. "People don't always see how things are connected," said Mary Spaulding, a member of Take Action Minnesota. "This shows where these companies overlap, that they are intertwined."
MFE affiliates are moving towards more joint education—like the leadership school—to foster a common outlook and sense of shared strategy.
"$15 an hour is connected to health care, and that's connected to why so many people can't vote because they're on probation or parole," Spaulding said. "Now you have allies, no matter where you're going."
STRIKE BUILD-UP
These education programs dovetailed with internal organizing by the janitors, who started building for their strike six months in advance.
As a supplement to their 100-person bargaining team, the janitors grouped their work sites geographically into a half-dozen "strike zones." The 20-30 stewards in each zone teamed up to lead education and contract campaigning with their co-workers.
Each zone planned its own action to support the contract fight—and designed its own flag. Some of these elements were inspired by what the janitors learned from unionists and farmworkers they met two years ago on a delegation to Brazil.
Stewards started leading monthly lunchtime conversations, which the union reports reached 600 members each month. These discussions began with contract enforcement questions on health insurance, paid time off, and workload.
But they expanded to address the ways employers use divide-and-conquer to weaken the union, the outsized political influence of corporations and the wealthy, and who really runs Minnesota's economy.
"Now it's back to organizing. We have to be prepared," Kone said. "My co-workers are saying that the one day strike wasn't enough—we'll need to do more next time."