How Migrant Farmworkers Are Cross-Pollinating Strategies and Winning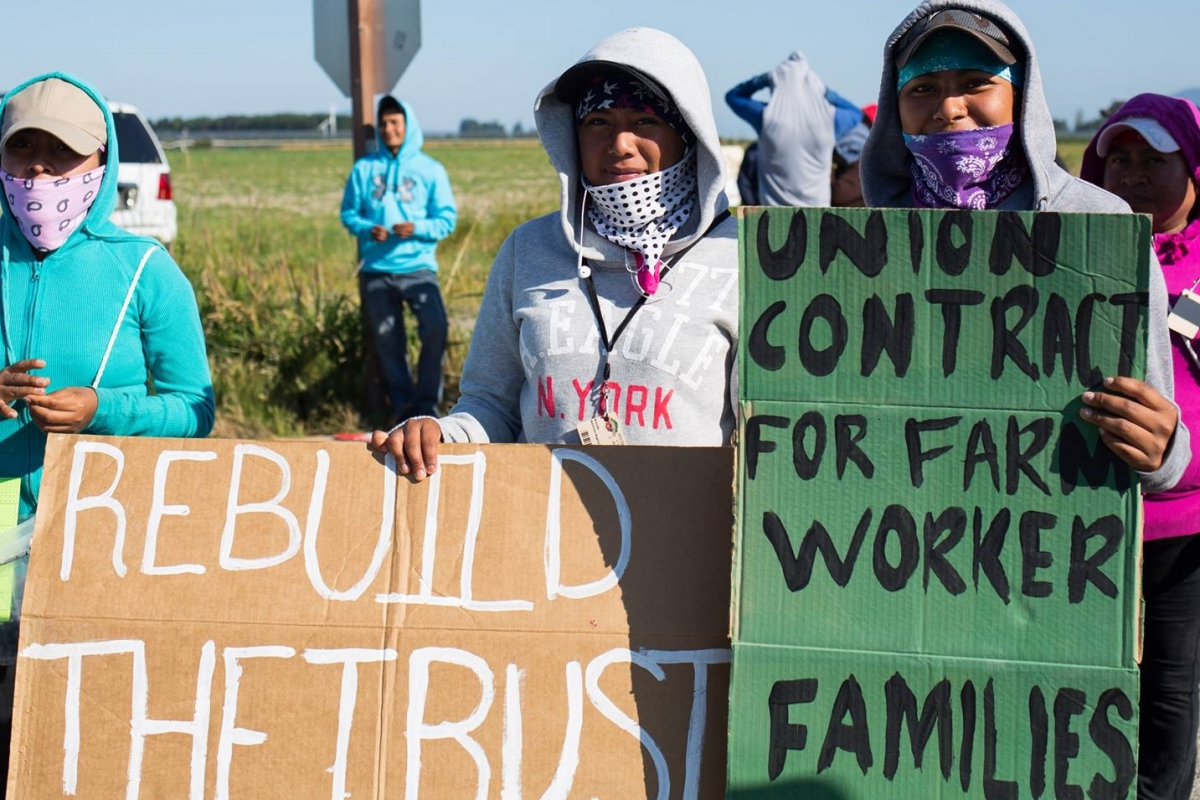 It's been a whirlwind spring of precedent-setting wins for North America's migrant workers, who are making connections across borders.
After three months of strikes and protests, 30,000 berry pickers in Baja California, Mexico, won raises of up to $4 a day and rights to social security benefits and overtime pay.
These workers, mainly indigenous farmworkers from Oaxaca and Guerrero, allied with U.S. groups including the Farm Labor Organizing Committee and galvanized international support.
Some of the Baja leaders had picked up their organizing skills working on Florida tomato farms with the Coalition of Immokalee Workers. Fidel Sanchez, for instance, was involved in CIW strikes in the 1990s.
"His consciousness was born here," says the CIW's Lucas Benitez. "Fidel returned to Mexico, but he didn't forget his commitment to change."
One tactic that worked: the international boycott of Driscoll's. As the boycott began to hurt its bottom line, the L.A. Times reports, Driscoll's executives pushed the Mexican government to intervene.
BELLINGHAM TO BAJA
Meanwhile, as the season begins in Washington state, berry pickers with the independent union Familias Unidas por la Justicia (Families United for Justice) are stepping up their own Driscoll's boycott, which began in 2013.
Most of these pickers, too, are originally from Oaxaca or Guerrero. Many have been migrating from California to work at Sakuma Brothers Farms every summer for a decade—but still earn piece-rate wages, with no recognition of seniority.
They're calling for a $15 minimum wage, health benefits, and an end to retaliation. So far, Sakuma refuses to negotiate.
Driscoll's distributes the berries. Three hundred people joined a May 3 March for Dignity and picketed outside a Costco in Bellingham, Washington, that's still selling the boycotted fruit.
Within a week, Driscoll's met with worker leaders, says Edgar Franks of Community to Community Development, an organization supporting the union. But the boycott will continue until they win a contract.
As the blueberry season opened last week, the pickers staged another two-day strike. Two hundred walked off the job after Sakuma introduced a new quota of 35 pounds of blueberries per hour and refused to negotiate over lowering it.
Another spur to the strike: the company was trying to introduce staggered start times, which workers suspected was a tactic to divide them. Sakuma now says the staggered schedules were only temporary.
To keep up the pressure on Sakuma, the workers are inviting allies from labor, community, and faith groups to join a July 11 march for a contract. The date commemorates the berry pickers' first strike in 2013, which led to the formation of their union.
Familias Unidas has also reached out to the Baja berry workers, sending solidarity messages and in local actions highlighting the connections between their two fights against Driscoll's. Many in the union have family members working there.
MILK WITH DIGNITY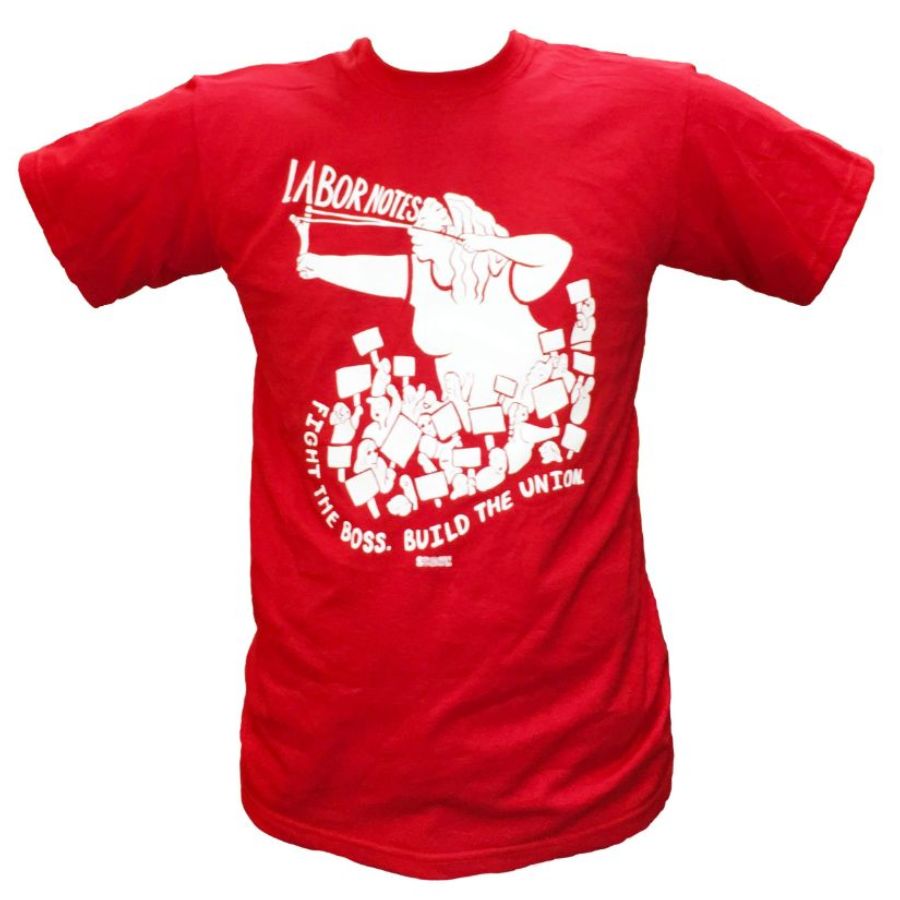 Dairy farmworkers in Vermont also won a big victory last month. Only a few weeks after they launched a campaign to address low wages and labor violations in Vermont's dairy industry, Ben and Jerry's came to the table.
The workers, who are members of the Vermont organization Migrant Justice, want Ben and Jerry's to sign onto the Milk with Dignity Program, which calls for a worker-authored code of conduct, worker education program, and third-party monitoring.
Migrant Justice members developed the program after a series of exchanges with farmworker leaders from CIW. It's modeled on CIW's precedent-setting Fair Food Program in the Florida tomato industry. Companies that participate will be required to pay dairy farmworkers a premium, similar to CIW's penny per pound.
Less than 24 hours before a national day of action was to begin on June 20, Ben and Jerry's committed to adopt the program in its Northeast dairy supply chain, and signed a letter of intent agreeing to negotiate the details.
The day of action went ahead with a celebratory tone, as farmworkers and allies in 17 cities rallied outside Ben and Jerry's scoop shops.
WILDCATS IN CANADA
Across the Canadian border, too, migrant workers have been making news.
After filing a discrimination case against their employer Presteve Foods Limited, a fish processing company, two women from Mexico recently won the highest damages the Ontario Human Rights Tribunal has ever awarded.
The tribunal found they'd been exposed to sexual harassment and discrimination, and ordered the employer to pay more than $200,000 in damages.
The women were working under Canada's guestworker program. As in the U.S., these temporary visas are tied to one employer—making it difficult for workers to speak out. Migrant workers often pay massive fees to recruiters, only to find conditions very different from what they were promised. Some employers isolate workers even further by holding their passports.
So this wasn't just a court victory. The tribunal award was only possible because the women had organized despite the risks.
"Workers did wildcat strikes until they got their passports back," said Chris Ramsaroop, an organizer with the community group Justice for Migrant Workers. "They organized themselves when they had no support from anyone."
His group helped the fish processing workers connect with Unifor, Canada's largest private sector union. It turns out these workers were covered under a Unifor collective agreement—though their employer had never informed them. With the union's help, 39 workers filed human rights complaints.
Many of the women had worked in many different countries, Ramsaroop says. Some drew strength and skills from union experience elsewhere—in Thailand, for instance—and have become leaders in a campaign for migrant worker rights in Ontario.
When farmworkers migrate, they carry with them their organizing experience and transnational networks—and a powerful potential for cross-pollinating fights.