'Mike Brown Is Our Son'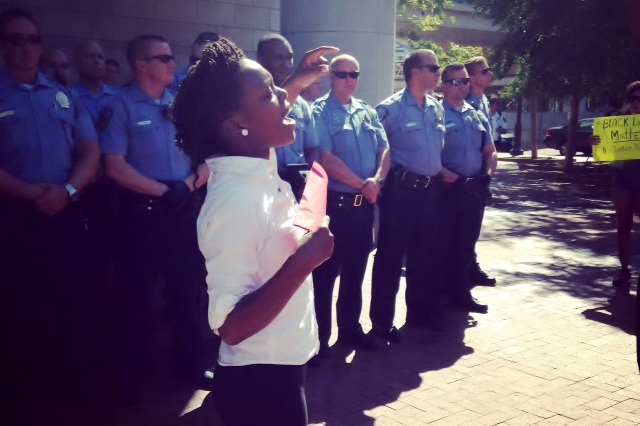 "My first reaction was 'oh no, not again,'" said Mark Esters, an organizer for the Communications Workers in the St. Louis area. "And trying to take it all in.
"And then, what should our response be? The answer was collective action. In a universe of numbness, what do we do?"
Esters is vice president of the St. Louis chapter of the Coalition of Black Trade Unionists, which marched in Ferguson, Missouri, August 16 in the National Day of Solidarity Actions calling for justice for Michael Brown. They carried a sign reading, "Mike Brown Is Our Son."
In the wake of widespread anger about Brown's shooting and police repression of protesters, members of the Show Me $15 fast food workers group were at the demonstrations daily. They said the organizing they'd learned in the last 22 months, as they struck and demanded $15 an hour and a union, helped them know how to organize for justice.
Shermale Humphrey used to work at the McDonald's in Ferguson that sits right across from the scene of Brown's shooting. "This [protesting] is something I had to do," she said. "I'm African American, and this could be anyone I know. I just can't let it go on any longer."
Bus Company Tries Racial Divide and Conquer
Bus workers in ATU Local 788, who serve St. Louis, including Ferguson, have been trying for three years to get a new contract with Metro, the bi-state agency that runs the buses. Part of the problem, said ATU President Larry Hanley, is that "the company is populated by racial arsonists.
"They have economic goals for the agency, and the linchpin of economic goals these days is to strip the workers of pensions and wages," Hanley explained. "The method that the agency has chosen to use is to separate workers by race and category." Most of the drivers are Black, and most of the mechanics are white.
"Officials of the agency have been privately negotiating with the mechanics to get them to leave the ATU, telling them they can get them more," said Hanley. "In other words, 'If you aren't part of that Black bus drivers union, we're going to take care of you.'" The real motive, of course, is divide and conquer.
Then in July management came into bargaining, "and they say, 'We have a gift for the bargaining committee,' and they hand each one of them the recipe for Oreo cookies."
When workers leafleted riders to ask for support, the company banned workers from leafleting on Metro property. They kept leafleting, and are planning to rally September 26 outside Metro headquarters while the board meets. For more info on the rally, email 788atu[at]gmail[dot]com or leave a message at 314-649-8631.
—Jenny Brown
Humphrey said the Show Me $15 members tried to maintain calm at the protests, but the police were provocative. She said, "They had us cornered, pointing their weapons, and they were telling us to go home but they wouldn't let us move. I asked them what we were supposed to do and they said, 'When we know, you'll know.'"
Humphrey and fellow Show Me $15 member Jeanina Jenkins were both arrested for trespassing when they protested at McDonald's shareholders meeting in Oak Brook, Illinois, this May. Jenkins works at the same Ferguson McDonald's but chose to spend her days and nights after the shooting at rallies instead. "This is new in our community," she said. She won't be satisfied until Darren Wilson, the police officer who killed Brown, is in jail.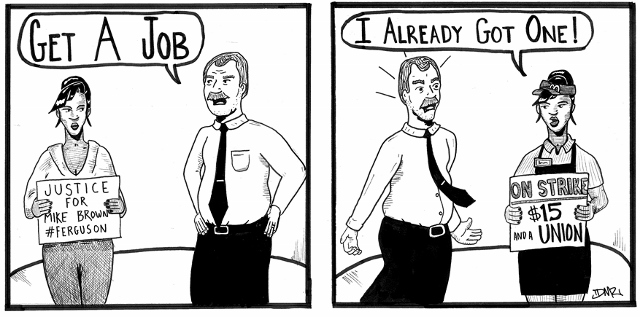 Labor Notes asked former Jimmy John's worker Rasheen Aldridge if it was frightening to confront heavily armed police, given what had happened to Mike Brown. "They use their weapons to intimidate us," he said, "trying to rile people up in the crowd. But we have a bond. I know my brothers and sisters will do what they can to make sure I'm OK. My brothers and sisters got me."
UNION INVOLVEMENT
Esters said unions were not the "lead organizations" in organizing peaceful protests in Ferguson, though some encouraged members to be involved, including his local, CWA 6355, representing Missouri state employees, and the Service Employees, which represents janitors as well as organizing the fast food workers.
Leaders of Local 6355 decided they needed to take seriously the AFL-CIO's commitment, showcased at its last convention, to build partnerships with community organizations to expand democracy and improve conditions for all working people, not just union members.
In a letter to the Greater St. Louis Central Labor Council, Local 6355 President Bradley Harmon said, "Many of the leaders of the peaceful protests in Ferguson are people who Local 6355 members have stood with in the fight against cuts to the services Local 6355 members provide, in the fight for $15 and even in the fight for the [Mine Workers] against Peabody Energy. If we are to be true to our values of solidarity with the community, I believe the voice of labor must be part of the conversation that moves our community forward."
But when Esters and others considered bringing a resolution to the local labor council, they decided they didn't have the votes to bring it forward. Esters cited reluctance by building trades unions, which he said have dragged their feet on diversifying their memberships.
When he asked the delegates, under "new business," to come out and demonstrate with the peaceful protesters, only one local responded, Transit Union (ATU) Local 788, which represents bus drivers who have experienced racial divide and conquer as they try to get a contract (see box).
In a speech to the Missouri AFL-CIO convention September 15, AFL-CIO President Rich Trumka said, "We cannot wash our hands of the issues raised by Michael Brown's death... Racism is part of our inheritance as Americans."
Noting that both the police officer, Wilson, and Michael Brown's mother, Lesley McSpadden, are union members, Trumka said, "Our brother killed our sister's son and we do not have to wait for the judgment of prosecutors or courts to tell us how terrible this is.
"How can we not be involved?"
The St. Louis group Organization for Black Struggle is accepting donations to defend those arrested in the Ferguson protests.
Read more about the economic backdrop of the conflict in "Ferguson: A String of Betrayals."
This article has been updated to report on AFL-CIO President Rich Trumka's September 15 speech.