Chicago Tenure and Non-Tenure Faculty Unite in Strike for First Contract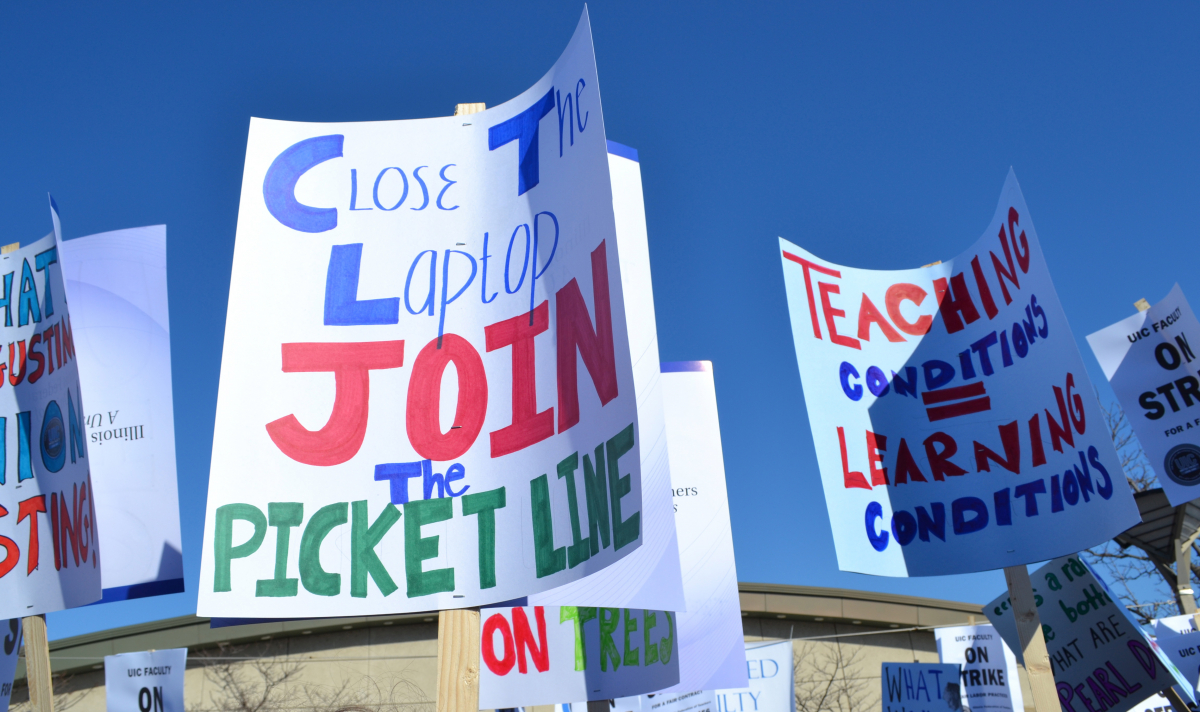 Faculty at University of Illinois at Chicago went on strike February 18 and 19 for the first time in the university's history.
More than 1,000 UIC United Faculty members, students, and other supporters turned out to picket lines and rallies during the two-day strike, which aimed to move stalled negotiations over a first contract.
If not enough movement occurs, the union will go out on a longer strike later in the semester.
UICUF represents around 1,150 tenure-track and non-tenure-track faculty. About 800 are members of the union, certified in 2012, which is affiliated with both the American Federation of Teachers and the American Association of University Professors.
The university administration is refusing to move on top issues like establishing minimum salaries and multi-year contracts for the most vulnerable faculty members—those not on the tenure track.
"The charade of collective bargaining has become clear over more than 60 sessions, as we've seen university lawyers stalling while the union negotiates in good faith," said Lennard Davis, a professor in English and disability studies. "The general membership has seen clearly that the only way to achieve a fair contract is through a strike."
UICUF has spent the last several months mobilizing members for multiple protests, a teach-in, and a rally. The first week of December, 78 percent of members turned out to vote on strike authorization; 95 percent voted yes.
"We've been learning how to do this; we're all going to school basically," said Joseph Persky, professor in economics and UICUF president. "The members are seeing power in what we do."
Furious at Furloughs
Faculty at UIC started organizing the union in 2008, concerned that their voices weren't being heard by upper-level administration.
Persky said this feeling of voicelessness was most evident when faculty members were furloughed in 2010. "A group of bureaucrats treating the heart of the university as if they're hired help," he said. "It was less the issue of money, than that it was implemented in a top-down manner, no discussion."
Administrators proved this point again in 2011 when they challenged the union's right to certify as one bargaining unit including both tenure and non-tenure-track faculty.
Tenured faculty members are considered permanent and usually split their time between teaching and research. Most non-tenured lack job security and focus primarily on teaching. It's easy to pit the two groups against each other—which is one reason why it was so important to members to remain a single union.
Faculty responded to the challenge by running a second organizing drive as one union consisting of two separate bargaining units. After once again signing up around 60 percent of those eligible in each unit, they certified in 2012.
More than 60 bargaining sessions later, members are still holding out for equitable pay and other contractual terms for both units. The union has one united team for both units, focused on bargaining similar contracts. Ideally, they aim to lessen the disparity between the two tracks.
Under the union's proposals, both units would receive a 4.5 percent raise. Even this won't meet increases in the cost of living, since faculty last received raises in 2011. Yet administration is only offering 3.25 percent—while giving raises of more than 4 percent to faculty at the downstate Urbana-Champaign campus, who are not in the union.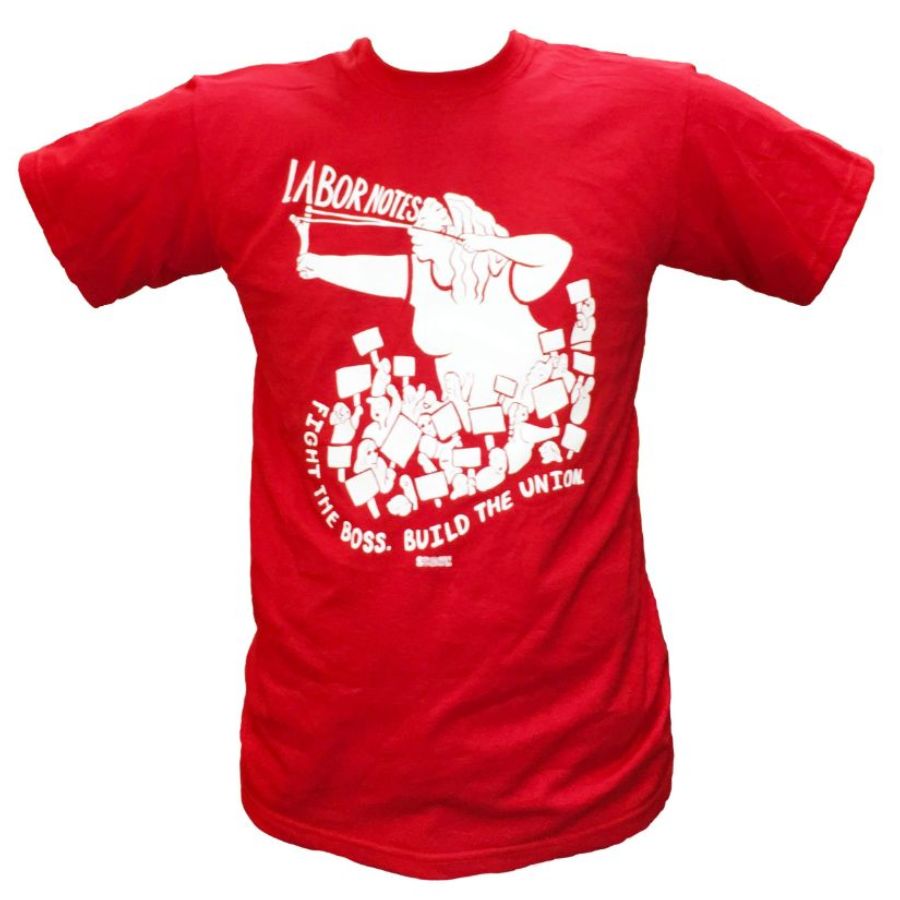 Administration claims it can't offer more than 3.25 percent. But an independently audited financial report shows the university has more than $1 billion in expendable reserves. Employers are notorious for dragging their heels on negotiating first contracts—hoping members will give up and abandon their new union.
The union is also asking that the minimum salary for full-time, non-tenure-track faculty be raised from $30,000 to $45,000 and that they receive multi-year contracts.
Tackling the Two-Tier System
Nationally, around 70 percent of college and university classes are taught by non-tenure-track faculty; the preferred terms vary from campus to campus, including "adjuncts" or "contingent faculty." Over the last several decades, universities and colleges have eliminated tenure-track positions and replaced them with two or more part-timers.
Often these positions come with little to no benefits, and salaries equivalent to minimum wage. It's common for non-tenure-track instructors to work multiple jobs to make ends meet.
At UIC most non-tenure faculty members are full-time and receive health benefits—but they still make thousands less than their tenured counterparts. Many with Ph.D.s make only $30,000 a year. And they tend to be hired on a semester-to-semester basis, with no job security.
Ironically, these are the faculty with the greatest impact on the retention and success of UIC's nearly 17,000 undergraduates. Non-tenure-track faculty are responsible for teaching the majority of first- and second-year college students, so their working conditions are directly related to the learning and retention of beginning students.
Yet the university refuses to invest in its faculty—even as tuition and the numbers of non-teaching administrators steadily increase.
"Clearly there are administrators who believe the education of students isn't worth very much," said Charitianne Williams, a lecturer in English. "The conditions that I teach under limit my ability to respond in the ways I want to respond.
"My students always ask for more office hours, but I'm not able to add on extra hours because I'm taking on extra classes and small administrative tasks just to cobble together enough money."
United Front
Many faculty realize that tenure positions are endangered by their gradual replacement with cheaper non-tenure positions. UICUF says the only way to strengthen the university is to organize the two tracks together.
"We're all concerned about maintaining the integrity of the UIC experience," Williams said. "Our concerns are really all the same, regardless what the details of our contracts are. Everything that everyone is asking for will benefit students in the long run."
Says Persky, "The way to re-focus on academics is to make sure the non-tenured faculty are considered part of their departments and part of their university rather than academic temps."
Dawn Tefft is AFT's lead organizer on the UIC United Faculty contract campaign.
The Labor Notes Conference in Chicago April 4-6 will feature a campus workers meeting and an adjuncts meeting, as well as a panel on winning first contracts.