Communities Defend Their Post Offices One by One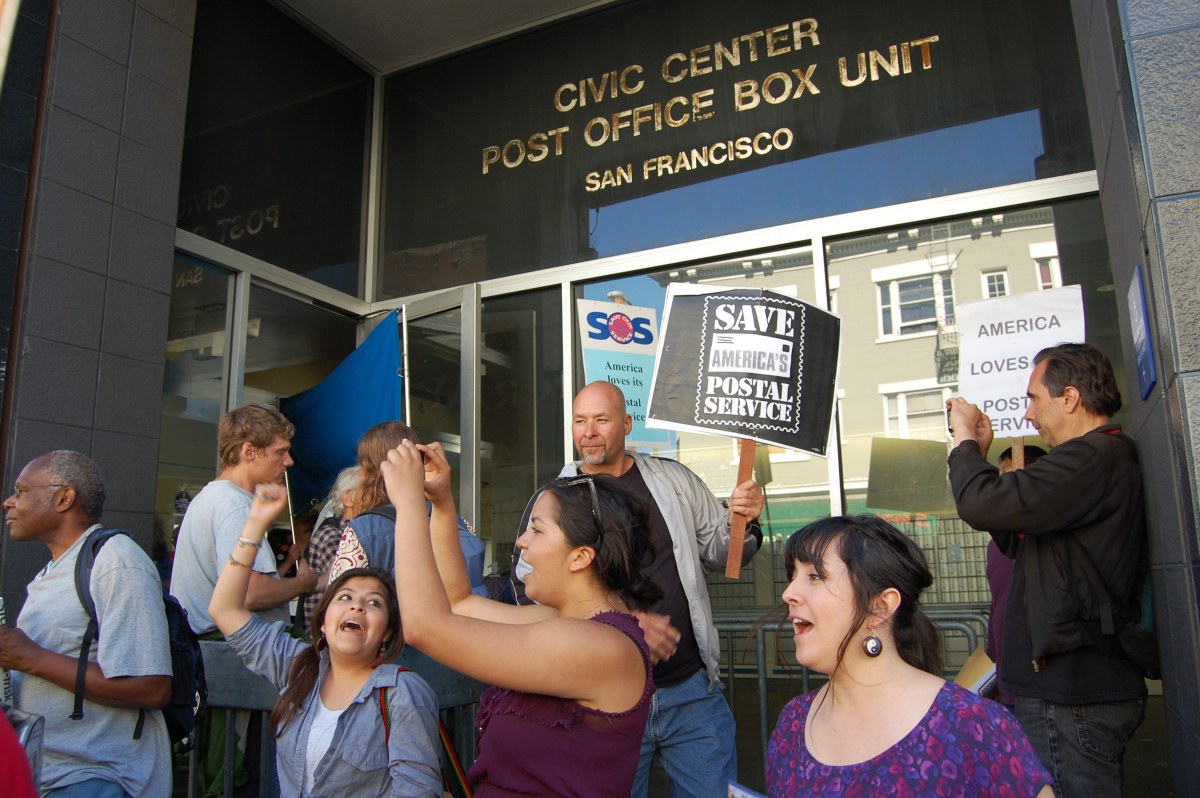 Four endangered Bay Area post offices will stay open after all, and the subcontracting of California postal trucker jobs is on hold. Those victories were the latest in a string of local wins for grassroots activists across the country.
The success followed a raucous public campaign to keep the facilities open. Hundreds marched into a threatened downtown San Francisco post office in June, carrying a sound system.
Postal workers, seniors, low-income activists, churchgoers, and Occupy folks crowded in to speak about how the closure would affect their communities. Homeless residents who count on post office boxes and the general delivery window would have been especially hard hit.
On many fronts at once, Postmaster General Patrick Donahoe and congressional conservatives are waging the battle to downsize and privatize the post office.
"It's a whack-a-mole thing. If we are able to beat back an attack in one area, they just attack in a different area," said Chicago letter carrier Melissa Rakestraw.
NATIONAL NETWORK
The Bay Area group is part of the national network Communities and Postal Workers United (CPWU).
After Donahoe announced plans last year to close nearly 4,000 post offices and half the nation's mail sorting plants, community-labor coalitions sprang up around the country.
Postal workers, community activists, and local politicians teamed up to stop closures from rural Oregon to New York's South Bronx. Vermonters turned out 500 people and their entire congressional delegation for a public meeting. Youth in Harlem occupied a post office, each carrying a letter.
Postal workers and allies founded CPWU to do what their unions weren't. The coalition is now active in 20 cities, sharing a toolkit on how to fight back against closures.
"Places where we've fought back we have an 80 or 90 percent success rate," Baltimore postal trucker Tom Dodge said. "Our national unions should be doing this. They have the power to hire people and travel the country, the resources and the money. This is coming out of my own pocket."
Many CPWU activists express frustration that their national unions are focused on lobbying Congress rather than organizing with communities, and continue to support the politicians who are privatizing the industry.
Oregon Letter Carriers refused to endorse Obama at their state convention, but nationally the postal unions supported the president, despite his support for eliminating Saturday delivery. The Rural Letter Carriers Association even gave $8,500 this year to public postal delivery's main foe, Representative Darrell Issa.
CPWU activists staged a hunger strike in Washington, D.C. this summer, and retired New York mail handler John Dennie attempted a citizen's arrest of Donahoe for delaying and obstructing the people's mail.
When the ax started to fall, Oregon's Rural Organizing Project sprang into action, sharing information and grassroots strategy tips from one targeted community to the next, sending activists on more than two dozen "postal road warrior" trips around the state to stoke the fires, and releasing an online tool kit for organizing. Thanks to local fightback, USPS has now backed off cuts to all but two Oregon post offices until next year.
HOLES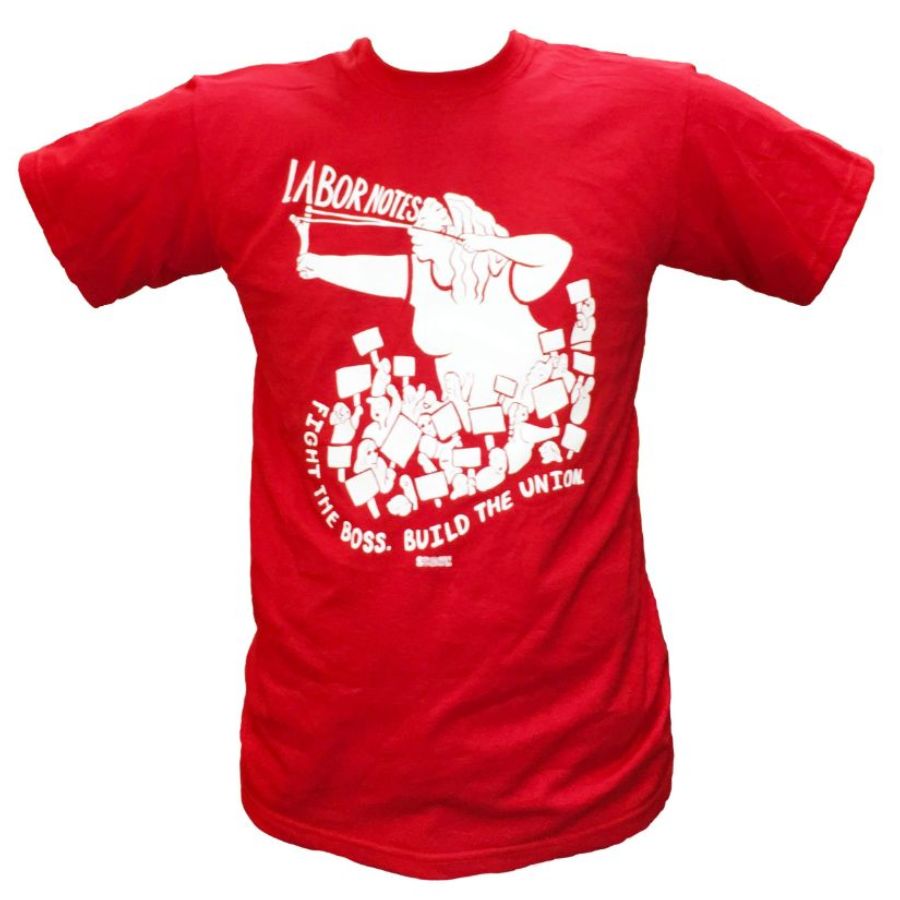 CPWU's network is still more hole than net. But who knows how many people around the country are waging these battles on their own, like Fred Hassen, a letter carrier and steward in Ocala, Florida, who had never heard of CPWU when Labor Notes called him for this story.
When Paul Ryan held a rally in town, Hassen went out to leaflet the candidate's supporters about the attacks on the postal service. Half took the flyer and expressed support, Hassen said.
He writes letters to the editor and brings news clippings to work, encouraging co-workers to tell postal customers the truth behind the phony crisis.
CPWU activists are calling for a national march on Washington. They persuaded the two biggest postal unions, the Letter Carriers and Postal Workers, to pass resolutions endorsing the action.
The next step is moving the unions to set a date and turn out members. CPWU suggests March 17, the anniversary of the 1970 national wildcat strike.
Postal workers are the only federal employees who have the legal right to collectively bargain over wages, and they won it in that strike, explains retired San Francisco letter carrier Dave Welsh. They turned postal work from a poverty-wage job to a living-wage job, he said.
No one in the workforce today took part in the 1970 strike.
"When I first came on in '84, there were still a lot of these people around. Every time the contract came up, people were talking strike," retired letter carrier Jamie Partridge said. "But we actually eliminated our strike fund 15 years ago and put it into our political action fund, which gives you an idea how the priorities shifted."
DIRECT ACTION
Postal activists are looking to the civil rights movement for inspiration on how to influence legislation through organizing and direct action, not lobbying.
"Politicians don't lead movements, they jump on bandwagons," Rakestraw said. "That's why we need to get out in front with the bandwagon and try to get folks to jump on board."
"I think it's going to require bold action," Dennie agreed. "I think it's going to require that some of us go to jail. Not current postal workers, I wouldn't advise they put themselves in jeopardy. But retired postal workers and community activists. The civil rights movement didn't just happen with a rally."
Partridge said a winning strategy will require worksite action, too. He'd like to take a page from the book of Canadian postal workers, who have staged rotating strikes to mess with management while keeping solidarity with postal customers.
"Letter carriers would deliver welfare checks and social security checks and nothing else," Partridge said. "And when the postal service would lock them out, and people had to come to the post office to pick up their checks, then the letter carriers served coffee and cookies to people coming in.
"Ultimately I think that without strike action, this march toward privatization is going to continue."