Verizon Workers Queasy at Deal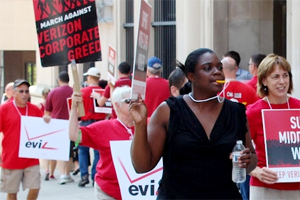 Leaders of the Communications Workers and Electrical Workers (IBEW) announced a tentative agreement with Verizon, but some workers say it's far from what they deserve.
The deal, covering 45,000 workers across the Northeast, was inked after 15 months of tense negotiations, including a two-week strike in August 2011.
The telecom giant won several important concessions. For the first time members would pay a portion of health insurance premiums. Workers retiring after January 1 would pay the same premiums as active employees for their retiree medical benefits. The unions also agreed new hires would receive a 401(k), not a pension.
The deal guarantees an 8 percent raise over four years, preserves the existing pension plan for current workers, and includes an $800 ratification bonus.
CWA officials said the best way to judge the contract was to look at what Verizon did not get. Takeback demands included freezing the pension plan, eliminating job security and movement-of-work protections, allowing unlimited contracting-out, and slashing sick time and disability plans.
"The reality of today in America is if you hold your own, that's a victory," CWA President Larry Cohen told the New York Times.
"Then we're playing a game of looking at what other unions have lost," said Rich Corrigan, a New York technician fired during last year's strike. "Even though the company is at the height of profitability, you're still saying, 'it's not as bad as other folks.' The company is the victor."
Gains include promises to hire 300 new full-time call center workers, as well as returning some contracted-out cable-laying work in New York State to the union.
Pam Galpern, a technician in Local 1101 in New York City, said the proposed contract deepens the two-tier system.
"New hires already aren't covered by the job security protection that pre-2003 hires have, and they don't have the same retiree health benefits as those hired before 2008, and now they won't have a pension," she said. "They're incrementally trying to dismantle the contract we have."
Anita Matthews, a Manhattan central office technician and chief steward in Local 1101, questioned whether new workers will care about defending the pensions of senior workers when they don't have one.
"No union should do a two-tier system," said Matthews, a 33-year veteran. "The future of the union will be nonexistent."
CWA will hold a meeting of local presidents Monday. Leaders in some locals are talking of not recommending the agreement to members. Ratification votes will take a month to complete.
Informational pickets continue twice a week in front of company headquarters in Manhattan. "Now our chant is 'vote no,'" Matthews said.
HEALTH CARE
Increases in health care costs are proving controversial among members. The union accepted premiums for the first time. Along with other increased charges, CWA says workers will now bear the burden of 20 percent of their health care costs.
Health care outlays will steeply increase over the four years of the contract. Workers said they expect the company will demand even more next time.
CWA District 1 Legislative Director Bob Master said negotiations were the toughest since the 1989 strike. Then, the slogan was, "If Verizon can force us to pay for health care they can force anyone to pay for health care."
"Since then everybody else has been forced to pay for health benefits," he said, citing declining union density. "It's very hard to be an island in an ocean like that."
Pat Fahy, a member of IBEW Local 827 in New Jersey, said the contract was unacceptable and didn't think the unions should count it as a victory.
"Verizon said we're going to beat you by 500 points, and if they only beat us by 100 points, that's not a win, it's a loss," he said.
FIRED FOR PICKETING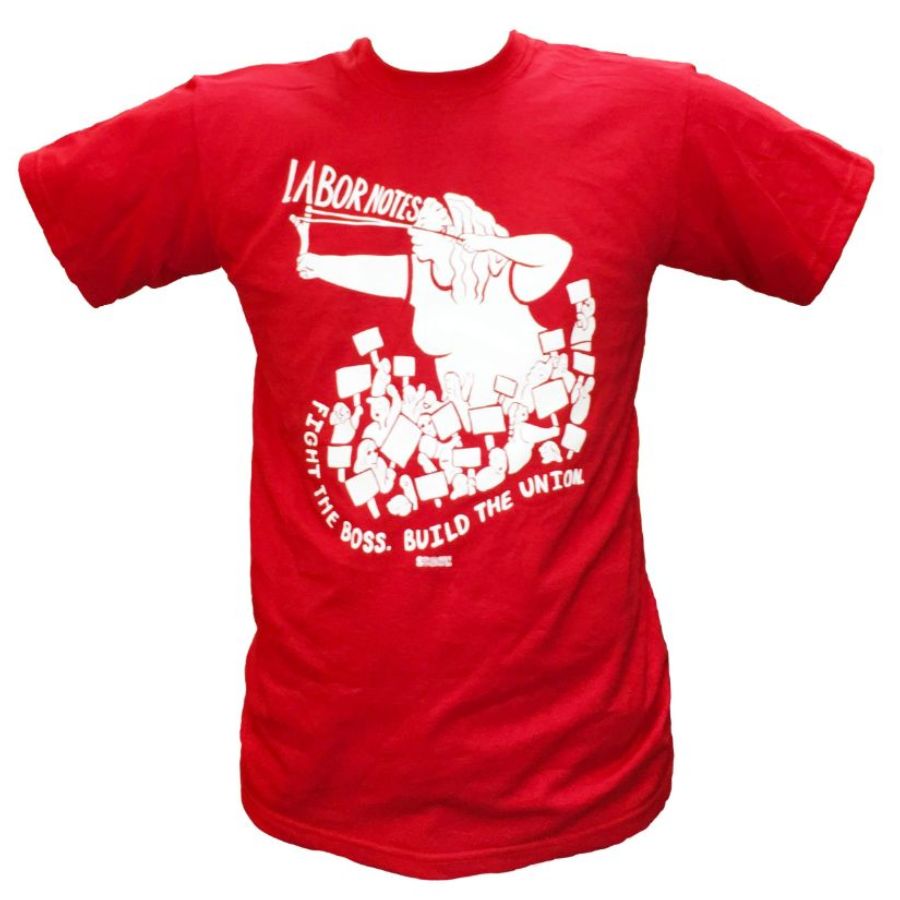 The contract would reinstate 37 of the 41 workers fired during the strike, but wouldn't grant them back pay. It's not clear why three IBEW members and one CWA member were excluded.
"It could as easily be me, it could be any of the 41, or the 45,000," said Corrigan, whose job would be saved. Picketers who were fired tended to be stewards or picket captains and they tended to be fired for inflammatory speech, he said.
Corrigan said the four missing workers breaks the deal for him. If the membership ratifies the contract, the union will drop Labor Board cases against the company for the firings, he said.
Master said that the 37 workers would simply be rehired, and would not have to go through the lengthy arbitration process. He acknowledged that it was important to get everyone their jobs back. "It was very clear that they aggressively fired people as a way of discouraging future militant strikes," he said.
CHANGED TUNE
The company initially refused mediation on the contract, negotiators said in August.
"It's cut and dried that they want to break us," said CWA bargaining team member Billy Gallagher at the time.
CWA made "ready to strike" stickers and some workers cleaned out their desks in preparation for another walkout.
They rallied political support and met with community organizations and other unions to plan another strike. Master said that after that, and a 4,000-person march in Philadelphia, union negotiators reported more progress in three weeks than they had seen in the previous year.
Simultaneously, the unions were fighting approval of a deal between Verizon and several big cable companies which would allow the companies to bundle their services, and would substantially decrease incentives for Verizon to build out its fast fiber optic system (FiOS), which is installed by union members.
The deal was approved in August by the Federal Communications Commission and the Department of Justice over the objections of the unions, consumer groups, and the governments of several mid-sized cities in which Verizon has refused to invest. Opponents argue that the deal will cost jobs, continue to deny inner cities high-quality internet service, and leave consumers facing a near monopoly.
JOB SECURITY
Safeguards in the new contract will prevent most jobs from being outsourced or moved. The union said the contract limits transfers to 35 miles from the worker's home.
The deal also maintains a no-layoff clause.
But the Verizon bargaining unit has lost half its members in 10 years through attrition, said Master, as the company moves its focus to profitable wireless and other expensive services.
After a 15-day strike in 2000 over job security, Verizon agreed to be neutral while CWA tried to organize workers in its wireless division. The company immediately reneged, though, even closing two call centers and reopening them in South Carolina to avoid organizing drives.
CWA did successfully organize 70 members in New York at Verizon Wireless, which meant that the company's wireless stores were fair game for pickets during the 2011 strike.
But apart from this toehold, Verizon Wireless has successfully fought unionization.
"The challenge is how do we retain our power and expand our footprint in the industry," Master said. "We've got to figure out a way to crack Verizon Wireless."
Comcast workers get paid two-thirds what Verizon techs are paid, he said.
"We've got to lift those standards," Master said. "We're accountable for this."