Live from the Labor Notes Conference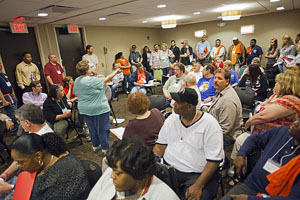 Records are being broken all over the place as 1,500 union activists, worker center members, and workplace troublemakers are gathering in Chicago for the biggest Labor Notes conference yet.
They have a huge list of almost 150 workshops, meetings, and plenaries ready for them, not to mention a full program of actions in support of local workers, music, art, film, and plenty of opportunities to build the networks that make our movement strong (and maybe shake a few tail feathers in the process).
Participants are learning foundational union skills and creative tactics. One workshop promises training in "strategic mischief." Meanwhile others prepped for debates, including a Saturday session that will ask if Mayor Rahm Emanuel's attacks on teachers and other public workers in Chicago will make the city this year's Madison. Here's how the Community Media Workshop described it:
It's one of dozens of workshops that will be attended by 1,500 rank-and-file activists and leaders at the national conference of Labor Notes, a magazine that's advocated labor democracy and militancy for over 30 years.
Topics cover a wide range, from broad political themes to nuts-and-bolts organizing. International speakers will address European workers' response to austerity, labor and the Egyptian democracy movement, and Japanese labor's response to the Fukushima crisis.
You can still jump in if you're close by and haven't registered yet. Come register on site at the conference hotel get a dose of inspiration at our biggest conference yet.