Michigan Rebels Against Emergency Managers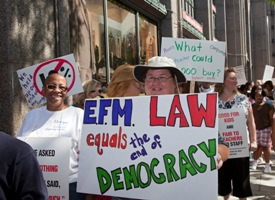 Michigan's notorious emergency manager law could soon be suspended, say activists who are circulating petitions to put a repeal of the law on the ballot in fall 2012.
The law proposed by new Republican Governor Rick Snyder and passed in March allows the state treasurer to appoint emergency managers who can impose budget cuts on cities, towns, and school districts operating in the red. Appointees have the power to cancel contracts, sell off local assets, and remove elected local officials.
Managers are operating in Benton Harbor, Ecorse, Pontiac, and the Detroit school district. Flint is under review as well. All these cities have an African American majority.
Miya Williamson, secretary-treasurer of a large state employees union, says her members came to the Fourth of July fireworks in Detroit and collected 1,000 signatures. "Not one person we approached turned us down," she said. "Everyone thinks this is just wrong."
Brandon Jessup, head of Michigan Forward, a nonprofit involved in the low-budget petition drive, said 180,000 signatures had been collected as of mid-September. Just over 161,000 are needed, and petitioners will keep working into October to secure a comfortable margin.
Once the signatures are certified, the law is suspended until voters have their say in November 2012.
Signature-gatherers often work jointly with those pushing another popular petition, which seeks to recall Governor Snyder. Next door in Ohio, unions spearheaded a drive for more than a million signatures to block a law that would have eliminated bargaining rights for public employees there; the question goes to voters on November 8.
In Wisconsin, opponents of union-busting Governor Scott Walker vowed to recall him after last winter's uprising, but doubts have arisen about whether national unions will commit the funds.
Jessup said AFSCME, the Michigan Education Association, and the Transit Union (ATU) had been pillars of the repeal drive but that community members motivated by Snyder's "overreach of democracy" were equally involved.
In the Detroit area, many Black churches have opened their doors to campaigners. Herb Sanders of AFSCME said no paid petitioners have been hired, resulting in a very high rate of valid signatures.
EDUCATING BUS RIDERS
Marvin Bing, an ATU field rep, said transit workers are protected because federal law requires transit agencies that get federal funding to allow collective bargaining.
"But we have educated the members," he said, "that managers could merge transit systems, they could dissolve transit systems, they could raise fares on buses, which would hurt our riders, they could eliminate bus routes, which would hurt our neighborhoods."
ATU members canvassed a northwest Detroit neighborhood for signatures recently, some in their driver's uniforms.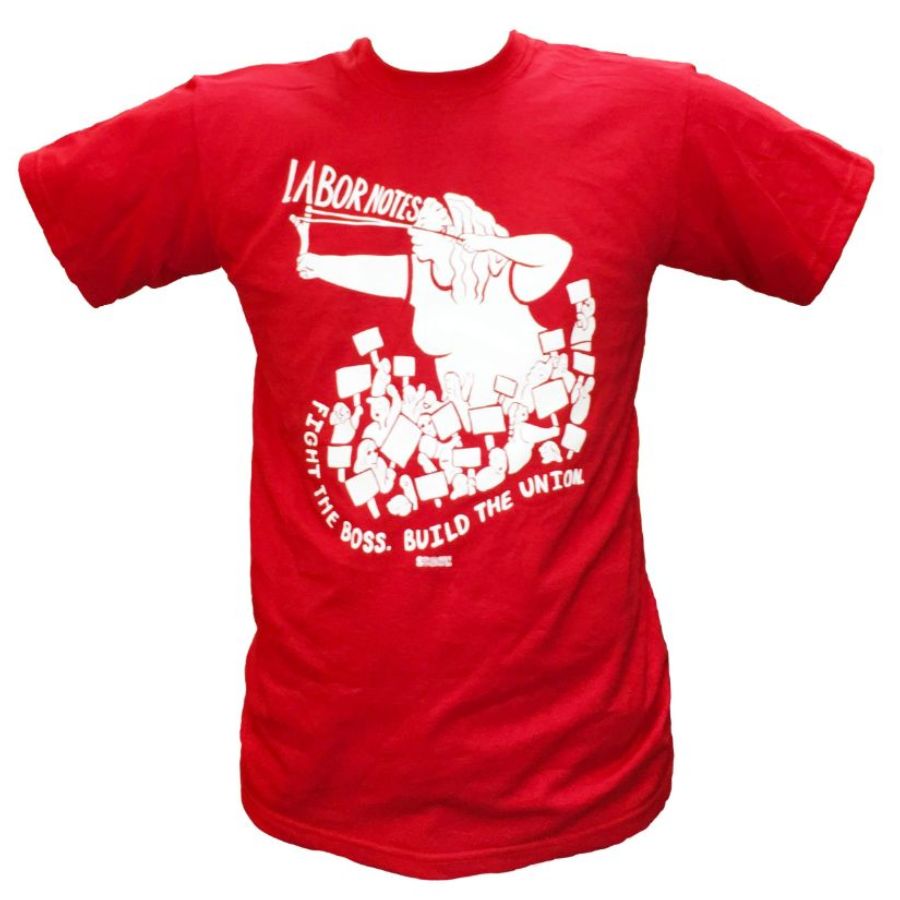 William Williams, who's driven Detroit buses for 24 years, said co-workers also petition at transit transfer points and that some passengers have taken up the fight as well.
"Even people who aren't union supporters don't like the idea of their voting rights being taken away," he said. "If I elect someone to govern me, no one should be able to come in and say, ëno, you can't have them.'"
DETROIT MADE AN EXAMPLE
Detroit provides a clear example of what life under an emergency manager could mean. In August the school district's emergency manager, former GM exec Roy Roberts, imposed a 10 percent wage cut on all 10,000 employees and doubled their health care costs.
Roberts says the district will decrease class sizes -- but student numbers will merely go back to the contractual level that the district unilaterally and illegally raised last year, said Vice President Mark O'Keefe of the Teachers union. That means 35 students per class in grades 6 to 12.
Nearly half of Detroit children are attending charter schools this fall. Three years ago the district had 200 public schools; next year the number will be 127.
Eight hundred teachers, office workers, paraprofessionals, bus attendants, and other unionists who work for the district had already been laid off before Roberts's pay cut. The rest made deep concessions or took furloughs in their most recent contracts.
"We gave them viable ways to save money without coming after our members," O'Keefe said, but Roberts wouldn't listen, granting the union only one meeting.
Ruby Newbold, president of the Detroit schools' office employees union, said her union has seen no pay increase since 2002. The pay cut sends them back to 1989 wages, she said. O'Keefe said teachers' pay has been eroded more than a decade, adding, "You can't buy 2011 gasoline with a 1998 paycheck."
According to Newbold, the 10 percent cut would put lunch aides below the minimum wage.
Despite $81 million in workers' concessions, the district's budget still shows a $127 million deficit. O'Keefe said the district is paying $100 million a year to service old debt caused by mismanagement and to make up unfunded costs of educating special ed students.
Because charter schools purposely avoid special students, the Detroit district educates more than 10,000 -- about one in seven of the student population -- each of whom puts the district $8,000 in the red, he said.
Roberts thoughtfully included his own $250,000 salary in those to be cut. But if the petition to repeal the emergency manager law is successful, he'll join the rest in looking for work. ?