Longshore Union Protests 'Police Brutality' as President Surrenders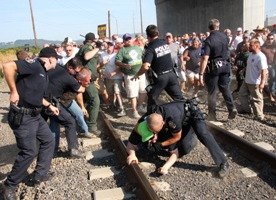 An attempt by a big grain exporter to operate a new state-of-the art facility without longshore union labor has met stiff resistance from the rank and file in the Pacific Northwest.
Police have responded by breaking up protests and arresting about 135 since July, injuring peaceful demonstrators and pulling unionists from their homes and cars. The Longshore union (ILWU) filed a lawsuit Thursday seeking to stop "ongoing police brutality and harassment." International President "Big Bob" McEllrath turned himself in to face misdemeanor charges Monday for blockading a train carrying scab grain.
EGT Development had planned to run its $200 million terminal in Longview, Washington, without the ILWU.
Longshore workers vowed to save these good jobs, and initiated a series of escalating actions. They began in July with simple protests and moved to physically blocking grain-hauling trains and occupying the new terminal. The revolt culminated September 8 with 10,000 tons of grain dumped on the tracks.
Early in the morning 800 dockworkers from Washington and Oregon invaded the EGT terminal and opened the hoppers on a 107-car train.
Hundreds had massed in Longview after a rumor circulated that police had broken McEllrath's arm in an earlier scuffle. Ports in Tacoma and Seattle shut down in wildcat actions as workers headed for Longview.
The ranks in Tacoma and Seattle activated strike teams. Member-activists started making phone calls at 9 p.m., finishing hours later. They met in Longview, about 130 miles south of Seattle, at 4 a.m.
Every other major grain terminal on the West Coast is operated by ILWU labor, and the union asserts that EGT's goal is to break the union, ending generations of good jobs.
ARRESTS
After the September 8 action, police began plucking members out of their homes, off the streets, and out of parking lots. Ten days later, about 35 had been arrested, mostly on misdemeanor trespassing charges. All have been released, and the union is paying their $250 to $500 bail.
"They're rounding us up like we're murderers," said Dan Coffman, president of the Longview local. Five police dragged one union official out of his car by his hair, roughed him up, and slammed him into the back of a squad car. Another member was hauled away while caring for his children, two and seven years old, leaving them to fend for themselves in an empty house. Yet another, a part-time minister, was arrested by police wielding assault rifles.
Insisting the one-by-one manhunt was unsafe, ILWU attorneys approached the Cowlitz County sheriff to coordinate the orderly surrender of the entire membership of Longview's Local 21—all 200 members.
The 200 marched silently in two lines from the hiring hall to the courthouse, accompanied by a third line of family members and retirees. Coffman offered his membership up for arrest.
According to workers listening to the police radio band, 30 officers in full riot gear waited inside while the unionists waited outside.
A sheriff spokesman—emerging later to talk to media—said they were unprepared to arrest so many.
Three hours later, police arrested Local 21 Vice President Jake Whiteside in a church parking lot, handcuffing him in front of children and the elderly.
SHIPMENTS RESTART
Grain shipments have been halted to the EGT terminal since July, when the confrontation began.
But EGT decided to force the issue by rolling another train into the terminal September 21 with an 80-strong police escort in riot gear. Three Local 21 officers, including Coffman, were arrested along with nine women from the union's Ladies Auxiliary during a sit-in on the train tracks.
The protesters sat peacefully as police began handcuffing them. One woman, requesting that police be careful with a previously injured shoulder, cried out in pain as an officer wrenched her arm behind her back. She was hospitalized with a torn rotator cuff and arrested the moment she was released. A union member who had moved to assist her on the tracks was pepper sprayed.
The ILWU is calling for supporters to gather at a community solidarity night in downtown Longview on Thursday.
WHO'S VIOLENT?
Union members have shown considerable restraint in the face of a tough situation and constant provocations from police and EGT employees. An EGT worker ran his car into two ILWU members without penalty. A longshore worker allegedly kicked a car that followed, dented it, and was charged with a felony.
The union says allegations that workers held six security guards hostage for four hours were a fabrication of the Longview chief of police. Coffman confronted the chief about the lie.
"He denied he said it and tried to modify his story," said Leal Sundet, one of four ILWU officers on the union's coast committee.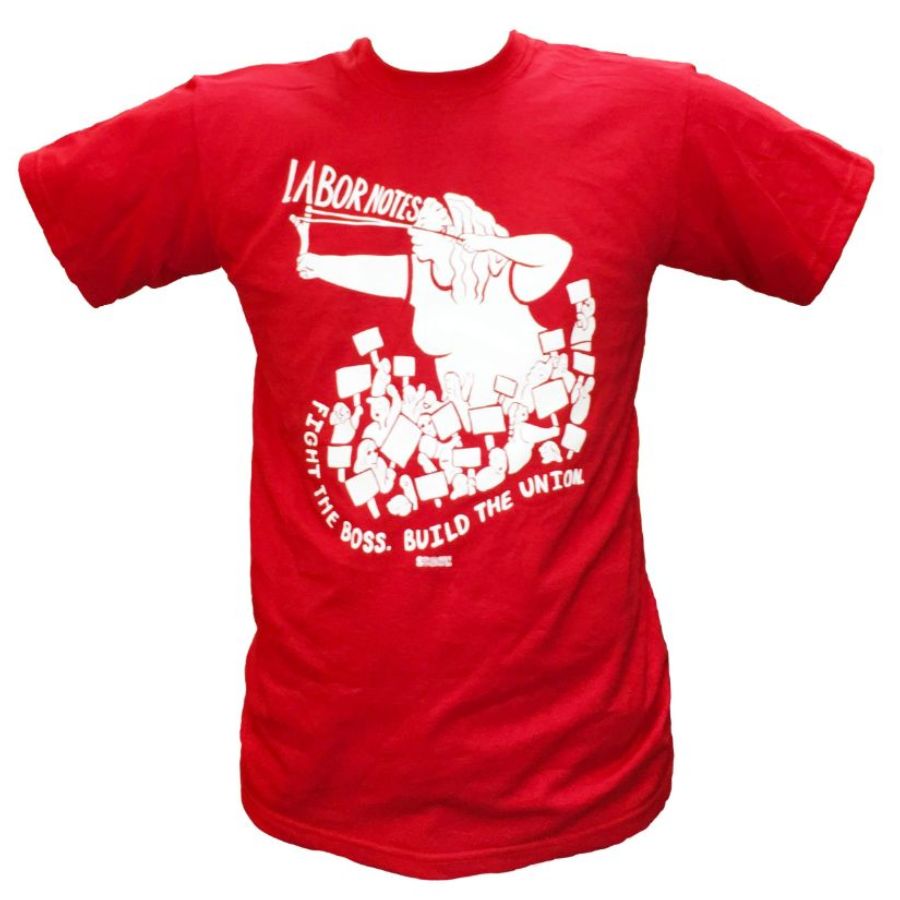 The mainstream press latched on, publishing inflammatory pieces decrying the violence. "I'd be surprised if it wasn't set up purposefully by the PR firm hired by EGT," Sundet said. "Anything that labor does is portrayed as some kind of act of violence."
EGT has also hired Special Response Corporation, a security firm based in Maryland that specializes in strikebreaking.
During one September incident, a camera caught police grabbing a union member by the throat.
"Who's telling the truth here?" asked Coffman. "We have a city government here that's basically EGT's security force. They're beating up people that have lived in this community their entire lives."
Coffman says members are furious that police singled out the union president in a crowd of hundreds and tackled him to the ground.
McEllrath was detained and released after the September 7 incident, but turned himself in to county authorities Monday after learning of a warrant for his arrest. He was cited on misdemeanor charges of trespassing in the second degree and blocking or delaying a train.
All work on the West Coast ports stopped for 15 minutes as McEllrath turned himself over to police. He was accompanied to the station by Ken Riley, a vice president in the East Coast Longshore union (ILA). Riley is also president of an ILA local in Charleston, South Carolina, that saw five members slapped with felony charges 11 years ago after police attacked a picket line.
As Riley traveled the country garnering solidarity for the "Charleston 5," he found it in Longview, where ILWU members voted to assess themselves $20 a month for the defense fund.
The 5, who were protesting a shipper's attempt to use non-union labor, had the felony charges dropped after 20 months of house arrest.
NLRB A 'TOOL OF COMMERCE'
The authorities' attempts to quell the uprising in Longview have not quashed it. Workers defied the initial temporary restraining order, sought by the NLRB, that banned any picketing that blocked cars or trains.
After the grain-dumping, the NLRB sought an injunction against the protests. EGT wanted to force the union to order its members to cease any picket activity.
"We don't care what the board thinks," Sundet said. "We have no respect for it. It's a tool of commerce." At an injunction enforcement hearing, the judge ordered the union to pay for the ruined grain and damage to the terminal pending a study of the cost.
A federal judge issued the injunction, ordering workers to obey the Taft-Hartley law and not to block movement in and out of the terminal.
Initially EGT wanted to operate its facility without a union. But the company settled on a subcontractor that hires through Operating Engineers Local 701, a black sheep organization expelled from the Oregon building trades council for previous raids.
Union members put about as much stock in the AFL-CIO to resolve the conflict with the Operating Engineers as they do in the NLRB. Motions passed in the Washington and Oregon state labor councils and the Southwestern Washington building trades convention failed to budge Local 701.
AFL-CIO President Rich Trumka ruled the dispute a jurisdictional matter, but ILWU won't pursue charges, because it will entertain no argument that any other union has rights to longshore work.
Sundet noted the irony of Trumka's quietude while the ILWU fights for its life.
As president of the Mineworkers, Trumka led the 1989 Pittston mine strike, which used waves of mass civil disobedience to occupy the mine, resulting in injunctions and fines that—on paper—bankrupted the union.
"The tactics they used were successful at the end of the day," Sundet said.
SOLIDARITY FROM NEAR, FAR
ILWU activists say they are confident. The union relies on direct local-to-local solidarity for its power, on a global scale, and messages of solidarity are pouring in from all over—including Wisconsin.
Longview is a densely unionized sawmill town, to the extent that even small bars are still organized. People understand the struggle, and they've backed the union, putting signs in shop windows. A retired sawmill worker walked into the Local 21 office, handing Coffman $20 for the strike fund.
"Working people are figuring it out," said Coffman. "The 98 percent, we better join arms."
The EGT facility could change the West Coast grain industry. Grain elevators in Montana load rail cars that shuttle back and forth from Longview. Grain is transferred to waiting ships in a highly automated process—the terminal might employ only 30-50 workers total, 40 percent fewer than other terminals on the coast.
Looming over the confrontation was the Pacific Northwest's master grain contract, set to expire October 1. The union and the employer group, which EGT refuses to join, reached a new master agreement September 14. The tentative agreement lasts a year, includes a $1-per-hour raise, and follows the pattern set by previous contracts.
The ILWU's bold action looks to have isolated EGT, holding off its bid to ratchet down standards in the industry—for now.