Store Workers Say: Whose Walmart? OUR Walmart!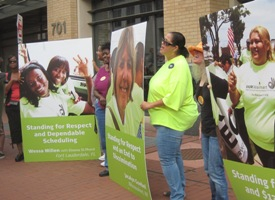 Fear is the main thing stopping retail workers from organizing for better treatment at Walmart, said several employees who are doing just that.
They lost their fear, they said, after they stood up for themselves against tyrannical managers and after they joined 100 co-workers from stores across the country to march on Walmart headquarters in Bentonville, Arkansas, in June.
"I know the politics of my store—they could easily fire me," said Alicia Garcia, a six-year dairy department worker from La Quinta, California. "But I'm not afraid."
The workers are part of a new initiative to improve conditions at Walmart, the largest private U.S. employer with 1.4 million workers. Organization United for Respect at Walmart (OUR Walmart) has organized groups of hourly workers in several dozen stores, some of which have 50 members or more, they said.
The effort is financially backed by the Food and Commercial workers (UFCW). The union argues that raising standards at Walmart is the key to raising U.S. workers' economic level. "Walmart is currently setting the standard for retail and grocery jobs," said the union's Jennifer Stapleton. "And the future of work is in these service sector jobs."
OUR Walmart has humble demands, including respect, affordable health care, stable and fair scheduling, and $13 an hour. OUR Walmart members—current or former hourly workers—pay $5 a month dues and control their own association, said UFCW officials.
Organizers aren't talking about filing for union elections or demanding card-check neutrality, but it's clear that the organizing has created a nucleus of strong activists. Aside from building strength, the next steps are not clear—organizers said they were just "scratching the surface" and acknowledged Walmart's daunting size, with 4,300 U.S. stores.
In Bentonville, the workers managed to get Walmart's vice president for labor relations to talk with them in the parking lot for an hour about working conditions and pay. The filmed discussion ended in a promise that Walmart would not retaliate against workers for the demonstration.
IMAGE PROBLEMS
The OUR Walmart effort coincides with a renewed effort by the company to crack urban strongholds like Washington, D.C., New York, and Boston, where city officials, pushed by grassroots coalitions, have thus far kept the chain from opening unless it agrees to higher pay and affordable benefits.
Flagging sales have left the company more desperate than ever to enter the few U.S. markets it has not yet saturated. Sales are down because unemployment and low pay (like that at Walmart) are leading customers to buy less and to patronize even cheaper alternatives, such as dollar stores.
But new urban markets beckon, so Walmart has launched a charm offensive, throwing money at charities, including a Harlem youth program and Black History Month in D.C., and painting itself green.
"Walmart had to clean up its image and look like a more responsible company," said Stapleton. This has given OUR Walmart members some protection from retaliation.
The company needs all the help it can get with its image because its reality is ugly.
An independent study put Walmart's average hourly wage at $8.81, or less than $15,000 a year at Walmart's "full-time" 32-hour work week. But many employees get fewer hours, and random and unstable scheduling is a big concern.
In its effort to enter the D.C. market, Walmart claimed it pays an average of $12.57 an hour. This came as a surprise to Cynthia Murray, a Maryland Walmart worker of 11 years, who said she's "nowhere close" to that.
Getting paid is another problem. Walmart has been widely charged with wage theft—forcing workers to work off the clock, not paying overtime premiums, and stealing break and lunch times. In what was widely seen as an image-burnishing move, the company settled some 63 class-action wage theft suits out of court in 2009, paying out up to $640 million.
"Ethically, I don't understand how this corporation keeps doing what it's doing," said Barbara Collins, a five-year employee in Placerville, California.
PULLING TEETH
Workers speaking at a national Jobs with Justice conference in August said their co-workers can't afford to buy their children medicine and some live in their cars. Jackie Goebel said a co-worker in Milwaukee twice pulled out his own infected teeth because he couldn't afford dental care.
The "associates" reported being treated like children, having to ask permission to take bathroom breaks and being humiliated by managers in front of customers.
Managers are trained to treat workers with disrespect, said Murray. "'Associate' means equal partners," she said, "which we clearly are not."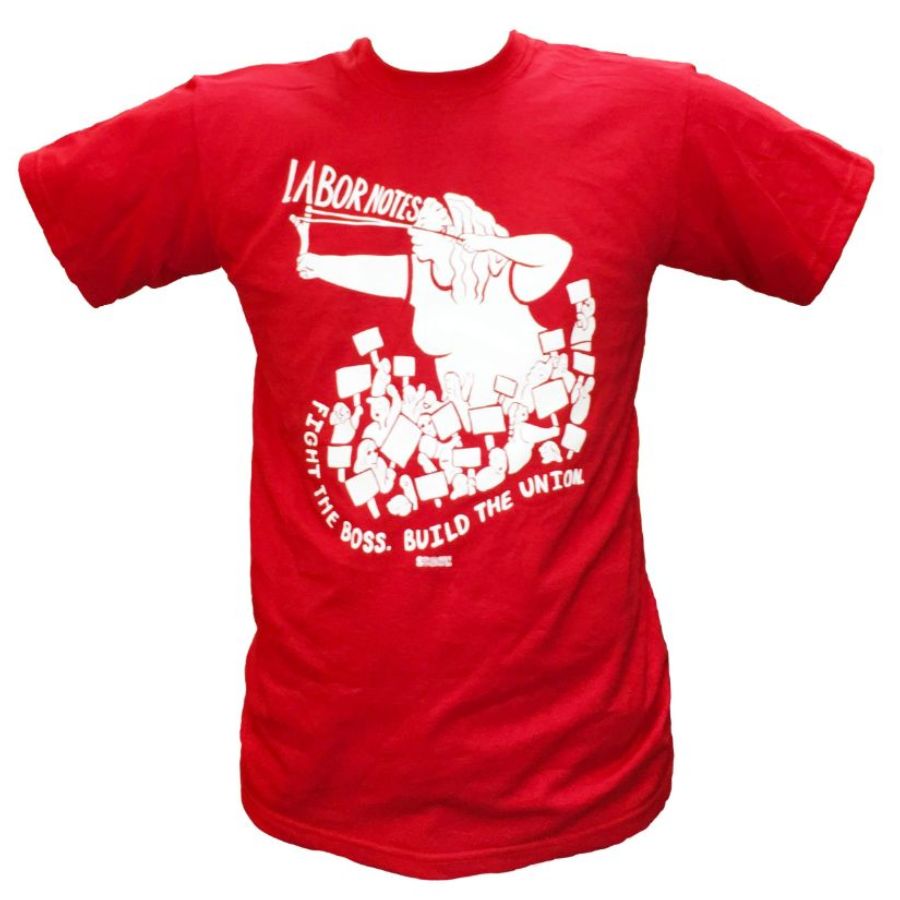 No Walmart in the U.S. has been successfully unionized, and earlier efforts to form committees of workers sank under management pressure. New hires receive anti-union indoctrination and the company sends barnstormers to stores showing signs of unrest.
When meat-cutters at one Texas store voted union, the corporation moved to pre-cut meat. Canadian stores that organized were simply closed. Between 1998 and 2003 the National Labor Relations Board brought 41 charges against Walmart for illegally firing union supporters.
Walmart has not yet hit back as hard as it could at OUR Walmart, probably because it's worried about the brand's image. While the group can't claim a majority, it has the strength of a national network that can get media attention.
Still, the organizing is getting plenty of reaction from management. Collins said a monitor above the time-clock at her store says, "Do not open the door or answer the phone to anyone from OUR Walmart."
"Walmart doesn't like anyone who speaks up," said Goebel, a 23-year employee from Milwaukee. "I see fear on the faces of fellow associates. Walmart has such power."
"Getting over everyone's fear is the biggest struggle. Everyone is so afraid to say 'I'm a member,'" said Collins. "Once you get rid of that fear it's so black and white—to be able to put food on the table."
RETALIATION
Workers have faced retaliation for participating in OUR Walmart, including dismissals and shortened hours. But in several cases members raised a fuss, circulating petitions or meeting with managers, and the workers got their jobs or hours restored.
Lanette Raven of the Laurel, Maryland, store said after the Bentonville trip she had a "paparazzi of managers" following her, asking her co-workers to report what she said to them. Her hours were cut, while fellow member Alan Forrest, a greeter, was ordered to hand out fliers outside all day during the summer heat wave.
Objections from OUR Walmart netted a call from corporate, which stopped the discipline, workers said.
Community pressure helped, too. After the retaliation, the Laurel store was treated to a brass band, singers, and a 100-person dance chorus. "R-E-S-P-E-C-T, find out what it means to D.C.," the flash mob sang.
Respect D.C., a coalition demanding Walmart sign a community benefits agreement if it wants to be in the city, was behind the action. The deal would guarantee $11.75 an hour minimum pay and require that Walmart recognize a union if a majority signs up, measures the behemoth has always rejected.
Winning higher wages for Walmart workers may well be do-or-die for grocery unions. Walmart has far outstripped the largest union grocery chains in food sales. Venerable A&P, once the nation's largest grocer, declared bankruptcy in December, in part due to competition from Walmart.
Unionized Southern California supermarkets used the threat of Walmart competition in 2003 as a bludgeon to demand two-tier wages, leading to a painful and unsuccessful 141-day strike. Now those same chains—Vons, Ralphs and Safeway—are coming at workers with a Walmart-style health plan with a $7,000 out-of-pocket maximum.
During negotiations, Vons mailed its workers applications for Medicaid, a tactic Walmart has also used. The 62,000 workers at the three chains have voted to strike if the health care proposal is not improved, and have spent all summer building community support in case they walk.
GETTING A TOEHOLD
Walmart once bragged about its union-bashing, but in the 15 countries where the company has stores, the U.S. is now the only one without a single union location.
In South Africa, for example, unions and government got Walmart to promise to recognize the union at a competitor chain it wants to acquire.
Union and community coalitions in U.S. cities have been bringing similar pressure to bear. In New York, the city council has not allowed Walmart to build any stores, calling them a threat to neighborhood businesses and union supermarkets.
So Walmart is trying to do an end run around city building permits by leasing space in an existing mall. It still faces strong opposition from the council, small business groups, and a broad union coalition.
"We've fought in every way we know how," UFCW President Joe Hansen told the Jobs with Justice conference. He said it was time for a sophisticated worker-led campaign.
Protesters at a subsequent D.C. rally wielded huge pictures of OUR Walmart members, with their names and home towns, a defiant demonstration that they are not afraid.