Airport Screeners Built Union the Old-Fashioned Way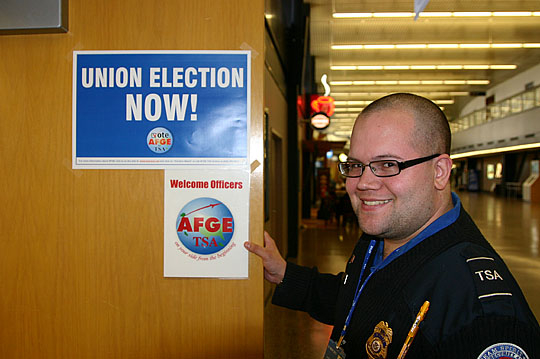 For nine years the Government Employees union campaigned for airport screeners' loyalty by representing them on the job, unsure whether it would ever be able to offer them official representation.
AFGE's strategy—walk like a union, talk like a union—paid off June 21 when 44,000 screeners won representation in the largest-ever election for federal employees.
"We acted like a union even though they told us we weren't permitted to do that," said Kim Kraynack-Lambert, president of the screeners' local in Pittsburgh.
Screeners chose the Government Employees over the Treasury Employees (NTEU) 8,903 to 8,447 in a squeaker runoff.
Transportation Security Administration workers are bucking the tide of attacks on public employees. A long-anticipated administrative decision from their agency's head granted them collective bargaining rights in February, just as governors were firing opening salvos against public employee bargaining.
AFGE used an unusual game plan, signing up dues-paying members, organizing locals, and representing workers in disciplinary hearings even though collective bargaining was prohibited at the agency from its inception in 2001.
"Conventional wisdom was, there's nothing you can do," said Sharon Pinnock, AFGE's organizing director during the decade-long campaign. "Well, who says?"
Pinnock said unions have come to see themselves primarily through the lens of collective bargaining. When TSA was set up, AFGE organizers thought, "How did people form and join unions in the first place?"
USE MANAGEMENT'S MANUAL
AFGE tested the waters early with a bid to certify a union at the Baltimore airport in 2003. That failed, but the union continued to build, using the agency's employee manual to wrest victories in disciplinary hearings, and helping Transportation Security Officers (TSOs) with discrimination and worker's comp claims.
Meanwhile, the union hammered at Congress, trying to win bargaining rights. A collective bargaining measure passed both houses of Congress in 2007, prompting rival NTEU to escalate its effort, Pinnock said. The provision was removed after a Bush administration veto threat.
By 2010, a quarter of the TSA workforce had joined AFGE and the union had established 37 locals covering all major hub airports.
In Memphis, 65 percent of the unit signed up, changing the tone of the workplace.
"Management knows," said Valyria Lewis, president of a local for four Southern states. "There's a totally different attitude and atmosphere at airports where you have those numbers versus airports where you don't."
Every step of the process has been a battle, activists said. Republicans in the House passed a budget in late June that prohibited government funds from being used for collective bargaining at TSA. (The Senate is expected to void the measure.) That move came after a failed Republican effort to overrule the TSA director and outlaw a union at the agency, and amidst continuing efforts to privatize airport security.
NO, YOU CAN'T
When the Bush administration formed TSA after the September 11, 2001, attacks, workers were explicitly told they couldn't be union members.
"We were actually told in our orientation we couldn't be in a union and if they found out we would be fired," recalled Lewis, who was hired in 2005.
She saw AFGE leaflets at the Dallas-Fort Worth airport and brought them home to her co-workers in Memphis, insisting that they could join. "Nobody believed me for about a year," she said.
Initially, management came down hard on union members. Kraynack-Lambert said management changed her shift, took away her responsibilities, "anything to make me leave the job."
Lewis said she was called into the office so many times her co-workers would ask, "What time are you going to the office today?" When she circulated a popular petition on scheduling, management made the change but suspended her the next day.
The number of security officers fired for union activity is in the "dozens, maybe hundreds," said AFGE's Pinnock, who recently retired.
WE'VE GOT ISSUES
Workers at TSA describe an agency riddled with favoritism, inconsistent rules, and discrimination. Raises are tied to subjective tests. New hires face two years of probation—some are fired weeks before becoming permanent. Taking sick leave is frowned upon and is restricted. Pay is well below similar federal jobs like customs agent.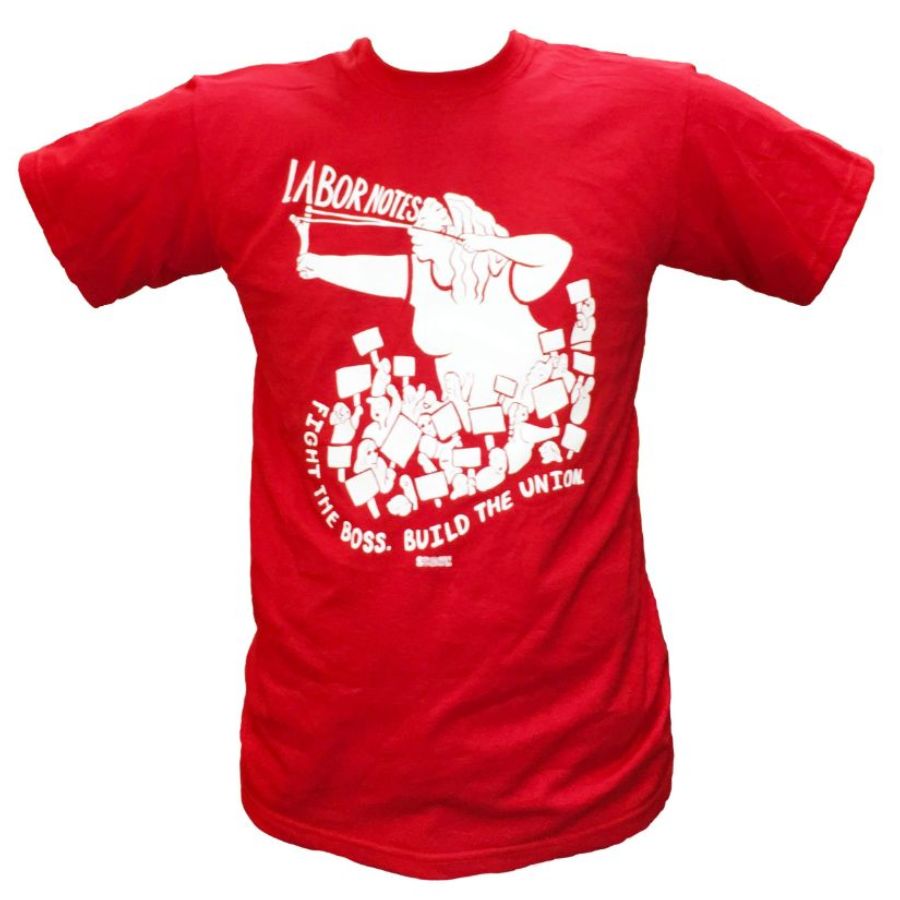 And when management rolled out new, invasive pat-down procedures last fall, workers were called perverts and derided in the media.
When workers list what they most want to change, respect comes up a lot. The agency ranks 220 among 224 federal agencies in employee satisfaction.
Women officers are given worse schedules and promoted less because of "operational needs," as the agency calls them. TSA passenger pat-downs must be done by an officer of the same gender, but at many airports male screeners outnumber women two to one. As a result, women are chronically denied time off on weekends or holidays, no matter their seniority.
Kraynack-Lambert said many women are put on passenger duty exclusively, and can't screen baggage. The practice stunts women's chances for promotion and transfer and suppresses their pay, since there's a bonus if you perform two functions.
In Memphis, management recently posted a memo saying that women lead officers would not be allowed to inspect baggage any more. Union members brought an EEOC complaint, said Lewis, one of several group grievances AFGE has pursued on behalf of women officers.
NOT FAMILY-FRIENDLY
"TSA has zero family-friendly policies," said Kraynack-Lambert. In some airports, she said, managers believe "leave use is leave abuse."
Management habitually lies to workers about the Family and Medical Leave Act, said union activists.
Policies denying leave have even led to miscarriages among women workers at Chicago's O'Hare airport, said lead TSO Ricky McCoy, because "they can't get proper time off work" when they have problems with a pregnancy. McCoy is president of Local 777, representing airports in Illinois and Wisconsin.
TSOs take an annual recertification test that determines whether they will receive a raise. Much of the test rests on a supervisor's judgment.
Linking testing to raises opens the system to abuse. After AFGE complained about one supervisor, a TSA investigation found he was deliberately flunking workers to save the agency money.
The testing is part of a biased and opaque pay-for-performance system, which AFGE aims to end in favor of adding TSA workers to the same pay schedule as most federal workers. Like other federal workers, security officers can't negotiate their pay or benefits, but unlike them, they don't receive regular raises.
WAITING GAME
Keeping up momentum in the campaign was difficult, organizers said. AFGE won workers' praise for defending them in hearings, but often didn't have the tools to win, leaving the union open to criticism from the Treasury Employees union, which had less track record to criticize.
After Obama's election, AFGE organizers forecast rapid change, but the administration was slow to appoint a new agency chief. Then the first two picks withdrew. Some TSOs finally told Pinnock, "We have heard this so many times before—we're sorry, but we just don't believe you."
John Pistole took the reins in June 2010. Seven months later he issued a directive granting limited bargaining rights.
Anticipating the announcement, AFGE and NTEU had already filed for an election. Both unions had been active on Capitol Hill, but AFGE's reach and effort were deeper in the airports.
A bitter campaign ensued, with the unions trading barbs. AFGE threatened to sue its rival when it claimed that AFGE did not represent officers.
In April, 84 percent of security officers voting picked one of the unions, with 16 percent voting for "no union." AFGE won the June runoff by less than a 500-vote margin. NTEU said it is "unlikely" to appeal the tally.
AFGE will present a national contract proposal by early August, President John Gage told members, and hopes to sign a contract within six months.
"It's kind of amazing to think about," said Kraynack-Lambert. "We had no rights."
Pinnock said one lesson from the campaign is "Don't take no for an answer. Don't be so quick to let the boss decide whether workers can have a union."