After a Year of Disappointment and Defeat, Where Are the Pitchforks?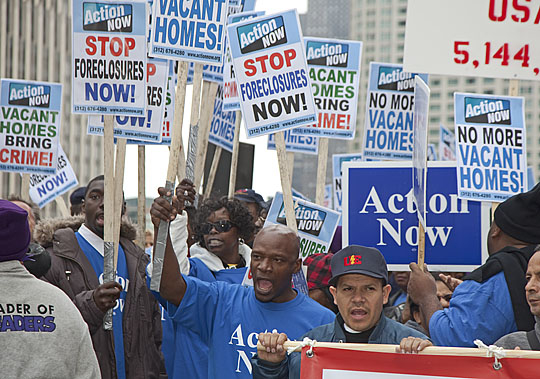 The explosion that ripped through a West Virginia coal field April 5, killing 29 miners, was a haunting reminder of just how little has changed since a dozen men suffered the same fate four years ago in the Sago mine. On the heels of that tragedy we passed laws to rein in scofflaw companies like Massey Energy.
But Massey didn't miss a beat, chalking up an audacious record: one of the worst environmental disasters in the coal industry's history (dumping 300 million gallons of black sludge into the Sandy River); over-the-top meddling in politics (spending $3 million to secure a friendly seat on the West Virginia Supreme Court and overturn a $70 million legal judgment); serial union busting (smashing three organizing drives at Upper Big Branch with threats to close the mine); and repeated flouting of safety precautions, resulting in the deadliest mine disaster in a generation.
Things were supposed to be different by 2010, and not just in the mining industry. The economic crisis had everyone convinced that banks and corporate honchos had too much power; their greed-is-good bubble had popped. Our 30-year love affair with deregulation was over. The swashbuckling executives who spent the last generation fattening corporate bottom lines—and their own bank accounts—would be put on a short leash, especially with a new Democratic administration in D.C.
Business Week spoke of "a fundamental rethink of the proper boundaries between the public and private sectors" and said "once-cherished assumptions about the superiority of the U.S. economic model are now in doubt."
A year and a half later, it looks like nobody told Washington or Wall Street. The rich are still cruising down easy street while the rest of us are stuck in a ditch.
With millions still unemployed and millions more losing their homes, politicians are now talking about the biggest economic crisis in our lifetimes in the past tense.
Bankers and CEOs crashed the economy—but turn on the news and somehow auto workers and school teachers are the real problem!
WHERE ARE THE PITCHFORKS?
This upside-down explanation of economics and politics tends to stick when Tea Party protesters are the ones making the news. They're right to break out the picket signs and pitchforks—that's the way to push Washington. But they're wrong about what's wrong—especially when they show their racist stripes or blame immigrants—and even wronger about what to do about it.
Why aren't there more union members in the streets? The grassroots push from Jobs with Justice notwithstanding, why did labor's efforts to channel the nation's anxiety and anger feel so feeble?
We took our foot off the accelerator exactly when we needed to stomp on it. The election wasn't the finish line, it was the quarter-mile mark. The real work was just starting: after GOTV, we needed GOTR—Get Out The Results.
Instead unions took their marching orders from the White House: wait (again) on labor law reform, support a health insurance bill with little labor wanted but with the main ingredient we wanted to block. Forget immigration reform, and let the banks get back to business as usual.
"A year ago we never thought we'd be aiming this low," CWA President Larry Cohen said of the health package. But it was predictable if we were content to play the inside game, the visits-to-the-White-House tally.
THIRTY YEARS WAR
It's easy to point fingers at labor's top brass. AFL-CIO headquarters hasn't passed out any pitchforks. But where were the ranks? They were still reeling from a generation of defeats, some caused by changes in the economy, some by our pathetic labor law, some from self-inflicted wounds.
Over the last 30 years we saw many heroic battles, from PATCO to Hormel to Pittston to Staley to UPS to the immigrants' rights marches of May 2006. But too often, top union leaders pulled punches even when survival was at stake. Sometimes we did use all our strength and strategy, and lost anyway. People learned that a neck stuck out can end up in the guillotine.
The past 18 months have made clear that politicians aren't going to lead us to the Promised Land. What's our Plan B?
TRAINING PROGRAM
If labor's going to find our own way—and bring everyone who's been steamrolled by corporate America along with us—we need to rethink: what is it that makes a union strong?
The work ahead of us is simply too much for smart staffers to handle it all. It requires an exponential increase in the number of members who have authority to develop strategy and take action.
The best place to start is the workplace. Employers show up every day ready to prod, bully, and sweet-talk us into working harder for less money. Every time we stand up to them, saving ourselves a little dignity, it costs them—and it builds the union.
Scratch the surface of recent victories and you'll find an organized network of worksite leaders who grew strong in the daily tug of war with the boss.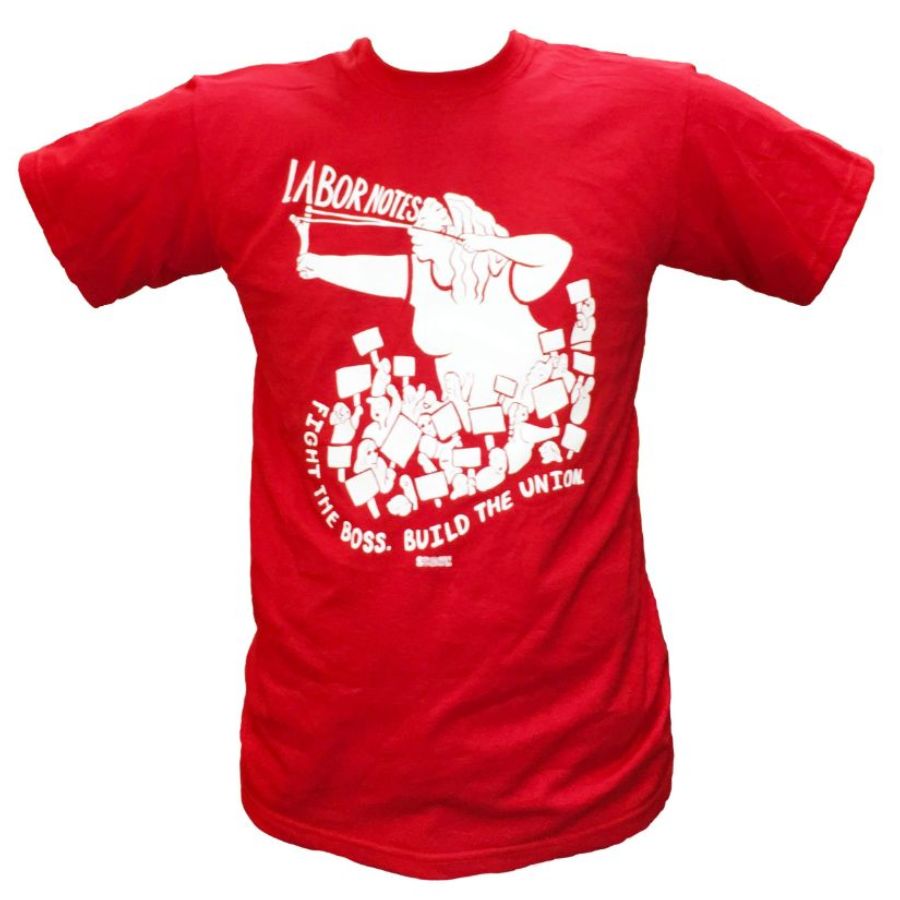 From the non-union workers at Smithfield's hog plant who echoed "Norma Rae" by writing "Union Time" on their hardhats, to the New Jersey public workers who drove their governor crazy with nonstop pickets until he relented on furloughs, a deep bench of stewards and workplace activists was the cornerstone of victory.
Members deeply invested in their union are also key to understanding why the upstart National Union of Healthcare Workers beats the mammoth Service Employees (SEIU) and its legion of staff in hospitals across California. As NUHW organizer Paul Krehbiel wrote, the secret weapon is stewards. NUHW wins now because it had built stewards councils before: worksite leaders known and trusted by fellow workers.
A real union on the job isn't enough, of course. We need community allies, organizations that fight for non-union workers, solidarity among all of them—and strategies that, as Joe Burns writes, make an employer's pocketbook bleed.
The 1997 UPS strike won, for example, and inspired even non-union workers, because the Teamsters trained members for a year on mobilizing tactics, reached out to the public with a good issue (full-time jobs), and hurt the company financially. We can't win without reviving the strike.
EVERYONE'S VOICE
We've got a long way to go before unions are once again the voice of all working people. In a February poll, 42 percent had an unfavorable opinion of unions, while only 41 percent were favorable. That's the lowest number in 25 years, and a big drop from just three years ago, when 58 percent were pro-union.
The falling numbers reflect the blitz against unions during the Employee Free Choice Act campaign, which showed that when unions are invisible in communities, ludicrous storylines stick.
AFL-CIO leaders try to speak up for everyone in their speeches. They usually say the right things. But far more important is what local unions do in their communities. How many union halls are centers of community activity, places where a multitude of causes are welcome, from anti-foreclosure fights to environmental justice? How many are bases for worker centers or other groups organizing immigrant workers?
When unions adopt the attitude that defending members can't be done without lifting up everyone, we've regained half the reputation we need to recruit new members.
Sometimes it's a bold action that catapults a union into the public eye, like the occupation at Republic Windows and Doors. But opportunities to create defining moments don't fall into our laps. Who's planning the next Republic?
DEFENDING US ALL
Part and parcel of speaking out for everyone is defending the common good. So we stand up for public services and against privatization and against the idea that government is evil.
But too many public sector unions are afraid of the public. Some, like the Toronto city workers last summer, stumble into a confrontation unprepared to link their fight to others', fearful that the public resents their pensions and benefits. Other public worker unions, as in Illinois, are reaping the bitter fruit of deal-making with elected officials, which tainted unions in the public eye.
But even if your governor doesn't end up in jail, universal budget crises leave public unions no choice but to make hard political arguments about the value of public services and public workers.
The California Federation of Teachers and AFSCME are a good example. Last month they launched a 48-day, 250-mile march across the heart of California made up of teachers and other public employees. Invoking the United Farm Workers' similar pilgrimage 44 years ago, the marchers are protesting cuts to public education, public health, and public safety and demanding fair taxes to "rebuild state government so it works for everyone."
The teachers have garnered support throughout the small towns and cities of the Central Valley because they are fighting for more than just their members. Their dramatic action is the kind that can light a spark.
CUT THROUGH THE JUNGLE
All this comes back to what view of the world our members have. Glenn Beck and his ilk bombard us with fear and dog-eat-dog individualism. How do we get back to "an injury to one is an injury to all"?
Mostly by proving that solidarity works, in both our workplaces and our communities. But we can also live up to our duty to educate.
When a steward steps into a grievance meeting, she doesn't want the boss to know something she doesn't. Similarly, union leaders disarm members if they don't lay bare the reality: capitalism acts the way it does because it has to.
When bankers risk your money in speculation or foreclose on your house, it's not because they've forgotten the Golden Rule. It's their job to make the largest possible profit—in fact, it's their legal obligation to shareholders. When your employer demands wage cuts, it's not because he's greedy (though he is). It's because the rules of capitalism are "prosper or die," and the owners of capital would rather we did the dying.
Don Blankenship, the ruthless CEO of Massey Energy, has always been clear about this set-up. In a documentary about Massey's 1985 showdown with the Mine Workers—where the company started to break the industry's pattern agreement—Blankenship explained, "Unions, communities, people, everybody's going to have to learn to accept that in the United States you have a capitalist society."
For Blankenship, that meant "it's like a jungle, where a jungle is survival of the fittest."
What we do about that is up to us.