March 4 Day of Action Ripples Through California and Beyond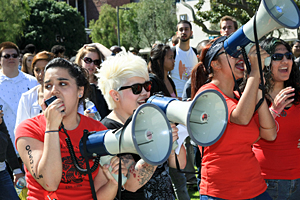 Walkouts, student strikes, and marches shook every level of California's embattled public education system on March 4. University of California students blocked access to campus entrances at Berkeley and Santa Cruz in the morning. In the afternoon, college students joined forces with K-12 students and teachers in downtown Oakland, San Francisco, San Diego, and Los Angeles.
The rallies numbered in the thousands—some estimate the gathering in front of San Francisco's Civic Center at 20,000. In Oakland and Davis, hundreds of marchers confronted police after taking their protests onto the freeways.
The call for action against crippling state budget cuts—$17 billion in two years to the state's education fund—and the UC administration's crisis of priorities was taken up on every UC and state college campus—and echoed by students, teachers, and campus union activists in 32 states.
A major target is Governor Arnold Schwarzenegger and state legislators who ready their machetes as another $20 billion budget deficit approaches this year. The state's unwillingness, and inability, to raise revenue has already taken a toll, and organizing has been underway for months leading up to the day of action. The state's three-tiered education system—10 UC campuses, and dozens of state and community colleges—has taken a 20 percent funding cut from the state in three years. Student fees at state schools have exploded by 182 percent since 2002.
While state funds drop, student fees at colleges have spiked, and programs and classes have been cut, while lecturers and campus unions face layoffs and furloughs.
K-12 schools are under siege too: districts are privatizing, and President Obama's education funding plan cheers them on. In Los Angeles, K-12 teachers joined students at an after-school march downtown. Teachers and school district employees got word that 5,200 more layoffs are coming this year. Some jobs were saved with stimulus money after the union's protracted battle last year, but class sizes are exploding nonetheless. In Oakland and San Francisco schools, students and teachers walked out of class during a morning "disaster drill" called jointly by unions and school districts.
The scope of the problem has resulted in a broad list of demands, many of them more like long-term goals. Organizing committees in the north and south formed out of a late October conference of 800 people at Berkeley which initiated the March 4 day of action. Debates within those groups resulted in a list of demands. In Oakland, organizers are calling for fully funded, free, quality public education—pre-school through higher ed; an end to the federal No Child Left Behind Act and the Race to the Top competition; a restoration of all public sector cuts and an expansion of public services; full citizenship rights for immigrants and an end to ICE raids and foreclosures, to name a few.
UC Berkeley professor George Lakoff is sponsoring a long-shot ballot initiative to overturn the two-thirds majority requirement that allows a handful of anti-tax Republicans to create perennial gridlock in the state legislature. Proposition 13, the 1978 initiative approved by voters, created the two-thirds rule and also capped commercial property tax rates.
At UC, campus unions and students have organized together for months—led by two Technical Employees (UPTE-CWA) strikes over the past half year. This time UPTE gained a tentative agreement with raises days before March 4. No unions struck, but campus workers joined marches statewide.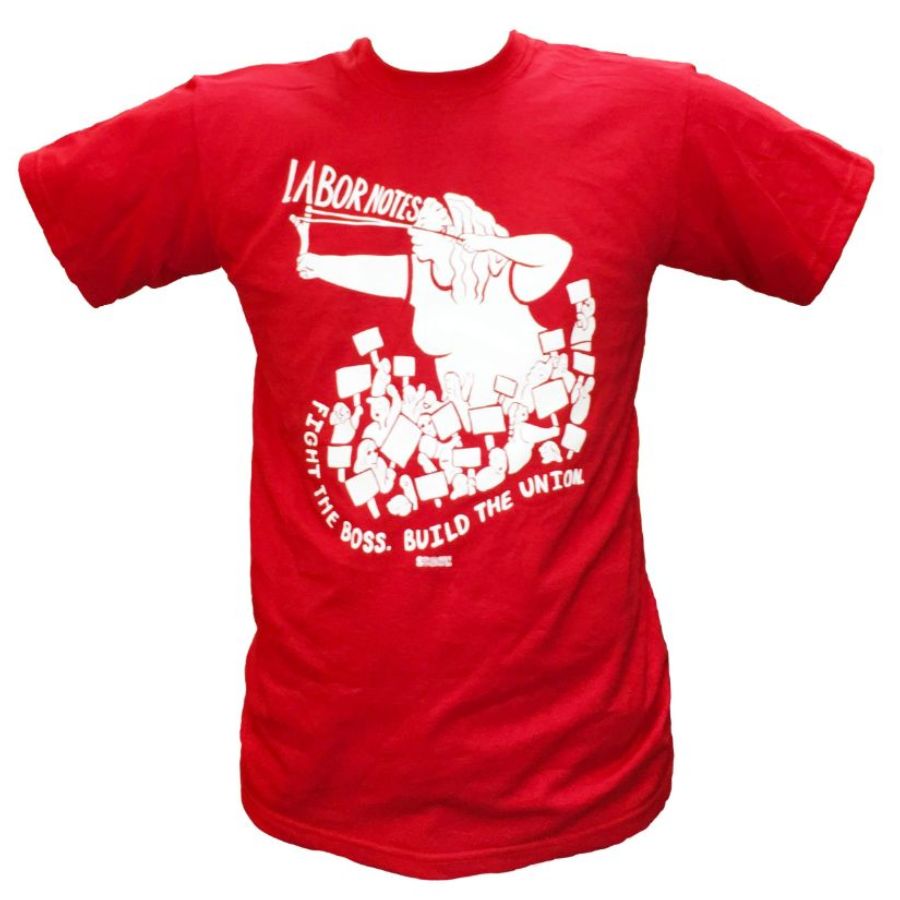 Students contend the problem does not reside entirely in Sacramento. Though many argue for a diversity of tactics to target school administrators and state legislators, campus organizers were critical of the decision by a progressive faculty group to bus hundreds of students and teachers to Sacramento for the day. Dick Walker, a professor with the faculty-based group SAVE Our University that organized the trip, explained the action as a way to bring together pressure from all levels of the education system to the capital.
Students who blocked an entrance to Berkeley's campus March 4 say that's just what their march to Oakland, which brought more than 1,000 of campus activists to City Hall, was meant to do. Meanwhile, they maintain, the growing movement must not let UC administrators—taking in fat executive salaries—off the hook either.
The week before March 4, students took over Durant Hall, formerly an East Asian Languages building. Now it's being renovated—with money leveraged from the recently announced 32 percent fee hike—for use by deans. It's "another administration building," as the students call it. And by pursuing private fundraising to stay afloat, and cutting costs and union power through private contracting of campus services, the university is looking for corporate solutions to a public concern.
While the UC regents blame the state for their financial straits (UC head Mark Yudof latched onto the March 4 protests yesterday), students are calling them out over how they use money the school does have.
Campus expansion proceeds apace, including a recent multi-million dollar proposal to renovate Berkeley's football stadium. Months of library and building takeovers, forums, and experiments in democratic organizing throughout the state have been animated by a call for free public education, to democratize the regents (who are appointed), and more transparency around the UC's spending, salaries, and investments. A state senator initiated a full audit of the UC administration and its budget this month.
The crisis of priorities—and resulting student fee hikes—is exacerbating long-standing problems of access to higher education for working-class students and students of color. Black and Latino students are vastly underrepresented at UC campuses: 1 percent of UCLA's 26,000 undergrads, for example, are Black. The fight for racial justice at the university far precedes the budget crisis—and has become a major element of the March 4 mobilization.
At UC San Diego, a campus whose freshman class is composed of only 1 percent Black students, administrators tried to tamp down anger over a racist fraternity party defended by a student-run television station and in a student "humor" magazine. Days later, students mobilized in the hundreds demanding "real action" after walking out of a university-sponsored teach-in on race relations. The madness continued: a noose was discovered hung in a school library (a student turned herself in, claiming she didn't know it had hateful connotations). Then, a KKK-style hood was found on a statue outside the school's library.
Students and faculty supporters say the incidents are the result of institutional policies that have marginalized people of color on campus—creating the conditions for racism to fester. The state's ban on affirmative action programs in 1996 spurred a drop in Black and Latino enrollment in UC schools. Eric Gardner, a member of the student-worker coalition that organized for March 4 at UCLA, says the fight for racial justice is intimately tied to the battle against budget cuts and privatization. "More fees, more cuts to programs that serve underrepresented communities—it's all serving the re-segregation of the university," he said.
Walkouts and marches also happened on hundreds of campuses and cities across the country—including big rallies and building takeovers in New York. In the face of continuing budget problems nationwide threatening to stamp out a dwindling number of public institutions, March 4 organizers know more cuts are coming. But they're equally aware of the importance of a short-term victory: the unprecedented mobilization across states, unions, and generations. "I had gotten very pessimistic over time, but I'm not now," says long-time Oakland teacher activist Jack Gerson. "We're starting to see a mass movement, and this is just the beginning."