Budget Woes Prompt Privatization Fights in Public Transit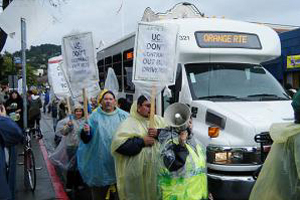 As budget-butchering legislators and executives slash away at public services and public workers, they're reaching for a familiar tactic: privatization.
Privatization Watch, an information clearinghouse, counts 411 battles over privatization between 2008 and 2009, from a riot at a Kentucky prison provoked by a contractor's lousy food to a Republican governor in Indiana who killed a billion-dollar contract to outsource welfare-benefits after big delays and denials to qualified applicants.
Only 30 proposed privatizations were stopped. But one arena where unions are generating outsized heat lately is transit.
At the University of California, no stranger to budget woes, Lawrence Berkeley National Laboratory has seen a fierce fight over its contracting out of bus service.
Thirteen bus drivers, members of AFSCME Local 3299—some with more than 10 years' experience—were replaced in the privatization scheme when the new operator MV Transportation took the reins January 19.
"I think it's a pilot program," said Kat Bedford, one of the displaced drivers, suggesting that if UC gets away with outsourcing 13 jobs it will shoot to replace all 200 bus drivers across UC's 10 campuses and five medical facilities.
Safety and reliability suffer in privatization schemes, said Local 3299 organizer Liz Perlman, noting that driver retention is a constant problem for low-wage, bad-benefit transportation companies.
The university's contractor, she said, boasted that it has kept drivers for as long as two years.
DANGER TO OTHERS
The terrain surrounding the lab is treacherous, with sharp turns, blind corners, and steep hills, but new drivers get only a month of training. In the first two weeks of privatized operation, MV drivers ran into a car, forced drivers off the road, and nearly hit a bicyclist.
In his complaint to the MV contract manager, the bicyclist wrote that in thousands of rides over the last 20 years, "I never had an incident like this with the old shuttle buses."
BEATING OUTSOURCING
AFSCME Local 3299 scored a victory February 24 when the University of California administration agreed to halt plans to outsource shuttle service at the Berkeley campus. The university was looking at final bidders with plans to sign a contract by April 1 to begin privatized service in May.
The union ran an aggressive campaign against privatization, including recruiting student activists to ride buses and make announcements to passengers about the outsourcing scheme.
Meanwhile drivers at the university's Lawrence Berkeley Laboratory are still fighting for their jobs and are painstakingly documenting service and safety complaints to show how privatization really works.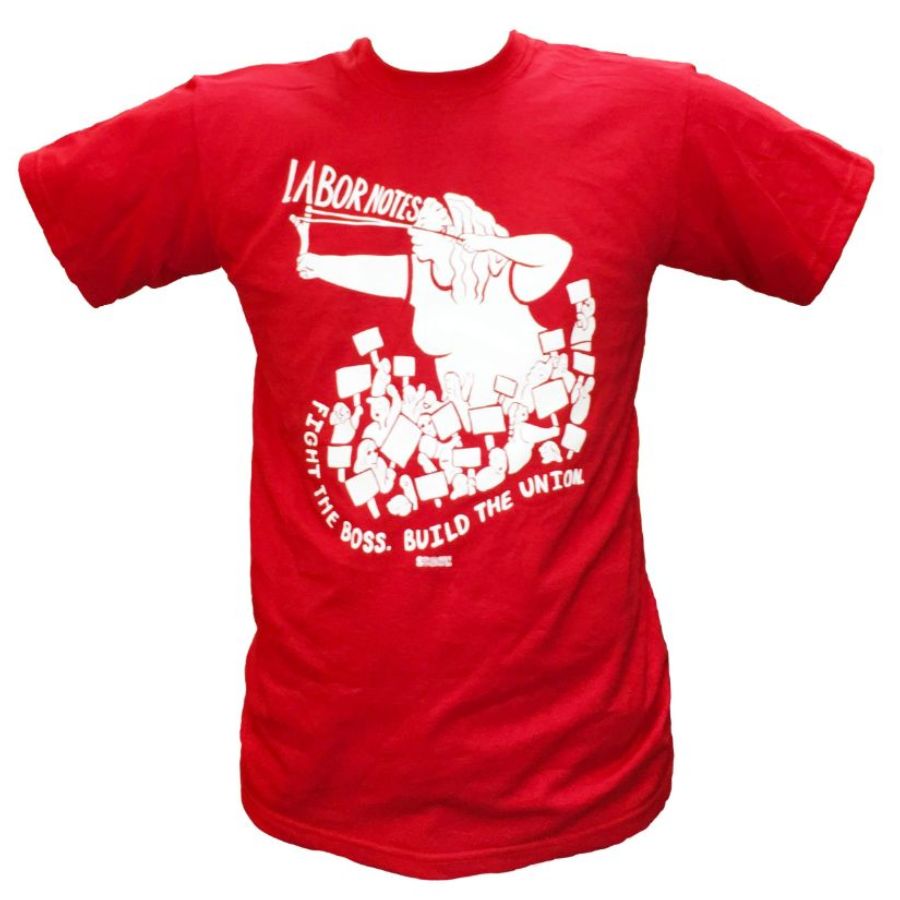 "Buses are breaking down because they are running them too much," said Liz Perlman, a staff organizer for Local 3299. "That's what you get when you pay for a cheap contract."
The drivers and the union are taking action to stop the privatization and see it doesn't spread. A group of 200 Local 3299 activists, supporters, and officers including President Lakesha Harrison surrounded one MV bus in protest on January 20. Thirteen were arrested.
Already administrators are considering transit privatization at the Berkeley campus, prompting drivers and organizers to meet with fellow union members at the university to prepare.
Local 3299 is seeking a moratorium on privatization of bus services, and has enlisted help from students, faculty, and other staff. It's leafleting campuses daily, but the core of its strategy is to apply pressure on the university's regents through worker actions.
STUCK IN THE MUD
While some unions are taking up the fight against privatization, others lag behind, leaving defense of public sector jobs to rank-and-file activists.
"My local is kind of stuck in the mud," said Chai Montgomery, a K-12 bus driver in Ann Arbor, Michigan, and member of Teamsters Local 214.
Drivers in Ann Arbor have been working without a contract for two years under wage and hiring freezes and reduced overtime allotment.
The school board, facing a budget deficit of $20 million over the next three years, is considering bids to privatize its bus service or turn it over to the county. Either way, the union is in trouble.
Drivers are staring down a double barrel: unemployment if the district privatizes, or a $2 wage cut and reductions to health benefits if the county takes over.
The board reviewed two bids February 12 but will wait until April to see what the county can offer before it makes a decision.
"This is a window of opportunity for activists to fight," Montgomery said. Local 214 troublemakers are speaking against privatization at weekly school board meetings and holding informational pickets outside. They're drawing support from the NEA-affiliated Teachers and AFSCME Local 1182 custodians, too.
INSTABILITY
At Georgia Tech, 40 members of Teamsters Local 728 were fired when the school switched transportation contractors in January. During previous transitions, new contractors rehired the incumbent drivers. That practice changed after drivers voted to join the Teamsters in March 2008.
Ben Speight, organizing director for Local 728, said the union is pressuring Georgia Tech's administration to force the new contractor, Groome Transportation, to rehire the drivers. It has enlisted the help of students, who have shown enthusiastic support for the union. After holding three rallies and filing an unfair labor practice charge, the union has forced Groome to rehire four Teamsters and intends to pursue the struggle until the remaining 36 are back in the driver's seat.