Under Shadow of Corruption Scandals, SEIU Launches Hearings Against Dissidents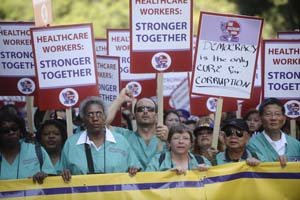 It's crunch time for the November election, but top officials in the Service Employees International Union (SEIU) are struggling to focus as corruption scandals and internal divisions over a threatened trusteeship spread across the union.
Since mid-August four International Executive Board members have left their posts in the wake of reports detailing corruption and cronyism.
At the same time, the International is escalating its internal battle with United Healthcare Workers-West (UHW), the 150,000-member local that has been an outspoken critic of SEIU's national leaders. The International announced hearings for late September to examine whether to take over UHW, and sent representatives to monitor the Oakland-based local's operations.
This move stems from allegations that UHW's officers improperly handled union funds by creating a nonprofit organization to "finance a defense of the top officers in the event of a trusteeship." The monitoring program and September 26 and 27 hearings are "a purely political move to silence our members," countered UHW President Sal Rosselli.
NOW'S NOT THE TIME
The rush to trustee UHW has ignited concern in many quarters of SEIU, particularly with the presidential election so close at hand. On September 12 the executive council of the giant 1199-United Healthcare Workers-East overwhelmingly adopted a resolution encouraging the International to postpone any deliberations until after the November election. Leaders from several other locals have contacted International President Andy Stern urging him to delay any action against UHW.
Despite these misgivings, the International denied UHW's request for postponement, and sources at the International report that plans are underway to impose a trusteeship. Such a move could require dispatching several hundred SEIU staff to California. SEIU's trusteeship officer could take weeks to announce a recommendation.
According to Rosselli, the specter of trusteeship will impact UHW's plans for the fall election. "We have a team of folks in New Mexico right now, and we are waiting for approval from the International to send more people to New Mexico and Nevada," he said. "But our plan in California will be curtailed because of this escalating battle against us."
SEIU spokeswoman Michelle Ringuette denied that a trusteeship is in the works, or that the September hearings will affect the union's political efforts.
CLEANING UP OR PAYBACK?
Corruption Scandal Spreads
Across SEIU
Tyrone Freeman, originally appointed by Andy Stern in 1999 to head SEIU's homecare operations in Southern California, stepped down in August after the Los Angeles Times implicated him in a string of financial improprieties. Formal union charges against Freeman include:
Directing more than $600,000 in contracts to his wife;
Paying his mother-in-law $8,000 a month to care for his daughter and the children of other union staffers;
Using more than $13,000 in union dues for membership at a Beverly Hills cigar club;
Improperly paying himself more than $60,000;
Charging the union about $8,000 in expenses associated with his Hawaiian wedding.
Rickman Jackson, former chief of staff for Freeman and now the appointed president of SEIU's Michigan health care union, received $2,500 a month from a housing group set up by Local 6434. According to the Times, Jackson continued to draw a salary from Local 6434 while working in Michigan, and received $18,000 in consulting fees from the International. Jackson went on paid leave in late August.
Annelle Grajeda, appointed president of Los Angeles-based public sector Local 721, took paid leave following Times reports that her former boyfriend Alejandro Stephens collected multiple salaries from the union while drawing a salary as a county employee. In 2007 Stephens collected more than $150,000 from SEIU, including $75,000 in consulting fees from the California state council. Grajeda was tapped to lead the council last year after the International union forced her predecessor, Sal Rosselli, out of office.
The UHW trusteeship hearings are unfolding as a corruption scandal spreads within SEIU. A series of August reports in the Los Angeles Times document a pattern of financial improprieties by several Stern-appointed political leaders (see box). The allegations have led to leaves-of-absence for Local 6434 President Tyrone Freeman, his former chief of staff Rickman Jackson, and Annelle Grajeda, president of Los Angeles-based Local 721 and head of the union's state council. Freeman has been suspended without pay and is facing charges, while Local 6434 is under voluntary trusteeship. The union is investigating Jackson and Grajeda—both on paid leave—as is the Department of Labor. Amanda Figueroa, secretary-treasurer of Local 6434 and a member of the International Executive Board, also took temporary leave from her union positions.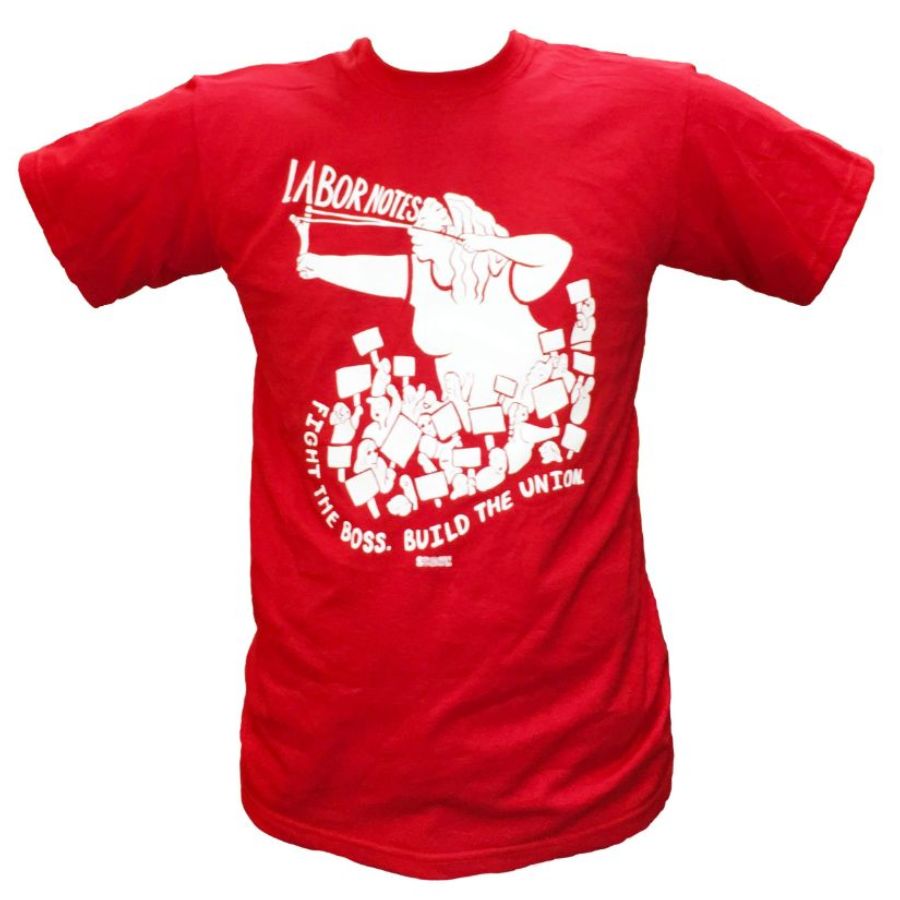 Several local unions have expressed concern that any action now against United Healthcare Workers-West could hurt SEIU's efforts in the November presidential election.
The allegations against UHW stem from the creation of a nonprofit organization in April 2007, part of the union's efforts to promote health care reform in California. The International alleges the nonprofit was designed to "convert union dues into a private source of outside funds to maintain their power."
UHW transferred $3 million from the union's treasury to the nonprofit account, but spent only $100,000. As trusteeship rumors swirled earlier this year, the UHW executive board dissolved the nonprofit and returned the remaining money to the union.
Ringuette acknowledged that UHW leaders did not design the nonprofit for personal enrichment.
"The International is trying to smear UHW when in fact it's Stern's allies who are guilty of corruption," Rosselli said.
Ringuette would not comment on recently leaked email communication between senior International staff and officers discussing options for "UHW work." A June 5 email likened a UHW trusteeship to the invasion of Iraq: "easy to get in and then a slog."
UHW officials seized on the leaked documents as evidence that the trusteeship is retaliation for their opposition to Stern's attempts to centralize power.
LOSE-LOSE CHOICES
Shortly after announcing trusteeship hearings, the International also launched an advisory referendum for SEIU's long-term care members in California, asking them to choose between a single statewide long-term care local and a single statewide local for all health care workers.
The union signaled in July that the single long-term care local would be headed by the leaders of now-trusteed Local 6434. Ringuette said that a statewide health care workers union would be a new local, with leadership appointed by the International.
"This will mean the dissolution of UHW," Rosselli said. "Even if they don't succeed in imposing a trusteeship they are planning on eliminating the union."
At a UHW leadership conference in early September, 2,300 delegates unanimously voted to "use all available means" to fight attempts to divide their local or replace their elected leaders with appointees. International monitors got a preview on September 3, when 75 rank-and-file bargaining team members drove them out of a bargaining session between UHW and Catholic Healthcare West.
Speaking to the leadership conference afterwards, George Wong, a pharmacy technician at Kaiser–San Francisco, promised much more if the International moved on UHW.
"When the day comes and they try to dissolve the executive board, they will have to drag us out of there," he said. "We are not going to go quietly into the night."