Union Made in El Salvador
Just Garments (Confección de Prendas con Justicia) – one of the first unionized garment shops in El Salvador – is an unusual experiment in garment production.
Just Garments was formed after a long fight by STIT, the Textile Industry Worker's Union, to organize Tainan Enterprises in El Salvador. As is often the case, when Tainan, a Taiwanese company, became a union shop, management announced the plant's closure three days later.
But in this case the workers didn't give up and led an international campaign for Tainan to reinvest in El Salvador. The result is a garment-shop with two directors – one selected by Tainan, the other selected by the workers – and the first union contract in the industry.
Gilberto Garcia Dueñas holds the distinction of being the workers' representative on the company's two-man board of directors. (He also works with CEAL, a labor studies center closely allied with STIT.) He was recently in the U.S. on a multi-city tour sponsored by the Workers Rights Consortium to drum up business and promote fair trade. Garcia spoke with Labor Notes at the offices of U.S. LEAP in Chicago.
Getting Just Garments up and running was no easy matter. When the workers finally found a facility they could use, it was falling apart. They had to rebuild the dilapidated structure themselves.
Then they had to cajole the government to release the machinery that had been impounded when Tainan closed. Garcia explains: "When we signed the agreement with Tainan, the workers withdrew their suits against the company, but the government of El Salvador took a long time to release the machinery – that set us back several months.". Just Garments was legally established in April 2003, but didn't begin operations until a year later.
INTERNATIONAL PRESSURE
Tainan agreed to reinvest in El Salvador to help end an international campaign against it and the brands it produces for. The Free Trade Union of Workers of the Kingdom of Cambodia threatened sympathy strikes in support of STIT at some of Tainan's most profitable plants.
Focus on Globalization organized a campaign in Taiwan, on Tainan's home turf. USAS led a campaign against Land's End for blacklisting of union members at one of its suppliers in El Salvador, and the Workers Rights Consortium helped negotiate the settlement. UNITE led a boycott of Gap in 2002 that ended in part with a deal to place an order with Just Garments.
When Tainan agreed to reinvest in El Salvador, they insisted on a board structure with a workers' representative. At first, the workers controlled one percent of the company's stock. That grew to 11 percent after a settlement with Land's End, and will reach 52 percent by February 2005 with the final installment of a GAP business development grant.
Just Garments separately negotiated the business development grant with Gap to increase the productive capacity at the plant. As Garcia put it, "Gap said they could help by placing orders, but we said we would rather they helped capitalize the plant. We had a very complicated decision to make, thinking what was in our best interest. We thought, well we can keep producing for the large brands, but we won't have the necessary profit margins to ensure good jobs. So we did something else, we decided to take the riskier, less-traveled path of the fair trade or sweat-free market with the hope that we will be in a better position to pay decent salaries to the workers."
One of the toughest decisions workers at Just Garments made was NOT to produce for the recognized multi-national brands like Gap or Land's End that previously had contracts with Tainan. "The process of producing for the large brands isn't convenient for the Just Garments business model. They take a huge slice of the profits in the industry, and leave very little for local companies, whose low profit margins make it difficult to pay good salaries and benefits to production workers.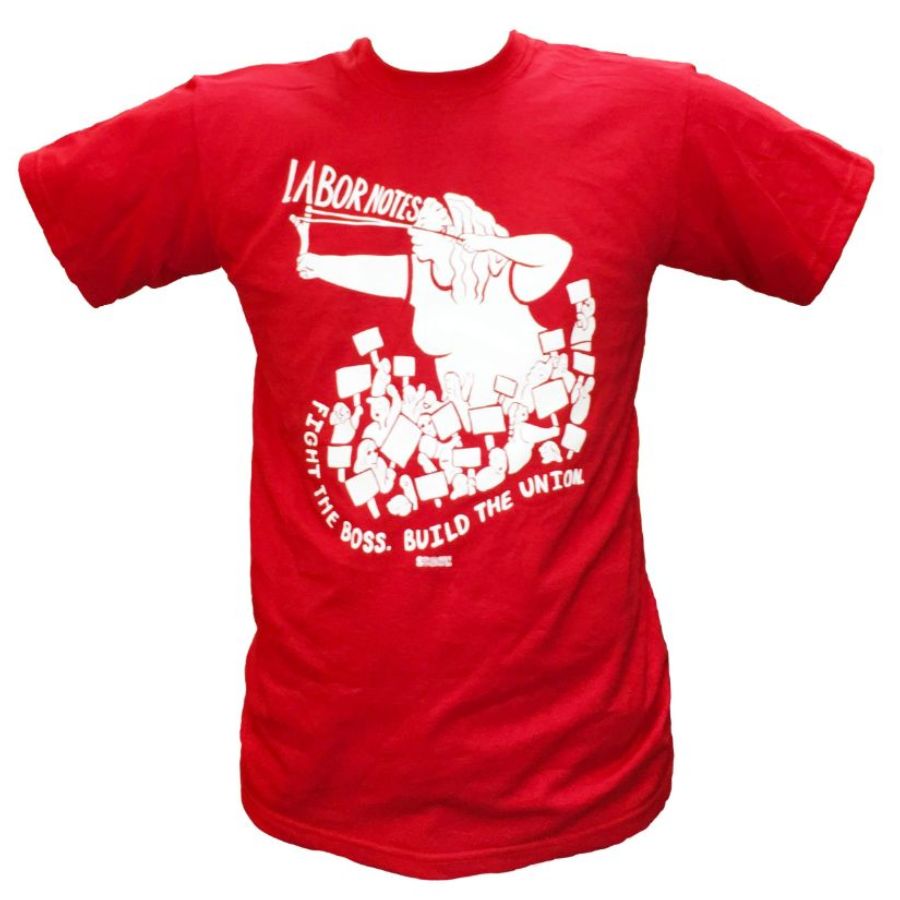 "We think this is the fundamental problem in the industry. The brands take around 80 percent of the profits and leave very little for the local producers. And the workers, they get the caboose on a long train that has mostly been devoured by the multinational company."
Garcia continues, "A brand t-shirt can cost $13 in a store. If you analyze the cost to produce a dozen shirts, let's say about $1.80 for all the materials. A brand will pay $2.50 for a dozen t-shirts. How much do you think the factory will pay the workers? We're talking about three or four cents. The multinationals take the biggest bite.
"So we could sell the shirts for six or seven dollars, with almost all the profit returning to the factory. The fair trade market can really be a good business if you can remove that huge percentage that goes to the multinationals. This would allow us to pay decent wages so that it actually makes sense to work in a factory so you can take care of your family. We think it is a model that can function if we can increase the market and survive while this market grows."
The union contract set salaries five percent higher than the industry norm, with the agreement to raise salaries by 150 percent once production increases. A significant change is that with the union social security, health, and other legally mandated benefits are actually paid. "It's sad that this is an improvement, but the garment companies don't pay social security." Besides actually complying with labor law, Just Garments has some additional improvements such as three additional holidays and a vision plan. Perhaps the most important change, "We take occupational health and safety very seriously."
Each machine has an ergonomic chair and its own lint extractor. "That's one of the biggest problems in the industry, when you have to breathe the lint all day. So we had to invest in a compressor to extract the lint at each machine. All the companies could do this, but they don't want to make the investment."
Just Garments is not producing at capacity, and has yet to turn a profit. The plant has room for 300 workers, but only 120 are currently employed. Thanks to management's efforts to build local alliances, they are currently producing laboratory, restaurant, and private school uniforms subcontracted from another Salvadoran firm. They are also producing khaki pants for No Sweat, but they are struggling.
A similar experiment in Los Angeles, SweatX, folded after two years due to mismanagement and other problems. SweatX was a union garment shop to prove that sweatshop labor wasn't necessary. Garcia says they've learned from SweatX's mistakes, and that is one of the reasons they refuse to work for multinational brands. "SweatX was producing for brands that paid them $2.80 per dozen t-shirts. So even though it is a risky path we think it is better to build your own brand, your own market, and not depend on the multinationals."
Just Garments is the fruit of a long struggle and the workers are determined to make it work. "These aren't workers who walked in off the street looking for work. These are workers who sacrificed and struggled to reach this point. There have been times when we haven't had money to buy needles, but we've survived because the workers are committed to make Just Garments happen."
"Many people told us that it couldn't be done," Garcia explains, " that you couldn't organize a maquila. It has been tried the world over and it couldn't be done. We were stubborn; we said it could be done. When the plant closed, it was a huge blow. Everyone said, I told you so. In Guatemala, Honduras, Dominican Republic, when the union has won, the maquila has closed. But we refused to give up, and we received support from all over the world, and we reopened the plant. We have a lot of workers who know the industry well, and what we don't know we ask. I think we're going to make it."
According to Garcia, "fair trade coffee took 20 years to develop, and many people didn't think it could be done." And if there's one thing the workers at Just Garments do well, it's prove the naysayers wrong.
By email you may place an order with info [at] justgarments [dot] net (Just Garments).